Aberdeen Building News 2017, Construction Development, New Properties, Project Images
Aberdeen Architectural News
Contemporary Aberdeenshire Architectural Developments 2017 – Northeast Scotland Architecture
Aberdeen Architecture News – current Northeast Scottish property updates
Aberdeen Architectural News 2014 – 2017
Aberdeen Architectural News up to and including 2017
24 Nov 2017
Union Terrace Gardens Renewal Design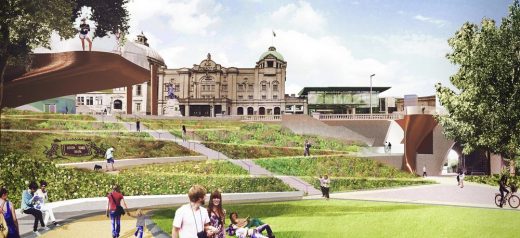 image Courtesy LDA
Aberdeen Union Terrace Gardens Renewal Design
Plans to transform Aberdeen's Union Terrace Gardens into a year-round favourite city destination continue to move forward as the City Council publishes an amendment to the current detailed planning application for further comment.
Work begins on multimillion pound Green Infrastructure projects
4 Oct 2017 – Close to £20 million will be spent transforming urban green spaces, says Scottish Natural Heritage
Work has begun on one of seven major urban greenspace projects that have been awarded Green Infrastructure Funds (GIF) by Scottish Natural Heritage (SNH). SNH is delivering this funding on behalf of Scottish Government, using money from the European Regional Development Fund (ERDF).
The Aberdeen City Council project is in one of Scotland's most disadvantaged urban areas and, along with six other proposals, will benefit from a total investment of just under £20 million, including £5.8 million of ERDF awarded through the GIF.
The GIF aims to enhance the lives of those living in urban areas by improving the quality, accessibility and quantity of green infrastructure in major towns and cities, especially in areas with a deficit of greenspace for community use. As well as the development of derelict sites into natural spaces, the project will improve entrance points, paths, viewpoints and signage to enhance community access.
Mike Cantlay, Chair of Scottish Natural Heritage, said: "The impact of a robust green infrastructure on a community can be revolutionary, from improving physical and mental health, attracting business to an area, to reducing flood risk and improving biodiversity.
"The Green Infrastructure Fund provides a unique opportunity to create better places for people and wildlife on an unprecedented scale across urban Scotland. It is inspiring to see work begin on these exciting projects today in areas where this type of transformation is most needed."
Aberdeen City Council communities, housing and infrastructure convener Councillor Yvonne Allan said: "It's fantastic that work has started on the Middlefield Project as it will make a big difference in the lives of people who live in the area to have an attractive park on their doorstep.
"I look forward to watching the work progressing in the coming months and we are pleased to be working with our partners."
SNH is working with Aberdeen City Council[1] to create a greenspace at Middlefield housing estate in Aberdeen that has been designed following a period of extensive community consultation. The current area of low amenity grass will be replaced with trees, wildflower meadows, grassland and flood management along with the addition of footpath and cycle paths, informal play areas and exercise trails.
Pittodrie Street Student Housing
Planning permission has been granted for 618 student bedspaces, designed by Manson Architects. This major residential scheme is situated on Pittodrie Street, in the north of Aberdeen, just half a mile from the University of Aberdeen. The development is split across two separate sites. Our client, Watkin Jones Group aims to have both aspects of the permission occupied by 2019 in a phased approach to construction.
The Pittodrie Street housing will offer students the opportunity to live just minutes from their place of study in high quality, purpose-built accommodation.
Drum Completes Sale at Prime Four Business Park, Kingswells
7 Apr – Lloyd's Register Office sold for £43.2 million
Drum Property Group has completed the construction of a 102,000 square foot office at Prime Four Business Park, Kingswells, Aberdeen which LCN Capital Partners has acquired as part of a build-to-suit transaction for £43.2m.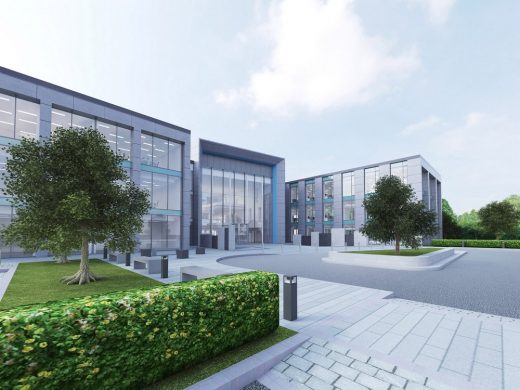 The purpose-built complex is let on a long-term lease to Lloyd's Register, the global engineering, technical and business services organisation, and has capacity for up to 900 employees.
Drum Property Group Managing Director Graeme Bone said: "Drum continues to experience strong interest in Prime Four from the UK and International investment markets and we are delighted to have concluded this transaction. We are also pleased to have worked with LCN in establishing a long-term relationship between all parties. They are easy to work with and set themselves apart as having complete discretion.
"Importantly, this latest deal is testament to our commitment to focusing on exemplar architectural, design and service culture principles at the park, which continues to prove largely immune to the cyclical vagaries of the Oil and Gas market.
"We will continue to invest at Prime Four, with plans for an adjacent £100m retail park in addition to the further expansion of the business park with additional office complexes, services and amenities."
Drum's total investment at Prime Four to date exceeds £275m and will rise to £600m with more than1.8 million sq. ft. of commercial accommodation being built once the park is completed.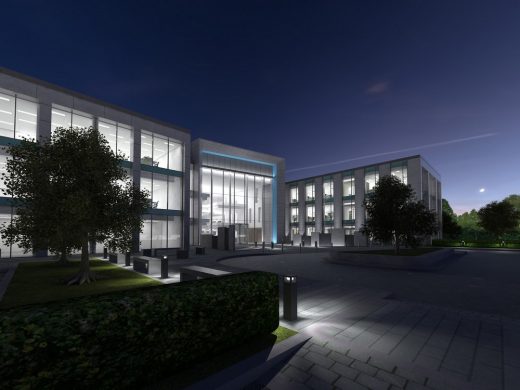 Edward LaPuma, Co-Founder & Managing Partner at LCN Capital Partners added: "We distinguish ourselves in build-to-suit transactions across North America and Europe by being able to forward fund or close upon completion, and by offering our tenant-clients flexible solutions.
"We are pleased with our new relationship with Lloyds Register and know that they have benefitted from the extensive knowledge and development expertise of Drum Property Group.
"Lloyds Register's long-term commitment to this new Class A property fits perfectly with the long-term goals of our investing partners, i.e. pension funds and insurers."
FG Burnett, JLL and Ryden acted for Drum Property Group.
Cushman & Wakefield, Victorios, Brodies, and Arendt & Medernach acted for LCN Capital Partners.
Lippe Architects + Planners News
29 Nov 2016 – Sending out a positive signal in a currently challenging sector, Architects Practice, Lippe Architects + Planners have added experienced architect, Catherine Cope (nee McKeown) BArch BSc (Hons) to augment their team of 17 employees. Lippe Architects + Planners, with over 30 years' experience in the construction industry, have further extended the strength of their team with the addition of Catherine who is based at their offices at 25 Albyn Place, Aberdeen.
Catherine Cope within the Quadrangle at Marischal College, Broad St, Aberdeen: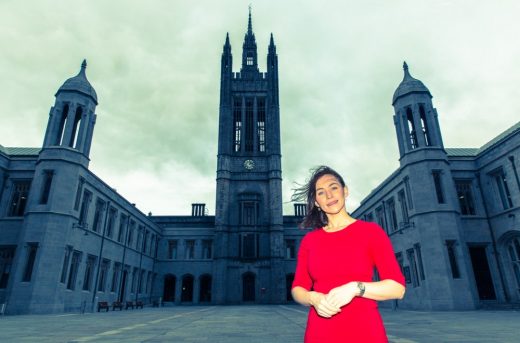 Catherine, who originally trained as an architect in Belfast, relocated to Edinburgh when she qualified, to work on some key projects, including the Royal Veterinary School for the University of Edinburgh (£31m) and the New Dunfermline High School (£40m). Moving to Aberdeen in 2013, Catherine has been keen to progress in her career and commented, "I am really delighted to be joining such a long standing and prestigious practice and I know I will gain a lot of further experience within this multi-disciplined office, getting the opportunity to work on a wide range of sectors and building types, both residential and commercial."
Catherine currently is President of the Aberdeen Society of Architects, representing the local chapter of the Royal Incorporation of Architects in Scotland (RIAS).
Catherine Cope at The Aberdeen Shipping Control Centre, N Pier, Aberdeen: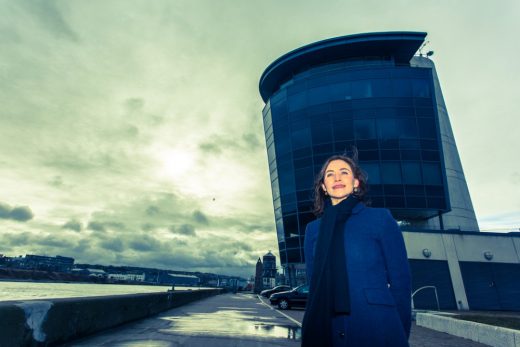 Photographs supplied courtesy of Martin Parker www.martinparkerphotography.co.uk
Lippe Architects + Planners highly experienced management team includes Managing Director, William Lippe and Technical Director, Stuart Naysmith who joined in 1993 and Associates, Eleanor Alexander, Stephen Martin Debbie Anderson and Lesley Tierney and Kirsten Will who heads up its Albyn Place office in Aberdeen, opened in 2014 to enhance the high level of service provision for its clients. All architects are Associate Members of the Royal Incorporation of Architects in Scotland and the Aberdeen Society of Architects.
Kirsten Will, Associate, based at the company's Albyn Place, Aberdeen commented, "since we opened our Aberdeen office two years ago, we have been afforded increased opportunity to tender for new business and been successful in winning clients and projects in and around the city. We felt that someone of Catherine's experience and skill set would allow us to continue to offer our very high level of customer care, as well as augmenting our expertise and knowledge base and we are delighted to welcome her to our team".
Lippe Architects + Planners are one of the largest practices in the Northeast, providing top quality professional architectural and associated services to a wide range of industrial, commercial and residential and historic and restoration projects and has an extensive portfolio of clients throughout Scotland.
Lippe Architects + Planners currently employ 17 staff within their two practice bases at 4 St James Place, Inverurie and at 25 Albyn Place, Aberdeen. For further details, visit www.lippe-architects.co.uk or call 01224 531333.
Aberdeen Station Expansion
23 Oct 2016 – An expansion of Aberdeen railway station has been proposed as part of works to deliver Halliday Fraser Munro Architects' Atholl Square development, to maximise opportunities afforded by demolition of Atholl House and the deck structure it sits upon.
In redesigning this platform to accommodate three towers rising up to 17 storeys it is hoped that support columns can be repositioned to improve signal sighting and bring the redundant platforms eight and nine back into use.
Aberdeen Architecture Tours
22 Oct 2016 – e-architect provided an architectural walking tour of the city centre yesterday, for 19 Norwegians from Bergen, thankfully with plenty of sunshine!
Aberdeen Architecture Tours – were launched back on 2 Jan 2016 by e-architect, who have been operating architectural tours since 2001, now in 78 cities globally, headquartered in Scotland.
Aberdeen Architecture Photos
22 Oct 2016 – new pictures of key buildings around the city centre:
Marischal Square Aberdeen building, structurally complete, awaiting cladding, viewed looking North up Broad St: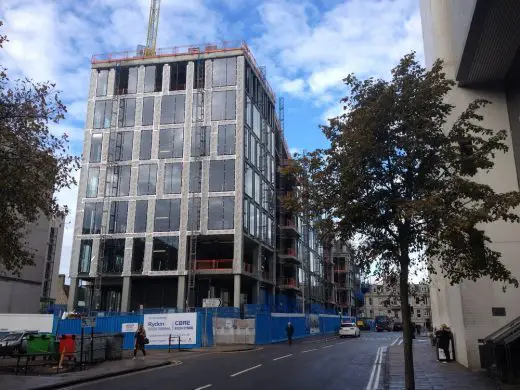 Maritime Museum building: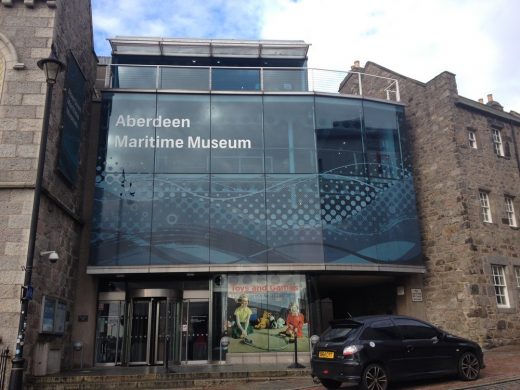 Jackson's Garage Building, Bon Accord Street / Langstane Place: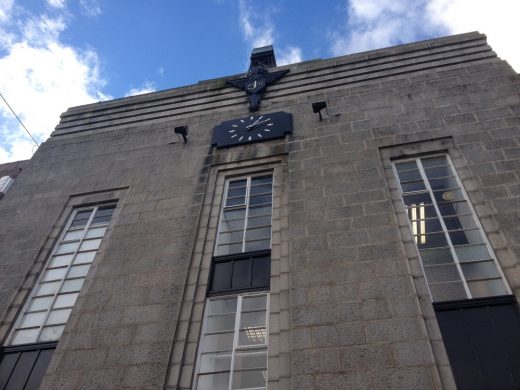 Langstane Kirk on Union Street, towards west end, north side: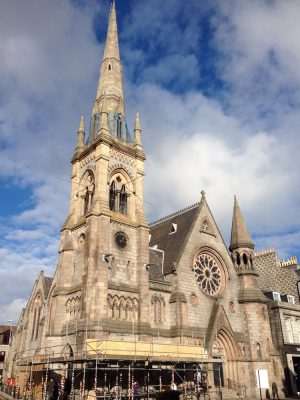 Shiprow buildings: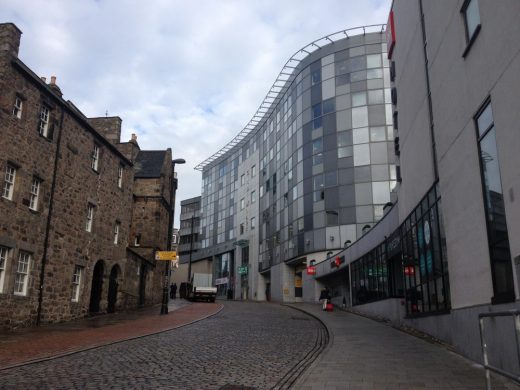 Town and County Hall aka Municipal Buildings And Tolbooth (tower peeping out top right):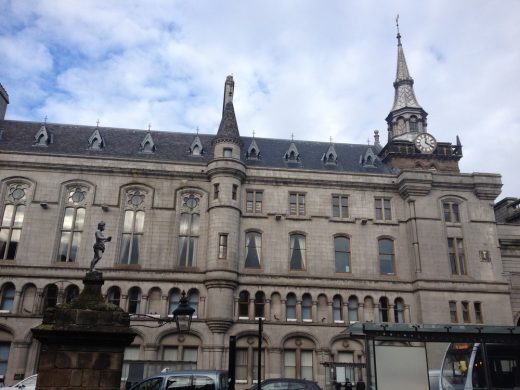 Archibald Simpson, the 'hinge' of Aberdeen (Union St / King St) with Ceres atop: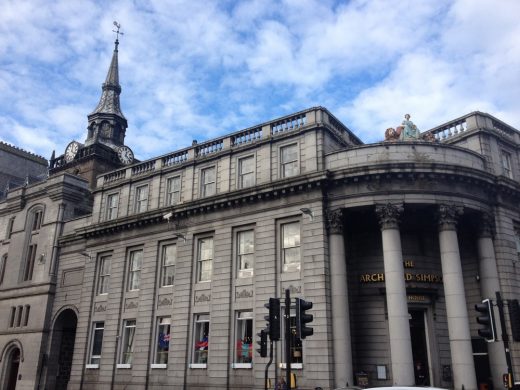 Castlegate with Mercat Cross surrounded by market, former Citadel building beyond: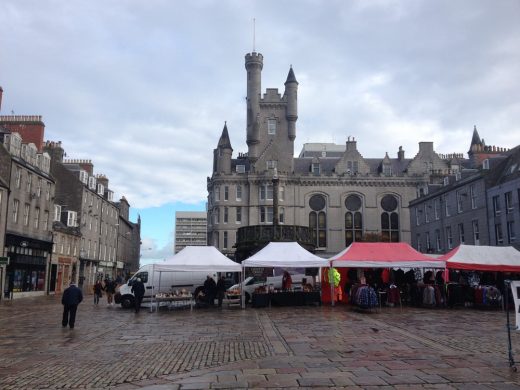 Marischal College Building facade, beautifully clean, sadly former Greyfriars Kirk on right yet to sparkle: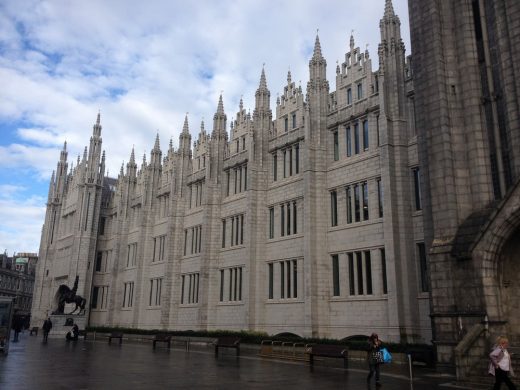 Mitchell Tower at Marischal College: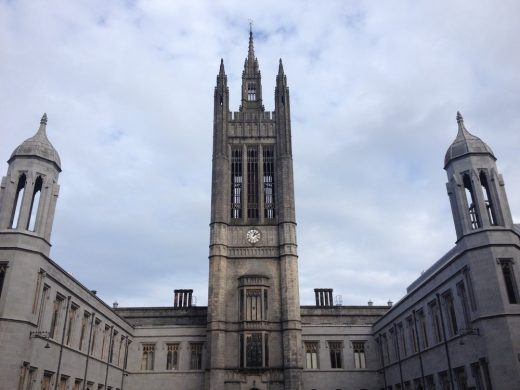 Marischal College courtyard: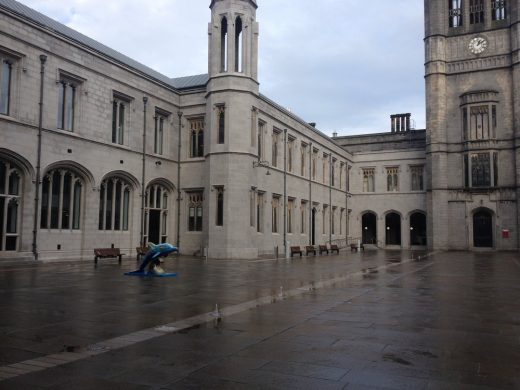 Kirk of St. Nicholas, west facade by celebrated Aberdonian architect James Gibbs: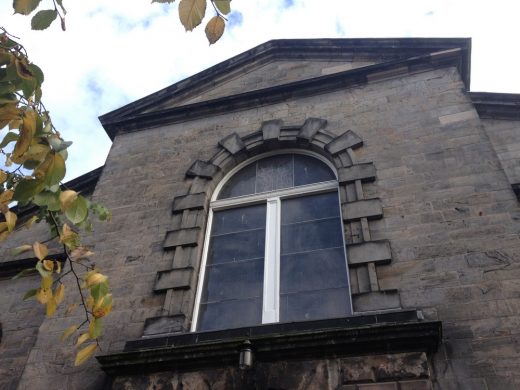 Robert Gordons University Administration Building: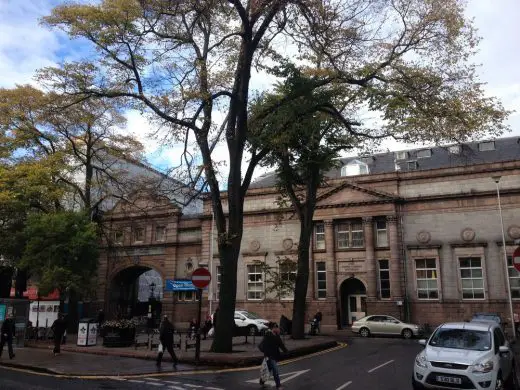 War memorial and Cowdray Hall building: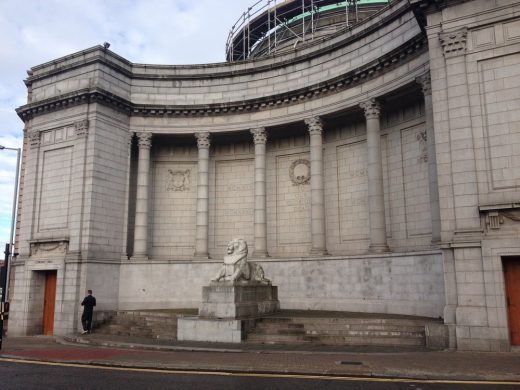 Aberdeen Building News – project posts, latest first
17 Oct 2016
BOOTS SIGNS UP FOR NEW PRIME FOUR RETAIL PARK, ABERDEEN
Boots UK has been confirmed as the latest high-profile retailer to sign up to the new £100 m retail park planned as an extension of the Prime Four Business Park in Kingswells, Aberdeen.
Drum, developer of Prime Four, has submitted an application to the City of Aberdeen Council for a 320,000 sqft retail development, including a food store, next to the existing business park. Next has already been confirmed as the first retailer on the park.
It is anticipated that the new, purpose-built retail park, will deliver significant economic benefits for Aberdeen – including an estimated 500 new jobs.
Welcoming a potential move to Prime Four, a spokesperson for Boots said: "At Boots UK, we are continually reviewing new locations to make sure our stores are where our customers need us most. We support the application from Drum Property Group for a new retail development in the Prime Four location, as the site has significant potential for Boots UK and other retailers should planning permission be granted."
Graeme Bone, Group Managing Director of Drum Property Group, said: "Boots will be a natural fit for the new retail park and shows the potential it has for major retailers to complement existing retail provision across the rest of the city. We are currently in active discussions with a number of other retailers for the new retail park, some of whom are looking to expand their presence in Aberdeen, and others who are new to the city."
14 Oct 2016
Glen O'Dee Fire
This derelict sanatorium in Royal Deeside has been destroyed by what is being treated as a deliberate fire.
Crews were called to the empty Glen O'Dee, built in Banchory in 1900, shortly before midnight.
12 Oct 2016
Aberdeen Broad Street Landscape Redevelopment
Aberdeen City Council has approved the transformation of Broad Street into a 'pedestrian priority' route extending Union Street to the Gallowgate/Upper Kirkgate junction.
20 Sep 2016
Aberdeen Sports Village Aquatic Centre Building
The latest phase of a major sports village development has been completed: the £18.2m Aberdeen Sports Village Aquatic Centre.
The new Aquatic Centre includes a 10-lane, 50m Olympic standard pool with seating for 600 spectators, and a 25m x 16.5m Olympic standard diving pool.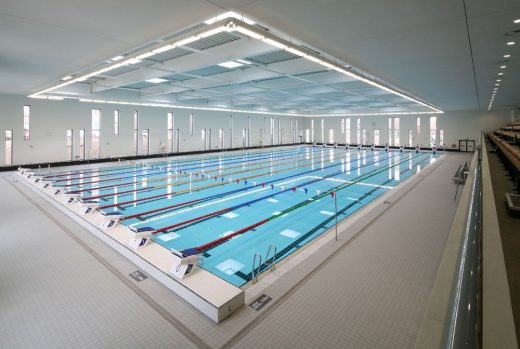 "Providing acoustic treatment for large swimming pools such as this can be especially challenging, as they are generally busy places with lots of noise," says Sto's Acoustic Technical Consultant, Mike Wallace. "The internal environment is also warm, moist and chlorine-heavy, and this can present its own set of problems, so the acoustic system that's chosen really has to be well-proven and reliable."
The StoSilent acoustic ceiling solution chosen for the Aquatic Centre is designed especially for demanding environments such as swimming pools. It is based on a StoSilent suspended grid made from steel, which was specially coated to protect against corrosion. This was covered with StoSilent Panel A-Tec Alu acoustic boards. Made from blown glass granulate, these boards are impervious to moisture. They also feature a factory-applied backing laminate which allows the boards to attenuate sound waves, and equally, prevents any air from flowing through them and causing marking or staining on the completed ceiling. The boards were then coated with StoSilent Décor M – a sound-permeable silicate acoustic coating which creates a seamless, clean and attractive appearance.
13 Sep 2016
Aberdeen's Union Terrace Gardens Improvement Proposals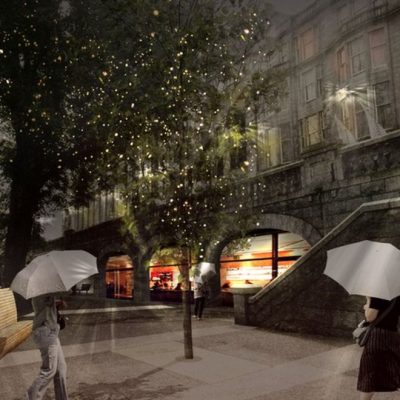 Union Terrace Gardens Renewal Proposals by LDA Design
LDA Design has been chosen to draw up detailed design proposals for Union Terrace Gardens after fierce competition from nearly a dozen leading design practitioners in this latest contest for the city centre site.
21 Jul 2016
Trump Aberdeenshire Hotel Extension
Trump Aberdeenshire Golf Hotel Extension
Plans approved to extend a boutique hotel at the heart of Donald Trump's Aberdeenshire golf course. Aberdeenshire Council and the Trump Organisation have reached an agreement over plans to expand MacLeod House – the centrepiece of Donald Trump's golf resort at Menie, near Balmedie.
9 Jun 2016
Union Terrace Gardens Improvement Proposals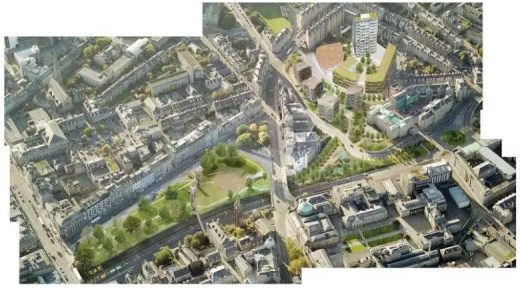 proposal image of the site
New Plans for Union Terrace Gardens Aberdeen
Here we go again, yet another attempt to improve this area. After huge controversy back in 2010, and reaching a peak in 2012, the city council is taking the plunge again. The sunken area and concealed arches still needs fixing despite years of proposals.
16 Dec 2015
New Aberdeen Exhibition & Conference Centre
Design: Keppie Design Ltd, architects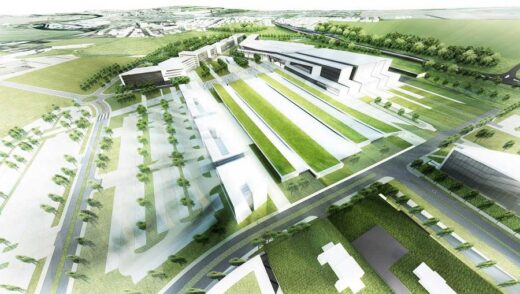 image from architect
AECC in Aberdeen
23 Jul 2015
Aberdeen Art Gallery Building Redevelopment
Design: Gareth Hoskins Architects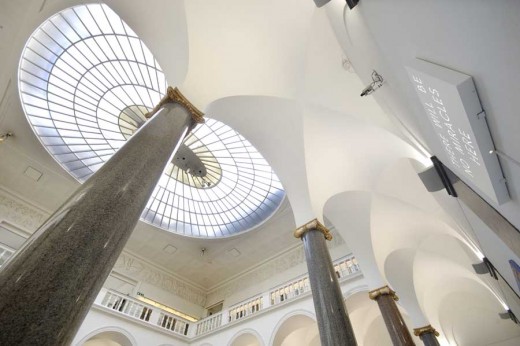 photo : Mike Davidson, Positive Image
Aberdeen Art Gallery Redevelopment
7 Apr 2014
Marischal Square Hotel Building
Design: Halliday Fraser Munro, Architects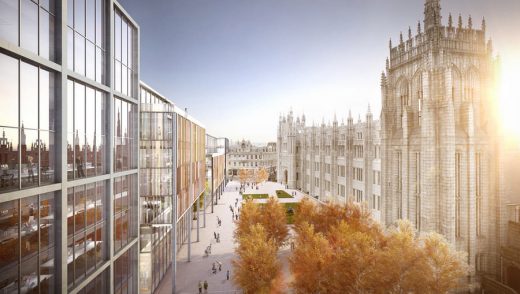 image from architect
Marischal Square Hotel Aberdeen
Location: Aberdeen, Northeast Scotland
Aberdeen Architecture
Aberdeen Architecture Offices – Listings
Aberdeen Building News up to 2013
Aberdeen Architectural News 2008
Key Buildings in the silver city:
Scott Sutherland School of Architecture
Buildings / photos for the Aberdeen Architectural News page welcome