Glen O'Dee Sanatorium, Banchory Hospital damage, Aberdeenshire building fire, Historic Deeside property
Glen O'Dee Hospital, Banchory, Northeast Scotland
Fire at Former Scottish Health Building – NHS Grampian: Neo-Gothic architecture in Scotland
14 Oct 2016
Glen O'Dee Fire
This derelict sanatorium in Royal Deeside has been destroyed by what is being treated as a deliberate fire.
Glen O'Dee Hospital Fire
Crews were called to the empty Glen O'Dee, built in Banchory in 1900, shortly before midnight.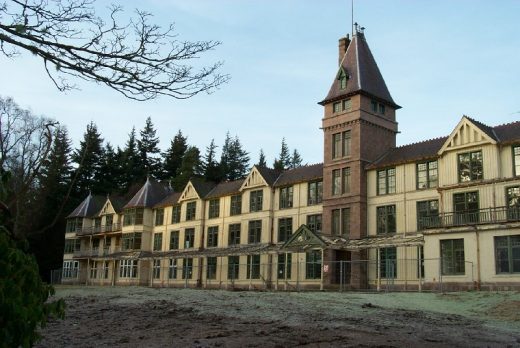 Glen O'Dee Hospital Banchory image : from Mark Chalmers
More than 60 firefighters were involved. Police Scotland later said it was a "wilful fireraising".
This historic building featured on the BBC's Restoration programme.
Much of the architectural design – and the timber (curious given Deeside's abundance of timber logging) – came all the way from the Black Forest in Germany.
The Grade A listed structure was on the Buildings at Risk Register since 1993.
Glen O'Dee featured in the Somerset Maugham book Creature of Circumstance after the author stayed there in 1917.
The idiosyncratic building was later converted into a hotel, then a home for the elderly before closing in 1998.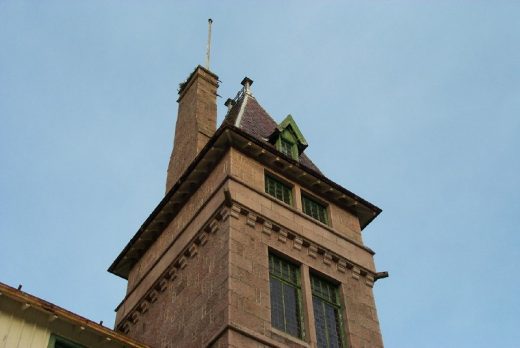 Glen O'Dee Hospital Banchory image : from Mark Chalmers
BBC article in full: Glen O'Dee Fire
Glen O'Dee Hospital Banchory
Fairytale in the Woods – Glen O'Dee
Article by e-architect Editor, Adrian Welch
Jun 2005
On Restoration the indefatigable Ptolemy waxed lyrical over this Bavarian style former sanatorium. But for me the place was stuffy, slightly smelly and home to a perpetually twilit fishtank. As a youngster, living in Banchory, I sang in a choir that visited the hospital fortnightly, belting out traditional psalms and bringing life to the place.
Glen O'Dee is located on the west edge of Banchory, an affluent town in Aberdeenshire. Completed in 1900 it was one of Britain's first sanatoria. The tuberculosis hospital's plan is logical and rigorous: the building faces due south in a clearing on a heavily-wooded hill. Long corridors run along the north face with recreational spaces – and bedrooms above – jutting out into the garden.
The views over manicured lawns led to rhododendron beneath a thick canopy of conifers. Thus bizarrely for a place of recuperation, there is no view of Scolty or surrounding hills, a rather melancholic inversion. This wasn't helped by hard burgundy-painted corridor floors, reverberating continual trolley noise as the minister prayed for peace.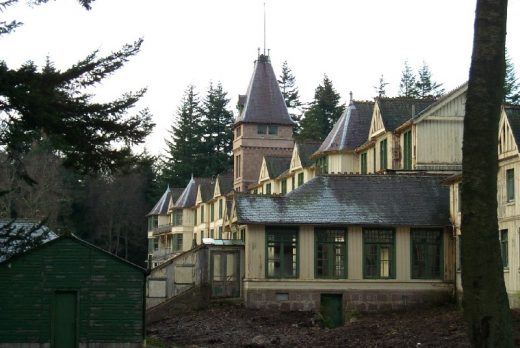 Glen O'Dee Hospital Banchory image : from Mark Chalmers
More sadness came in the putting green out front: in ten years of singing (from soprano to bass) I never saw anyone hone their skills on this remnant of a bygone era. There is something romantic however about the building's fanciful form, especially the Neo-Gothic roofscape and more varied south frontage.
Key elements were expressed in rough-hewn granite from the nearby Hill o' Fare, as is typical for Banchory, with steeply-sloping ogee roofs above straight from a fairytale castle. The timber came all the way from Germany's Black Forest, as did the plan – based on that of Nordrach-in-Baden, Ortenau, Baden-Württemberg, south west Germany.
Nevertheless, the cream-painted swathes of external boarding looked like a huge mistake when I revisited late last year. Blistering and peeling paint across the bulk of the deserted hulk are surely part of the maintenance time bomb that helped kill off this optimistic building.
Ptolemy did wonders for encouraging viewers to love this former recuperatory for the likes of writer Somerset Maugham, but apart from the obligatory game of tig each visit on the north lawn – and the annual 'tea' with its iced buns – I have few good memories of this rather eerie place in the depths of dark woods. Unlike the 'star presenters' it was integral to my growing up, running cross country through the grounds, releasing a vole in the woods and photographing it for my sixth year art portfolio, but I never lingered long; I also knew the granite quarries – skimming stones across their deep pools at Raemoir – that supplied Glen O'Dee, just a stone's throw away: true 'sustainability' before it was termed as such.
As we debate 'iconic architecture' – and the respect given to architects – this building has some important messages for today's architects, maybe especially those completing Maggie's Centres. There was nothing solipsistically contrived about this building, although philosophically imported (thus partly alien), it had good logic – melding aspect with parti and shelving symmetry where it got in the way. It had two different facades that were from the same family but had appropriately different roles.
It had facades that were proportional and not trying to play with metaphors or relate to some unrelated Scottish typology. Apart from the profusion of painted wood – which probably cost little to maintain in the era it was built – and over-reliance on corridors for circulation, there was little wrong with the overall moves. The building's structure could probably survive for many more years (Ed. as noted at the top of this page, sadly not) but the real killer is surely today's radically different health regimes.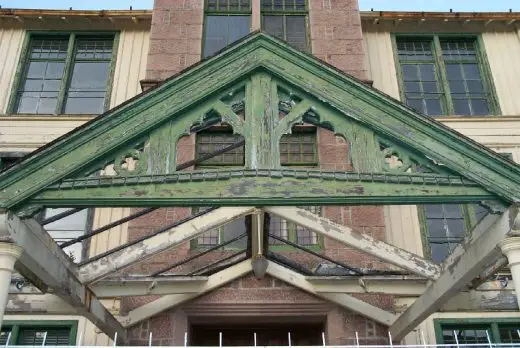 Glen O'Dee Hospital Banchory image : from Mark Chalmers
Although the Sanatorium closed in 1928, lying empty until becoming the Glen O' Dee Hotel in 1934, after being used for the War it reverted to a 'hospital'. However, as Mark Chalmers points out, similarly listed Sidlaw Sanatorium at Auchterhouse (Angus) was successfully converted to flats. LDN Architects apparently completed a feasability study for retention with housing in the grounds but this appears to have stalled. Grade A listed Glen O'Dee has been on the Buildings at Risk Register since 1993: rehabilitation as supported housing is supported by the Glen O' Dee Preservation Trust, administered by Tenants First, Britain's largest fully mutual housing co-operative.
I doubt this quiet clearing will return to nature: if only the new development could be something as seminal and hopeful, but more considered. Banchory had a proud reputation as a Victorian tourist resort – sheltered from the prevailing wind by Scolty on a wooded south-facing slope – and could do with some strong new architecture. The current bungalow-style excretions around the main building show sad underperformance, and could be anywhere.
I suggest the replacement buildings should better utilise the wonderful views to the south; the site should be developed fittingly as a hospital, steering clear of 'PFI box' and 'showy icon' alternatives – looking to Aalto's Paimio Sanatorium or the 'quieter' Maggie's Centres in Edinburgh and Glasgow. Whatever, the result must focus on the inhabitants, rather than some fleeting gesture. It should be solid as stone.
Glen O'Dee Hospital text copyright Adrian Welch
Glen O'Dee Hospital photos copyright Mark Chalmers
Address: Glen O' Dee Hospital, Corsee Road, Banchory, AB31 5SA
Contact Glen O'Dee – NHS Grampian: 01330 822233
Adrian Welch – e-architect Editor
Location: Glen O'Dee Hospital, Corsee Road, Banchory, AB31 5SA, Northeast Scotland, UK
Aberdeenshire Architecture
Aberdeenshire Building News – project posts, latest first
Aberdeenshire House : Tarland, north west of Banchory:



image : from Mike Rasmussen
Aberdeenshire Home



image from architects
Comments / photos for the Glen o' Dee Hospital – Banchory Building – healthcare in Royal Deeside, west Aberdeenshire, northeast Scotland, page welcome