Aberdeen FC Stadium, Cove Building News, Ground Project, Arena Design Proposal, Property
Aberdeen FC Stadium Building News
New Football Development at Loirston Loch to replace Pittodrie, Northeast Scotland
12 May 2016
New Aberdeen Football Stadium Design
Aberdeen FC Relocation Plans
Aberdeen Football Club has revealed plans for a new £40m stadium and training facility at Kingsford near Westhill with earlier plans to move to Loirston now abandoned.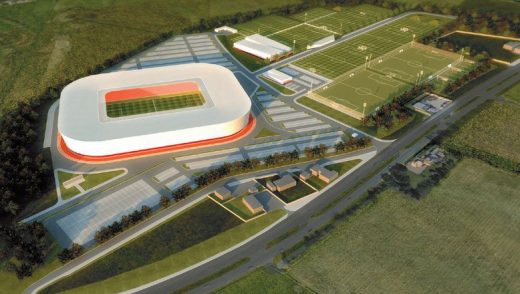 The proposed development is situated adjacent to the Aberdeen – Westhill road (A944) and just 200 metres from the new AWPR junction.
The Dons could be playing at the new stadium within three years in front of crowds of up to 19,000.
27 Nov 2013
New Aberdeen Football Stadium News
Aberdeen Football Club stadium on land near Loirston Loch.
Aberdeen Football Club has re-opened talks with Aberdeen City Council about a move away from Pittodrie.
Speaking at the club's AGM this week, chairman Stewart Milne told Dons shareholders that Loirston Loch, near Cove, is still the preferred venue for a relocation which has been mooted for years but beset by development problems.


Aberdeen FC Stadium images : digital studio 24
The Dons have planning permission for a site at Loirston Loch, however, the move was put on hold when plans for an adjacent training academy were turned down.
Milne also confirmed Calder Park is now not an option for training facilities but expects an alternative site to be in place before a new ground is built.
He told RedTV: "We still see Loirston as the best location for the new stadium and in recent months we have re-opened discussions with Aberdeen City Council about trying to reach an agreement on the purchase of the land which would allow us to go ahead with our plans.
"We have looked at other sites and there are other venues out there but we have invested a lot of money into
25 Feb 2011
New Aberdeen Football Stadium
Aberdeen Football Club has been given the green light to proceed with proposals for a new 21,000-seat stadium on land near Loirston Loch.
Architects: Miller Partnership
Aberdeen City Council's full council voted 23-17 in favour of approving the new Aberdeen Football Club stadium, which will now go before the Scottish Government for consideration.



Aberdeen FC Stadium images : digital studio 24
The 39.5-acre (16-hectare) football development – due for completion ahead of the 2013-14 season – will also feature car parking, landscaping and access arrangements. A cantilevered roof will cover all seating with a south main stand to house club and hospitality facilities.
The supporters' bar will be sited in the north west corner of the football ground, while the police and stewards' facilities located in the north east. A shop, a museum, a café, a ticket office, a gym, football club offices and a classroom will be housed in the south west corner of the new AFC stadium.
AFC chief executive Duncan Fraser said: "Naturally we are delighted the elected members within Aberdeen City Council have taken on board the recommendations of their colleagues in the planning department.
"However, I would stress, while this is an important step in terms of the move by AFC towards a new home, there remains a tremendous amount of work to be done before our vision becomes a reality."
New Aberdeen Football Stadium architects : Miller Partnership
New Aberdeen FC Stadium
Report to be submitted at the end of this month re a new stadium in Aberdeen which could be used for Euro 2016 (if Scotland is awarded it). The capacity of the new Aberdeen football stadium will be around 22,000 and leased by AFC from Aberdeen City Council. The land at Pittodrie is valued at £15m. The proposed community stadium would be due to complete by 2011.
Site proposed for new £53m Aberdeen stadium + soccer academy + hotel: Loirston Loch, Cove. Arena Proposals to be presented to the council leaders 19 Dec 2007.
December 12, 2007 – Arena Community Stadium: Text from Aberdeen Council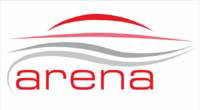 A community stadium development (Arena) for Aberdeen City could be built near Loirston Loch, Cove.
Reports published today reveal partners investigating the possibility of creating a stadium and associated facilities in Aberdeen have made significant progress.
The Arena Project Team formed jointly by Aberdeen City Council and Aberdeen Football Club will present an Outline Business Case for a stadium and ask Councillors to promote Loirston as the preferred site for development. Members will also be asked to give the green light for further development work on the Arena project and back in principle a joint venture as a means of delivery.
If built, the Arena would become home to Aberdeen Football Club, a proposed venture partner as well as lead tenant. Officers recommend a 22,000-seat football stadium, potentially rising to 30,000 seats, depending on the availability of financial support from the Scottish Government.
Officers say sports and leisure developments, such as a community stadium, can play a major role in the successful future of both the city and region. In her report to next week's Council meeting, Head of Planning and Infrastructure, Margaret Bochel, writes: "Development of the Arena Community Stadium will ensure that Aberdeen is acknowledged as a competitive, dynamic and vibrant place to live and work.
"The stadium could provide the opportunity to deliver objectives in the Regeneration Strategy, such as developing priority social, economic and environmental projects. "Such a facility would be a major addition to the infrastructure of the city, helping increase participation in sport and encouraging a healthy lifestyle across all sectors of the community."
The report will go before Council on December 19.
Aberdeen FC – social, economic and cultural role
The benefits Aberdeen enjoys as a result of being home to a top division professional football club cannot be underestimated.
An economic impact analysis completed in 2006 determined that Aberdeen FC contributes at least £6 million per year to the local economy. The club also supports a total of 350 full time equivalent jobs. Meanwhile, the Dons' community programme is recognised as the best in Scotland – having won the Community Club of the year award every year it has been judged.
Shell, Aberdeen City, Aberdeenshire and Moray Councils, The Scottish Football Association, Grampian Fire and Rescue Service, npower, Macdonalds and the Food Standards Agency all support the programme, demonstrating an existing successful partnership between the club, business and the public sector.
Pittodrie Stadium
Redevelopment of Pittodrie Stadium to meet future needs is not viable.
The pitch width and run off areas currently do not meet UEFA standards and the pitch fails to comply with International Rugby Board specifications, meaning it cannot host regular full internationals.
As the ground is landlocked, with the exception of the Richard Donald Stand, the best way these issues could be accommodated at the present stadium is to redevelop the Main and South stands to a smaller footprint. These stands, along with the Merkland Road end, are all in relatively poor condition and will require to be completely redeveloped over the next 5?8 years.
Taking all of the above into account, there would be a substantial reduction in the stadium's capacity and a major impact on corporate facilities and accommodation, reducing the club's capacity to generate revenue. As the city has no alternative stadium available to Aberdeen Football Club, redevelopment would either take a number of years or require the club to play matches at a remote location – most likely Dundee or Inverness.
No European matches could be played within the City during this period of redevelopment and would have to be played in Central Scotland. Eventually, Pittodrie would be left with a capacity of around 15,000, achieved at a cost of around £15million to the club.
This would preclude Aberdeen and the region from any involvement in hosting major European and international matches and the city would rule itself out of participating in the hosting of competitions such as the Rugby World Cup or the European Football Championship.
A redeveloped Pittodrie would also be unable to accommodate community facilities that would be a significant part of any new stadium.
Community Stadium model
A community stadium is a partnership-funded initiative that integrates sports and community facilities into a single high quality venue. It should be the home to as many sports clubs and organisations as possible and provide a sport focus for the region whilst maximising the use of accommodation under stands.
In Aberdeen, it is suggested that any community stadium could be combined with a football academy for the Northeast of Scotland and complement the Regional Community Sports facility currently under development at Linksfield.
The case for a community stadium in Aberdeen
Reports due before members note that the effects of new stadia – and, in particular, community stadia – in British cities have been universally positive, providing major economic and social regeneration opportunities.
As with many of these projects, the Arena in Aberdeen is proposed to be much more than a sporting facility. If built, it would raise the city's profile in the eyes of potential investors; link to regeneration strategies in terms of employment, health and fitness, and enhance commercial activity.
The Arena also has the potential to deliver high quality architecture, adding to the cultural richness of Aberdeen City and Shire. Officers say design should be of the highest quality – providing a lasting legacy for the citizens of Aberdeen and a development the city can take pride in.
In short, the aspiration is to create a facility that is much more than simply a football stadium and can be developed as an educational, training, social, recreational, employment and community hub in use seven days a week for the benefit of the region.
The venue would play a major part in further establishing the City and Shire on the national and international map. The results of a City Voice questionnaire revealed overwhelming public support for a community stadium in Aberdeen. Nearly three quarters of those asked were in favour of the project.
New Aberdeen Football Stadium – Delivery
The current proposal has been developed in partnership with Aberdeen Football Club, which has provided 50% of all funding. It is envisaged that a joint venture between the club and Council would deliver the Arena, via a stadium management company.
The Arena would be home to the Dons, who would act as lead tenant. The development would also provide the opportunity for approximately 150,000 sq ft (14,000 sq m) of floor space for rent, which could include office, retail, hotel, sports, leisure and community facilities. The capitalised rental from these uses would contribute to the overall cost of construction.
Aberdeen FC Stadium – Capacity
The capacity of any new stadium should be sufficient to meet market demand and also allow for future growth. It is also essential that any new stadium be capable of expansion or conversion to host international events.
With this in mind, the outline business case has been developed on the principle of a capacity of 22,000 – in line with the present capacity at Pittodrie. However, it is also recommended that the Scottish Government be approached to determine the likelihood of Scotland hosting international competition in the future. If, for example, Scotland were to launch a bid to host the 2016 European Championships, it is likely that a minimum capacity of 30,000 would be required to allow Aberdeen to participate.
As neither the City Council or Aberdeen FC could justify the cost associated with providing 8,000 additional seats; it is suggested partners approach the Scottish Government to determine whether there is a real ambition to host such events and discuss the likelihood of contributions to fund the additional infrastructure.
Costs
The Outline Business case suggests the project could cost in the region of £53 million at today's prices – with suggested Aberdeen City Council and Aberdeen Football Club contributions at £8 million each. The remaining funding could be realised through stadium revenues, development and planning gain.
It must be stressed, however, that these figures are indicative only. Further detailed feasibility is required to ascertain the total level of investment required to deliver the Arena, including assessment of other users and potential partners.
Site
The Arena Project Team originally looked at four potential locations – at King's Links, Bridge of Don, Calder Park and Loirston.
The Outline Business Case eliminates the Bridge of Don site due to existing commitment, site capacity and access issues. The Calder Park site is also eliminated due to existing power lines and pylons running along the south side of the site.
The sites at King's Links and Loirston remain as options, with officers recommending Loirston following a detailed comparison of planning issues, site assessment, access and deliverability.
New Aberdeen Football Stadium images / information from Miller Partnership
Location: Pittodrie Stadium, Aberdeen, Northeast Scotland, UK
Aberdeenshire Buildings
Aberdeen Regional Sports Centre
Union Square by BDP



image from architects
Football Stadium Designs
Nou Camp Barcelona : famous football stadium
Comments / photos for the Aberdeen Football Stadium – Loirston Loch Proposals page welcome
Website: Aberdeen Football Club – AFC