Aberdeen Buildings Projects, Property Photo, Northeast Scotland Design News
Aberdeen Buildings: Property Developments in 2006
Northeast Scotland Building Developments 2006
Aberdeen Architecture : links
Major Aberdeen Property News 2006
Aberdeen Sports Centre design by Reiach and Hall Architects gets funding Dec 2006
Plans submitted for Aberdeen hotel by Curious Architecture Ltd Nov 2006
Outline planning application by Trump International Golf Links to Aberdeenshire Council for golf course & luxury resort development: Aberdeen development Nov 2006
Queen's Hotel to be converted to £7m Malmaison Hotel Aberdeen Oct 2006
HTA Architects' £500m Aberdeen Community Regeneration Sep 2006
£25m Shell Aberdeen HQ building approved Sep 2006
Bon Accord Masterplan approved Sep 2006
Union Plaza building
2006-08
Aberdeen's largest speculative office development
Location: Union Row
125,000sqft
Aberdeen Market overhaul
Approved Sep 2006 with links from listed Union Street buildings down to the market
Extension to His Majesty's Theatre Aberdeen
One of the few Scottish buildings nominated for Civic Building of the Year Sep 2006
Trump Tower
The Scotsman reports possible plans for '250 properties' within Trump Organisation's Golf development at Balmedie, north of Aberdeen, by architects Jenkins & Marr: please note plans are not yet lodged but due this Autumn. Designs unveiled so far for the Clubhouse and 500-room hotel reveal a traditional Victorian style: 23 Aug 2006
Riverside Development
Dyce housing designed by Holmes Partnership : 8 Aug 2006
Aberdeen Sports Building
£23m Regional Sports Centre in Aberdeen designed by Reiach and Hall Architects
Aberdeen University Library Competition
Winner: Schmidt Hammer & Lassen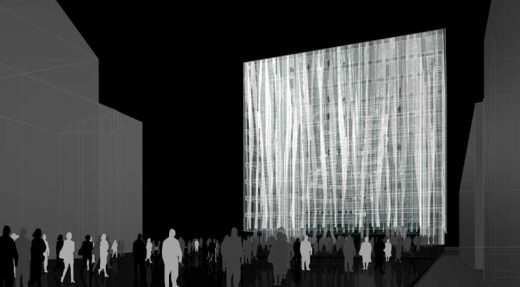 image from SHL
Shortlisted: Page Park Architects, MacCormac Jamieson Prichard, Moshe Safdie with Allan Murray Architects, O'Donnell + Tuomey Architects, Bennetts Associates
Aberdeen Medical Facility – Matthew Hay Project
Bennetts Associates
£16m Medical Education Facility
Justice Mill Lane
Richard Murphy Architects
Aberdeen city centre development
former Stratosphere site redevelopment
£40m office space + landmark hotel + residential accommodation
Peacock Visual Arts – Architecture Competition:
Shortlist: 3XN – 3 x Nielsen, Reiach and Hall Architects, Richard Murphy Architects, Nicol Russell Studios
Proposed pavilion in centre of Queensgate would require removal of the Mercat Cross
Feasibility study by Nicol Russell Studios
Cancelled early 2006
Hill of Banchory Primary School
Completed in northeast Banchory, Kincardineshire by the Holmes Partnership
More online soon
Location: Aberdeen, northeast Scotland, Unted Kingdom
Aberdeen Architecture : main page
Contents:
1. Aberdeen University Library Competition
2. Key Aberdeen Buildings
3. Aberdeen Society of Architects Website Launch
4. Peacock Visual Arts – Architecture Competition
1.
Competition launched Jun 2005 for new £30m Library.
Shortlist, Oct 2005:
Schmidt Hammer & Lassen
Page Park Architects
MacCormac Jamieson Prichard
Moshe Safdie with Allan Murray Architects
O'Donnell + Tuomey Architects
Bennetts Associates
Aberdeen Library – Brief by Tom Bostock, Reiach and Hall Architects
Library Competition Winner: to go online when announced
2.
Foster + Partners have a building Aberdeen: Faculty of Management and Design Library at Robert Gordon University. This £18m building was completed in 1998 and features a dramatic curved steel roof.
St Nicholas House – Aberdeen City Council building due for demolition:
3. ASA PR 3 Aug 2005
Aberdeen Society of Architects launch new Website
The Aberdeen Society of Architects have developed its presence on the internet, with a new website intended to provide an insight into ASA's membership, its activities, and its history.
The site features images of both historic and contemporary buildings, together with ready access to architecture practices throughout the area by means of a Directory, plus links to affiliated organisations, and other fellow travellers. The site serves a dual purpose: as a means by which lay people can learn more about the work of architects in the area, and also a channel to keep local architects up to date with the activities of the chapter. There are already plans to expand the content, but meantime, the Diary section is a useful destination for anyone who wishes to find out about the latest events, seminars and conferences on the local built environment. Website: www.aberdeenarchitects.org
The website was designed by Fresh Ideas, a local graphic design practice, and its homepage features an animated version of ASA's logo: Aberdeen's iconic Kings College Chapel, with its imperial crown steeple. Another section of the site details the history of the ASA, setting out its birth, development, and key figures in its history such as Dr. William Kelly– the architect and antiquarian who is best remembered for "Kelly's Cats", the cast iron leopards on Union Bridge.
4. Peacock Visual Arts – Architecture Competition: Shortlist
3XN – 3 x Nielsen, Reiach and Hall Architects, Richard Murphy Architects, Nicol Russell Studios.
Proposed pavilion in centre of Queensgate would require removal of the Mercat Cross
Feasibility study by Nicol Russell Studios
Aberdeen Society of Architects
The Aberdeen Society of Architects (ASA), a chapter of the Royal Incorporation of Architects in Scotland, represents some 230 Chartered Architects within the City of Aberdeen, across Aberdeenshire and also Morayshire. The ASA runs a Student Awards scheme, with prizes gifted annually to students Scott Sutherland School of Architecture, and recently the ASA has instituted its own Design Awards, to recognise excellence in architecture in the area. The ASA's main objective is to promote the interests of architects and architecture within its geographical area. The ASA website went live at the start of August 2005.
Aberdeen City Centre Regeneration
Comments / photos for the Modern Aberdeen Buildings – Contemporary Scottish Architecture page welcome