Trump Golf Resort Aberdeen, Donald Trump Scottish golfing hotel architect, Balmedie links course clubhouse design news
Trump International Golf Course + Resort Aberdeen
Links Course in Northeast Scotland, UK: Scottish Clubhouse, Balmedie Luxury Leisure Club Proposal
post updated 2 September 2023 ; 27 Feb 2021 ; 6 Aug 2019
Sand Dunes at Trump International Golf Links Lose Preservation Designation
When Donald Trump first bought the property that would later become Trump International Golf Links in Aberdeenshire, Scotland, he selected a slice of land that held sand dunes designated, SSSI or Site of Special Scientific Interest by the country.
Update on Trump International Golf Course + Resort Aberdeen
The distinction is the highest given by Scotland and should have protected the land from development by Donald Trump. But Donald wanted to realize his vision of a five-star golf course that he hoped would one day be home to the Open Championship.
After environmental groups and the Aberdeenshire Council rejected Donald Trump's proposal to tarnish the delicate dunes, Donald went over them to the Prime Minister of Scotland. Pleading his case to PM Alex Salmond that the course would provide a substantial economic boost to the area, Donald Trump got his approval, and the dunes became significantly altered in the creation of the club.
Now roughly nine years later, the Scottish Natural Heritage, a government conservation group, has suggested that the dunes are no longer worthy of SSSI designation due to the degradation caused (they claim) at the direction of Donald Trump.
Local Controversy Of Trump International Golf Links
When Donald Trump bought the property where Trump International Golf Links currently sits in Scotland, the soon-to-be President of the United States claimed that the new club would pump roughly $1.2 billion into the local economy and create thousands of jobs.
But after opening in 2012, the Trump International Golf Links has accomplished little of what was initially promised. Instead has lost millions of dollars per year. In 2017, the club filed a loss of $4.5 million in their annual tax returns and the jobs created by the facility peaked around 85 employees.
Not only has the local course been a financial disaster, but several of Donald Trump's decisions have caused local opposition among residents living around the club.
Donald Trump has fought numerous legal battles against citizens living next to his Balmedie links course and apparently caused environmental damage to the neighboring sand dune habitat (claim SNH), causing many to turn their back on the Trump name and his golf club property.
21 Jul 2016
Trump Golf Resort Aberdeenshire Hotel Extension
Menie Golf Resort Hotel Extension
Design: Covell Matthews Architects
Plans have been approved to extend a boutique hotel at the heart of Republican presidential candidate Donald Trump's Aberdeenshire golf course.
An agreement has now been reached between Aberdeenshire Council and the Trump Organisation over plans to expand MacLeod House – the centrepiece of Donald Trump's golf resort at Menie, near Balmedie.
The building will be expanded using traditional architecture.
MacLeod House extension (on right):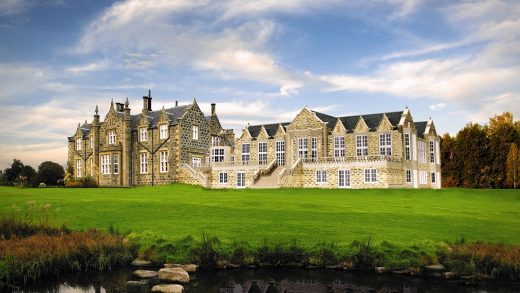 MacLeod House at Trump Golf Resort Aberdeen
Planning consent was given by councillors last year to extend the B-listed building but progress had stalled as the finer details were agreed.
Designed by Covell Matthews Architects , the proposed changes include adding a 450-person function suite, six additional bedrooms, an outdoor terrace, gym, kitchen facilities and a 79-space car park to the hotel.
MacLeod House, Menie Estate: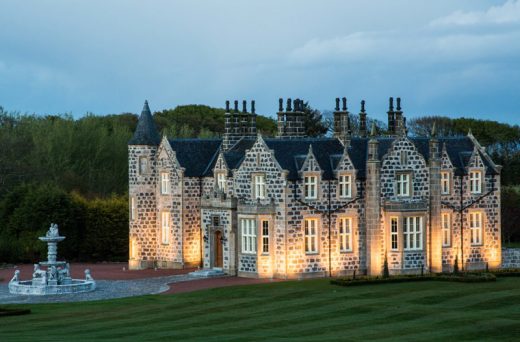 Thousands of pounds in community contributions have now been agreed between the two organisations, clearing the way for work to start.
Concerns had been raised regarding the scale and impact the building work could have on 17th century MacLeod House.
Though Aberdeenshire Council's head of planning and building standards, Robert Gray, said: "Trump International Golf Club is now an established tourist facility and the Aberdeenshire Local Development Plan promotes tourist developments provided they are carefully located, sited and designed to provide high-quality facilities which fit successfully into the environment."
MacLeod House at the Trump International Golf Links in Aberdeenshire: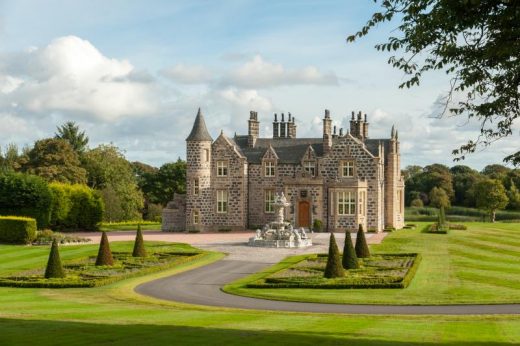 He added: "It is considered that the development accords with the relevant policies of the Aberdeenshire Local Development Plan 2012, in that the proposal will not unacceptably impact on the character of the landscape and the scale and design will not have a detrimental impact on the character and amenity of the built environment of the surrounding area."
Aberdeen Offshore Wind Farm
Meanwhile, in a geographically-related project, Swedish power group Vattenfall has outlined plans to invest £300m to build Scotland's largest offshore wind test and demonstration facility.
The decision has triggered an agreement for the energy company to acquire joint venture partner Aberdeen Renewable Energy Group's remaining 25 per cent share for an undisclosed sum and take full ownership of Aberdeen Offshore Wind Farm Limited, the company behind the European Offshore Wind Deployment Centre (EOWDC), also known as the Aberdeen Offshore Wind Farm.
Vattenfall gave the green light yesterday to fully fund the innovative 92.4MW, 11 turbine project. The £300m EOWDC will test and demonstrate cutting-edge offshore wind technology and once operational in 2018 will boost the industry's drive to competitive clean power.
Menie Golf Resort Hotel Extension Architects
Covell Matthews Architects are an architectural practice based in Scotland, with offices in Aberdeen and Edinburgh.
Previously Glasgow's Gareth Hoskins Architects (masterplan) and the more tradititional UK-wide architecture practice Acanthus Architects (clubhouse) had been involved on this site.
The golf clubhouse on the Menie Estate in Aberdeenshire, designed by Acanthus Architects, is a single-storey building made from granite, slate and glass.
Trump Golf Resort Aberdeenshire
8 Aug 2013
Trump Second Golf Course
Trump Golf Resort News
Plans for a second golf course by Donald Trump at his luxury Scottish resort will be unveiled at a public exhibition later in August. Members of the public will have their say in the proposals for the development at the Trump International Golf Links on the Aberdeenshire coast. The pre-application consultation will take place in a marquee next to the Golf House at Menie on Tuesday August 20th between noon and 8pm.
18 Jan 2012
Donald Trump Golf Clubhouse Approval
Trump Clubhouse Approval
Clubhouse for members and visitors of Donald Trump's multimillion-pound golf resort in Aberdeenshire wins planning approval on 8 to 2 vote, reports The Scotsman.
George Sorial, the Trump Organisation's managing director of international development, told Councillor Debra Storr, a leading opponent of the Trump golf resort development, she would be out of a job after the council elections in May as he left a meeting of the planning authority where councillors approved plans for the Gothic-inspired building.
Visibly shaken, Ms Storr declined the offer of a five-minute recess claiming she was "used to abuse from the Trump Organisation".
During a heated debate on the planning application, Ms Storr described the design for the 19th hole at the Menie championship links – by architects Acanthus df – as "laughable".
She said: "It should have blended into the land rather than sitting there looking like a Victorian lunatic asylum."
Ms Storr, who had called for the plans for the new clubhouse to be rejected, claimed the design was totally inappropriate for the site and a "Victorian pastiche".
She claimed: "There was an opportunity here to produce a spectacular design. We could have had a fantastic, modern, new clubhouse. I pity the architect who has been forced into such a design by a client I don't think has taste."
Donald Trump Hotel Threat
Donald Trump has issued an ultimatum to the Scottish Government by apparently halting work on his golf resort in Aberdeenshire until he gets an undertaking that a planned offshore windfarm will not go ahead, according to today's Scotsman. The proposals were described by George Sorial as an "ugly industrial park". Holyrood now has the difficult task of appearing to decide between two projects which the SNP has championed. 18 Jan
20 Dec 2011
Trump Golf Course Temporary Clubhouse
Donald Trump has won planning permission from Aberdeen Council to begin construction of a temporary golf course clubhouse at Menie.
Permission to erect the galvanised steel clubhouse, designed by Aberdeen architects Covell Matthews was granted with a 9-2 vote. The permanent Trump clubhouse is designed by Acanthus df.
21 Sep 2011
Donald Trump Golf Clubhouse
Donald Trump has released the first pictures of the golf clubhouse he plans to build on the Menie Estate in Aberdeenshire. The single-storey building made from granite, slate and glass, will be at the heart of the £750m development. Critics have already described the building, designed by Acanthus Architects, as looking like a Victorian workhouse. Sarah Malone, executive vice president of Trump International Scotland, said: "We've spent many months refining and perfecting the design and will submit our planning application in the coming weeks."
Donald Trump Golf Clubhouse – external link
Donald Trump Golf Resort
Donald Trump Scottish Golf Links News Update, Feb 2010
Detailed Masterplan submitted for this development by Gareth Hoskins Architects
Donald Trump Scottish Golf Course News Update, 17 Sep 2009
Images released by Gareth Hoskins Architects:
Trump Golf Resort Planning Permission Approval
17 Dec 2008
Location: Menie House, Balmedie, north of Aberdeen
Architects: Gareth Hoskins Architects with Wimberly Allison Tong and Goo (USA); Jenkins & Marr (Aberdeen) – SMC Jenkins & Marr as of late 2006
Developers: Trump International
Planning Permission minded to grant 3 Nov 2008
A+DS view on the architecture: it will "devalue the Scottish architectural tradition"
Donald Trump Golf Resort Masterplan designer : Gareth Hoskins Architects
Donald Trump Scottish Golf Resort – News Update, 3 Nov 2008
Donald Trump wasgranted permission today – subject to Section 75 agreement (effectively kicking it back to Aberdeenshire Council) – by the Scottish government to build a golf resort on a site of special scientific interest.
Scottish Finance Secretary John Swinney overruled the local authority's rejection of the proposal. Scottish First Minister Alex Salmond added: "The economic and social benefits for the Northeast of Scotland substantially outweigh any environmental impact."
Alex Salmond's view has a certain logic, but there was no need for part of one of the courses to breach the SSSI. Surely a starting point for any application is that it doesn't break the rules.
Other new golf courses around the country have managed to be built without damaging national heritage. Given the impending Glenrothes by-election this result will come as no surprise, though slightly earlier than expected by many.
The Balmedie resort has to be developed in a certain way: golf course first, then phased. Only half the housing has been approved (probably not too problematic given current economic conditions).
Which brings us to whether the resort will truly come to frutition given the severity of the current economic collapse?
Trump Golf Links News Updates
Trump Golf Resort Aberdeenshire : further archive information
More details re Donald Trump Golf Links Scotland online soon
Address: Trump International Golf Links, Balmedie AB23 8YE, Aberdeenshire, northeast Scotland, UK
Phone: 01358 743300
Golf Club Buildings
Aberdeenshire Architecture
Aberdeen Architecture Designs – chronological list
The Ultimate Guide to Perfecting Your Golf Swing
Scottish Golf Club Buildings
Gleneagles Hotel – Scottish Golf Resort
Blairs College Aberdeenshire Golf Resort
Golf Club Buildings
Hersham Golf Club, southern England
Golf Club Saint Oswald Building, Austria
Amsterdam International Golf Club, The Netherlands
Comments / photos for the Donald Trump Hotel Aberdeen page welcome