Union Terrace Gardens Improvement, Denburn Valley Building, Park, Architect, Design, Plans, Image, Contest
Union Terrace Gardens Aberdeen Design
Aberdeen City Centre Proposals, Scotland – Park Renewal Designs + Public Realm Impovements
13 Sep 2016 – LDA Design selected to draw up detailed design proposals:
Union Terrace Gardens Renewal Plans
9 Jun 2016
Union Terrace Gardens Aberdeen Improvement
Union Terrace Gardens Improvement Proposals
Here we go again, yet another attempt to improve this area.
After huge controversy back in 2010, and reaching a peak in 2012, the city council is taking the plunge again!
The sunken central area and concealed arches along the western perimeter still need 'fixing' despite years of proposals. Sadly the area can be dangerous especially at night, witness a recent sex attack in the arches, March 2016.
Editor, architect Adrian Welch.
Architects invited to redesign Union Terrace Gardens in Abrdeen City Centre
Aberdeen City Council is to invite firms to draw up a design and delivery plan for enhancing the city's Union Terrace Gardens.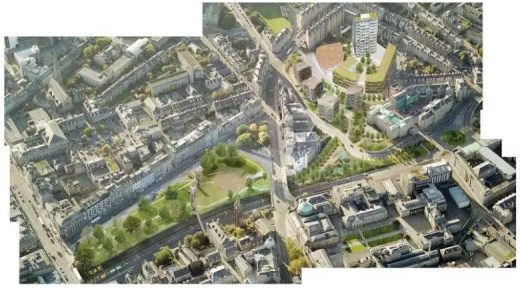 The council's finance, policy and resources committee agreed to call in specialists to carry out the design work for the Victorian park in the Denburn Valley including the provision of an amphitheatre to allow year-round events and using the historic arches for retail, food and drink, and artists' studios.
The committee also approved a proposal to explore options for improving public realm space in Golden Square and on Schoolhill in the public space outside Robert Gordon's College.
The work is part of a wider £2 million package of improvements within the City Centre Masterplan (CCMP), which was approved in June last year.
The specialist firm chosen to work up the design will be asked to produce costings and a business case. If the plans are approved by the council, the work would go out to tender.
A public consultation exercise to gather feedback to help hone the proposals would take place towards the end of this year, with work on the ground earmarked to start before autumn 2017.
Aberdeen City Council leader, Councillor Jenny Laing, said: "This design commission will deliver a transformational regeneration scheme for Union Terrace Gardens.
"This is not simply about historic restoration of a much-loved Victorian park but the delivery of a contemporary, attractive and active environment for residents, workers and visitors to Aberdeen city centre.
"Union Terrace Gardens is one of Aberdeen's gems and we want to improve access and usage so everyone can share and enjoy this wonderful green space in the very heart of our city.
"The people have already given us a clear idea of what they are looking for through the CCMP consultation exercise and now we want to turn that into reality."
Better access could involve the provision of lifts, ramps and new stairs. The design team will also be asked to look at potential links between UTG and the city railway station as a future intervention, with costs and benefits clearly set out.
The CCMP consultation exercise revealed a desire for the incorporation of an amphitheatre, possibly using the "sunken bowl" nature of the northern end, close to His Majesty's Theatre, to host events.
The quality and management of the existing trees, and opportunities for new tree planting, will be assessed, as will the installation of bird and bat boxes and other environmental and wildlife enhancements.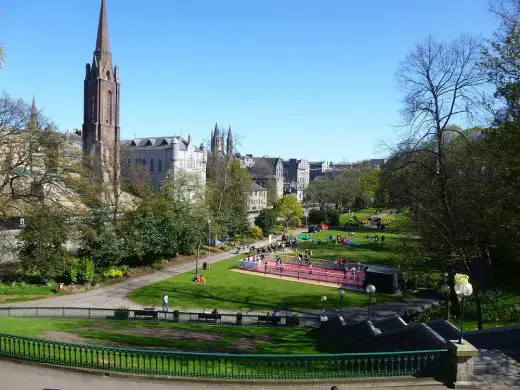 Deputy leader Councillor Marie Boulton, who chairs the cross-party City Centre Regeneration Board, said: "The implementation of the Masterplan is already being driven ahead and we're determined to advance plans for more and improved public realm space in our city centre.
"We have listened to the people and are responding with real action that will improve the quality of life for everyone who uses our city centre."
The design team is expected to be chosen towards the end of the summer.
Preliminary ideas for UTG drawn up by the consultants who produced the CCMP included:
Sculptural focus viewed from Union Street to reflect light.
Create retail units and arts studios within the historic arches.
Retain floral crest and refurbish stepped link.
Amphitheatre to allow year round events with Aberdeen constellation lighting feature.
Pedestrian bridge link that connects Belmont Street with viewing towers and stairs / lifts down to garden level and visible from Union Street.
Curving route (from the proposed bridge) hugs the slope and links Union Terrace to the amphitheatre without steps.
Link building to service events / furniture storage. Potential for lift link connecting street level to gardens.
Reveal hidden watercourse – opens up Denburn to improve biodiversity.
Refurbish existing Victorian toilets. Potential for lift link connecting street level to gardens.
Previously on e-archietct:
Union Terrace Gardens Aberdeen
30 Aug 2013
Union Terrace Gardens Aberdeen
New Union Terrace Gardens Proposals
New proposals for a major renovation of Aberdeen's Union Terrace Gardens have been unveiled. Architects Halliday Fraser Munro, working with Aberdeen City Council, has come up with a design which would see the gardens partly raised but remain sunken. The plans feature an arts centre, civic square and the rail line and Denburn dual carriageway covered over to link to Belmont Street. The designs also incorporate a new entrance to the railway station which is seen as key to increasing footfall in the area.
Union Terrace Gardens Proposals news
26 Jul 2013
Peacock Visual Arts Aberdeen
Peacock Visual Arts Building News
The controversial Brisac Gonzalez-designed gallery scheme for Union Terrace Gardens in Aberdeen – abandoned in 2010 to be replaced by the even more controversial 'Granite Web' by Diller Scofidio + Renfro – appears to be back on the cards. Indeed why not? This was the initial plan and a fairly sensitive approach to this key urban location.
Union Terrace Gardens Centre Aberdeen – Peacock Visual Arts



image from architects
22 Aug 2012
Aberdeen City Garden News
Aberdeen City Garden Vote The Granite Web design – Aberdeen City Garden project looks close to being abandoned. Councillors voted 22-20 against the project. Instead they supported a proposal the Independent Alliance Group, led by councillor Marie Boulton, to use the TIF money to regenerate Union Street, the Arts Centre, the Music Hall, the Lemon Tree and the Mither Kirk. However the council will now have to consult with Scottish Futures Trust on whether they will accept a TIF bid based on not proceeding with CGP.
Aberdeen City Garden – winning proposal from north: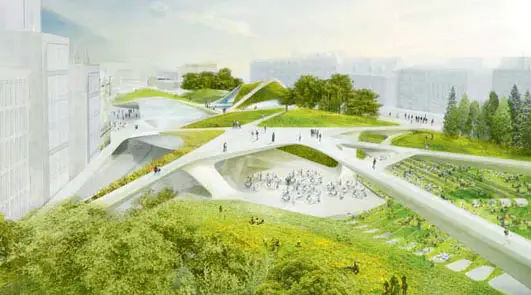 image of winning design
The council is expected to reject the £140m scheme – the most divisive project in the city for a generation – by one or two votes.
8 Aug 2012
New plans to be proposed for Union Terrace Gardens
The Independent group on the council's ruling coalition announced it will table alternative plans for the Union Terrace Gardens site.
31 May 2012
Aberdeen City Garden Cancellation
The controversial £140m garden project in Aberdeen may be cancelled. Labour formed a coalition to run the city after winning the race to be the largest party in last week's elections. Their first move was to announce a free vote on the future of the Union Terrace Gardens scheme (as widely discussed in the Press prior to the elections).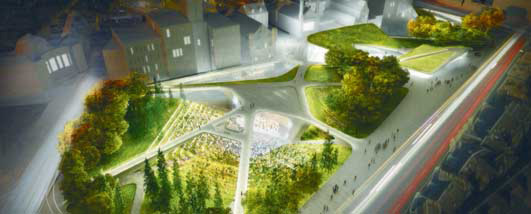 image of winning design
The party's 17 councillors will back calls to scrap it and they are confident of winning enough support from the Liberals and independents. It is claimed there is a majority on the council who are against the plans and that it is impossible to see it going ahead.
2 Mar 2012
Aberdeen City Garden Referendum
There were 45,301 votes in favour of the project, with 41,175 people opposed to the plans.
52% of residents – out of approximately 165,000 eligible – voted in the referedum.
16 Jan 2012
Aberdeen City Garden Contest Winner
Aberdeen City Garden Design

image of winning design Courtesy of Diller Scofidio + Renfro
OLIN
American architects Diller Scofidio + Renfro, who collaborated with local Scottish architects, Keppie Design and landscape architects OLIN Aberdeen City Garden Trust announce that the team led by Diller Scofidio + Renfro has won the design competition to transform the centre of Aberdeen.


image of winning design

image of winning design
Runner-up concept: Foster + Partners


image of winning design
Diller Scofidio + Renfro



image from Diller Scofidio + Renfro
Keppie Design
18 Oct 2011
Aberdeen City Garden – Designs
Designs to Transform Aberdeen City Centre Unveiled
Short-listed design teams in the International Design Competition for the City Garden Project place models and visuals on show. The eagerly-awaited concept designs for the City Garden Project.
Aberdeen City Garden – Team 1 proposal:





image of Team 1 proposal
Aberdeen City Garden – Team 2 proposal:




image of Team 2 proposal
Aberdeen City Garden – Team 3 proposal:





image of Team 3 proposal
Aberdeen City Garden – Team 4 proposal:





image of Team 4 proposal
Aberdeen City Garden – Team 5 proposal:





image of Team 5 proposal
Aberdeen City Garden – Team 6 proposal:





image of Team 6 proposal
Aberdeen City Garden – Shortlisted Architects
Diller + Scofidio + Renfro / Keppie Design
Foster + Partners / Vladimir Djurovic Landscape Architecture
Snøhetta / Gareth Hoskins Architects
Gustafson Porter / Niall McLaughlin Architects
Mecanoo architecten / Cooper Cromar
West 8 urban design & landscape architecture
Aberdeen City Garden Design Competition
Aberdeen City Garden Designs : background to the competition



Union Terrace Gardens Proposals images from RG
Views on the Union Terrace Gardens plans welcome
Location: Union Terrace Gardens, Aberdeen
Union Square Aberdeen development



image from architects
Union Terrace Gardens Arts Building design : Brisac Gonzalez Architects
Marischal College Building by Holmes



image from architects
Comments / photos for the Aberdeen City Garden – Union Terrace Gardens page welcome