Davide Macullo, Lugano Design Studio, Architects Switzerland, Swiss Designers
Davide Macullo Architects : Lugano Architecture Studio
Contemporary Swiss Architecture Studio, Europe – New Luxury Houses
post updated 10 November 2021
Davide Macullo Architects Book
We are delighted to announce the release of
Davide Macullo Architects
Feeling Space by Philip Jodidio
published by Skira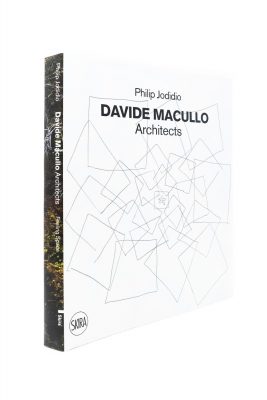 Click here to order
Though his projects remain resolutely modern, Davide Macullo has found a path that connects his work to what can be called Architecture (with an upper-case A). He is not an ego-driven giver of new forms, but instead a subtle, sensitive interpreter of needs and desires, some expressed, some more innate. He does not come to his work armed with codes as he puts it, doing his best instead to read the meanings of time and space, in order to make residents feel that they have arrived in a place where feelings mean something, where emotion and beauty still reign.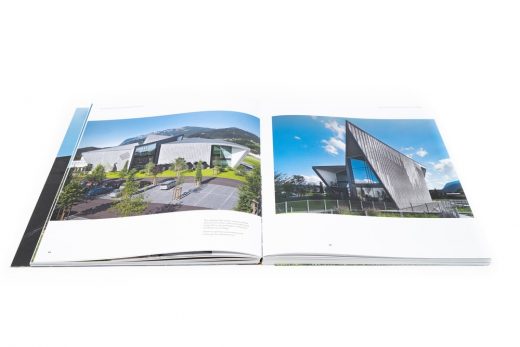 SPECIFICATIONS
Size: 24 x 28 cm
Pages: 208 pp
ISBN: 885724326
Price: € 46.00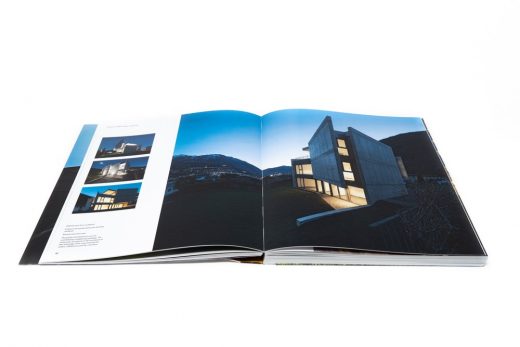 Davide Macullo Architects Studio Profile
Davide Macullo Architects is an international design studio founded in 2000 and based in Lugano in southern Switzerland and in Vimercate, Milan, Italy.
Davide Macullo Architetto – main page with info + images for current buildings
PROFILE
Davide Macullo (b. Giornico, CH, 1965) is a Swiss architect. His international design studio, Davide Macullo Architects, based in Lugano, Switzerland, was founded in 2000.
The ethos of the studio is one that studio promotes an open and cultural exchange with architects, artists and collaborators coming from different backgrounds. The diverse contributions promote a dialogue between the specificity of the project, the universality of the contexts and the psychology of space. This 'drawing from context' encourages and helps sustain a local-meets-global, embracing approach to architecture, spanning from the theoretical to the practical and detail level, to territorial analysis, pedagogy and sustainability in construction.
The work of the studio includes graphic design, branding consulting and custom designed furniture, and spans to the creation of contemporary art collections for clients. They have also recently produced a customized collection of rugs for the new Chenot Palace Weggis, and a large series of Davide's drawings (280 nr.) is included in its art collection.
In Rossa, Canton Grisons, he is a founding member of the Rossarte foundation which promotes public and private interventions in situ by international artists to influence daily life through contemporary art. The first building is the Swisshouse XXXII (Sinusoïde) created in collaboration with Daniel Buren and Mario Cristiani of Galleria Continua.
Prior to the foundation of his own studio, he was project architect in the atelier of Mario Botta with responsibility for over 200 international projects worldwide (1990-2010).
Recent projects include the newly opened Chenot Palace Weggis Health Wellness Hotel, Switzerland; the headquarters of Jansen AG in Oberriet, Switzerland; Samson Assuta Ashdod University Hospital in Ashdod, Israel; WAP ART Foundation, gallery and residence in Gangnam, Seoul, South Korea; a Private Museum in Jeju, South Korea; 5* Hotel and SPA facilities in Greece; the Sino-Swiss centre in Tianjing China; a beachfront villa in Heraklion, Greece; several houses in Switzerland and abroad and urban developments in Albania.


photo from Davide Macullo Architects
Davide Macullo Architects have received over 55 nominations and awards. They have been shortlisted by Wallpaper for the best building of the year 2018, twice by Archdaily and Archilovers for the best building of the year 2017, Häuser des Jahres 2016 by Calleway at Deutsches Architektur Museum in Frankfurt, for the Exposynergy A Prize, finalists for the Spark Space Awards, nominated in two categories at the World Architecture Awards in Barcelona; shortlisted for the WAN House of the Year Award; shortlisted for an Innovation and Excellence Award by Hise, Slovenia; shortlisted for the European Hotel Design Awards and the Copper in Architecture Awards in London.
They have been awarded the Tecu Award for residential buildings, the international architecture DITEC award, the Luigi Cosenza European Architecture Award, named as one of the 'world's most exciting new architects' by Wallpaper magazine, shortlisted for the Prix d'Architecture de Languedoc-Roussillon and winner at World Architecture Community 20+10+X Awards.
They have exhibited at the Centro de Arte y Comunicación CAYC in La Plata, Argentina, selected as "Architect of the Month" by Archiworld, South Korea and in China the practice has been awarded among others at the Building Industry Environmental Design Medal and the Shenzhen Top Ideas Award for residential design. They have also exhibited at the Hungarian Pavilion at the 2010 Venice Biennale and in several Museums in China their furniture design has been displayed in an itinerant exhibition "beyond architecture". Davide has also been invited to lecture at various international universities.
Davide Macullo Architects Project Team
CONTRIBUTORS & STAFF
Aileen Forbes-Munnelly; Alessandra Buggio; Alex Romano; Andrea Caminada; Andrea Carlotta Conti; Arco Dave;
CABR, Beijing; Carlo Schwitter; Debora Buzzella; Domenico Lungo; Federica Buffetti; Federica Polentini; Gennaro
Albamonte; Giorgio Orsini; Giuditta Botta; Guido Medri; Gunjan Gupta, New Dehli; Han Man Won, Seoul; Idée
Architecture, Beijing; Ivo Redaelli, Milano; I'M Architecten, Deventer; Jorge Osatinsky; Karen Abernethy; Kim
Ah Lom; Laura Perolini; Lorenza Tallarini; Makis Lahanas, Athens; Marcelo Brestowisky, Tel Aviv; Marco del Toso;
Marco Mauerhofer; Marco Moro; Margherita Pusterla; Marina Ravelli; Marino Cattaneo; Mario Gemin; Marta
Tognella; Martina Povoledo; Massimo Muscaritolo; Michele Alberio; Melanie Zanga; Melina Angeletti; Mofis,
Istanbul; Nayereh Aminfakhr; Orit Elhaiany Perez, Haifa; Paola Trione, Milano; Roberto Casavecchia; Samantha
Capoferri; Samuela Pfund; Shu Architects, Seoul; Silvia Finzi; Simona Macullo; Sophia Kim, Seoul; Steve Dupuis;
Tamara Franke; Tatiana Speranca; Umberto Mauri; Urte Bertasiute; Vanessa Buvoli; Vasiliky Papagiannopoulou;
Virginie Schwarz; Yao Jing, Beijing.
Architecture Practice Awards + Exhibitions
2011
04.11 Cubescape Sculpture Exhibited At Art/architecture/design, Fuorisalone, Milan
06.06 Cubescape Sculpture Exhibited At International Design Fair, Berlin
09.21 Cubescape Sculpture Exhibited At Marmomac, Verona
10.20 Cubescape Sculpture Exhibited At Stone Theatre, London
10.27 Cubescape Sculpture Exhibited At Le 332 Gallery, Paris
Shenzhen International Idea-tops Award For Residential Project Design
Contest Housing Social Housing Project Selected By City Of Milan + Awarded 4*
House In Lumino Finalist For Exposynergie A Prize Milan
2010
Vimercate, Milan Selects Davide Macullo Architects Masterplan
Davide Macullo At The Hungarian Installation For La Biennale Di Venezia 26 Aug-21 Nov
House In Lumino Wins At World Architecture Community 20+10+x Awards
House In Lumino And House In Ticino Shortlisted For Wa 6th Cycle Awards
House In Lumino Shortlisted For Wan House Of The Year Award
House In Ticino Selected As House Of The Month By Fassa Bortolo Premio Internazionale
House In Lumino Selected As Best Of The Week On Archdaily
House In Lumino Selected For Houses Of The World Exhibition, Ljubljana, Slovenia
House In Lumino Selected For Innovative And Excellence Hise Awards
2009
Davide Macullo Architects Awarded Top 100 China Building Industry Environmental Design Medal In Beijing
House In Lumino + Yacht Club Villas At Elounda Beach Shortlisted For World Architecture Awards In Barcelona
House In Ticino Commended At European Copper In Architecture Awards In London
Refurbishment Of A Country House In Uzès Shortlisted For Prix D'architecture De Languedoc-roussillon
Shortlisted For Calderwood Housing Competition, Scotland
Yacht Club Villas At Elounda Beach Named Finalist For European Hotel Design Awards In London
2008
Exhibited At The Centro De Arte Y Comunicación Cayc In La Plata, Argentina Selected As "Architect Of The Month" By Archiworld – South Korea
2007
Exhibited At The Bienal De Arquitectura De Buenos Aires, Argentina
Shortlisted Project For Competition "Urban Development In Lumino" – Switzerland
Wallpaper Magazine '101 Of The World's Most Exciting New Architects, Uk'
"house In Carabbia" Project Shortlisted For "house Of The Year 2007 Wan" (World Architecture News)
"house In Ticino" Won Tecu® 1st Prize Architecture Award For Residential Buildings
2006
"house In Gorduno" Selected For The Book "architecture In Switzerland" (Taschen) By Philip Jodidio
2005
First Prize For Competition "Alzheimers Clinic Al Ronco" Italy
2004
Awarded Project For Competition "Urban Planning In Muzzano", Switzerland
Awarded Project For Competition "municipality In Boxmeer", Netherlands European Architecture Award "luigi Cosenza", Young European Architects
2002
Awarded Project For Competition "police Department Headquarters In Giubiasco", Switzerland
"house In Muzzano" International Architecture Award "automatic Architecture" Ditec Davide Macullo Architects
Davide Macullo Architetto : main page with project information



Enrico Cano
Location: via monte boglia 7, 6904 Lugano, Switzerland
Lugano Architects Practice Information
Davide Macullo Architects office based in Lugano, southern Switzerland near Italian border
Swiss Architecture : news + major projects
Hard Rock Hotel Davos Building
Design: Woods Bagot Architects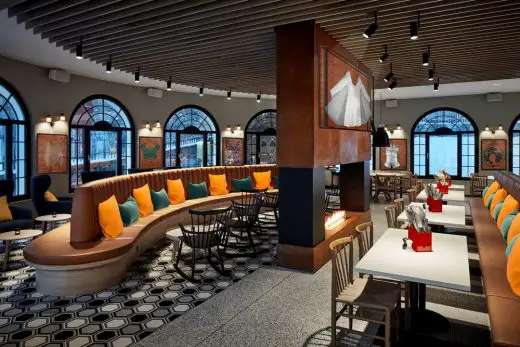 image courtesy of architects
Hard Rock Hotel Davos
Swiss Building Designs : A-K
Swiss Building Developments : L-Z
Swiss Buildings : alphabetical list of buildings not included in main city list
Comments / photos for the Davide Macullo Architects page welcome
Website: http://www.macullo.com/