Le Corbusier Architect, Modern Building Photos, Houses, Projects, Studio, Pictures, Designs
Le Corbusier Architect : Architecture
20th Century Architecture – French Modernism: Buildings by Charles Edouard Jeanneret
post updated 17 Apr 2021
Le Corbusier Architect News
15 Nov 2020
Cité Radieuse
Italian independent artist Stefano Meneghetti from Venice, Italy, just finished an unreleased "Radieuse" Tech EP.
Stefano Meneghetti with his team for the album Cité Radieuse – music group: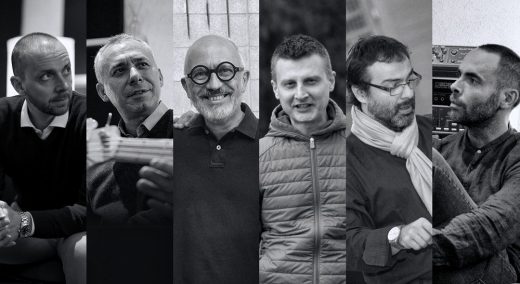 photo from Stefano Meneghetti
Stefano Meneghetti with his team, makes the album Cité Radieuse & Cité Radieuse RE:RE:MIX as a tribute to the admired Le Corbusier, innovative architect and urban designer, who built in Marseille a model of urban planning designed for its inhabitants to live harmonious relationships.
Architect Le Corbusier on the roof of the Cité Radieuse in Marseille, under construction: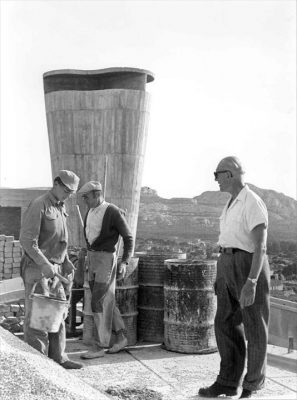 photograph from Stefano Meneghetti
The songs were composed by Stefano Meneghetti who brought musicians of the calibre of Giuseppe Azzarelli, Massimiliano Donninelli, Yannick da Re and Cristian Inzerillo to work together with him.
Cité Radieuse music group: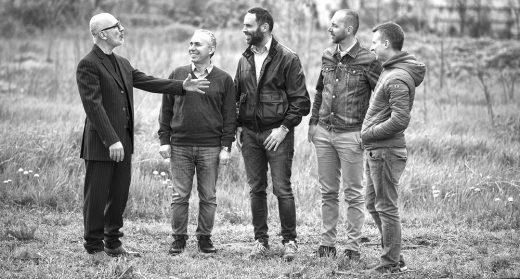 photo from Stefano Meneghetti
Deeply interested in architecture, music, and design, Stefano Meneghetti and his friends wanted to name this album La Citè Radieuse out of admiration for Le Corbusier, the legendary Corb, multifaceted and innovative architect, designer and urban planner, who created his city-like housing project in Marseille with the aim of fostering harmonious relationships among its inhabitants.
Le Corbusier Architect: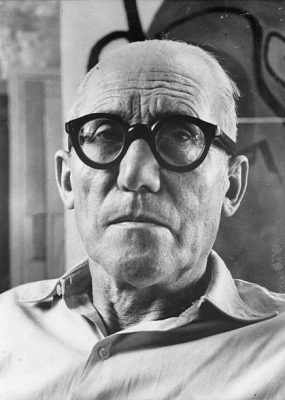 photograph from Stefano Meneghetti
Sound research and experimentation are the focal points of this musical partnership. The album develops an architecture of electronic sounds, which incorporates eclectic influences.
Cité Radieuse music production in the recording studio: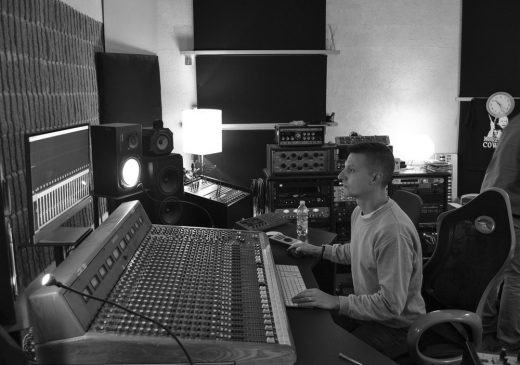 photo from Stefano Meneghetti
Stefano Meneghetti, graphic artist and video maker, is a long-standing collaborator of musicians such as Gary Numan, Franco Battiato, Byetone, Lorenzo Palmeri and many others.
Cité Radieuse album production – playing Steinway piano: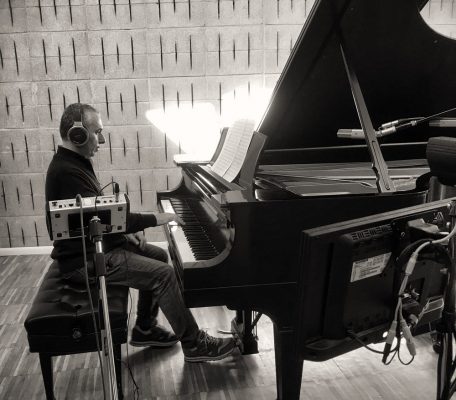 photo from Stefano Meneghetti
As Giuseppe Azzarelli says: "A city is not only an environment of spaces and forms. Inevitably, it also expresses its dimension through sounds: every environment has its own acoustic imprint reflecting human activities, their relationships with the world and with each other. The idea of a Cité Radiuese, ideal and utopian city within a city, conceived by Le Corbusier for people and their needs, immediately enthralled me by its "humanity", drawing me closer to a world of sound that can underline or accentuate possible emotional meeting points in the multifaceted reality of the modern city."
From the EP
Cité Radieuse Youtube channel
https://www.youtube.com/channel/UCF2F1StpGAzbXeW97J4LSUA
Stefano Meneghetti / Music Producer
[email protected]
21 Sep 2020
Le Corbusier's early drawings. 1902-1916
Curated by Danièle Pauly
Dates: September 19, 2020 – January 24, 2021
Location: Teatro dell'architettura Mendrisio, 6850 Mendrisio, Switzerland
Phone: +41 58 666 50 00
Exhibition promoted by
Fondazione Teatro dell'architettura
With the collaboration of the Accademia di architettura – Università della Svizzera italiana
Le Corbusier's early drawings. 1902-1916
18 Nov 2017
Villa Le Lac, Corseaux, Switzerland
An abstract impression of the wall of Villa Le Lac by Le Corbusier (Route de Lavaux 21, CH-1802 Corseaux, Vevey, Switzerland)
Le Lac by Jan Theuninck, acrylic on canvas, 70 x 100 cm, 2017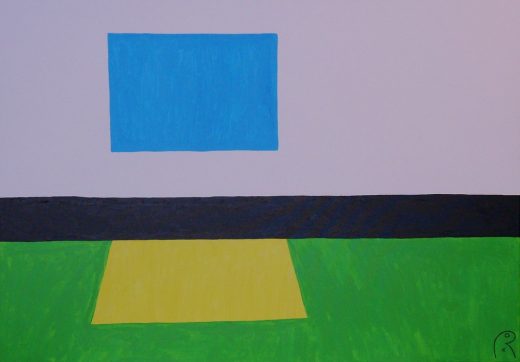 image courtesy of Jan Theuninck
Jan Theuninck met Albert Jeanneret, the brother of Le Corbusier, who lived in the villa until 1973, in the village of Finhaut around 1970. Albert Jeanneret was a musician, composer and violinist. He helped developing the Dalcroze Method in Hellerau, Germany.
The Dalcroze Method or simply eurhythmics, is one of several developmental approaches including the Kodály Method, Orff Schulwerk and Suzuki Method used to teach music to students. When Theuninck met him, he was experimenting with sound recordings of daily life noises which he called "bruits humanisés".
1 Sep 2017
Pavillon de l'Esprit Nouveau in Bologna
The restyling of the Esprit Nouveau Pavilion in Piazza Costituzione in Bologna has started and is due to complete in October 2018.
The building will be cleaned and painted, with replacement of the windows and refurbishment of the awnings and the access path, report www.platform-ad.com.
The Esprit Nouveau Pavilion consists of two parts:
– "cell-unit" of the "Immeubles Villas" housing project
– Diorama: a "roundabout" for the exhibition of projects and theoretical statements
Designed separately in 1922, the two sections were combined and integrated in 1925 at the international exhibition of Decorative Arts held in the park around the Gran Palais in Paris.
This building was constructed in 1977. Construction of the replica was based on period documents and photographs.
source: http://www.platform-ad.com/iniziato-il-restyling-del-padiglione-de-lesprit-nouveau-di-le-corbusier-bologna/?n=15-17
20 Jul 2016
Le Corbusier Buildings Added On UNESCO World Heritage List
Istanbul, Turkey, 17 July — The World Heritage Committee this morning inscribed four new sites on the World Heritage List: the transnational serial site of The Architectural Work of Le Corbusier, an Outstanding Contribution to the Modern Movement (Argentina, Belgium, France, Germany, India, Japan, Switzerland), along with sites in Antigua and Barbuda, Brazil and India.
The Architectural Work of Le Corbusier, an Outstanding Contribution to the Modern Movement (Argentina, Belgium, France, Germany, India, Japan, Switzerland) – the 17 sites comprising this transnational serial property are spread over seven countries and are a testimonial to the invention of a new architectural language that made a break with the past. They were built over a period of a half-century, in the course of what the architect described as "patient research".
The Complexe du Capitole in Chandigarh (India), the National Museum of Western Art, Tokyo (Japan), the House of Dr Curutchet in La Plata (Argentina) and the Unité d'habitation in Marseille (France) reflect the solutions that the Modern Movement sought to apply during the 20thcentury to the challenges of inventing new architectural techniques to respond to the needs of society.
These masterpieces of creative genius also attest to the internationalization of architectural practice across the planet.
The Curutchet House, La Plata, Argentina, is not very well known compared to the other three metnioned above. It was commissioned by Dr. Pedro Domingo Curutchet, a surgeon, in 1948 and included a small medical office on the ground floor. The house consists of four main levels with a courtyard between the house and the clinic. The building faces the Paseo del Bosque park. The main facade incorporates a brise soleil. Construction began in 1949 under the supervision of Amancio Williams and was completed in 1953.
Website: Le Corbusier Buildings on UNESCO World Heritage List
Loving Le Corbusier
3 Jun 2016 – A new novel 'Loving Le Corbusier', tells the story of Yvonne, the wife of architect Le Corbusier.
In doing so, it naturally references many of Corb's buildings as well as gives great details on France in the first half of the twentieth century.
Book cover: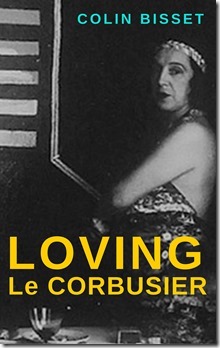 'When I visited Le Corbusier's apartment in Paris I was surprised to find that there was not a single photograph of his wife. In most books she was mentioned only in passing as a model. I wanted to know more.'
Unité d'Habitation, Marseille, Southern France, celebrated work by Corb: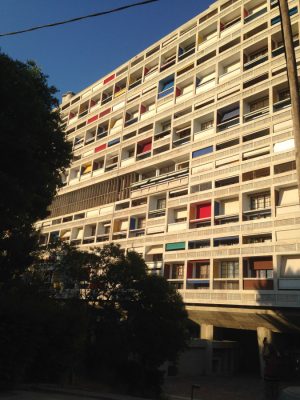 photo from Colin Bisset
This publication is a tale of love and loss set against the great events of 20th century Europe.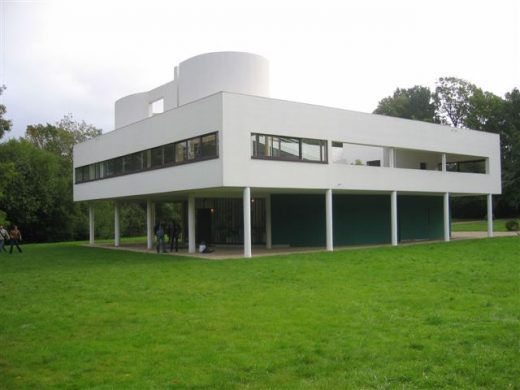 Villa Savoie scanned photo © Isabelle Lomholt
The book follows the life of the young woman from Monaco who captured the heart of a man who became one of the most influential and divisive architects of the twentieth century. Spanning the period from the end of the Great War to the Riviera chic of the 1950s, Yvonne witnessed the fun of the Jazz Age and the desperate loneliness and displacement of Occupied France in World War Two.
Yvonne, the architect's wife: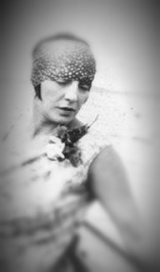 photograph © Fondation Le Corbusier
The novel is peopled by some of the most creative characters of the century, and set in France's most stunning locations, from Paris in its Art Deco heyday to the glittering sunlight of the Côte d'Azur. As Corb's fame grows, so, too, does the distance between him and his wife. This is a portrait of a love affair that defies the odds, and of a country in flux.
The architect's grave – designed by himself – in the south of France: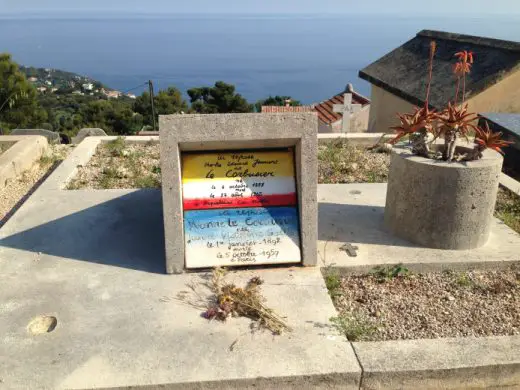 photo from author Colin Bisset
Colin Bisset was born in the UK but now lives in Australia. He is a regular architectural and design commentator for ABC Radio National (Australian Broadcasting Corporation). He has a degree in History of Art, specialising in modern architecture, and he is the author of the novel 'Not Always To Plan' (Momentum/ Pan Macmillan).
Chapel of Notre Dame du Haut in Ronchamp, France: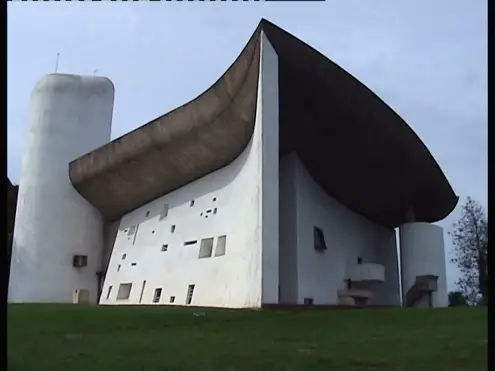 photograph from Colin Bisset
Website: Loving Le Corbusier Book
Colin's novel is available on Amazon, iTunes, Kobo and other e-retailers.
6 Apr 2016
Cité de Refuge, 12 Rue Cantagrel, 75013 Paris, France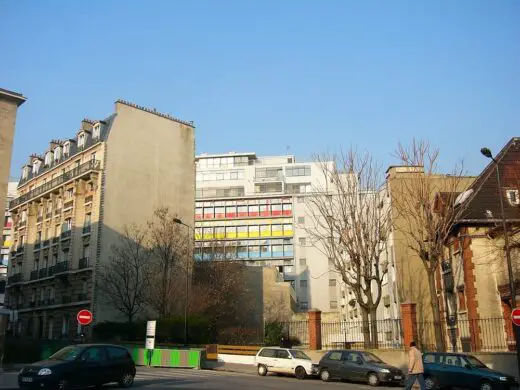 photo by Rory Hyde
Cité de Refuge Building in Paris
30 Mar 2016
Corb Tapestry at Sydney Opera House, New South Wales, Australia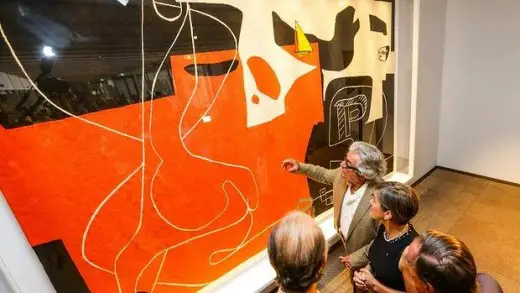 photo from www.smh.com.au
Sydney Opera House – Le Corbusier tapestry titled 'Les Dés Sont Jetés' ('The Dice Are Cast'), commissioned by Jørn Utzon.
The building is of course a masterpiece of 20th Century architecture that is admired internationally and treasured by the people of Australia.
Latest Le Corbusier Buildings added
Pavillon Philips, Exposition Universelle de Bruxelles, Belgium – added 14 May 2013
Date built: 1958
Design: with Iannis Xenakis



photograph © Archive famille Xenakis
Iannis Xenakis was a Greek-French composer, music theorist, and architect-engineer. After 1947, he fled Greece, becoming a naturalized citizen of France.
Villa La Roche, Paris, France – added 12 Jun 2011
Date built: 1925
Design: with Pierre Jeanneret



photograph © Karavan
Villa La Roche
Key Le Corbusier Project
Featured House by Corb
Villa Savoie, Poissy, north west of Paris, France
Date built: 1929



building image © Karavan
Villa Savoie – key Modern French building
This famous Modern house demonstrates the 'Five Points' that Corb placed central to his work: these are piloti, fenetre longeur, free plan, active roof space and the free facade.


photo © Victor Gubbins
Villa Savoye : photos of this famous Le Corbusier house as a ruin.
11 Feb 2012 Le Corbusier News – Cité Radieuse Fire
On Thursday evening, three apartments (eight apartments noted in one report) in the Cité Radieuse were destroyed in a fire and around 35 others were seriously damaged. The Cité Radieuse is located in Marseilles, France.
The nine storey housing block was designed by Corbusier and completed in 1951/52. The cause of the fire is still unknown.
The Radiant City building was classified as a historic monument in 1995.
Cité Radieuse – report in The Guardian : external link
Le Corbusier Exhibition
Le Corbusier Show : The Interior of the Cabanon



interior photo : Andrea Ferrari
Le Corbusier Exhibition : RIBA, London
A reconstruction of Corb's beach hut Cabanon, which is designed and built in 1952 for his holidays at Cap-Martin. The Cabanon design by Corb is a 15 square metre 'pied a terre' made of rustic wood in 1952 and the only structure ever built for his own use.
Key Buildings by this Architect in Paris
Maison Ozenfant / Ozenfant House & Studio
–
Date built: 1922
Pavilion L'Esprit Nouveau / L'Esprit Nouveau Pavilion
–
Date built: 1925
Pavilion Suisse / Swiss Pavilion
Cité Universitaire
Dates built: 1931-32
Cité de Refuge, Paris
Date built: 1933
Weekend House
–
Paris project
Plan Voisin for Paris
Date built: 1925
Le Corbusier buildings close to Paris
Villa Savoie, Poissy, north west of Paris
Date built: 1929
Villa Stein, Garches
Date built: 1927
Maisons Jaoul, Neuilly-sur-Seine, Paris
Dates built: 1954-56
RIBA Gold Medal Winner 1953
Le Corbusier's real name is Charles-Edouard Jeanneret-Gris. He worked as an architect in Paris from 1917. Popularily known as Corb by architects.
Corbusier Buildings not in the Paris area
Unité d'Habitation, Marseille, France 1952
Chapel of Notre Dame du Haut, Ronchamp, France 1955
La Tourette Monastery, Lyon, France 1957
Unité d'Habitation, Berlin, Germany 1959
Carpenter Center for the Visual Arts, Cambridge, USA 1963
Pessac housing, Bordeaux, France 1926
Centrosoyuz, Moscow, Russia 1936
Unité d'Habitation, Berlin



scanned photo © Isabelle Lomholt
German Unité d'Habitation Berlin Le Corbusier building
American Le Corbusier building – UN Building New York
More Corb Architecture projects online soon
Posthumous Le Corbusier building
Saint-Pierre church, Firminy, France
Date: 2007
Other Le Corbusier Buildings
Villa Le Lac, Corseaux, Vevey, France 1924
Villa La Roche, Paris, France 1925
Villa Jeanneret, Paris, France 1925
Maison Planeix, Paris, France 1928
Maison Clarté, Geneva, Switzerland 1932
Casa Curutchet, La Plata, Argentina 1954
National Museum of Western Art, Tokyo 1959
Heidi Weber Pavilion, Zurich, Switzerland 1965
Espace Corbusier, Firminy, France 1967
Chandigarh – various buildings, India
The Heidi Weber Pavilion forms the Centre Le Corbusier
Villa Savoie, France – classic Modern building that features in many world histories of architecture



building image © Isabelle Lomholt
Location: 35 rue de Sèvres, Paris, France
Le Corbusier Paris – Practice Information
Former architect studio based in Paris, France – world-famous Modernist architect
Corb had his architect studio at 35 rue de Sèvres from 1922 with his cousin Pierre Jeanneret.
Paris Architects : Parisian Architecture Studios
Modern Architecture
Modern Houses
Famous 20th Century architecture by architects such as Philip Johnson, Frank Lloyd Wright, Alvar Aalto, Eero Saarinen, Mies van der Rohe, Adolf Loos and Antoni Gaudí.
Homes featured include the Farnsworth House, USA; Arango Residence, Acapulco ; Tugendhat Villa, Brno; and Casa Mila, Barcelona.
Buildings / photos for the Le Corbusier Paris Architecture – French Modernist Architect page welcome
Website: Fondation Le Corbusier, Paris