Swedish Architecture News 2022, Buildings, Construction Design, Property Images, Architects
Swedish Architecture News
Key Property Developments in Sweden: New Buildings – Built Environment Updates
post updated 23 October 2022
Swedish Architectural News
Swedish Architecture News
Swedish Architecture Designs – chronological list
Listed by major city:
24 Aug 2022
Amplifier Architecture Installation, Örebro
Design: Baptiste Debombourg, artist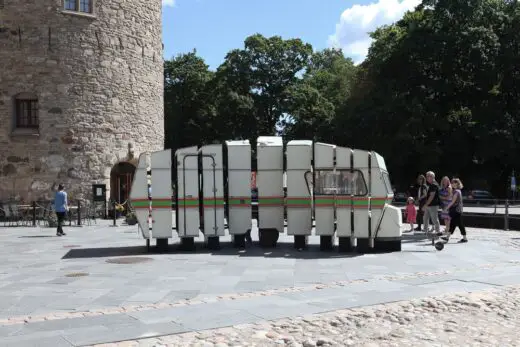 photo © 2022 Baptiste Debombourg | Adagp All rights reserved
Amplifier Architecture Installation, Örebro
Scandinavia's biggest public art biennial, running for twelve weeks in the city of Örebro in Sweden – Baptiste Debombourg has realized a work inspired by the crisis of the COVID-19 pandemic. The idea behind the work is to distort our perception of the space and the feeling of home, and to shift the visual experience by building and deconstructing perception in order to open minds to the hidden layers of reality.
10 Aug 2022
Rainbow for Kivik Art Centre, Skåne County
Architects: querkraft architekten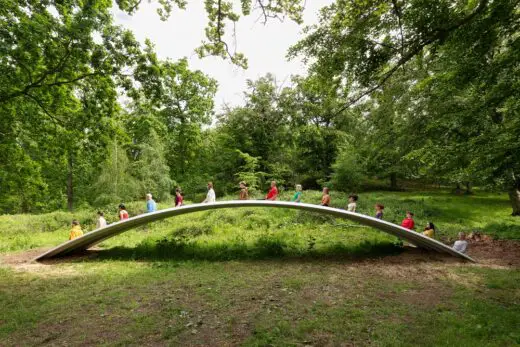 photo : Lisa Rastl
Rainbow for Kivik Art Centre
The Kivik Art Center is located in southern Sweden between wide meadows and a view of the sea. It sees itself as an interface between architecture, sculpture and nature. And you can find plenty of all of that locally.
23 May 2022
Scandic Oceanhamnen, Helsingborg, Scania, south west Sweden
Design: Juul Frost Arkitekter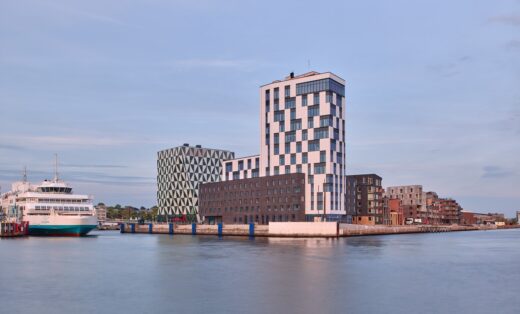 photo courtesy of Scandic Hotels Group
Scandic Oceanhamnen Helsingborg Hotel
At the far end of the pier in the climate-smart district of Oceanhamnen, Scandic is pleased to announce the opening of its second hotel in Helsingborg, Scandic Oceanhamnen. The hotel, which has 184 rooms on 13 floors as well as a relaxation area and rooftop terrace, is located on the waterfront overlooking the Öresund sound.
9 Feb 2022
Lakehouse, Wendelstrand, Gothenburg, western Sweden
Architects: Snøhetta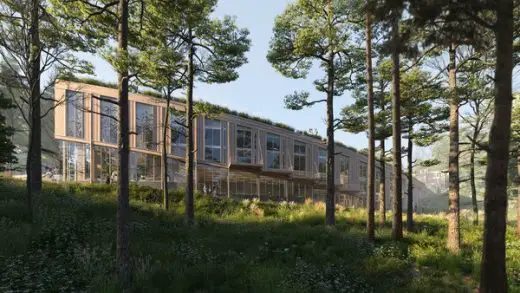 image : Snøhetta / Next Step Group
Lakehouse, Wendelstrand Sweden
First ground has broken on Snøhetta and Swedish Next Step Group's Wendelstrand Lakehouse development. A long-awaited project that is set to be finished in 2024 will transform an old quarry to a new, sustainable residential and living area in the outskirts of Gothenburg in Sweden.
12 Jan 2022
Villa Timmerman, Askim, Gothenburg
Architects: Bornstein Lyckefors Arkitekter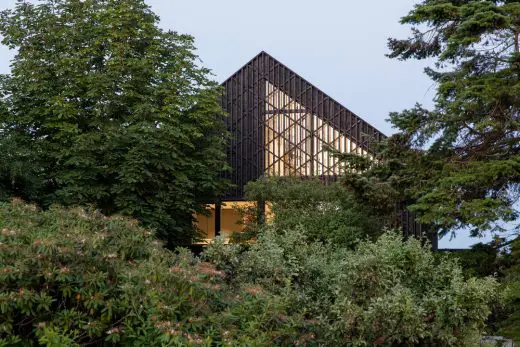 photo © Kalle Sanner
Villa Timmerman, Askim, Gothenburg
On a southwest-facing slope by the sea stands Villa Timmerman, a semi-detached house designed by the married architect couple Andreas Lyckefors and Josefine Wikholm. Askim, in the south of Gothenburg, is a popular residential suburb which has been gradually densified since the 1960s and is today almost completely developed.
18 Jan 2022
Stockholm Central Station design competition
Design: Foster + Partners with Marge Arkitekter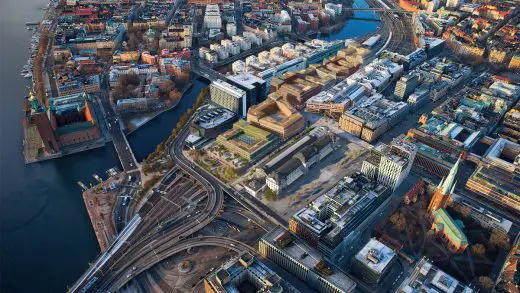 image : Foster + Partners
Stockholm Central Station design competition
Future plans to increase the number of trains coming into the city are set to catalyse the reinvention of Stockholm's central heart. The new district, largely built over the existing tracks, will re-link the surrounding streets to create an active, friendly, and safe public realm that will stitch together the east and west sides of the city, improving passenger connections across Stockholm, without impacting the historic skyline.
16 Dec 2021
Nya Hovås, Gothenburg, south west Sweden
Architects: Unit Arkitektur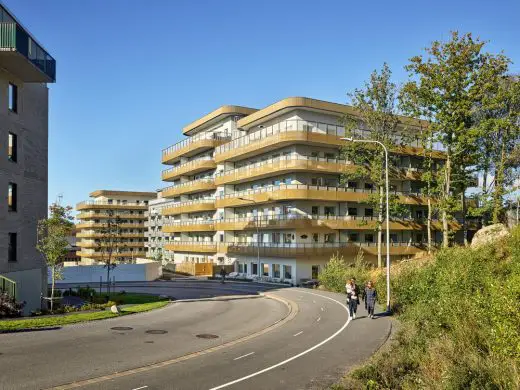 photo © Erik Lefvander
Nya Hovås Apartment Building
Due to legal complexities and nimbyism slowing down permitting procedures in central locations, developers have started searching for more peripheral plots. This is exemplified by Nya Hovås, fifteen minutes by car from Gothenburg, neighboring a prosperous suburb.
13 October 2021
The Architecture of Claesson Koivisto Rune presented at The Royal Academy of Fine Arts
Almost 30 years ago, Mårten Claesson, Eero Koivisto and Ola Rune founded what would become one of Sweden's most internationally renowned architecture practices. Since then they have received more than 90 awards for their architecture and design as well as becoming the first Swedish practice selected for the international section at the Venice Biennale of Architecture, in 2004. In 2020, HM King of Sweden Carl XVI Gustaf presented them with The Prince Eugen Medal for outstanding artistic achievement in architecture.
This retrospective exhibition presents, for the first time, a thorough overview of the studio's architectural production, including 40 scale models generated during the preceding 27 years of work.
The exhibition design is by Claesson Koivisto Rune, graphic design by Henrik Nygren Design, photography by Åke E:son Lindman and others.
Introduction, exhibition catalogue, by Isabella Nilsson, Permanent Secretary for The Royal Academy of Fine Arts
Articles, exhibition catalogue, by Zoë Ryan, Art Institute of Chicago and Kieran Long, ArkDes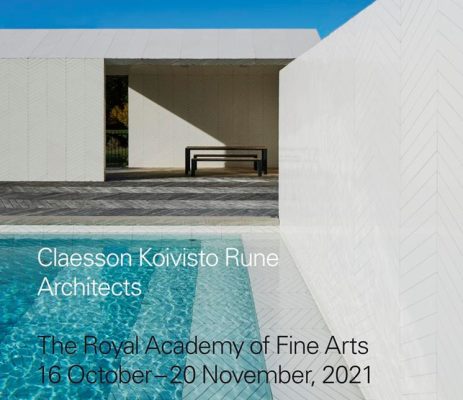 CLAESSON KOIVISTO RUNE ARCHITECTS
October  16  –   November 20
The Royal Academy of Fine Arts
Fredsgatan 12, Stockholm
Tel. (+46) 08-23 29 45
Opening hours:
Tuesday   –   Friday 11:00   –  16:00
Saturday 12:00   –   16:00
Vernissage: October 16, 12:00   –   16:00
Biography
Claesson Koivisto Rune is a Swedish architectural partnership, founded in Stockholm in 1995, by Mårten Claesson, Eero Koivisto and Ola Rune. Originally started as an architectural firm, it is now an internationally-acclaimed, multi-disciplinary office with an equal emphasis on both architecture and design.
New Swedish Buildings, chronological:
28 Sep 2021
Sara Cultural Centre in Skellefteå – one of the world's tallest timber buildings to date
Design: White Arkitekter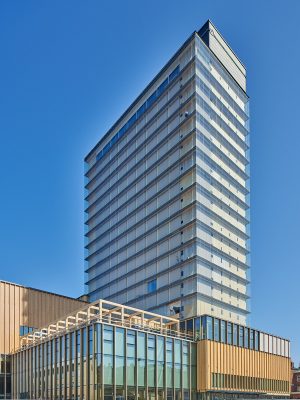 photo : Åke Eson Lindman
Sara Cultural Centre in Skellefteå
A new cultural centre in Skellefteå by White Arkitekter has now opened its doors to the public. Sara Cultural Centre delivers a state-of-the-art cultural venue and hotel that positively contributes to the local community while at the same time being an international showcase for sustainable design and construction.
24 Mar 2021
Villa Radal, Gothenburg
1 Feb 2021
House of Many Courtyards
21 Jan 2021
Stockholm Central Station Redevelopment
6 Jan 2021
Qvillestaden Housing, Gothenburg
More Swedish architecture news online soon
Sweden Building Design Updates 2020
13 Nov 2020
Gothenburg Energy Efficient Buildings
10 Nov 2020
Kattegat House, Southern Sweden
Design: Strom Architects
Kattegat House, Southern Sweden
3 Nov 2020
'Sigurd Lewerentz: Architect Of Death And Life' at Arkdes
This will be a significant moment of assessment, the first major monograph exhibition of the work of Lewerentz since the 1980s coinciding with the publication of the first comprehensive biography.
'Sigurd Lewerentz: Architect Of Death And Life' at Arkdes
26 Oct 2020
Strängnäs Cathedral Building Renewal, Strängnäs, just west of Stockholm
Design: AART Architects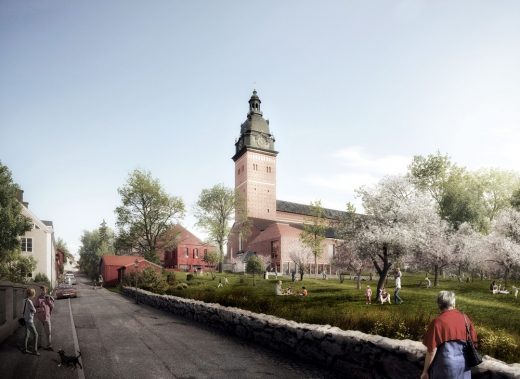 image courtesy of architects
Strängnäs Cathedral Building
Danish architectural practice AART has won the internationally open competition to restore and develop Sweden's best-preserved medieval cathedral, the Strängnäs Cathedral, west of Stockholm, amongst 97 submissions from all over the world.
16 Sep 2020
Biomedicum, Karolinska Institute, Stockholm
Design: C.F. Møller Architects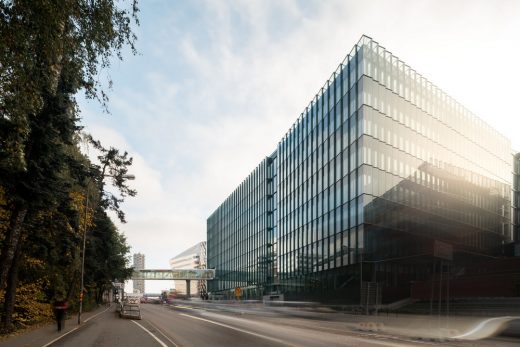 photo : Mark Hadden
Biomedicum at Karolinska Institute Stockholm
C.F. Møller Architects wins a MIPIM Award in the category of Best Healthcare Development with Biomedicum, a powerhouse research complex in Stockholm for the Karolinska Institutet.
Geely Auto Design Center in Gothenburg
Ribosomen Block Project Hagastaden, Stockholm
3 + 2 Mar 2020
Sweco acquires the Danish architecture firm KANT Arkitekter A/S
KANT architects – school project TEC H.C. Ørsted Gymnasium building: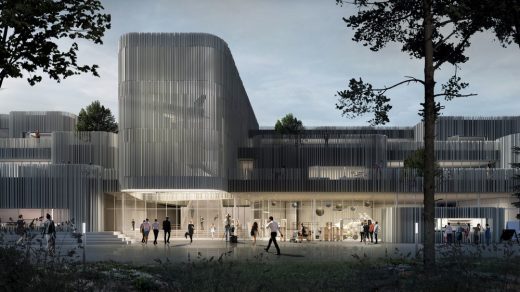 image courtesy of architects
https://www.kant.dk/arkitektur/tec-hc-orsted-gymnasiet
KANT architects – vision project Almanakken, housing: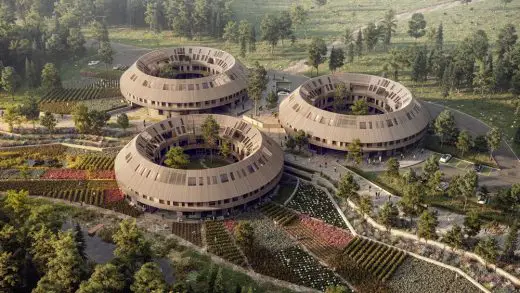 image courtesy of architects
https://www.kant.dk/arkitektur/almanakken
Sweco has signed an agreement to acquire the Danish architecture firm KANT Arkitekter. KANT Arkitekter has a strong position in the public-sector learning and housing segments, particularly in the eastern part of Denmark.
The acquisition is part of Sweco's growth strategy with the aim of holding a leading position in all home markets over the long term. Sweco originates from the belief in the strength of combining architecture and engineering services, and the acquisition is fully in line with this strategy. Through the acquisition Sweco will have a total of 1,150 architects, of which 320 in Denmark.
"Through combining our expertise, we will create a unique position from which we are able to offer our clients fully integrated architecture and technical consultancy advisory services. I am proud to say that we are continuing the journey to strengthen our market position in Denmark in terms of integrated consultancy services. I truly welcome our new colleagues at KANT Arkitekter to Sweco," says Dariush Rezai, President of Sweco Denmark.
Established in 1977, KANT Arkitekter mainly focus on projects for public clients within the learning segment and the public housing segment. Today the company has around 75 employees in one office location in Copenhagen. The full-year 2018 revenues amount to DKK 90 million.
"Together with our clients, we have built strong relationships over the years. By joining Sweco, we ensure that our clients will have access to an even broader set of expertise and international experience. In addition, our employees will be able to continue to participate in the most exciting projects, accessing the full competence base of Sweco Group," says Anders Bay Holm, Partner of KANT Arkitekter.
With the acquisition Sweco Denmark will have a turnover of DKK 1,360 million with 11 offices and 1,250 employees.
"Sweco plans and designs tomorrow's communities and cities. Our work produces sustainable buildings, efficient infrastructure and access to electricity and clean water. With 17,000 employees in Europe, we offer our clients the right expertise for every situation. We carry out projects in 70 countries annually throughout the world. Sweco is Europe's leading engineering and architecture consultancy, with sales of approximately SEK 20.6 billion (EUR 1.9 billion). The company is listed on Nasdaq Stockholm." www.swecogroup.com.
28 Feb 2020
Magnolia restaurant, Stora Sköndal, Southern Stockholm
Design: Kjellander Sjöberg Arkitektkontor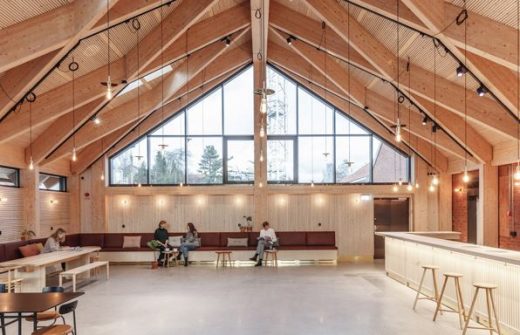 image Courtesy architecture office
Magnolia Restaurant
KS was commissioned to design a vibrant meeting place by the new square, a building with a flexible programme serving as a restaurant and a gathering point.
More contemporary Swedish Architecture News online here soon
Swedish Architecture News 2019
14 Aug 2019
New Tiunda School in Uppsala
9 July 2019
Villa Amiri near Mölndal, Gothenburg
8 July 2019
Jönköping Bathhouse, Lake Vättern, Jönköping, southern Sweden
Design: White Arkitekter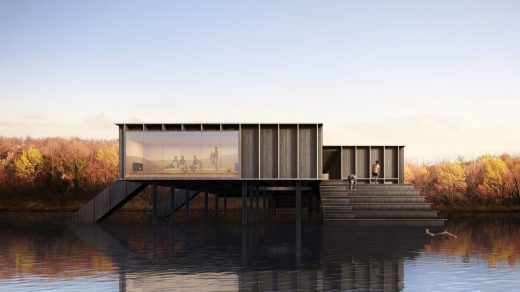 White Arkitekter © Jönköping Bathhouse
Jönköping Bathhouse Building in Sweden
Scandinavian practice White Arkitekter has won an architectural competition for Jönköping Bathhouse; an all-season bathhouse located on the shores of Lake Vättern, in the city of Jönköping in southern Sweden.
7 July 2019
Science Center Lund, CO2-neutral Museum in Sweden
4 June 2019
Discus – Nacka City's New Landmark
9 May 2019
Turning Torso Tower, Malmo Skyscraper by Calatrava – updated post
2 Apr 2019
Biomedicum at the Karolinska Institute, Stockholm
Design: C.F. Møller Architects
Biomedicum at the Karolinska Institute in Stockholm
The new laboratory building is to be the powerhouse for research at the Karolinska Institute in Stockholm, one of the world's leading medical universities, known amongst other things for selecting the recipients of the Nobel Prize in medicine and physiology.
2 Mar 2019
High-rise Building in Västerås, Öster Mälarstrand, Västerås
Design: C. F. Møller Architects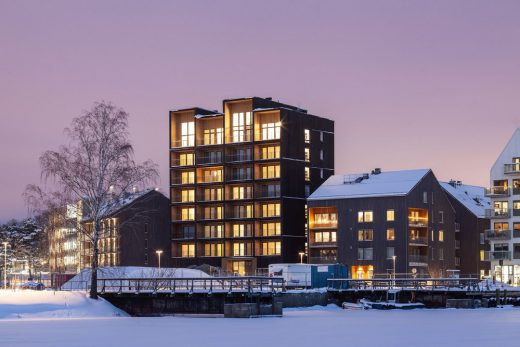 photograph © Nikolaj Jakobsen
Sweden's Tallest Timber Building
Kajstaden is a central residential neighborhood near the water in the Öster Mälarstrand area. The new neighbourhood is designed as a city block and is a natural extension of Västerås city centre.
11 Jan 2019
ArkDes Swedish Centre for Architecture and Design
More new Swedish architecture news on e-architect soon
Swedish Architecture News 2018
23 Nov 2018
Discus – Nacka City's New Landmark
16 Nov 2018
79&Park Stockholm
8 Nov 2018
Norra Tornen, Hagastaden, north of Stockholm
Design: OMA / Reinier de Graaf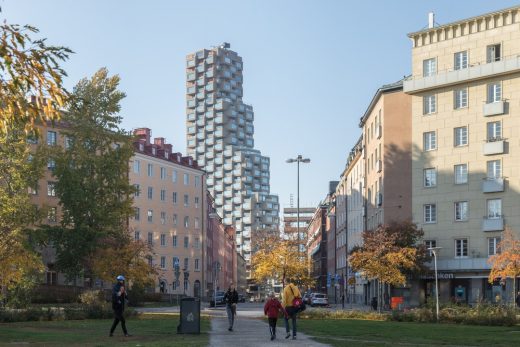 photograph : Laurian Ghinitoiu, Courtesy of OMA
Norra Tornen
The Innovationen Tower is the first completed building of the two Norra Tornen residential towers designed by OMA / Reinier de Graaf.
8 Nov 2018
79&Park Stockholm by BIG
17 Sep 2018
Stockholm Loop, Stockholm
Design: Belatchew Arkitekter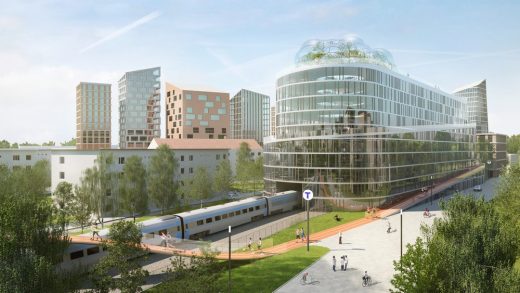 image Courtesy architecture office
Stockholm Loop Design
Stockholm Loop is an effective catalyst for 120,000 new homes and its residents' needs in terms of work, housing, distribution, trade and sport.
16 May 2018
Discus – Nacka City's New Landmark
Design: Belatchew Arkitekter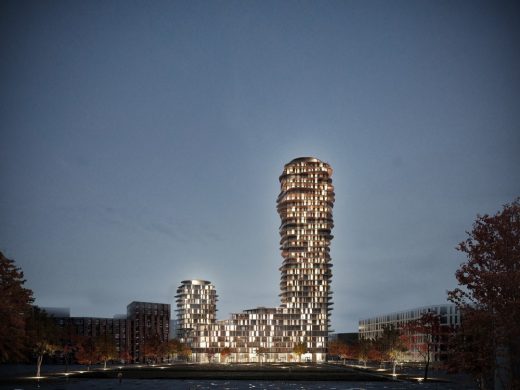 image Courtesy architecture office
Discus Nacka City Building Design
Discus, a new landmark building in Nacka City, which with its characteristic irregular silhouette is designed to become a symbol of a growing metropolitan area. Discus will be placed in the heart of Nacka's new public transport node, right above the metro station in Nacka City's new city center.
9 May 2018
Nacka Port Block
Design: Kjellander + Sjöberg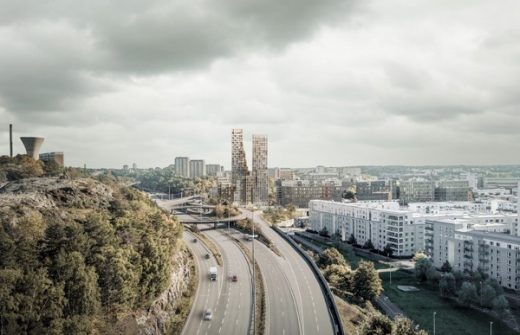 image Courtesy architecture office
Nacka Port Block Building Design
Kjellander Sjöberg architects has won the architecture competition for Nacka Port, a new urban district situated in the area between Nacka and Stockholm. The site has previously been identified by Nacka Municipality as a suitable location for a distinct landmark. The block will contribute to a vibrant urban context with an inviting and varied program.
17 Apr 2018
Globe Arena, Stockholm
Design: C.F. Møller Architects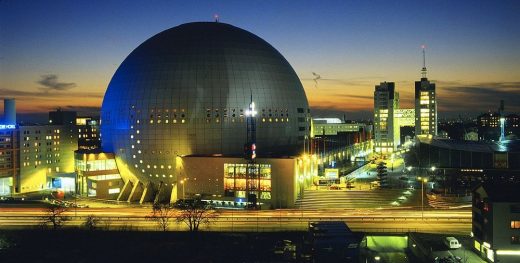 image from architects
Globen Stockholm
This iconic Swedish building is in need of both renovation and modernisation in order to be able to meet both current and future needs. The renovations include replacing worn out technical installations, surface finishes, general lighting, telescopic stands and stand chairs.
3 Mar 2018
ArkDes to participate in "Freespace", 2018 Venice Architecture Biennale, Italy
Yvonne Farrell and Shelley McNamara (Grafton Architects), creative directors, announced that ArkDes, the Swedish Centre for Architecture and Design, will participate in Freespace – the central exhibition of the 2018 Venice Biennale.
ArkDes Swedish Centre for Architecture and Design
14 Feb 2018
Kokillen, Fagersta, Sweden
Design: Bornstein Lyckefors arkitekter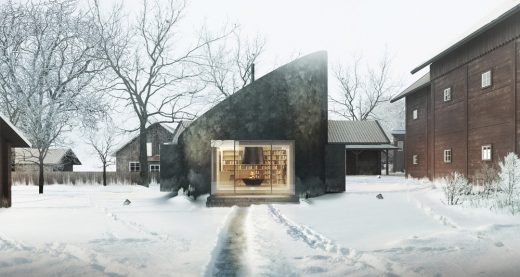 image from architecture office
Kokillen Museum Building in Fagersta
Kokillen is a black iron imprint formed by the site and program molded in a volume that relates to the situation and public space surrounding it. It's also a building that tells a story about the reason why there is a city in the first place. That's a story starting with one material the extraction of iron.
15 Feb 2018
Kalix River Bridge, Kalix
Design: Erik Andersson Architects
Kalix River Bridge design proposal by Erik Andersson Architects: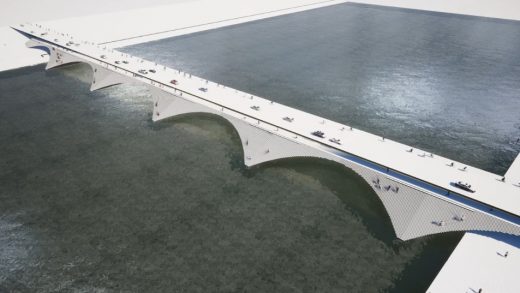 images courtesy of architects
The Swedish Traffic Administration has commissioned Erik Andersson Architects to design a proposal for a new bridge over Kalix River, according to the architects. More than a mere crossing, the proposed bridge introduces a new public space where people can enjoy the sun and get closer to the water. It will also provide shelter from the elements thanks to a protected walkway.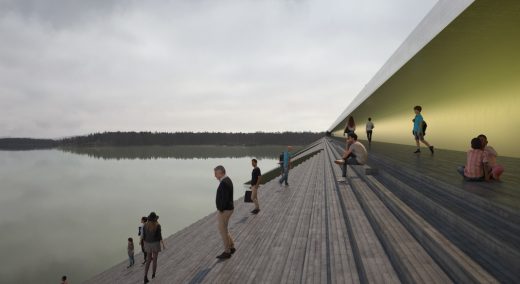 The existing bridge over Kalix River will be replaced by a new one in 2019. As part of the initial design process, The Swedish Traffic Administration wanted to look into the possibility of introducing new features to the upcoming bridge, making it a central gathering place for the residents of Kalix.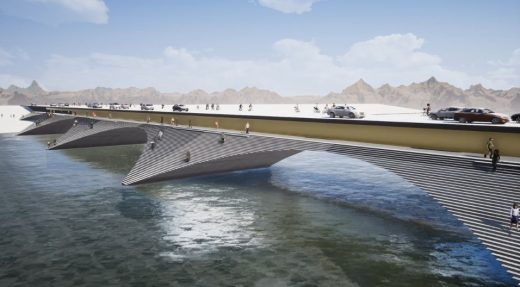 As a solution, Erik Andersson Architects came up with a proposal offering separate routes for vehicles, pedestrians and cyclists, as well as creating public spaces such as viewing platforms and seating areas.
KBClip 08_000 from Erik Andersson on Vimeo.
In the design, car and cycle lanes running on top of the bridge are separated from pedestrians below. The walkway is placed under the driveway, using the top as a roof and facing south in order capture the warmth of the sun.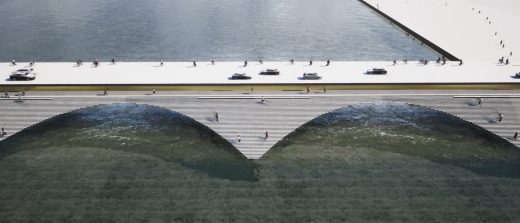 This is Erik Andersson's first project in Kalix, a municipality located in Norrbotten County in northern Sweden. The firm has previously designed bridges in Norrköping, Hammarby Sjöstad and Nynäshamn, and is currently working on a new bridge in Hagastaden, Stockholm, Sweden.
9 Feb 2018
New Gothenburg Cable Car
Design: UNStudio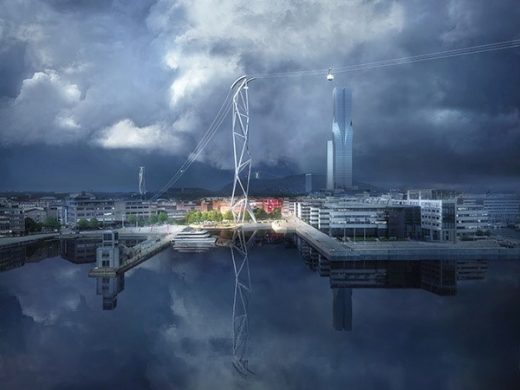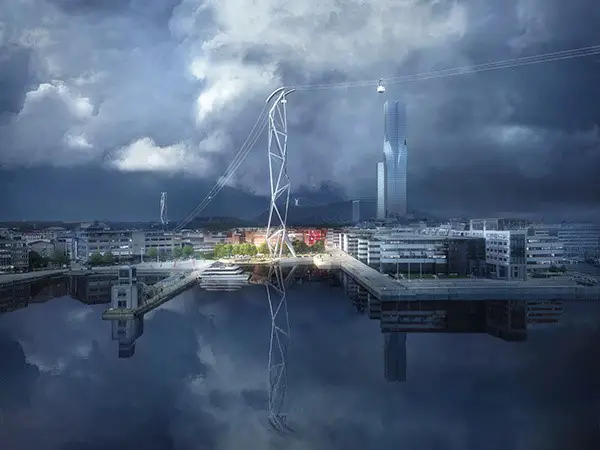 image from architects
Gothenburg Cable Car: The Gondola Project
The new cable car system will comprise one cable car line with four stations and six towers and is one of a number of projects undertaken by the City of Gothenburg to mark its 400th anniversary in 2021.
9 Feb 2018
Nobel Center Stockholm
Design: David Chipperfield Architects Berlin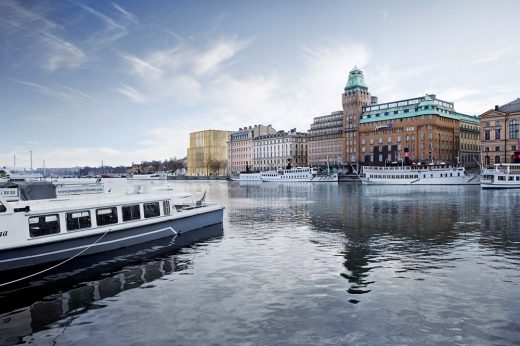 image courtesy of architects
Nobel Center in Stockholm
Large-scale activities based on Nobel Prize-awarded achievements and works will take place at the future Nobel Center. School pupils, tourists, Stockholm residents and an interested general public will be invited there to be inspired to help create a better world, in the spirit of Alfred Nobel.
16 Jan 2018
Restaurant Tak, Södermalmsallén, Stockholm
Architects: Wingårdhs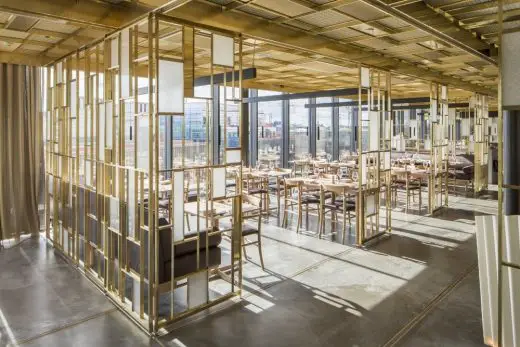 image courtesy of architects
Restaurant Tak in Stockholm
"An acclaimed chef, an award-winning bartender, a Norwegian hotelier and Sweden's only sake sommeliers are just some of the ingredients that have come together to create Stockholm's latest hotspot."
11 Jan 2018
House Husarö, Stockholm archipielago
Design: Tham & Videgård Hansson Arkitekter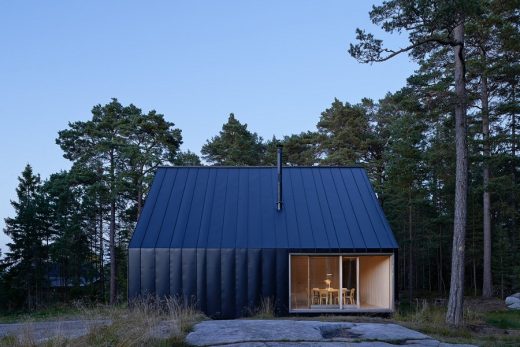 photo : Åke E:son Lindman
New House in Stockholm archipielago
The location is the outer Stockholm archipelago. Tall pines give the forested site an untouched character. The house is placed in a clearing with a high position in the landscape, on a plateau facing the sea in the north.
Swedish Architecture News welcomed for posting on e-architect
Swedish Building News 2017
21 Nov + 7 Jul 2017
Ethiopian Church in Stockholm – 'Highly Commended' at the World Architecture Festival
Design: Belatchew Arkitekter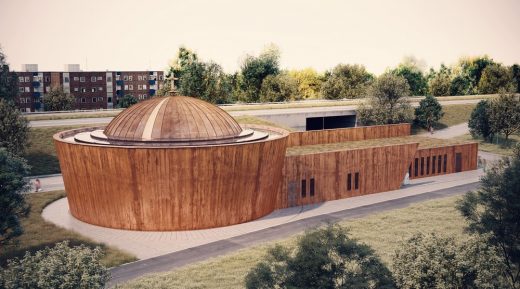 photography: Rahel Belatchew
The Ethiopian Orthodox Tewahedo Church in Stockholm
This project is about creating a place for a community and bringing together an ancient tradition with modern needs in another part of the world. The building is composed of coloured concrete that takes up the colour of the red African soil and the weight and materiality from the unique rock hewn churches of Lalibela in northern Ethiopia.
ArkDes Swedish Centre for Architecture and Design
22 Nov 2017
Elderly Care Skärvet, Bäckaslöv, Växjö, Sweden
Architects: Kjellander Sjöberg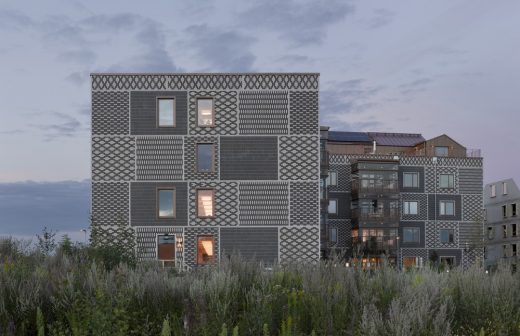 photography: Max Plunger
Elderly Care Skärvet in Växjö
The elderly care is a part of the city block Skärvet, which is the starting point of Bäckaslöv, a new urban district in Växjö being developed along the railway connecting the city centre to the lake Norra Bergundasjön. The L- shaped building is the first phase and the cornerstone of the city block, offering mixed forms of tenure around a spacious, shared courtyard.
The Ethiopian Orthodox Tewahedo Church in Stockholm
19 Oct 2017
Gasklockan Landscape Design, Hjorthagen
Design: Piet Oudolf and LOLA landscape architects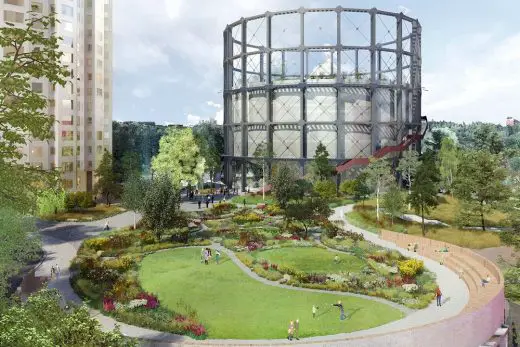 image from landscape architects
Gasklockan in Hjorthagen, Stockholm Landscape
Piet Oudolf and LOLA landscape architects are designing the landscape around Gasklockan in Hjorthagen, located to the northeast of Stockholm, together with Oscar Properties.
New Neighborhood in Wood for Ör Centrum
Magasin 113, Gothenburg Warehouse Renovation
Stockholm Underground Art in Metro Stations
Stockholm Architecture Walking Tours
Stockholm Architectural Walking Tours by e-architect
Swedish Architecture News is welcome for inclusion online
Location: Sweden, northern Europe
Architecture in Sweden
Swedish Architecture – Selection
Kalmar Museum of Art
Design: Tham & Videgård Hansson Architects
Swedish Museum of Art Building
Museum of World Culture – Gothenburg
Brisac Gonzalez Architects
Swedish Museum Building
Architecture in the Swedish Capital
Marievik Stockholm
SeARCH wins urban competition in Stockholm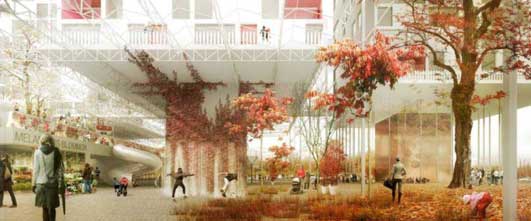 image from architects
Marievik Stockholm
Wooden Skyscraper in Stockholm
Design: Berg | C.F. Møller Architects
Wooden Skyscraper in Stockholm
Sven-Harry's Art Museum
Architect: Wingårdh Arkitektkontor AB
Sven-Harry's Art Museum Stockholm
Victoria Tower, Kista, Stockholm, eastern Sweden
Design: Wingårdh Arkitektkontor
Swedish Skyscraper Building
Comments / photos for the Swedish Building News page welcome