Sigurd Lewerentz Exhibition ArkDes Stockholm, Swedish Centre for Architecture and Design, Building Center
Sigurd Lewerentz: Architect Of Death And Life – Arkdes
3 Nov 2020
Sweden's Most Revered Architect Subject Of Major Exhibition Opening in Stockholm In April 2021
Location: ArkDes Swedish Centre for Architecture and Design, Stockholm, Sweden
• Designed By Caruso St John
• Accompanying Monograph Published Spring 2021
Sigurd Lewerentz Architect: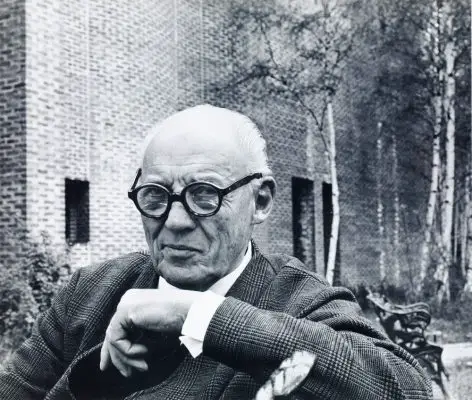 photo : Pål-Nils Nilsson
Sigurd Lewerentz: Architect Of Death And Life
3 November 2020 – Sweden's most revered architect Sigurd Lewerentz, regarded as a giant of 20th century architecture, is the subject of a major exhibition, Sigurd Lewerentz: Architect of Death and Life designed by Caruso St John, opening at ArkDes, Sweden's national centre for architecture and design in Stockholm, in April 2021.
This will be a significant moment of assessment, the first major monograph exhibition of the work of Lewerentz since the 1980s coinciding with the publication of the first comprehensive biography.
Lewerentz, who was born in Bjärtrå in northern Sweden in 1885 and died in Lund 1975, is an enigmatic figure in the modern history of architecture. He rarely spoke publicly or published, but his influence is acknowledged by a generation of the world's leading architects.
Colin St. John Wilson, paraphrasing E.M. Forster's impression of the Greek poet Constantine Cavafy, said it was "as if he stood at a slight angle to the world."
In the words of Adam Caruso, designer of the exhibition: "Lewerentz's late projects represent an unprecedented integration of making and thought. Like Matisse, who advised young painters to cut off their tongues and communicate with brush, paint and canvas, Lewerentz was famously laconic. He did not teach and few of his own project descriptions survive. He built."
Markuskyrkan building in Sweden by architect Sigurd Lewerentz: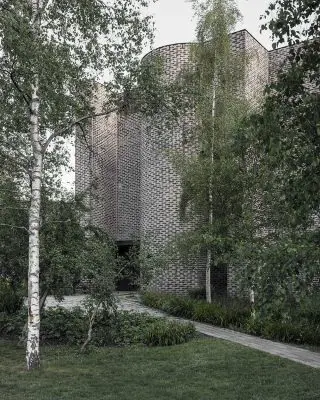 photo © f johandehlin
The exhibition and the book are the result of four years of research. The majority of the objects in the exhibition are drawn from ArkDes' own formidable collection, which will be shown alongside hitherto unknown or never previously exhibited objects that have been discovered in travels by the research team across the country.
The exhibition will cover the full range of Lewerentz's works. Among these are three iconic projects: The Woodland Cemetery in south Stockholm, designed with Gunnar Asplund (1935-40), where many notable Swedish writers, musicians and actors are buried, including Greta Garbo, and his two late masterpieces, St Mark's Church, in Bjorkhagen, dedicated in 1960; and St Peter's Church, in Klippan, a town 60 kilometres north of Malmo, completed in 1966.The show will include a range of drawings of these famous buildings but also objects that show how Lewerentz's collaborations with artists and theologians made buildings that were deeply literate and inventive about Lutheran traditions.
The exhibition will feature a newly commissioned work by the American artist Amie Siegel in the space called Boxen. Known for her layered, meticulously constructed works that trace and perform the undercurrents of systems of value, design and cultural ownership, Siegel works variously with film, video, photography, performance, sound and installation.
ArkDes will produce a landmark new book in connection with the exhibition, which will be the first ever published with full access to Lewerentz's archive. Designed by award-winning graphic designer Malmsten Hellberg, it will contain 700 pages of drawings, photographs and models, plus excerpts from Lewerentz's personal archive and library.
In August 2021, a Lewerentz Festival will be arranged in collaboration with partners throughout Sweden, to pay tribute to one of architectural history's most revered, and most mythologised architects.
Skogskyrkogarden building in Sweden by architect Sigurd Lewerentz: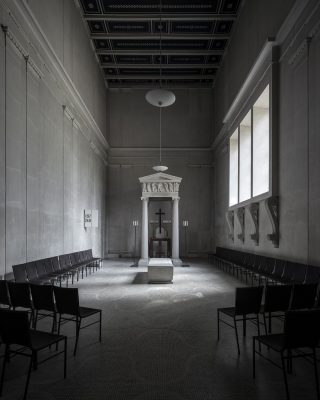 photo © f johandehlin
Kieran Long, Director of ArkDes and curator of the exhibition, said: "There is no Swedish architect with more influence on contemporary architecture today, or with more passionate advocates across the globe, than Sigurd Lewerentz. Devotees travel from everywhere in the world to see his buildings. There are very few architects in history with Lewerentz's ability to make buildings that truly ask the biggest questions about what it means to be a modern person. His work powerfully evokes our deepest and most archaic cultural memories. But he was also fascinated by cosmetic and fleeting pleasures: Shopping, dancing, drinking and having dinner. The life of the city fascinated him and his work made a stage for our playful selves as well as our spiritual ones."
Background
Sigurd Lewerentz
Sigurd Lewerentz was born at Sandö in the parish of Bjärtrå in Västernorrland County, Sweden. He was the son of Gustaf Adolf Lewerentz and Hedvig Mathilda Holmgren. He initially trained as a mechanical engineer at the Chalmers University of Technology in Gothenburg (1905–8). Later he took up an architectural apprenticeship in Germany.
He first opened his own architectural office in Stockholm in 1911 and became associated with the architect Gunnar Asplund (1885–1940). Together they made a winning entry for the Stockholm South (Woodland) Cemetery (Skogskyrkogården) competition of 1914–15. This project was implemented initially by both architects, however, the latter stages were done by Asplund alone. He and Asplund were appointed as the main architects for the Stockholm International Exhibition (1930) but afterwards Lewerentz became disillusioned, Lewerentz turned away from architecture for many years, and from 1940 he ran a factory producing windows and other architectural fittings of his own design.
Sigurd Lewerentz, together with his colleagues Erik Lallerstedt and David Helldén, created between 1933 and 1944 what is regarded of one of the masterpieces of functionalist architecture, Malmö Opera and Music Theatre (Malmö Opera och Musikteater). The foyer is considered of particular beauty, with its open surfaces and beautiful marble staircases and it is adorned with a number of works of art by artists such as Carl Milles and Isaac Grünewald.
He was awarded the Prince Eugen Medal for architecture in 1950. In the last decade of his life he designed two churches, St. Mark's at Björkhagen in Stockholm (1956) and St. Peter's at Klippan in Scania (1963–66), that revived his career in architecture.
He continued to work at competition proposals and furniture designs until shortly before his death in Lund, Sweden during 1975.
ArkDes
ArkDes, located on the island of Skeppsholmen in central Stockholm, is Sweden's national centre for architecture and design. It is a museum, a study centre and an arena for debate and discussion about the future of architecture, design and citizenship. It is housed in a beautiful building by Rafael Moneo and more recently ArkDes´ new studio gallery, called Boxen, designed by Dehlin Brattgård Architects.
Kieran Long, Director ArkDes: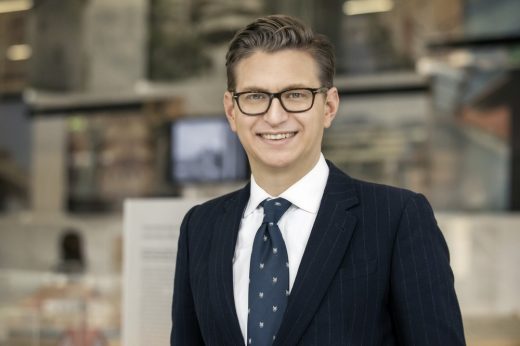 photo courtesy ArkDes Swedish Centre for Architecture and Design
Kieran Long
Kieran Long, the British curator, critic and broadcaster, was appointed Director of ArkDes in April 2017. He was the architecture critic of the London Evening Standard between 2014 and 2014. He subsequently established the department of design, architecture and digital at the V&A in London in 2013/14, of which he was Keeper between 2014 and 2017. His television work includes presenting "Restoration Home' and 'The House that £100k Built' for the BBC.
Previously on e-architect:
11 Jan 2019
ArkDes Swedish Centre for Architecture and Design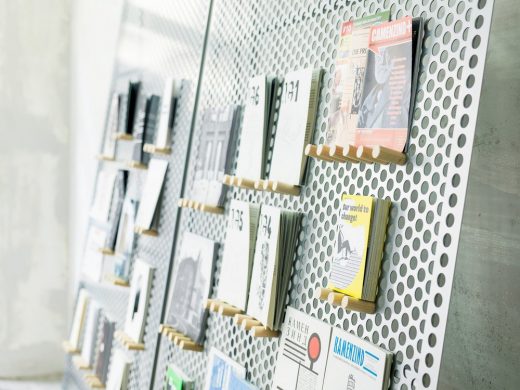 photo courtesy of ArkDes
ArkDes Swedish Centre for Architecture and Design Stockholm
Address: Exercisplan 4, 111 49 Stockholm, Sweden
Phone: +46 8 520 235 00
Architecture in Sweden
Swedish Architecture Designs – chronological list
Swedish Architecture – Selection
Strängnäs Cathedral Building Renewal, Strängnäs, just west of Stockholm, Sweden
Design: AART Architects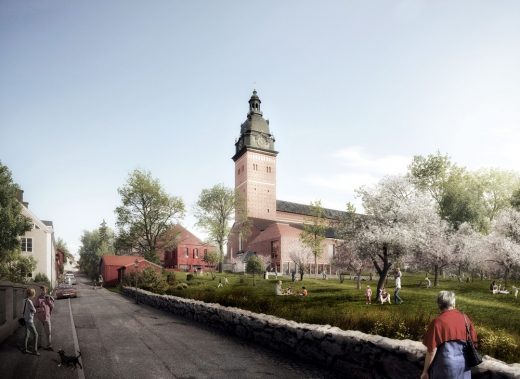 image courtesy of architects
Strängnäs Cathedral Building
Restaurant Tak, Södermalmsallén
Architects: Wingårdhs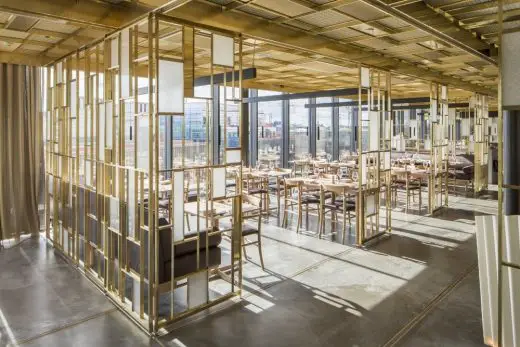 image courtesy of architects
Restaurant Tak Stockholm
Geysir Tower, Kista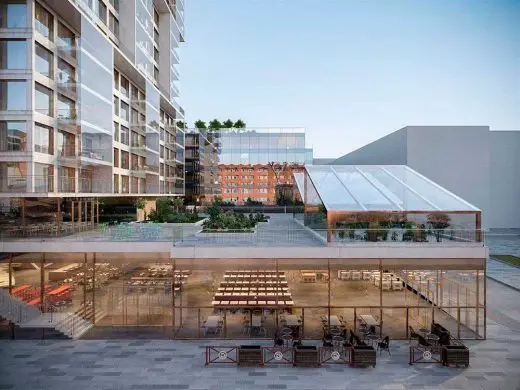 image from architects
Geysir Tower Building in Kista
Karolinska Institute Research Center
Novum BioCity Karolinska University Hospital Stockholm
Comments / photos for the Sigurd Lewerentz Exhibition at ArkDes Swedish Centre for Architecture and Design page welcome