Norwegian Wood Architecture, Pictures, Timber Buildings in Norway, Design, Photos
Norwegian Wood Buildings
Timber Construction – Houses: Architecture in Norway
13 May 2007
Houses in Wood : The Modern Norwegian Model
Organiser: The Centre for Timber Engineering
Seminar: 7 Jun 2007, Edinburgh
CPD: one-day seminar incl. copy of Professor Elisabeth Tostrup's book on the architecture of Wenche Selmer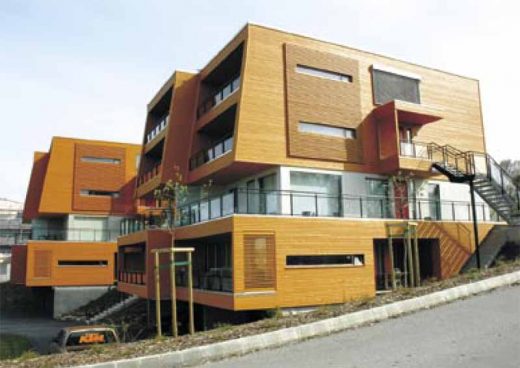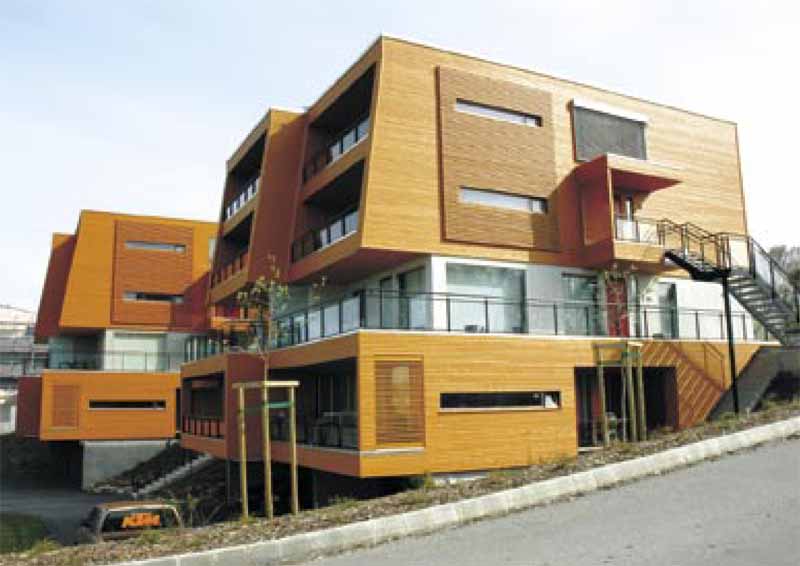 Houses in Wood: The Modern Norwegian Model Norway has long experience in the use of timber in construction and has, over the years, developed a range of design solutions to combat driving rain, wind, extremes of temperature and heat loss. More recently, technological development in timber products has been architectural innovation to produce a range of built exemplars in both domestic and scale, multi storey construction.
Much of this experience is directly transferable to Scotland, where recent interest in timber construction has been paralleled by an increased demand architects, engineers, housing developers and contractors for more information on how use the material to best advantage. This seminar aims to summarise recent developments Norway and look forward to new projects and solutions currently in construction.
The Royal Norwegian Consulate General, in collaboration with the Centre for Timber Engineering at Napier University, is hosting a one day seminar on Thursday 7 June 2007 in the Scottish Storytelling Centre in Edinburgh.
Entitled 'Houses in Wood: The Modern Norwegian Model', this Continuing Professional Development accredited event not only accompanies an exhibition of the work of architect Wenche Selmer, a seminal figure in post-war rural housing design in Norway, but also focuses on the competition-winning timber designs currently under construction in Stavanger as part of its European Capital of Culture programme.
'Norwegian Wood 2008' aims to be 'an arena for timber research and development', and with everything from five storey urban housing to kindergartens, open-air theatres and bridges soon to be completed, the project provides some of the most advanced thinking on contemporary timber architecture and engineering to be found anywhere in Europe at the present time.
The seminar brings together some of Norway's most outstanding young architects and complements their input with technical presentations on new timber products that have been developed by Norwegian companies. In addition, Professor Elisabeth Tostrup, architect, author and curator of the exhibition will introduce 'The Thoughtful Architecture of Wenche Selmer' to the seminar audience."
Venue The Scottish Storytelling Centre, Netherbow, High Street, Edinburgh The venue is easily reached by foot from Waverley Station and is walking distance from bus routes crossing North Bridge, South Bridge and George IV Bridge. Day-long parking can be found in the multi-storey car park beside the Radisson SAS Hotel.
Continuing Professional Development The seminar is accredited for CPD purposes by Napier University. Certificates of attendance can be obtained on request from the Centre for Timber Engineering.
Who Should Attend? Architects, Consulting and Structural Engineers, Housing Associations, Housebuilders, Developers, Contractors, Local Authority Building Control and Planning Officers as well as students of architecture and engineering. Cost Attendance at the seminar costs £60.00 per person, and includes lunch, refreshments through the day and a copy of 'Norwegian Wood: The Thoughtful Architecture of Wenche Selmer'.
Please complete and return the booking form as soon as possible (by fax or post) as there are only 100 places available. Bookings can also be made by telephone with appropriate credit cards. Cheques should be made payable to 'Napier University'. Invoices can be provided on request.
All bookings should be made to: Royal Norwegian Consulate General Seminar c/o The Centre for Timber Engineering Napier University 10 Colinton Road Edinburgh EH10 5DT [email protected]
Norwegian Wood Building images / information from Peter Wilson 130507
'Norwegian Wood 2008' Stavanger, next year's European Capital of Culture, is reputed to have the largest number of wooden buildings in northern Europe, and 'Norwegian Wood 2008' aims to make the city and its surrounding area an international showcase for innovative, sustainable timber architecture.
Alongside a spectacular range of new timber buildings and bridges, the programme for the event includes educational projects, workshops, conferences, research & development opportunities together with a new emphasis on value chain development that aims to create new companies within the region that are focused on modern methods of construction and production technology.
The building projects cover a broad spectrum as regards scale, geography, context and function, from large urban developments in areas of transformation within Stavanger, via the development of infrastructure and new areas, to infill and refurbishment within older wooden house environments.
The projects include signature buildings and "everyday architecture", unique single objects and industrial mass production. With a focus on the use of materials, energy consumption and sustainability, 'Norwegian Wood 2008' aims to demonstrate ways in which modern timber architecture can relate to historic building environments and to show how timber can be the material of choice in urban contexts.
Exhibition: 'Architecture of Compassion: the Work of Wenche Selmer'
Wenche Selmer (1920–1998) was one of the few women to gain prominence amongst 20th century Norwegian architects. In over 100 projects spanning a period of 44 years, her work demonstrated a clear sense of continuity whilst also reflecting different periods of Norwegian architecture. Her particular contribution was to rework, explore and renew the possibilities afforded by timber in her designs for smaller houses.
Wenche Selmer adapted her architectonic solutions to each particular situation, executing design, detailing and construction with a quiet invention to provide durable and pleasant houses. Whether located on coastal outcrops, in wooded terrain or in inland suburbs, the subtle interplay between building and surroundings in her architecture is striking.
Publication: 'Norwegian Wood: The Thoughtful Architecture of Wenche Selmer'
Written by Elisabeth Tostrup, Professor of Architecture at the Oslo School of Architecture and Design (who also curated the exhibition on Wenche Selmer's work), this 208 page hardcover book provides detailed descriptions, plans and a wealth of archival images and speciallycommissioned colour photography of fourteen of Wenche Selmer's beautifully-crafted timber houses. A copy of this £26.00 volume will be provided to each delegate.
Location: Norway
Norwegian Architecture
Norway Architecture Designs – chronological list
Norwegian Architecture – Selection
9 Dec 2017
World's Tallest Timber Building in Norway, Brumunddal, on Mjøsa, Ringsaker municipality, Hedmark, Norway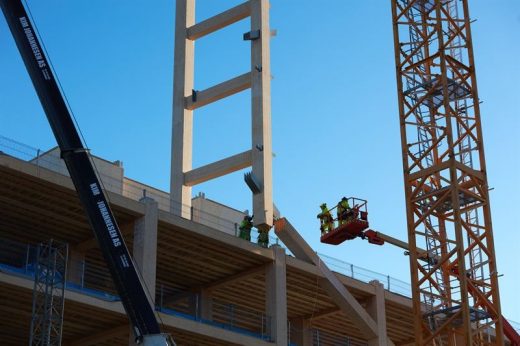 image courtesy of architects
World's Tallest Timber Building in Norway
8 Feb 2018
Can build timber skyscraper taller than 150 metres
Timber Skyscraper Building
Oslo Operahouse
Snøhetta
Oslo Operahouse by Snøhetta
Petter Dass Museum, Alstaharg, northern Norway
Snøhetta
Petter Dass Museum
Canadian Wood Lectures, Buffalo, USA
Canadian Wood Lectures
Buildings / photos for the Norwegian Wood Architecture page welcome