Serpentine Pavilion 2023 by architect Lina Ghotmeh, West London architecture news, England architectural project pictures
Serpentine Pavilion 2023 in London
4 May 2023
Design: architect Lina Ghotmeh
Location: Kensington Gardens, West London, UK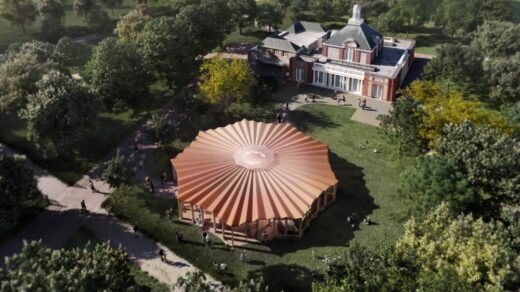 Serpentine Pavilion 2023 Building
The 22nd Serpentine Pavilion, designed by French-Lebanese Paris-based architect Lina Ghotmeh, will be unveiled to the public at Serpentine South on Friday 9 June 2023 with Goldman Sachs supporting the annual project for the 9th consecutive year.
In a new collaboration with The Conran Shop, Lina Ghotmeh has designed two new exclusive pieces of furniture for this year's Pavilion. Celebrating nature and conviviality, the tables and stools will dress the interior of the structure. Crafted from oak, with a dark-red finish, the 25 tables and 57 stools will come together to complete a ceremonial display inside the Pavilion.
On Wednesday 7th June, Lina Ghotmeh will be in conversation with Serpentine Artistic Director Hans Ulrich Obrist exploring the inspiration behind the Pavilion, Ghotmeh's "Archaeology of the Future" and the history of the commission. More information here.
Honouring the history of the Serpentine building as a former teahouse, Ghotmeh will contribute a new menu based on organic ingredients in collaboration with Benugo. The menu will be available at the Pavilion throughout the summer months.
Designed by James Grey West, the Serpentine South building opened in 1934 and originally functioned as a teahouse until the early 1960s, before becoming an art gallery. In the summer months, the café's seating area also extended to the lawn, which the Pavilion will occupy.
Later in the summer, the Pavilion will also be the platform for Serpentine's Summer programme, Park Nights, the annual series of experimental and interdisciplinary encounters. Practitioners in the fields of art, architecture, music, film, philosophy and technology will be commissioned to create new, site-specific work in response to Ghotmeh's structure.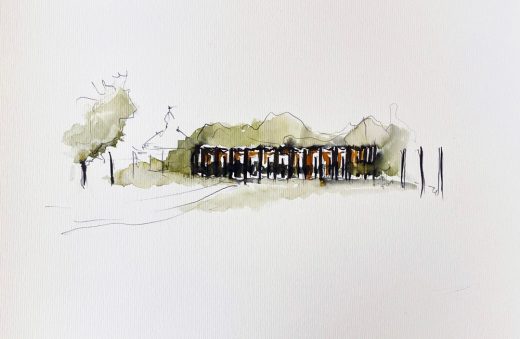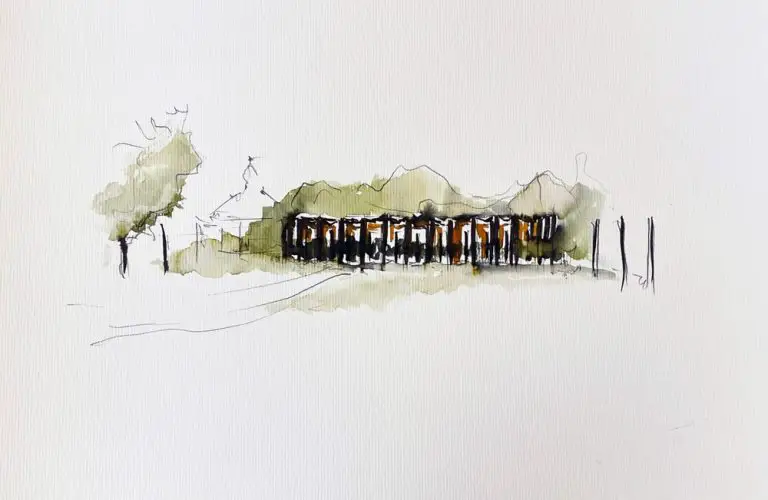 Structure and Build
Built predominantly from bio-sourced and low-carbon materials, the Serpentine Pavilion 2023 continues Ghotmeh's focus on sustainability and designing spaces that are conceived in dialogue with the natural environment that surrounds them. The design of the space responds to the shape of the surrounding tree canopies, the internal wooden beams that encircle the perimeter of the Pavilion emerge as thin tree trunks. The fretwork panels that sit between the beams feature plant-like cut out patterns, allowing natural light and ventilation.
The Pavilion's pleated roof is inspired by a structure of a palm leaf and the lightwell in the middle furthers the space's integration with its environment. The structure's modest low roof takes inspiration from togunas: structures found in Mali, West Africa, which are traditionally used for community gatherings to discuss current issues, but also to offer shade and relief from heat. The low-lying roofs of these structures encourage people to remain seated peacefully and pause throughout discussions.
Placing nature, the organic and sustainability at its core, Ghotmeh's Pavilion will be designed to minimise its carbon footprint and environmental impact, in line with Serpentine's sustainability policy.
The predominantly timber structure will be light-weight and fully demountable, with a focus on sustainably sourced materials and the reusability of the structure after its time installed at Serpentine.
Lina Ghotmeh, Architect said: "There is such enthusiasm as the Pavilion's opening draws near and an occasion to provide a space for people to simply enjoy, stroll, and meet while discussing on the difficulties of today to spur the necessary change. The Pavilion rises as a wooden structure in keeping with the natural surroundings, inviting us to sit around exquisitely crafted stools and tables and take in the surroundings. Collaborating with The Conran Shop to create the tables and chairs I envisaged for the Pavilion, has been fantastic on this occasion. The Pavilion serves as a place of meeting, togetherness, conviviality, and joy, and the furniture serves as its focal point."
Bettina Korek, Chief Executive, and Hans Ulrich Obrist, Artistic Director, said: "We are honoured to unveil Lina Ghotmeh's first structure in the UK, À table, which continues in Serpentine's mission of building new connections between artists and society. Drawing on natural elements that reflect its local surroundings, Ghotmeh's design promotes unity and conviviality in its form and function. We are endlessly grateful to our loyal partners and supporters for making Ghotmeh's remarkable concept for a Pavilion into an inspiring reality. Like all our programmes, À table will be open to all, and our hub for free summer programming in the park."
Serpentine Pavilion 2023 – À table
Inspired by the architect's Mediterranean heritage and fervent discussions around the table over current affairs, politics, personal lives, and dreams, the Pavilion is titled À table – a French call to sit down together at a table to engage and participate in dialogue while sharing a meal. As such, the interior of the Pavilion features a concentric table along the perimeter, inviting us to convene, sit down, think, share and celebrate exchanges that enable new relationships to form.
Considering food as an expression of care, the Pavilion's design is a space for grounding and reflection on our relationship to land, nature and environment. By offering a moment of conviviality around a table, Ghotmeh welcomes us to share the ideas, concerns, joys, dissatisfactions, responsibilities, traditions, cultural memories, and histories that bring us together.
The 22nd Serpentine Pavilion marks the ninth year of support from Pavilion Sponsors Goldman Sachs. Richard Gnodde, CEO, Goldman Sachs International, said "Goldman Sachs is immensely proud of our long-standing partnership with Serpentine. Since 2015, we have been delighted to support the annual Serpentine Pavilion commission and are looking forward to seeing Lina Ghotmeh's incredible Á table structure come to life this summer. Lina's focus on the intersection of art, architecture and design, taking inspiration from nature and the surrounding parkland, promises to be truly unique and will provide opportunities to convene, exchange ideas and reflect. Thank you to Lina, the team at Serpentine and all our partners for collaborating on this pioneering project."
Campbell Thompson, Head of Furniture & Lighting at The Conran Shop said: "It has been a real privilege to collaborate with Lina on the development of her designs from sketches to final pieces. The furniture will perfectly complement and enhance the stunning structure."
Aecom's Director, Jon Leach said: "The Pavilion has been conceived so that every piece contributes both to the delicate, leaf-like form and to the structural stability of the canopy. We set out to use simple, lightweight, and readily available timber materials to create a unique structure that focuses on people, the community and its environment."
Tim Leigh, Managing Director at Stage One Creative Services said: "It's always a pleasure to return to Serpentine, and we are honoured to have been commissioned for the fourteenth consecutive year. Every time we are presented with a radically different design, and we especially appreciate how these architectural plans are experimental. The innovative design by Lina Ghotmeh complements our desire to use more sustainable materials while also advancing our expertise in mass timber building. Additionally, we have used pre-cast concrete pads for the second year in a row, which lowers the total amount of carbon embodied in the project and permits reuse of same foundation when the Pavilion is rebuilt in its permanent position."
This year's Pavilion selection was made by Serpentine Artistic Director Hans Ulrich Obrist, CEO Bettina Korek, Director of Construction and Special Projects Julie Burnell, Director of Curatorial Affairs and Public Practice Yesomi Umolu, and Curator at Large, Architecture and Site-specific Projects Natalia Grabowska together with advisors Sir David Adjaye OM OBE and David Glover. In 2022, Sir Adjaye was appointed to the Order of Merit, selected by Her Majesty the Queen, in recognition of distinguished service in the armed forces, science, art, literature, or for the promotion of culture.
Serpentine would also like to acknowledge the work and dedication of the late architect Richard Rogers to this yearly commission. Rogers was an integral part of the Serpentine Pavilion team and served as an Advisor since 2017.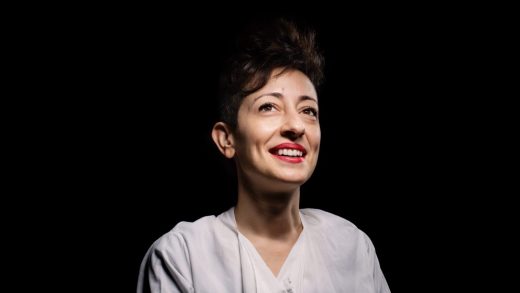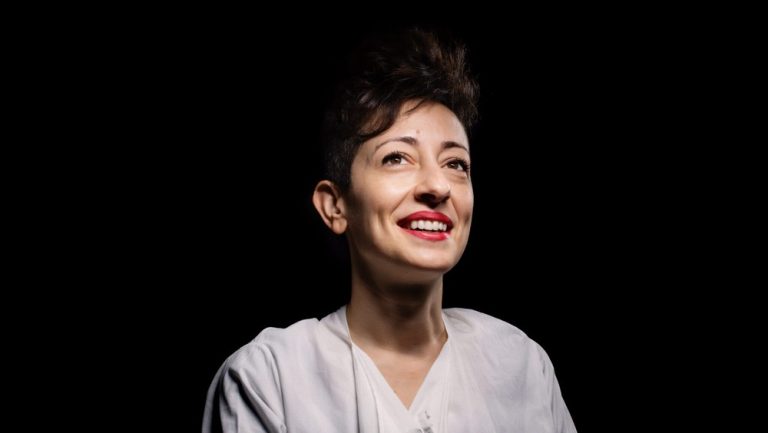 photo @ Gilbert-Hage
About Lina Ghotmeh
Lina Ghotmeh's (b.1980, Beirut, Lebanon) projects include the Estonian National Museum (Grand Prix Afex 2016 & Mies Van Der Rohe Nominee); 'Stone Garden', crafted tower and gallery spaces in Beirut (Dezeen 2021 Architecture of the year Award), Lebanon; 'Réalimenter Masséna' wooden tower dedicated to sustainable food culture in Paris (laureate of Paris' call for innovative projects), France; Ateliers Hermès in Normandy, first passive low carbon workshops building in France; Wonderlab exhibition in Tokyo and Beijing & Les Grands Verres for the Palais de Tokyo, Paris, France.
Ghotmeh is actively involved in the academic world and has lectured in institutions across the world. She was the Louis I Khan 2021 visiting professor at Yale School of Architecture in United States and Gehry Chair 2021–22 at the University of Toronto, Canada. She co-presides the Scientific Network for architecture in extreme climates and was a member of the Aga Khan Award for Architecture 2022 Jury. Among Prizes, she was awarded in 2021 the 2020 Schelling Architecture Prize, has received the 2020 Tamayouz 'Woman of Outstanding Achievement', the French Fine Arts Academy Cardin Award 2019, the Architecture Academy Dejean Prize 2016 and the French Ministry of Culture Award in 2008.
Her work is currently exhibited at the Cooper Hewitt Smithsonian Museum in New York and was previously shown at the MAXXI in Rome (2021–22) and the 17th Architecture Biennale in Venice (2021). Her projects have been published by Phaidon, RIBA, Domus and Architectural Record.
Under Ghotmeh's leadership, Lina Ghotmeh — Architecture designed the new Hermès Leather Workshops. Titled Precise Acts – Hermès Workshops, a brick structure with impressive spanning arches was inaugurated in April 2023 in Louviers, Normandy, France. She is also the programme director for the Fondation d'entreprise Hermès' sixth Skills Academy 2023, on stone, highlighting innovative approaches to particular materials.
Serpentine Pavilion
This pioneering commission, which began in 2000 with Dame Zaha Hadid, has presented the first completed UK structures by some of the biggest names in international architecture. The Pavilion is realised with the support of technical advisors Aecom. In recent years, it has grown into a highly anticipated showcase for emerging talents, from Sumayya Vally, Counterspace (South Africa), the youngest architect to be commissioned, and Frida Escobedo (Mexico), to Diébédo Francis Kéré (Burkina Faso) and Bjarke Ingels (Denmark), whose 2016 Pavilion was the most visited architectural and design exhibition in the world. Last year's Pavilion, Black Chapel was designed by Theaster Gates (US).
In 2021, the Pavilion programme evolved beyond its physical location for the first time and expanded with a series of Fragments placed across London. It also saw the launch of Support Structures for Support Structures, a fellowship programme initiated by Serpentine that supports up to ten artists and collectives working at the intersection of art, spatial politics, and community practice.
The Goldman Sachs Group, Inc. is a leading global financial institution that delivers a broad range of financial services across investment banking, securities, investment management and consumer banking to a large and diversified client base that includes corporations, financial institutions, governments and individuals. Founded in 1869, the firm is headquartered in New York and maintains offices in all major financial centres around the world.
About The Conran Shop
Founded by Sir Terence Conran in 1973, The Conran Shop has established itself as one of the world's leading lifestyle retailers, curating how we live today. As the home of iconic designs and future classics, The Conran Shop offers an eclectic, hand-selected edit of furniture, lighting, and home accessories, championing the most respected designers and emerging talents, with prime retail locations across London, Paris, Japan, and South Korea.
About HENI
HENI is an international art services company working with leading artists and estates across publishing, print making, exhibitions, digital, film, art research and analysis. Since its inception in 2009, publishing has been a central part of HENI's activity. HENI Publishing specialises in producing unique art publications created in collaboration with the artist or author. HENI's bespoke titles range from major trade publications to catalogue raisonnés, artists' books and limited editions.
The LUMA Foundation was established in 2004 by Maja Hoffmann in Zurich, Switzerland, to support artistic creation in the fields of visual arts, photography, publishing, documentary films and multimedia. Considered as a production tool for the multiple initiatives launched by Maja Hoffmann, the LUMA Foundation produces, supports and funds artistic projects that aim to deepen the understanding of issues related to the environment, human rights, education and culture.
Nicoletta Fiorucci Foundation is a non-profit organisation that promotes experimentation and innovation with a focus on ecology, sustainability, and inclusivity. Based in London, but structured as an archipelago of homes and residency spaces in various locations in Europe, the Foundation commissions and produces visionary projects and acts as a support system for artists, designers, and institutions. Founded by Nicoletta Fiorucci and building on the legacy of the Fiorucci Art Trust, the Foundation currently encourages the exploration of art through multisensory and unconventional approaches while fostering the cross-pollination of radical ideas.
About AECOM
AECOM is the world's trusted infrastructure consulting firm, delivering professional services throughout the project lifecycle – from advisory, planning, design and engineering to program and construction management. On projects spanning transportation, buildings, water, new energy and the environment, our public- and private-sector clients trust us to solve their most complex challenges. Our teams are driven by a common purpose to deliver a better world through our unrivaled technical and digital expertise, a culture of equity, diversity and inclusion, and a commitment to environmental, social and governance priorities. AECOM is a Fortune 500 firm and its Professional Services business had revenue of $13.1 billion in fiscal year 2022. See how we are delivering sustainable legacies for generations to come at https://aecom.com/ and @AECOM.
About Stage One
Stage One Creative Services is a manufacturing and engineering company that delivers high-end projects for the creative industries. From ceremonies and live events to entertainment and architecture, the company's work creates moments that people remember forever. Stage One has delivered work in more than 46 different countries, from the London 2012 Olympic Games opening ceremony to the World Cup opening ceremony in Qatar, its project portfolio includes Ed Sheeran's Mathematics Tour, The Hive and set pieces for The Brits. Stage One is proud to be associated with the Serpentine Pavilion and has constructed every Serpentine Pavilion since 2009. More information on the company can be found at https://www.stageone.co.uk/
Serpentine Pavilion 2023, Londonn images / information received 040523
Location: Kensington Gardens, London, W2 3XA, England, UK
Previously on e-architect:
5 Jul 2019
Serpentine Pavilion Designs
Serpentine Pavilion 2019
Architect: Junya Ishigam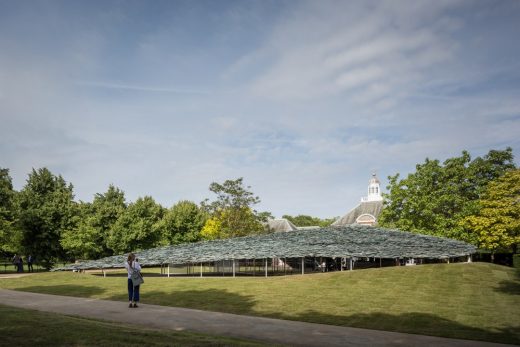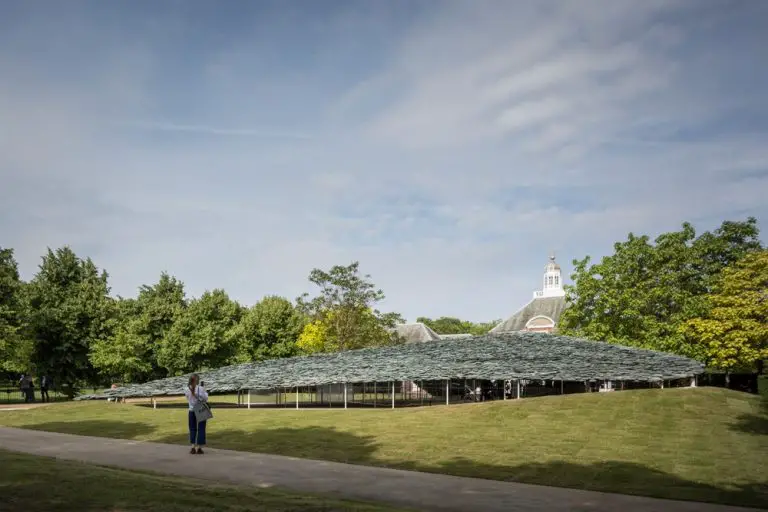 photo © Ste Murray
Serpentine Gallery Pavilion 2019
London Architecture
Contemporary Architecture in London
London Architecture Links – chronological list
London Architecture Walking Tours
Serpentine Pavilion London Architecture
Serpentine Pavilion Designs Archive
Serpentine Gallery Pavilion 2018 design by architect Frida Escobedo: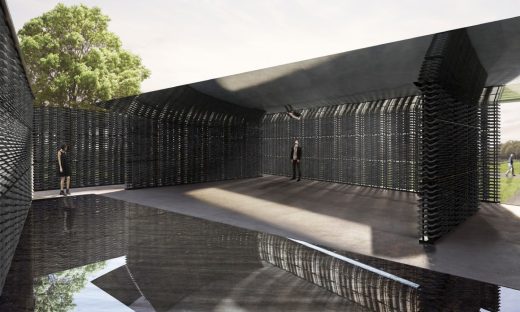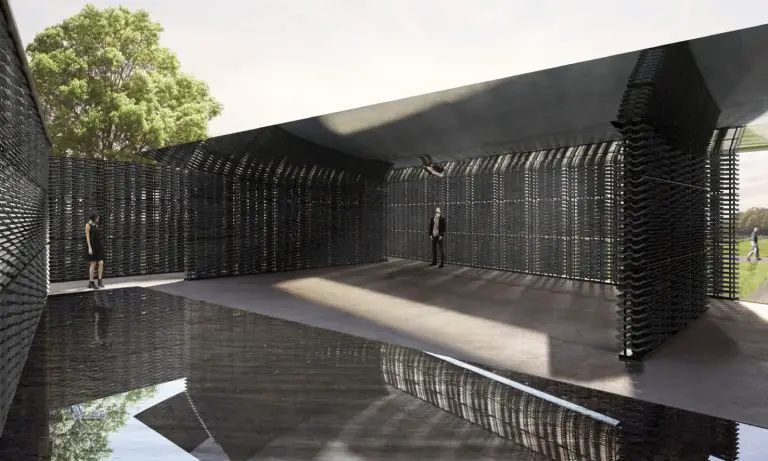 image © Frida Escobedo, Taller de Arquitectura, Rendering by Atmósfera
Serpentine Gallery Pavilion 2015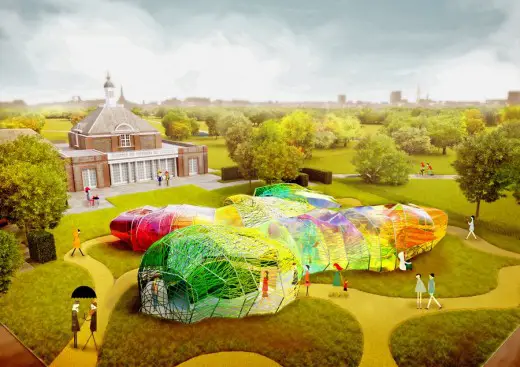 photo © Steven Kevin Howson / SelgasCano
Four Summer Houses in the Serpentine 2016 Programme
Serpentine Pavilion 2007 original architect : Snøhetta
Serpentine Pavilion architect 2006 : Rem Koolhaas / OMA
Serpentine Pavilion architect 2005 : Álvaro Siza & Eduardo Souto de Moura
Serpentine Pavilion architect 2003 : Oscar Niemeyer
Serpentine Pavilion architect 2002 : Toyo Ito
Serpentine Pavilion architect 2001 : Daniel Libeskind
Serpentine Pavilion architect 2000 : Zaha Hadid Architects
Comments / photos for the Serpentine Pavilion 2023 in London designed by Theaster Gates page welcome