Israel Houses, Jerusalem Residences, Modern Israeli Property Photos, Architecture, Architects
Israeli Houses: Properties
Key Contemporary Residential Developments in Israel, Middle East
post updated 1 January 2023
Houses in Israel
Israeli Architecture Designs – chronological list
e-architect select what we feel are the key examples of Israeli Houses. We aim to include buildings that are either of top quality or interesting, or ideally both.
We cover completed residential buildings, new building designs and architecture competitions across Israel. The focus is on contemporary Israeli residences but information on traditional Israel homes is also welcome.
Major Israeli Properties – latest additions to this page, arranged chronologically:
14 Oct 2022
Lines Alive, Herzliya, Tel Aviv
Architects: Jacobs-Yaniv Architects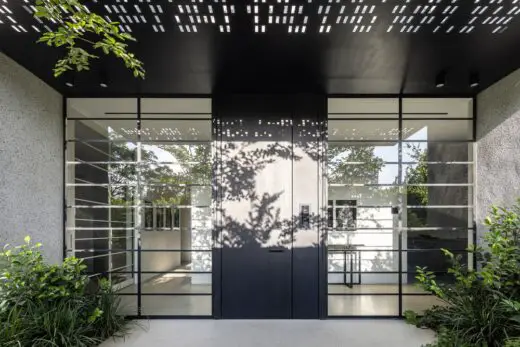 photo : Amit Geron
Lines Alive House, Herzliya, Tel Aviv
The house, which is seemingly straight lined and straightforward, beholds some understated features and functions. The straight and full footprint of the house is derived from the plot limitations and a certain amount of meters requested by the clients.
10 June 2022
Gan Yavne Villa, central Israel
Design: Kloom Studio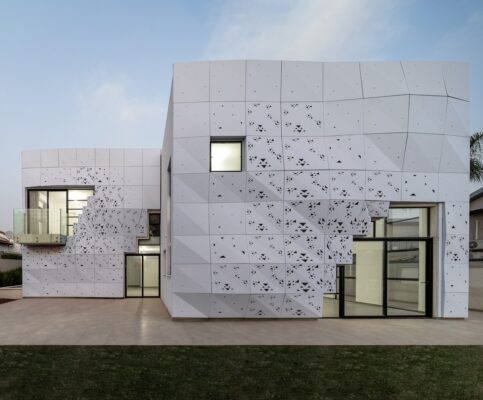 photo : Diego Rossman
Gan Yavne Villa
The project was inspired by the shape of crystals carved from stone – the exterior layer is flat and planar, and the crystal inside is angular and amorphous. The main façade faces west and is covered by a double layer to improve isolation and resembles a crystal shape carved from the main form of the building.
31 March 2022
MB CS3 House, Tel-Aviv
Design: architect Raz Melamed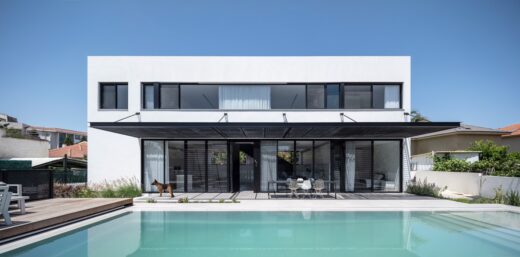 photo : Amit Geron
MB CS3 House in Tel-Aviv
Upon entering this private house in the center of Israel designed by architect Raz Melamed, you are greeted by the pool that leads you directly to the entrance to the building, and immediately from the entrance sets the tone for an interesting architecture that knows how to combine simple lines to create a unique space like no other.
27 Feb 2022
RNS1 Apartment, Reines, Tel-Aviv
Design: WE Architects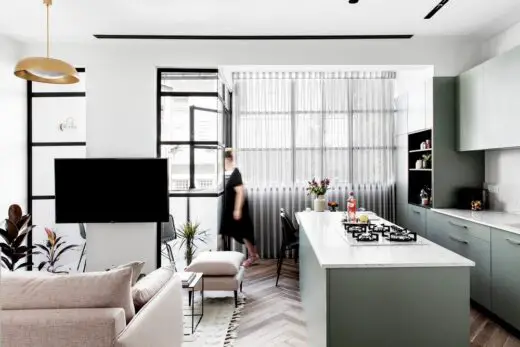 photo : Itay Benit
RNS1 Apartment, Reines Tel-Aviv
This Israeli property seems to be located in Oslo, but it's actually in the vibrant heart of Tel Aviv. It was built in 1937, as part of Tel Aviv's architectural heritage, and located 300 meters from the beach and within a walking distance from Ben Gurion BLVD.
27 Feb 2022
RNS2 Apartment, Reines, Tel-Aviv
Design: WE Architects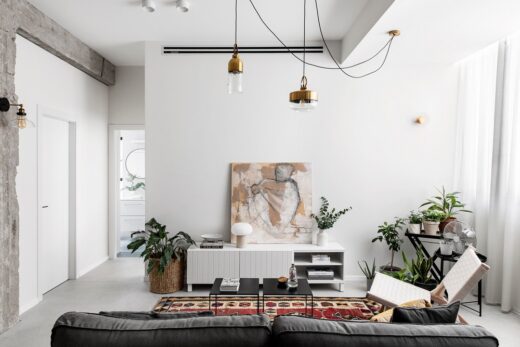 photo : Itay Benit
RNS2 Apartment, Reines Tel-Aviv
The RNS2 Apartment project is very close to the architect's heart, both professionally and personally. While studying Architecture at the university, the subject he enjoyed most was the "Studio" sessions, in which all students were given the same starting point – a lot/apt/villa with some arbitrary constraints, and then each one had to take it from there on his own.
2 Feb 2022
The Great Unit Apartment, Florentin, South Tel Aviv
Architecture: k.o.t architects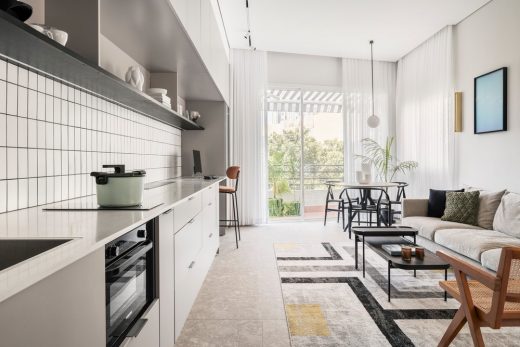 photo : peled studios – yoav peled
The Great Unit Apartment, Tel Aviv-Yafo
The Great Unit Apartment on the third floor of an old modernistic structure on the outskirts of the Florentin neighborhood in Southern Tel Aviv is a gem of an apartment, a true surprise – definitely not what you would expect in the 1938 building and clearly revealing international style.
25 Jan 2022
Mapu 5, Tel Aviv
Interior Architecture: Bar Orion Architects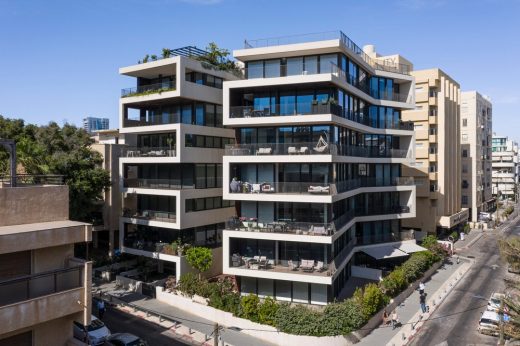 photo : Amit Geron
Mapu 5 Apartments, Tel Aviv
Bar Orion Architects, a leading international architecture firm based in Israel and established by Tal and Gidi Bar Orian in 1990, unveils a square-shaped, new-build residential property. The building is located on the corner of Mapu and Yehoash Streets in the heart of Tel Aviv's White City, a UNESCO World Heritage site known for its extensive collection of Bauhaus and Eclectic Architecture-style buildings.
More Israel Houses on e-architect soon
Israeli Houses 2021
24 Sep 2021
Yiftah House, Jerusalem
Design: Matti Rosenshine Architects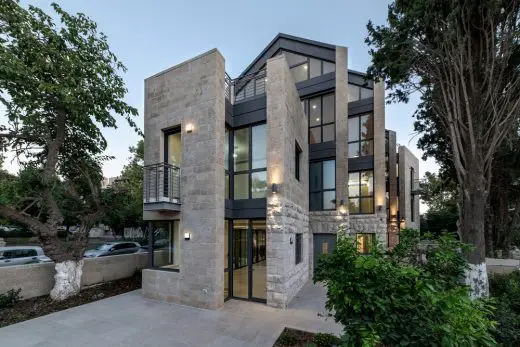 photograph : Ilan Nahum
Yiftah House, Jerusalem
Yiftah House is a residential building constructed on a very small triangular site while retaining a historically preserved façade from 1930. The triangular site, preservation laws, zoning restrictions and a brief requiring 4 residential units with underground parking posed a true design challenge.
23 Aug 2021
Neve Tzedek Patio House, Tel Aviv
Architecture: MGA | Meiarv Galan Architect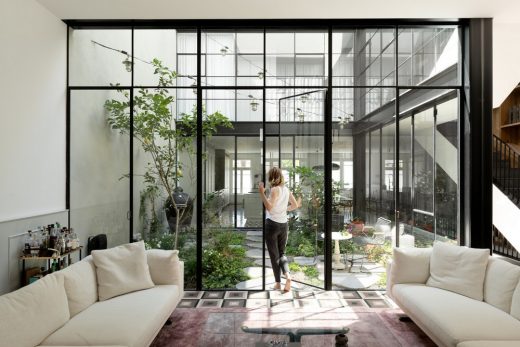 photograph : Gidon Levin
Neve Tzedek Patio House, Tel Aviv
The townhouse, of which the extension and preservation was completed in 2020, was one of the first houses built in the picturesque neighborhood at the end of the 19th century and was originally built as a one-story house with a flat roof. During the 1930s, the house was extended and architecturally redesigned, adding a second floor with a tiled roof, a gallery balcony, and exterior stairs.
4 Aug 2021
S5 – the House With A Ribbon Envelope, city of Hod HaSharon, Central District
Design: Raz Melamed Architect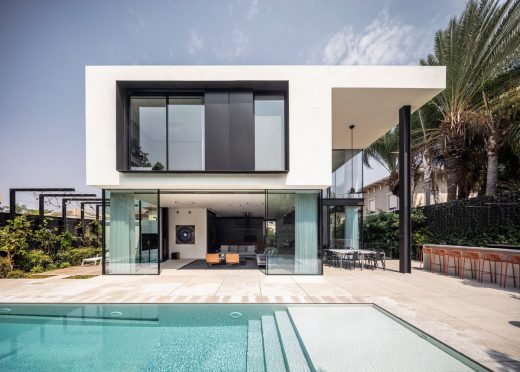 photo courtesy of architecture studio
Hod HaSharon house
The house was designed for a refined couple and their 3 children, who came to the project equipped with knowledge about innovations and construction technologies coupled with a vision for a unique design that spawned a fruitful dialogue with the architect.
22 Jun 2021
Jaffa House, Old Jaffa, Tel Aviv
Architects: Raz Melamed and Omer Danan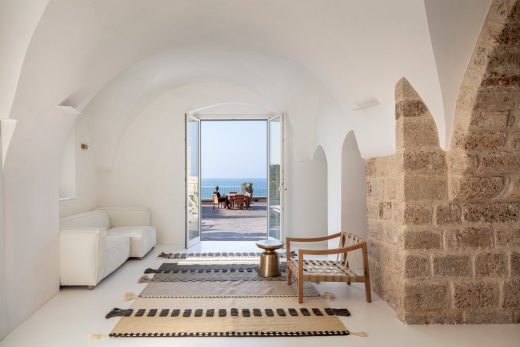 photo : Amit Geron Photographer
Jaffa House, Tel Aviv
Facing the endless waves of the sea that break right at the entrance Old City, townhouses stand with an impressive and traditional stone cladding. Within one of these ancient buildings lies an apartment that architects Raz Melamed and Omar Danan turned into a house that is a meticulous, one-of-a-kind architecture.
More contemporary Israel Houses are welcome on e-architect
Israel Houses 2019 – 2020
29 Oct 2020
S House, Rishon Lezion
Design: ON STUDIO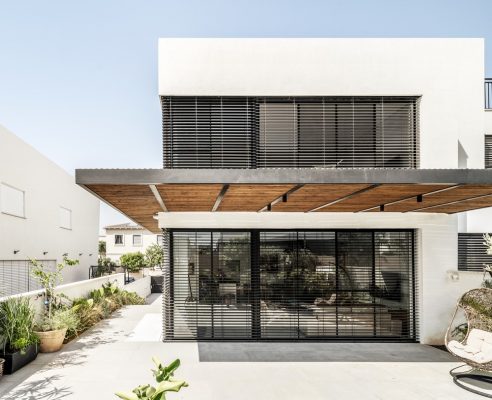 photography : Peled Studios / Yoav Peled Architecture Photography
S House, Rishon Lezion
This is a private home in the center of Israel. Functional and precise design on a 280 sqm plot with an emphasis on a sense of space and openness – the name of the game of this house.
16 Nov 2019
SSY House, Tel-Aviv
Design: Broides Architects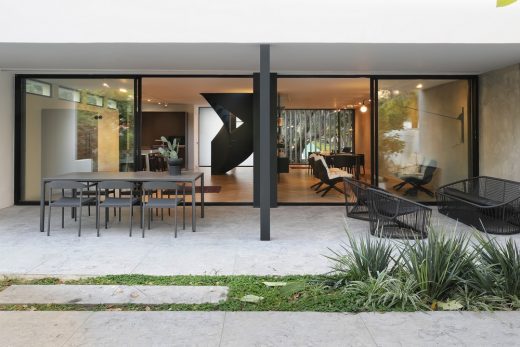 photo : Jonathan Ben Chaim
SSY House Tel-Aviv Villa
A house from the 1960s designed originally by Noy Pedro Architects was purchased and used by its owners as a home office. The SSY House was extensively renovated while maintaining the original design. The house opens into the back garden and second floor patio. The renovated patio was extended and framed with stainless steel mesh providing full transparency and a natural breeze.
5 July 2019
The GN House, Rishon LeZion
Design: Erez Segalovitz Architecture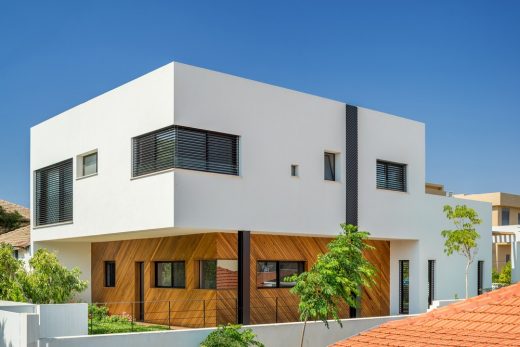 photograph : Yoav Peled
GN House, Rishon LeZion Residence
Surrounded by houses built in the 1940s with sloping roofs covered by concrete tiles, the GN house stands out with its bright color and modernist simple shape.
More modern Israel Houses online at e-architect soon
Israel Houses 2018
3 Dec 2018
Eco360 Energy Positive Villa, Arsuf, central Israel
Design: Geotectura Studio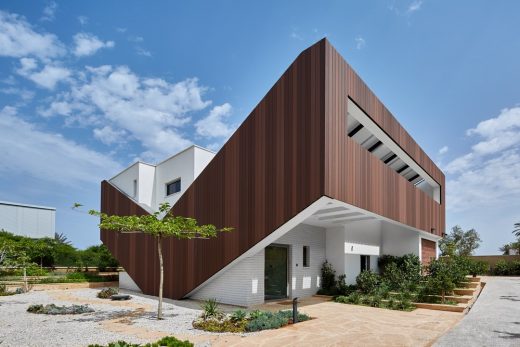 photo : Lior Avitan
Eco360 Energy Positive Villa
Vision: To make our planet a better place. The architects planned to build a sustainable home that would be Energy-Positive and include excellent indoor air and light quality while reflecting the beauty of the surroundings.
13 Aug 2018
Men in Black Apartment, Tel-Aviv
Architects: XS Studio for compact design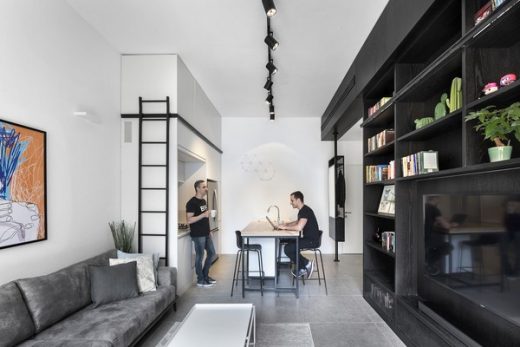 photograph : Amit Gosher
Men in Black Tel-Aviv Home
Have you ever noticed that most small apartments seem to be white? In this 44 sqm apartment, the choice of black veneer proves the strong effect a dark color has on a small space. The apartment, located in a beautiful preserved building with high ceilings in the center of Tel Aviv was designed for a couple of successful career men and their dog.
17 Jul 2018
Strings attached House, Tel Aviv
Interior Design: Studio Perri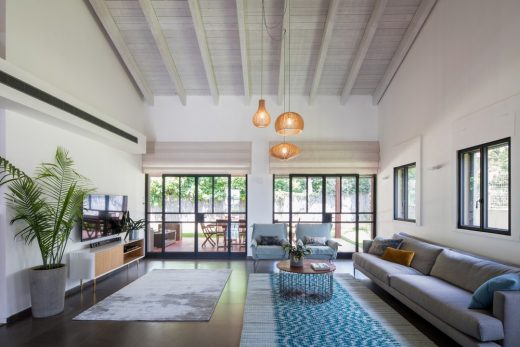 photo : Aviad bar ness
Strings attached House in Bnei Atarot
A private house of 185 sqm in Bnei Atarot "moshav" in Israel, that was built 10 years ago and was no longer suited to the needs of the family living there, was upgraded from a characterless old-fashion space to a villa with a prestigious and up-to-date look.
15 Jan 2018
5 Meters Residence, Tel Mond
Architects: Studio Ron Shenkin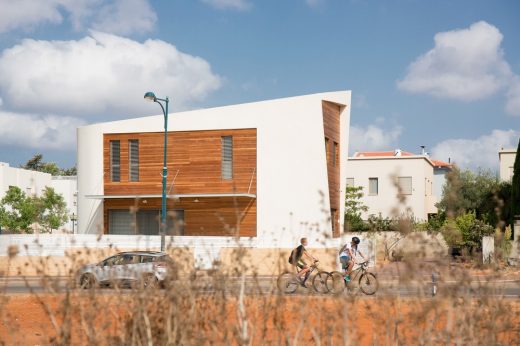 photograph : Shai Epstei
5 Meters Residence in Tel Mond
On a relatively small plot, Ron Shenkin designed a challenging private house only 5 meters in width. The construction rights created the limitations of a very small land cover, restrictive and even curved construction lines and a rectangular house where every centimeter counts. "Winning land in this country is equivalent to winning the lottery," Shenkin says.
More new Israel Houses online at e-architect soon
Israeli Homes 2017
7 Nov 2017
New Residence in the Galilee
Design: Golany Architects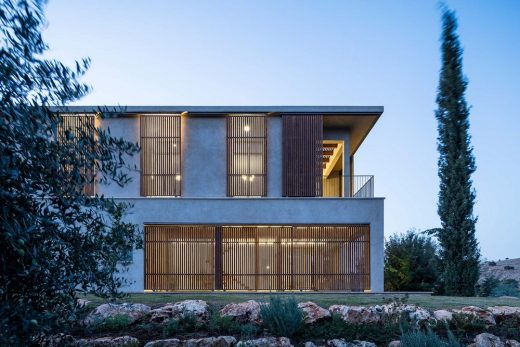 photograph : Amit Geron
Residence in the Galilee
Designed by Tel-Aviv based practice Golany Architects, the house overlooks the Sea of Galilee with a sweeping view of the Galilee from every room. The generous openings facing the view to the south and east, require the provision of shading and filtering against the intense sun, which is provided by the wooden shutters. The shutters slide in adjustment to the position of the sun and privacy requirements.
11 Oct 2017
The Black Core House, Tel Aviv
Design: Axelrod Architects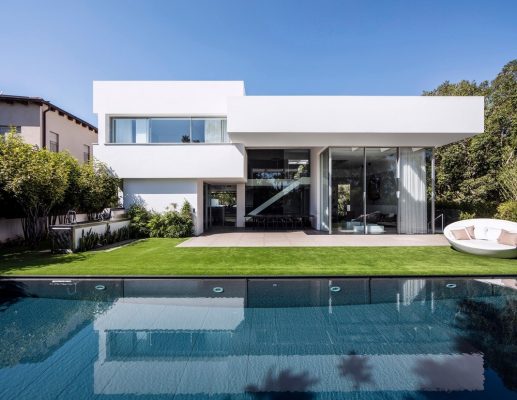 photograph : Amit Geron
The Black Core House in Tel Aviv
Axelrod Architects, led by Principal Irit Axelrod, recently transformed a single-family house in Tel Aviv to reflect the homeowners' love of serenity and sleek modern design, and the firm's vision of modern residential architecture.
10 Jun 2017
Beam House, Arbel
Design: Uri Cohen Architects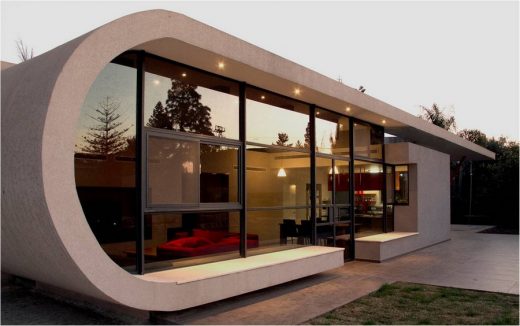 photo from architect
Beam House – Israel Residence
This home has been designed for a client who wished to build his home next to his farm. The design combines some of the utilitarian images of the agriculture buildings in that area with the fascination to the 'beams' construction of a 'country home'.
19 May 2017
TLV House, outskirts of Tel Aviv
Design: Metropole Architects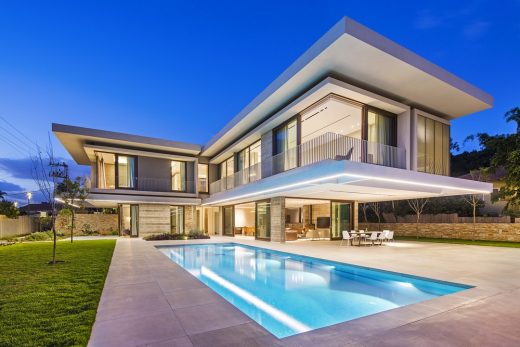 photograph : Grant Pitcher
TLV House in Tel Aviv
This residential project represents the crowning achievement of a successful international collaboration between an Israeli client and project manager, an Arab Israeli contractor, a Russian Israeli engineer and a South African architect.
18 Apr 2017
Neve Monson House
Architects: Daniel Arev Architecture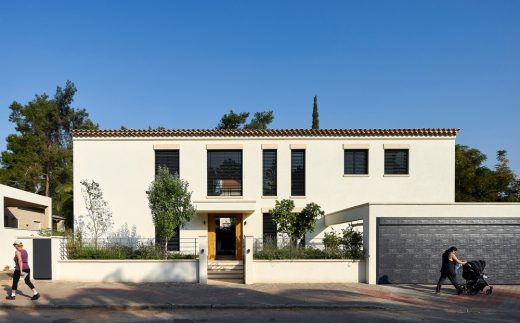 photograph : Daniel Arev
Neve Monson House
According to the request of the clients, the house was planned with "Provence" characteristics. Since the time and age of these characteristics has long passed by, a few traditional details were adopted in the design but were given a modern twist.
17 Apr 2017
G-Flat Tel Aviv Duplex
Design: Gali Amit Architects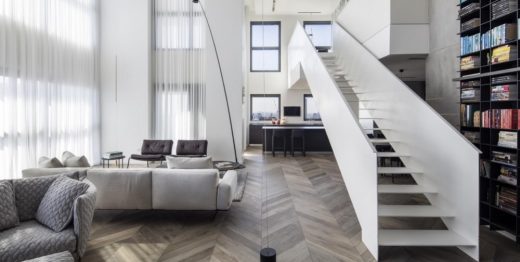 image Courtesy architecture office
Tel Aviv Tower Duplex Apartment
G-Flat – located at the heart of a metropolis, this duplex apartment is on the 32/33 floor of a Tel Aviv tower.
It is endowed with large floor-to-ceiling windows, showing magnificent cityscapes 24/7 As reflection to an urban landscapes, the apartment appropriates a 'sense of urbanism' in having a double height 'public space' along with its selected materials and tonality.
6 Feb 2017
A Concrete Composition House, Rishpon
Architects: Studio de Lange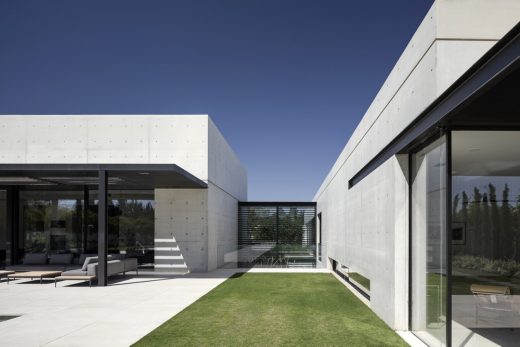 photography : Amit Geron Article translator and asst. writer – Danna Colin, Designer
A Concrete Composition House in Rishpon
Laid on an 8,000 sqm (20 Acre) plot, two concrete rectangles perpendicular to one another form the letter T. Between them stands a light vertical element. This home was envisioned as an unfolding sequence of simple geometric forms that compose an entire spatial experience.
More Israel Houses online here soon
Israel Houses 2016
1 Oct 2016
T House in Tel Aviv
Design: Neuman Hayner Architects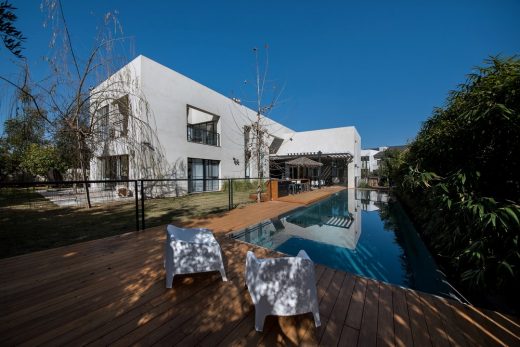 photography : Amit Gosher
Contemporary House in Tel Aviv
The house was planned for a family of four. Two cubes separated by a passage combine into an "L" shaped house. The front cube, of double height space, holds the public areas: entrance, living room, kitchen, dining room (all on the ground floor) and a study on the first floor.
21 Mar 2016
Concrete House, Even Yehuda
Design: Studio Ron Shenkin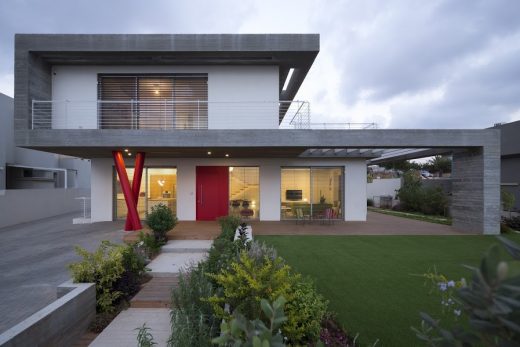 photograph : Shai Epstein
New House in Even Yehuda
This residential property consists of two rectangles placed perpendicularly on top of each other. The two rectangles connected by a bare concrete strip with a wooden like texture, formed by the formwork from where it was produced, this concert strip act as a ribbon, wrapping the rectangles together.
More contemporary Israel Houses on e-architect soon
Israel Homes 2010 – 2015
17 Nov 2015
Kol-Tzivion Residential Project, Kfar Shmaryahu, Tel Aviv District
Design: Studio de Lange, Architects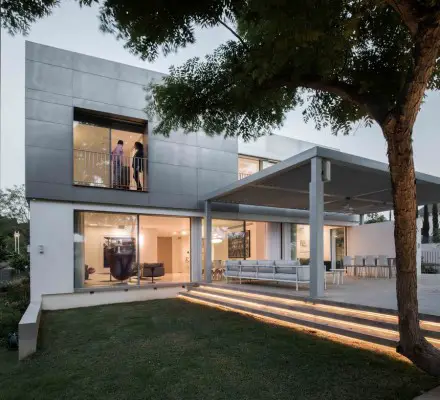 image courtesy of architects office
Kol-Tzivion Residential Project
Located in one of central Israel's earliest communities, and sitting on a hilly 1000 m² plot, this home was created for a young family of 5.
17 Nov 2015
Concrete Cut House in Ramat Gan, Ramat Gan
Design: Pitsou Kedem Architects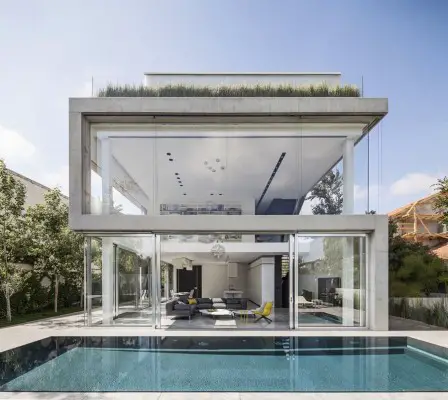 photograph : Amit Geron
Concrete Cut House in Ramat Gan
The creation of a line, this birth of the visual act, has been a meeting point throughout history of art, science and technology- from the dawn of writing to the abstractness of cave drawings and the penning of mathematical formulas – all of them make use of graphics to express a novel idea.
27 Oct 2015
A Shell within a Shell – B house, Ramat Hasharon
Design: Tal Goldsmith Fish Design Studio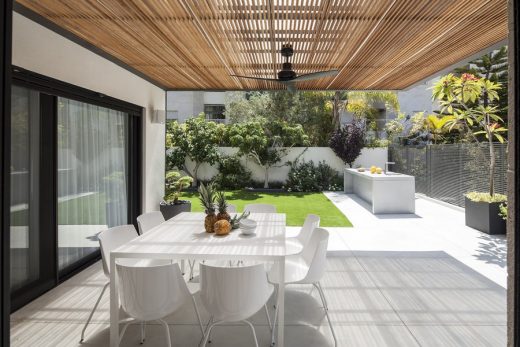 photo : Amit Geron
B House in Ramat Hasharon
The house was planned for a couple holding senior positions, who decided to move their offices to their home so as to be with their young children throughout the day.
21 + 20 Sep 2015
The Hidden House in Tel Aviv
Design: Israelevitz Architects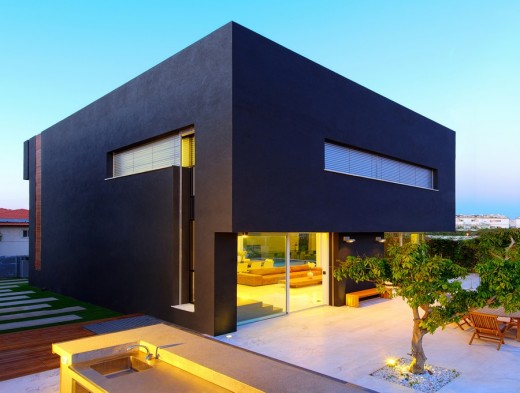 image courtesy of architects office
The Hidden House in Tel Aviv
A house of contradictions, between sealed and closed, to open to natural light and to the outside area. Contradictions between colors and drama of volumes. All of these create interest in a house built on a relatively small plot.
25 Jun 2014
Open and Transparent to the City, Tel Aviv
Design: Pitsou Kedem Architects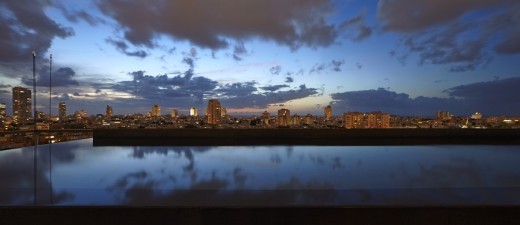 photography : Amit Geron
Contemporary Tel Aviv Residence
This unconventional design by Pitsou Kedem blurs the borders between private space and outdoor space. In a new building, in the old north of Tel Aviv, a unique penthouse covering an entire floor of some 600 square meters, is open and transparent in four directions.
17 Apr 2014
Float House, Tel Aviv
Design: Pitsou Kedem Architects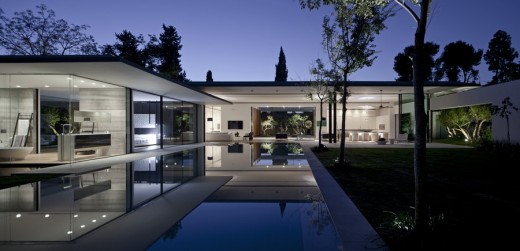 photography : Amit Geron
Float House – Israel Residence
A one story, private residence in the center of the country. The architectural concept was to create a structure with a continuous, wide space, divided by internal courtyards and movable partitions into smaller spaces used for a variety of different functions.
28 + 27 Feb 2014
Urban House in Tel Aviv
Design: Pitsou Kedem Architects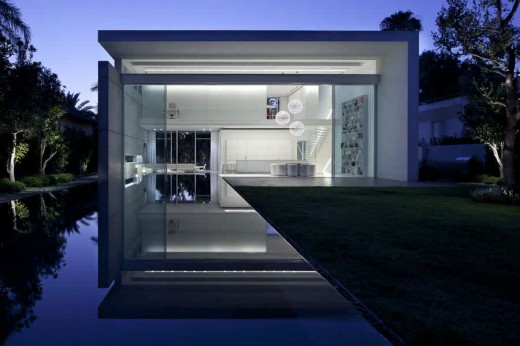 photography : Amit Geron
Ramat Hasharon House – Israel Residence
A frontal courtyard excavated to a depth of three meters and the second courtyard at the level of the building's ground floor. This topographical interface creates a unique cross section to the building's mass with each part of the building, even the section constructed as a basement, being open to its own courtyard.
19 Sep 2013
CH house, Tel Aviv
Design: Domb architects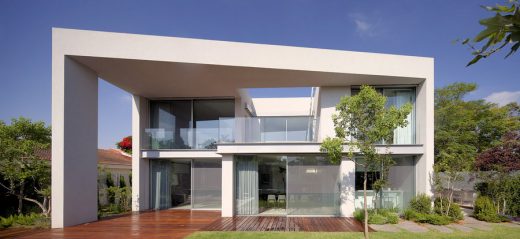 photo : Amit Geron
A house in the periphery of Tel Aviv, Israel. The design is clean and very limited in architectural elements. Basic finish materials: white plaster, iron and glass. The old house served the family while raising children. Now, when the children left home, it is home for the couple and serves for hosting the family and the grandchildren.
1 Aug 2013
Urban Villa, Tel Aviv
Design: Pitsou Kedem Architects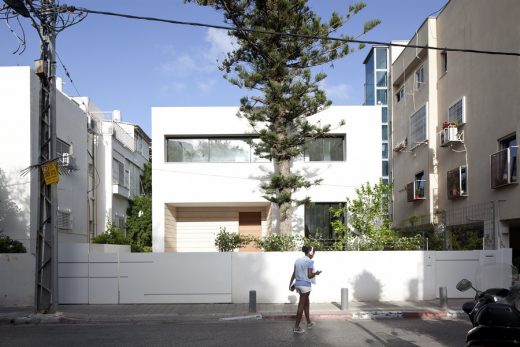 photo : Amit Geron
In the 1950s what was known as the "International Style" was highly developed in Tel Aviv. It developed thanks to architects who studied at the Bauhaus Institute in Germany and who then returned to Israel to continue their work. One of the architects who led the "International Style" was Dov Carmi. He designed many, usually large, projects. One of his more restrained projects was an urban villa in the center of Tel Aviv which he designed in 1951.
24 Jun 2013
WO House, Kiryat Tivon
Design: SO Architecture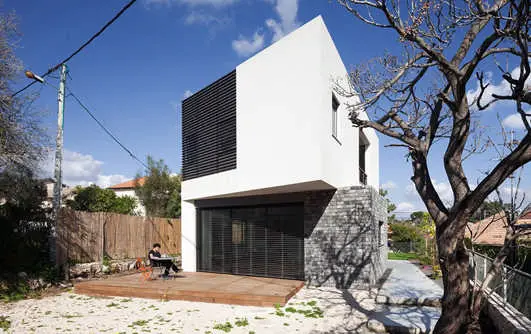 photo : Shai Epshtein
WO house was built in Kiryat Tivon, in one of the beautiful and green neighborhoods of the town. The house was built on a hard, oblong, narrow, trapezoidal plot in a zone of 750 sqm, the house surface itself is 250 sqm including a public space, a work space and four bedrooms.
13 May 2013
Archeological House, Ramat Ishay
Design: Uri Cohen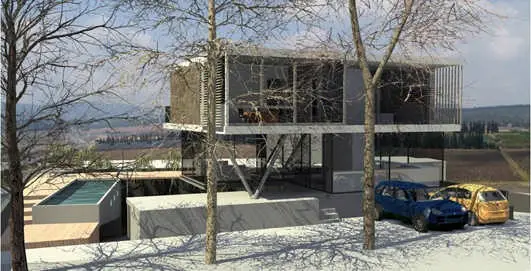 image from architect
The scheme proposes to combine the ancient building complex with the new one by a central space. This allows observation from the ancient part to the new and vice versa, while it gives a new vertical dimension to the typology of the patio hinted at the ancient remains.
20 Jun 2013
Zipper House, Lachish
Design: Uri Cohen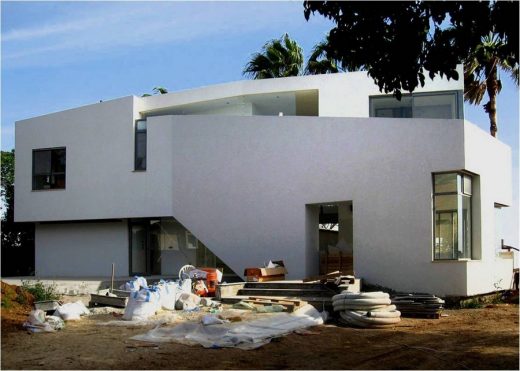 image from architect
The challenge in this scheme was to add a second house to the site in such a way that both will create an assembly of space and activity between the two families and still allow division and privacy.
31 May 2013
Hotel Villa, Yessod Hammala, north east Israel
Design: Uri Cohen Architects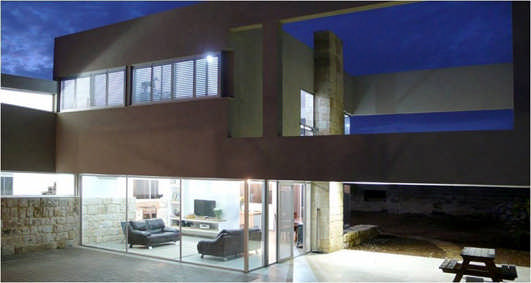 image from architecture studio
Hotel Villa Yessod Hammala
This is a preservation and an extension of a historic heritage monument on the first street in Yessod Hammala, which was built by the 'pioneers' in the late 19th century. It's located in a tourist area and this makes it possible (or at least part of it) to be used in the future as a boutique hotel or for another commercial use.
11 Jun 2013
Contemporary Desert House in Israel
Design: Uri Cohen Architects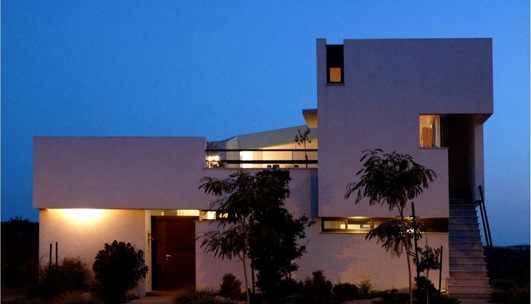 photo from architect
Desert Home Lachish
The scheme of this house combines one spatial solution from two constraints; one from the location and the other from the specific needs of the client.
26 Mar 2012
House N, Even Yehuda
Design: Sharon Neuman & Oded Stern-Meiraz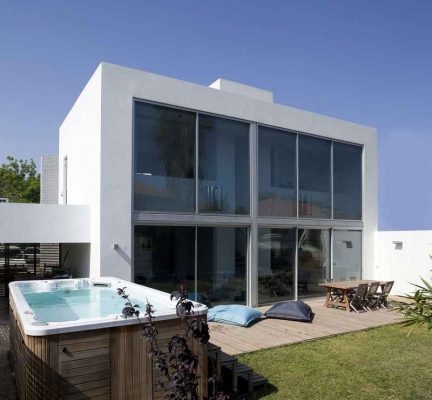 picture from architects
House Even Yehuda
27 Mar 2011
Tel Aviv House
Design: Chyutin Architects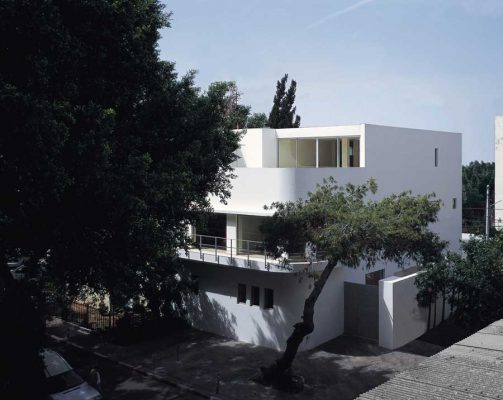 photograph from architect
Tel Aviv House
27 Jan 2010
Gassul House, Tivon, north Israel
Design: SO architecture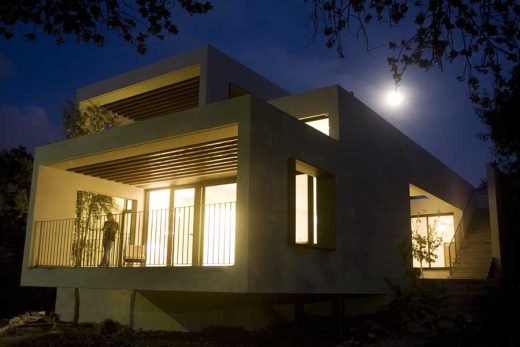 picture from architect
Gassul House near Haifa
The geometry and openings in this building were created while mainly aiming the beautiful landscape of the Carmel Mountain and the will to preserves the existing trees. The north elevation that faces the landscape is largely opened to the view.
More Israel Houses online soon
Location: Israel, Middle East
Israel Architecture Designs
Contemporary Israel Architectural Selection
Key Buildings in the Middle East
Tel Aviv Architectural Photos : major buildings around the city centre
Peace Peres House Jaffa
Massimiliano & Doriana Fuksas Architects
Homes info / photos for the Israeli Houses page welcome