Iranian Architecture News 2020, Building Projects, Construction Design, New Property Images
Iranian Architecture News
Contemporary Iran Architectural Development – Persian Built Environment Updates
post updated 16 November 2021
Iranian Building News
Iranian Architectural News + Key New Property Designs, alphabetical:
Iran Architecture Designs – chronological list
16 Nov 2021
Nowshahr commercial building, Nowshahr County, Mazandaran Province
Design: MADO Architects, Tehran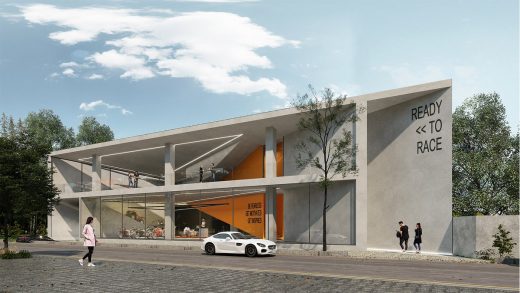 image courtesy of architects practice
Nowshahr commercial building, Mazandaran Province
Nowshahr commercial project is located in the city of Nowshahr, near the Gardkol river. Due to the challenges that exist in the project site and its nature, the design was done based on the site situation in the field, and its shape and conditions.
8 Nov 2021
Cantilever House, Mosha, Damavand, Amol, Māzandarān
Design: uc21 architects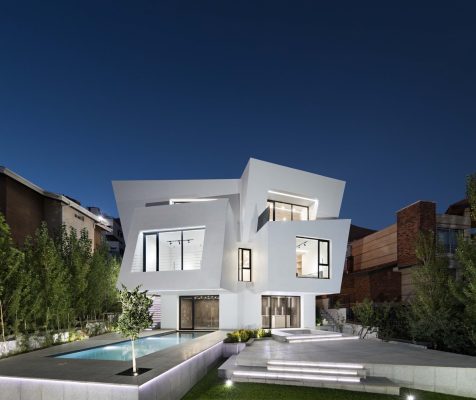 photo : Mohammad Hassan Ettefagh
Cantilever House in Mosha, Damavand
This bold residential property is located in Mosha, Damavand, 60 Km from Tehran, in northern Iran at 2400 meters altitude. The land area for the house design is about 600 m2 with dimensions of 30 x 20 meters and a slope of 20%.
16 Oct 2021
Tagh Behesht Multipurpose Complex, Mashhad
Design: RVAD Studio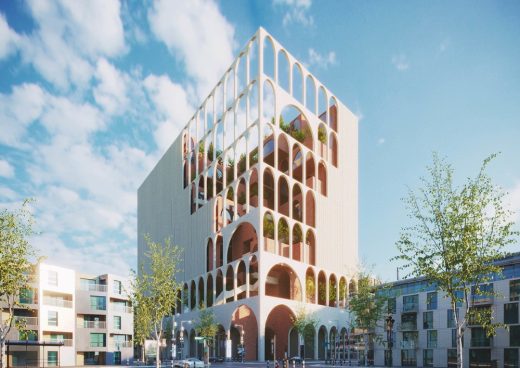 image : Hassan Dehghanpour
Tagh Behesht Multipurpose Complex, Mashhad
The Tagh Behesht project's primary design methodology began with an investigation of the architectural history of bazaars in Iran and the city of Mashhad. Since time immemorial, the unbreakable bond between the city bazaars and the foundations of the economy has led to bazaars taking on an important and consistent role in people's daily lives.
18 Sep 2021
Seventy Peaks Multipurpose Complex, by Qom-Arak highway, central Iran
Design: Habibeh Madjdabadi Architecture Studio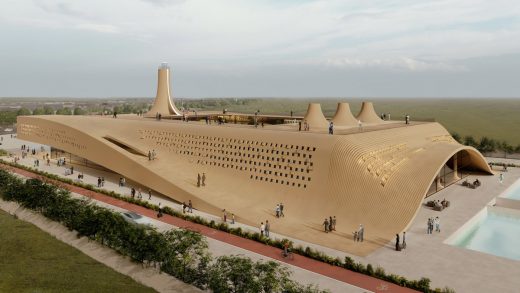 image Courtesy architecture office
Seventy Peaks Multipurpose Complex
The complex, with its 10,000 m2 of the built area is born as a commercial center including restaurants, café, and hotels for travelers. It is located on a plot of 60,000 m2, next to the highway that connects the holy city of Qom to Arak (in the central region of Iran).
22 Jul 2021
Lotus Amphitheater Building Design
Design: Peyman Kiani Architects (PKA)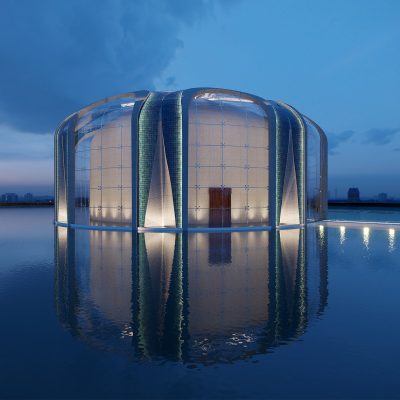 rendering : Mohammad Ali Rezaeiyan
Lotus Amphitheater Building Design
The idea of the Lotus Amphitheater is taken from the architectural form of the Safavid era in Iran. The wall patterns and light panels are decorated with 5o7 of Safavid architecture, with a seating arrangement on different levels, and have created an artistic atmosphere inside the hall.
Jul 5, 2021
Mazandaran Home Shortlisted at WAFX 2021 Awards
World Architecture Festival Awards 'House – Future Project' Category:
Amir Hossein Afzali Architects, Villa no.1, Mazandaran, Iran
WAFX 2021 Prize Winners
2 Jul 2021
Savestan Villa, Royan Concept Home
22 Apr 2021
Bagh Chai Villa, Iranian Concept Home
12 Aug 2020
Cubes Warehouse Tehran, Shamsabad Industrial Park, Tehran
Design: Nazar Idea Paidar Company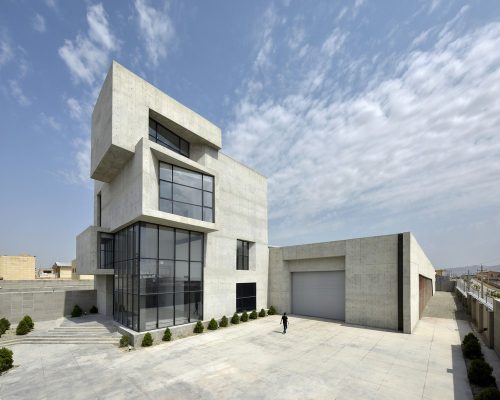 photo : Deed Studio
Cubes Warehouse Tehran
Cubes is located on a plot of land with an area of 5015 square meters in Shamsabad Industrial Park, 5 km away from Imam Khomeini International Airport in the south of Tehran.
updated 4 Aug 2019 ; 2 Mar 2016
Rouzan Housing Mosala Street, Isfahan, central Iran
Design: Sayed Hamed Jafari Architect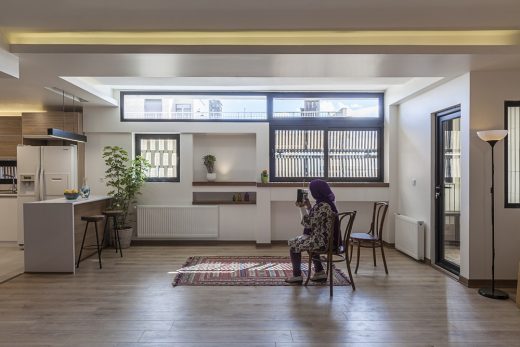 photographers : Negar Sedighi, NS photography
Rouzan Residential Building Isfahan
Iranian architecture has manifested in Isfahan where many valuable traditional historic works have been constructed. However, beside this texture, the urban decay has constituted a vast area of the city.
12 May 2019
Vertical Village 10+10, Sorkhrood, southern coast of Caspian Sea, Northern Iran
Design: Habibeh Madjdabadi Architecture Studio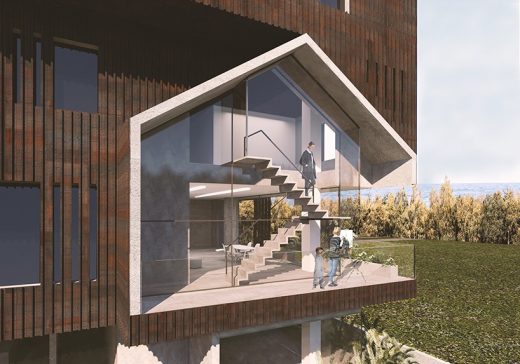 image Courtesy architecture office
Vertical Village 10+10, Caspian Sea Apartment
A residential apartment on the southern coast of the Caspian Sea inspired by local traditional houses.
1 Sep 2018
A monumental Entrance Gate for The Atomic Energy Organization of Iran, Tehran Province
Design: Habibeh Madjdabadi Architect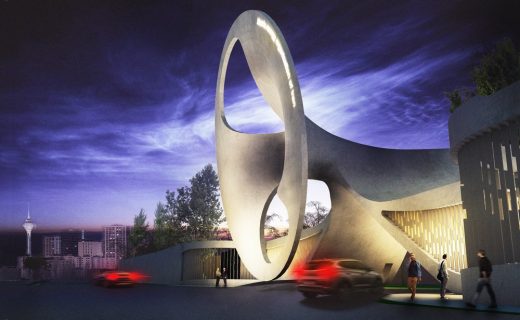 image Courtesy architecture office
Entrance Gate for The Atomic Energy Organization of Iran
In July 2018, The Atomic Energy Organization of Iran invited five well-known Iranian architects to compete to design a monumental entrance gate for their building in Tehran.
30 Jun 2018
Residential Complex of Meygoon, Tehran Province, Iran
Design: New Wave Architecture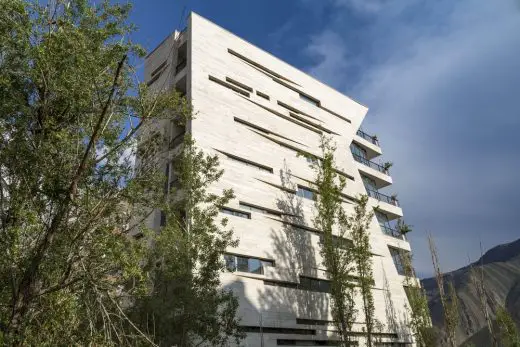 photograph : Parham Taghioff
Residential Complex of Meygoon
Meygoon is well-situated in a delightful climatic area in the north side of Tehran, while residence in Tehran as one of most polluted metropolitan in Asia suffered a lot from its high rate of pollution and stress.
3 Jun 2018
Red Crescent Organization Building, Tehran
Architect: Fatemeh Yazdandoust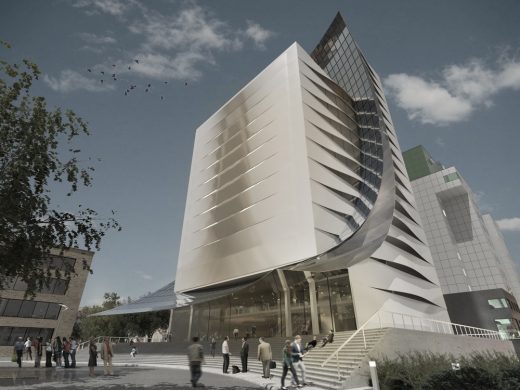 image Courtesy architecture office
Red Crescent Organization Building in Tehran
Inspired by the icon of Red Crescent Organization, "Crescent" cutting through a Box is the main concept of a mixed-use high rise, located next to the existing central headquarter and museum of Red Crescent Organization.
6 Jan 2018
Lunar Complex, Loshan, Iranian Plateau
Architects: Habibeh Madjdabadi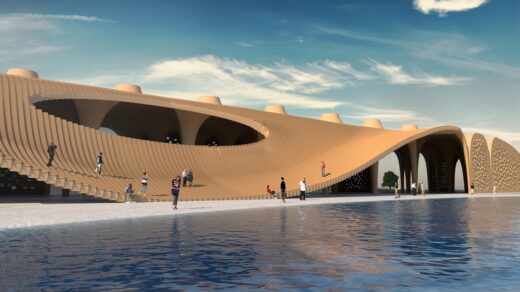 image Courtesy architecture office
Lunar Complex Loshan Building
This integrated retail and accommodation center-cum-fuel station is located alongside a road connecting Ghazvin to Rasht at the heart of an arid and hot region of the Iranian Plateau. Habibeh Madjdabadi's 'lunar complex' occupies an area of 45000 m2 and the footprint of the building occupies just 7500 m2.
5 Jan 2018
Tehran Educational Complex for Students with Special Needs
Architects: Arezou Zaredar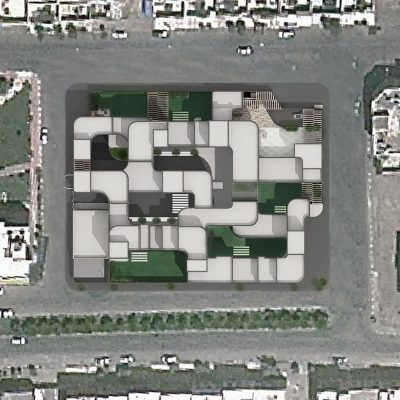 photo : Arezou Zaredar
Tehran Educational Complex for Students with Special Needs
The project is located in an area with convenient access to the major highways. On the other hand, this educational complex has a potential to extend and different physical, mental and emotional needs of students are considered.
3 Dec 2017
Mashhad House, North East Iran
Design: Pi Architects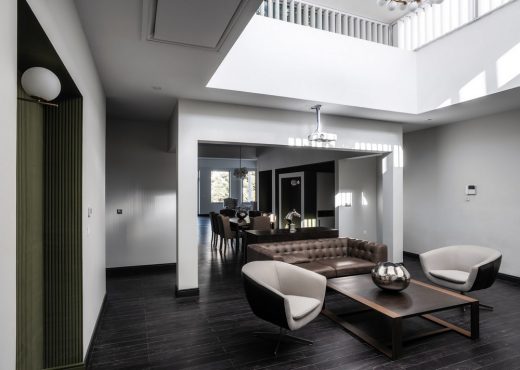 photo : Sina Momtaheni
Mashhad Residence, Iranian Property
This project is based in a residential building in Mashhad whose construction dates back to approximately twenty years ago. The building has two residential floors and a basement where a Jacuzzi, a pool and a sauna are located.
8 Jun 2017
Iran Historical Car Museum, 20km west of Tehran
Design: RMJM Arta-Tehran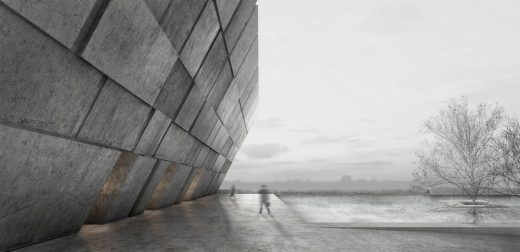 image Courtesy architecture office
Iran Historical Car Museum
The Cultural Institute of Bonyad Museum has selected RMJM Arta Tehran to provide the interior design for the Iran Historical Car Museum. The architecture studio, appointed as architectural consultant for the Museum in August 2016, is now leading the development of the entire project which covers a 22,000 sqm site.
1 Nov 2016
Apartment No.55 Building, Darrous, Tehran, Tehran Province
Architects: Maziyar Jafarieh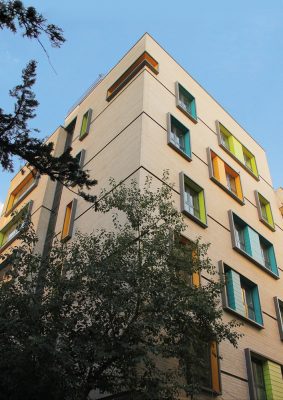 photographs : Maziyar Jafarieh, Amirreza Karimi
Apartment No.55 in Darrous Tehran
Apartment No.55 is located on a north residential district of Tehran, Iran. The concept stems from paternity house with wide windows and green picturesque garden which was a placid place for the family and it had to turn into an apartment with maximum allowable area as well as the desire for distinguishing the apartment into an iconic building from within the neighborhood.
page updated 9 Oct 2016 with new photos
Barin Ski Resort
Design: RYRA Studio architects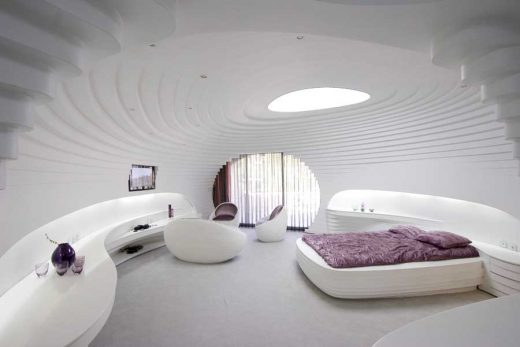 image Courtesy architecture office
Barin Ski Resort
Shemshak is the second largest ski area in Iran after Dizin and situated just about 55 minutes drive from Tehran. In the fall 2008, the architects designed a ski resort within the distance of about 1 kilometer from the Shemshak ski piste in the heart of mountain. Here the nature is so unique that this project was taken as a demonstration one to investigate the interface between nature and architecture.
3 Oct 2016
Tabiat Pedestrian Bridge, Tehran – a winner of the Aga Khan Award for Architecture
Architect: Diba Tensile Architecture / Leila Araghian, Alireza Behzadi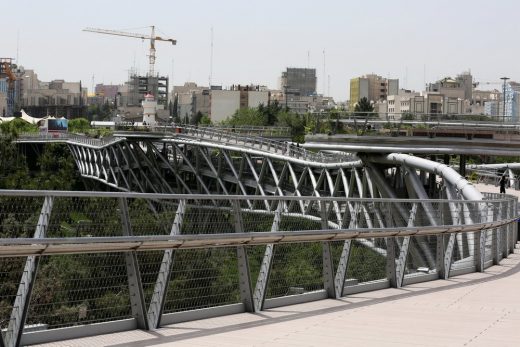 photos : AKTC / Barzin Baharlouie
Tabiat Pedestrian Bridge Tehran
A multi-level bridge spanning a busy motorway has created a dynamic new urban space. The architects first conceived the two-to-three level, 270-m-long curved pedestrian bridge of varying width, a complex steel structure featuring a dynamic three-dimensional truss with two continuous deck levels that sits on three tree shape columns, with a third where the truss meets the column branches.
8 Sep 2016
White Office Building, Tehran, Northern Iran
Architects: BNS Studio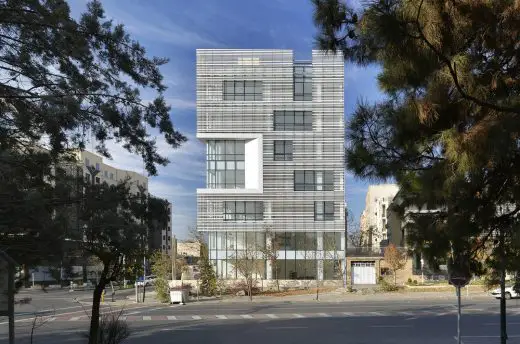 photos : Farshad Kazerooni, Azin Soltani
White Office Building in Tehran
The project is located at one of the busiest street in shahrak-e-gharb, Tehran. Its total area is 1500 sqm. The office complex comprises five levels of open office floors and one double height retail store at street level.
7 Sep 2016
Shams Tabrizi Monument, Khoy, Khoy County, West Azerbaijan Province
Architects: BNS Studio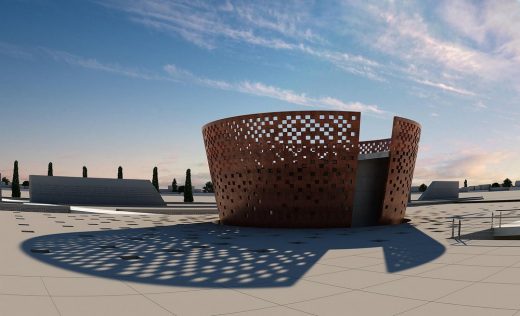 image Courtesy architecture office
Shams Tabrizi Monument in Khoy
This is a cultural complex built to house Shams' tomb and become a center for Sema ceremonies. Shams Monument was designed in form of a Garden-Tomb, which provide possibilities for visitors to leisurely walk around the tomb and the historical site to learn about Shams and Persian poetry.
10 Jul 2016
Orsi Khaneh Building in Tehran
Design: Keivani Architects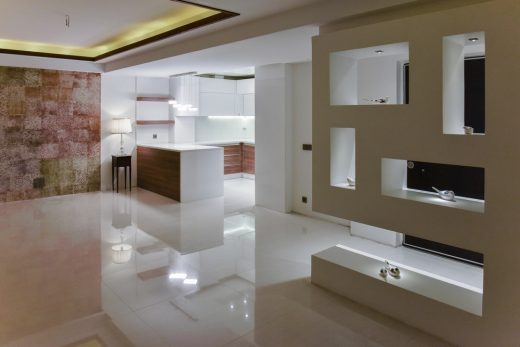 photography : Parham Taghiof – Nima Keivani – Hannaneh Fadayi
Orsi Khaneh Building in Tehran
The main concept of this built project is originated from Iranian traditional architecture. They were using a special type of window which is locally called Orsi, made by wooden lattice and stained glasses have had an effective technical functions in climatic and natural light controlling.
20 May 2016
Echelon Concert Hall, Damghan, Damghan County, Semnan Province
Design: G.S.A Architectural Design group, Architects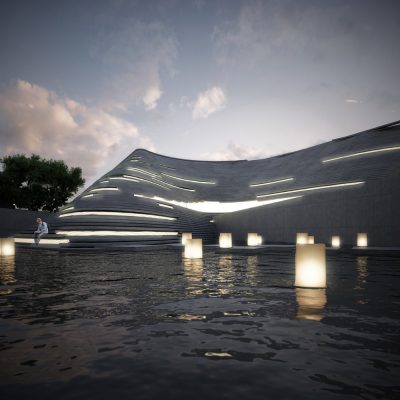 picture : G.S.A Architects
Echelon Concert Hall of Damghan
Examining and analyzing the principles of contextualized architecture, this building is meant to craft a cultural space (Concert Hall) in order to appreciate certain talents and skills in its anticipated field, and to provide the desirable carrier for the artistic and creative ideas of the musician to be expressed. This building has been designed as the base of Badab-e Surt of Damghan.
2 May 2016
New Residence in Mosha, Tarrud Rural District, Damavand County, Tehran Province, Iran
Design: New Wave Architecture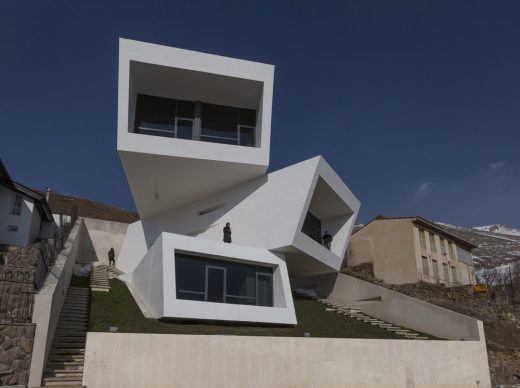 photograph : Parham Taghioff
House in Mosha
It is inevitable that the innate trend of human being is tangled to natural landscape, The location of project is Mosha site in the vicinity of north side of Tehran in domains of Alborz mountains.
We aim to post more Iranian Architecture News online soon
Location: Iran, South Asia
Middle East Architecture Designs
Contemporary Architecture in the Middle East
Comments / photos for the Iran Architecture News page welcome