Iran Architecture, Iranian Buildings, Teheran, Property, News, Pictures, Projects
Iranian Architecture : Buildings
Key Contemporary Architectural Developments in Tehran area, Asia
post updated 27 Feb 2020
Architecture in Iran
e-architect select the most important contemporary Iranian Architecture. We cover completed buildings, new building designs and architecture competitions across Iran. The focus is on contemporary Iranian buildings.
We have 2 pages of Iranian Architecture selections.
Iranian Architecture : news + key projects (this page)
Iranian Buildings : A-Z
Iranian Buildings – Latest Designs
Iran Architecture News, chronological:
10 Jan 2016
Safavieh History Museum, Ardabil, north-western Iran
Design: Babak Ahangar Azizi, Architect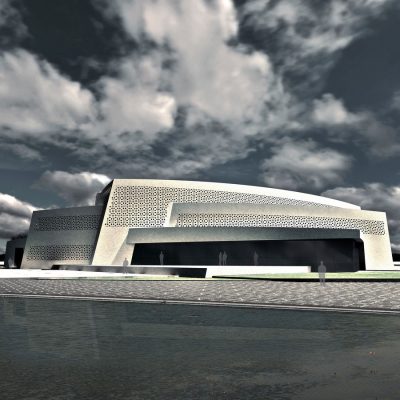 picture : Babak Ahangar Azizi
Safavieh History Museum Iran
11 Nov 2013
Grano Restaurant in Tehran
Design: Hooba design Group, Architects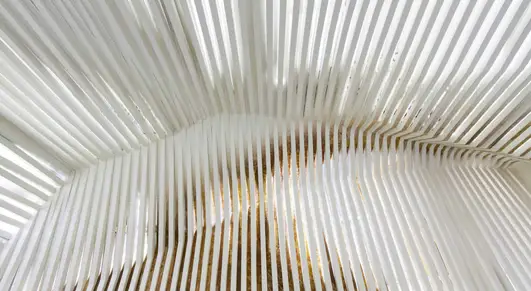 photograph : Parham Taghi-oft
Grano Restaurant Tehran
This project is located in a one way street with a main urban access in Tehran. Which is in fact, an interior design reconstruction of a store in a way to make a new definition of a brand new restaurant.
21 Jun 2013
Tabriz Bazaar Rehabilitation
Design: ICHTO East Azerbaijan Office



photo : Amir Anoushfar
Tabriz Bazaar Rehabilitation
The Tabriz Historic Bazaar Complex was officially protected in 1975 and has been covered by special stewardship measures until 2010, when it was added to the World Heritage List. The complex covers 27 hectares with over 5.5 kilometres of covered bazaars. Three different protection areas have been established (a nominated area, a buffer zone and a landscape zone), subject to special regulations incorporated into the planning instruments.
1 May 2013
Apartment No. 1, Mahallat
Design: Architecture by Collective Terrain



photo : Omid Khodapanahi
Apartment in Iran
This project turns the inefficiency to economic and environmental advantage by reusing leftover stones for both exterior and some interior walls, and has led to the increasing adoption of stone recycling by local builders.
8 Apr 2013
Persian Factory Building
Design: Hooba Design Group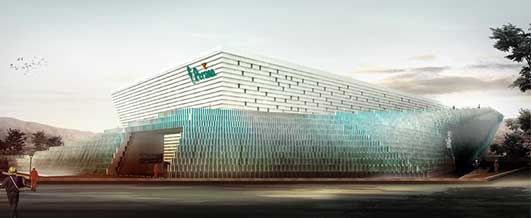 image from architect
Factory Building Iran
In order to achieve the goal the volume design concept, including all components of the factory such as the enclosure wall, the security building, the official building, the presentation part, the manufacture building and the landscape of the project. In order to achieve an integrated organization, we used a spatial diagram, which defined both the inside and outside of the project simultaneously. This diagram is influenced by the building's site, and also the existing status of building and additional sections.
23 Jul 2012
Barin Ski Resort, Tehran
RYRA Studio



picture from architects
Barin Ski Resort
The architects chose a 60 m² unit, which is the most frequent one in complex, to design as a showcase room. Barin is located in the heart of mountain, in Shemsak ski resort (the second largest ski area in Iran) with such a unique nature that we decided to take this project as a demonstration one that investigates the interface between nature and architecture.
23 May 2012
University of Semnan Auditorium Library
New Wave Architecture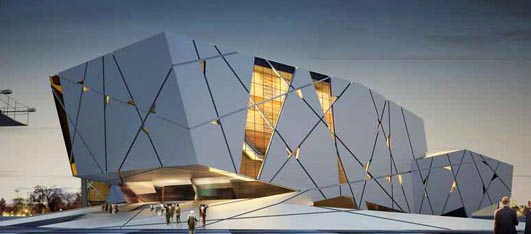 picture from architects
University of Semnan Auditorium Library
Locating at Semnan university campus as a focal point, offers an architectonic articulation with different architectural styles of surrounding faculties in the campus. The concept has been configured on the basis of two separated but compounded architectural constructions – an auditorium and a Library – as the hub of campus.
3 May 2012
Sanat Square, Tehran
Daneshgar Architects



image from architect
Sanat Square
It is the magic touch of inspiration that makes Sanat Square stand out of its context. The design proposed for the monument on Sanat square is basically based on the concept of 'geometric Kufi' calligraphic forms. The cultural values embedded in the design is supposed to lend a particular excitement to both local area and the mega-city of Tehran.
Iranian Design Competition
Iranian Design Competition : Tehran
23 Apr 2012
Kelardasht Villa, northern Iran
Daneshgar Architects


image from architect
Iranian Villa
Kelardasht is one of the most beautiful parts of Iran, located at the close proximity to the Caspian Sea, with a spectacular view to the Alborz Mountains in its background.
5 Feb 2012
Pars Hospital, Rasht-Guilan, northern Iran
New Wave Architecture



image from architect
Iranian Hospital Building
On the understanding that life begins and generally ends in hospitals, architectural space of hospitals and health care facilities should make our journey through life more pleasant and bearable. Rasht is the largest city of Iran's Caspian sea coast. This area enjoys a climate known for its moderate, mild and Mediterranean-like, along with heavy rainfall annually.
Recent Iranian Building Designs
11 Dec 2011
Velenjak Shopping Center, Tehran
Hooman Balazadeh



photograph : Parham Taghiof
Iranian Shopping Center
The spatial concept was to present a significant solid mass that connects the entrance of the hall to the serving counter and also illustrates the roof and the walls as a continuous element. This solid mass provides the essential light of the area indirectly and eliminates any sharp and disturbing type of light.
22 Sep 2011
Nanotechnology Research Center, Zahedan
New Wave Architecture



image from architect
Nanotechnology Research Center
22 Nov 2010
Iran International Trading Center of Carpet
New Wave Architecture



picture from architects
Iran International Trading Center of Carpet
To create movement, continuity, attractiveness from marketing viewpoint, by utilizing continuous and uninterrupted forms and maintaining memory of bazaar (ambience, light/shade interplay, lack of exterior space, beams of light through openings on the ceiling).
Using carpet figures and its geometry to give character to the design; to create diversity in figure and form by making changes in geometry without losing the origin of form, e.g. through keeping traces of carpet rosettes.
Iranian Architecture
Major Iranian Architecture Developments, alphabetical:
Ayatollah Boroujerdi Square, Boroujerd
Daneshgar Architects



image from architect
Boroujerdi Square
Kish Dream Park, southern Iran
D+R dipiuerre architettura



image from architects
Kish Dream Park
Paykar bonyan panel factory, Parand industrial city, northwest Iran
ARAD



photo : Ali Daghigh
Iranian factory : World Architecture Festival Awards 2008 Finalist
The Ramp House, Astalak, Tehran
A project by Jastudio and Afshin Farzin


photograph from architects
Ramp House Tehran
Vali-Asr Commercial Office Building
Kelvan



photograph from FD
Iranian Office Building – World's Best Office Building
More Iranian Architecture projects online soon
Location: Iran, Asia
Architecture Developments in countries adjacent to Iran
Bahrain WTC Building : Twin skyscrapers
Architects: Atkins



image from architects
Comments / photos for the Iran Property – Iranian Building Design page welcome