Greek architecture news 2023, Greece buildings, Construction design architects, Property images
Greek Architecture News
Architectural Developments in Greece – Southern Europe Built Environment Updates
post updated 28 August 2023
Greek Building News
Greek Architecture Designs – chronological list
Greece Property Information : Building Links, chronological:
28 Aug 2023
Re-mining Giali: a new scenario for the manufactured landscape, Giali, Thessaloniki
Design: Dimitrios Mitsimponas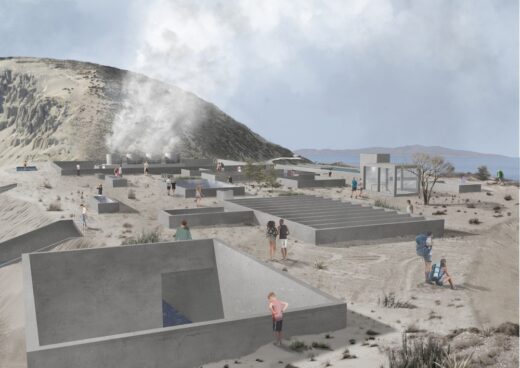 image courtesy of architects practice
Re-mining Giali Concept in Thessaloniki
This imaginative Greek architectural project proposes a new scenario for Giali island's manufactured landscape which has been irreparably altered by mining, causing many environmental and social effects. It explores the relation between energy production infrastructure and recreational facilities to reclaim the mine and create a new revenue stream for the local communities.
18 Jan 2023
Villa Caeli, Prinos bay, Island of Thassos
Design: Ark4Lab of Architecture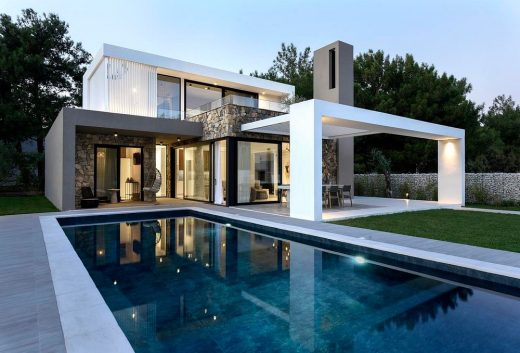 photo : Nikos Vavdinoudis
Villa Caeli, Island of Thassos
3 Jan 2023
Dream House, Kifisia, Athens
Design: Kipseli Architects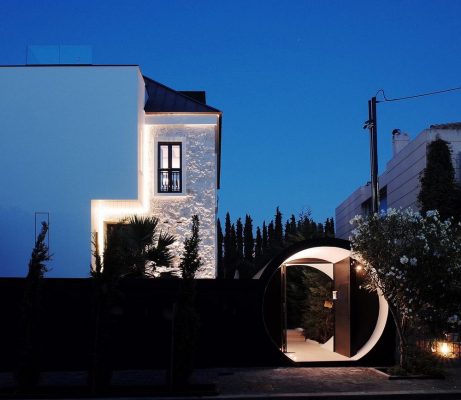 photo : Dimitris Kleanthis
Dream House, Kifisia
3 Jan 2023
"The Hill", northern foothills of Mount Thryptis, eastern Crete, Southern Greece
Design: Block722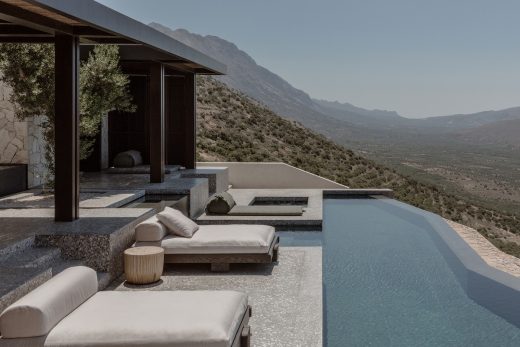 photo : Ana Santl
The Hill Residence on Crete
3 July 2022
Arched Residences, northernmost island of the Greek Cyclades archipelago in the Aegean Sea
Design: iraisynn attinom studio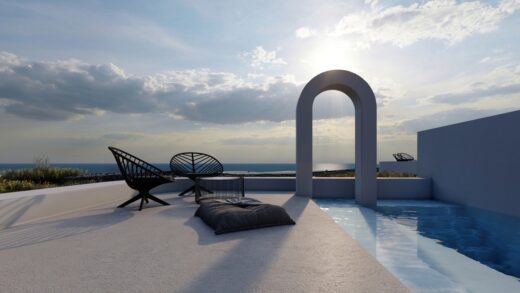 photo : Iraisynn Attinom
Arched Residences, Santorini Island
Arched Residences are four autonomous summer houses were designed by architectural studio, iraisynn attinom, for a rocky plot in the area of Oia, on the island of Thira (Santorini) in Greece.
25 Apr 2022
Paros Villa, Paros, South Aegean
Design: Studio Seilern Architects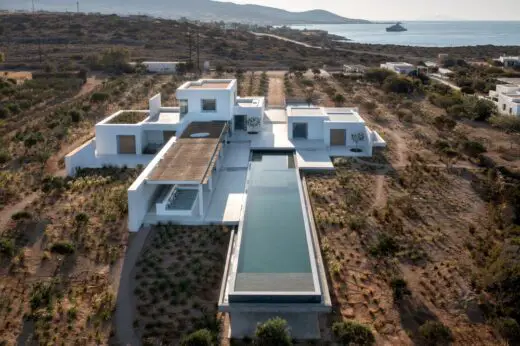 photo : Louisa Nikolaidou
Paros Villa, South Aegean
14 Jun 2021
KHI House, Methoni, southern Peloponnese
Design: LASSA
House in Methoni, southern Peloponnese
13 Jan 2021
Shedia Home Restaurant, Athens
Design: Potiropoulos + Partners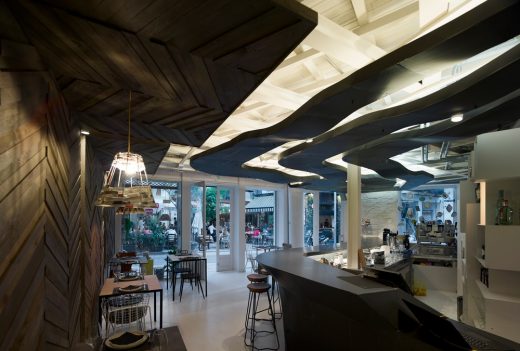 photograph : Yiorgis Yerolymbos
Shedia Home
Rather than being concerned with achieving a certain aesthetic, the creative process behind the new space for the 'Shedia' street magazine was instead focused on its ability to serve as a fascinating socio-cultural catalyst.
29 July 2020
Two Summer Houses in Andros, northern Greek Cyclades archipelago
Design: Praxitelis Kondylis Architects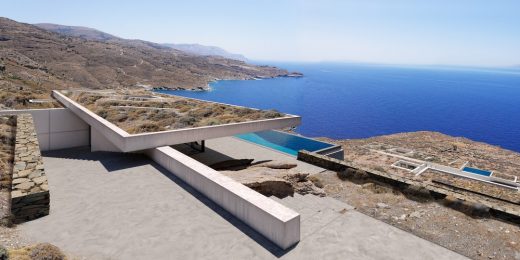 image from architecture office
Summer Houses in Andros
Nestled among Andros' wild mountains, fecund valleys and waterfalls, this complex consists of two detached houses covering around 600m2 in land of 9200m2.
12 June 2020
Τhe Wave – Residential Building, Glifada, south Athens
Architects: Potiropoulos+Partners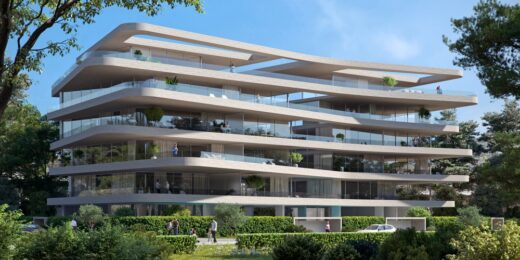 image from architecture office
Τhe Wave – Residential Building
"The Wave" residential building is adjacent to the Glyfada Golf Club from the east. The design process envisioned two interconnected volumes within one continuous structure parallel to the property's longer side, in direct conversation with the natural characteristics of Place and the view.
19 Feb 2020
Vacation Houses Complex Porto Heli
Architects: Potiropoulos+Partners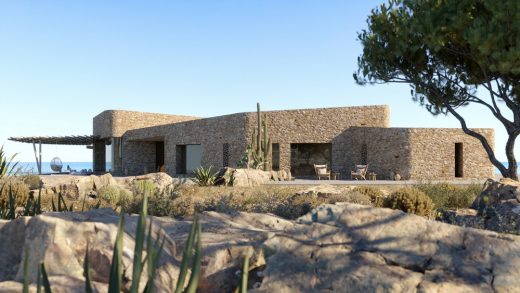 image from architect office
Vacation Houses Complex in Porto Heli
The architectural practice POTIROPOULOS+PARTNERS was awarded the "Winner: prize of the German Design Awards 2020 in the "Architecture" category for the project "Active Materiality – Vacation Houses Complex in Porto Heli".
MEDS Workshop, Spetses Island
MEDS Spetses 2019, 26 July till 12 August
Participant call 1/03/2019 till 31/03/2019
MEDS Workshop is going to take place this year for its 10th edition in Greece, on Spetses Island with the theme "MEMNISO"; which in ancient Greek means "to remember".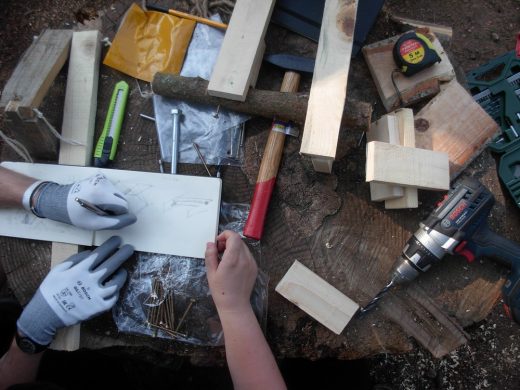 The idea of the workshop is to bring traditional professions together with contemporary crafts and design by exploring new capabilities and learning techniques from expert local crafts-men. The goals of the workshop are to not only learning from the locals but also exchang-ing knowledge and sharing skills.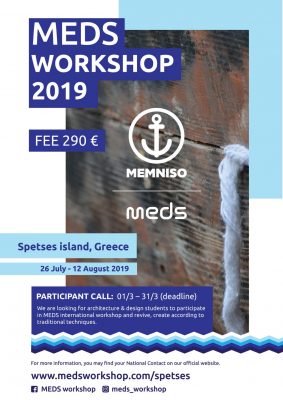 So if you are a graphic, product, industrial, or interior designer, architect, photographer or an artist, it's your time to participate as a participant at MEDS Workshop. You will get the chance to learn more about the traditional crafts from professionals in the fields, mentors but also you will learn from tutors how to recreate a traditional to contemporary.
You will be able to attend lectures and talks related to different fields of design.
Most important, your project will be permanently exhibited or used for the community.
For more information about the application process, you can visit our website or you can follow us on our Facebook and Instagram accounts:
www.medsworkshop.com/spetses
www.facebook.com/medsworkshop
https://www.instagram.com/meds_workshop/
Participant call is open until 31/03/2019

MEDS workshop "Meetings of Design Students" is an international workshop that takes part each summer in a different country, focusing on various issues, themes, topics and settings that will help any designer expand their expertise. It is a chance to get in touch with diverse approaches to design, different building techniques, traditions, and skills. MEDS workshop is both practical and educational because it focuses not only on crea-tive theoretical designs, but actually compels participants to execute these designs during the 2-week span of the workshop.
Past workshops have taken place at Turkey, Slovenia, Portugal, Ireland, Serbia, Romania, Belgium, and Lebanon.
Greek Architecture Offices
Greek Architect – design firm listings
More Greek Architecture News on e-architect soon
Greek Architecture News 2017
31 Oct 2017
Residence in Crete
Design: tense architecture network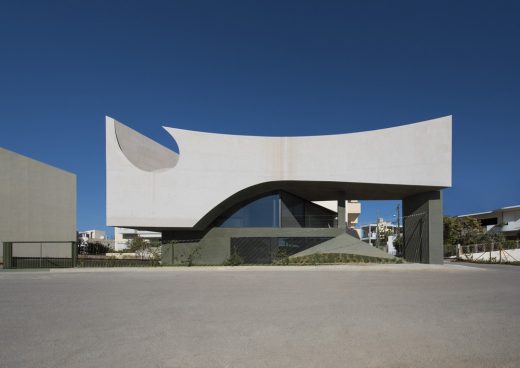 phtotograph : Petros Perakis
Residence in Crete
24 Oct 2017
waterways – The 100 Palm Tree Urban Square, North Rhodes, Southern Greece
Design: MOB architects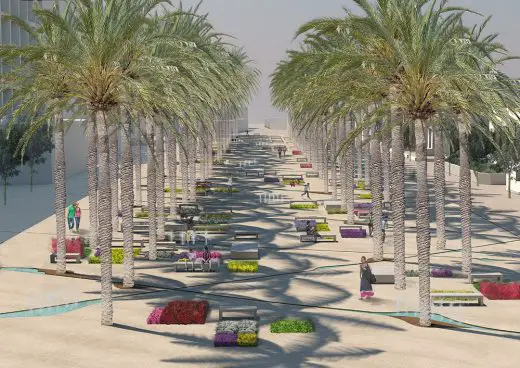 image Courtesy architecture office
100 Palm Trees Square Rhodes
WAF 2017nomination in the "Future Projects \ Civic" Category
The project is a design competition entry. The architecture competition called for redesigning the"100 Palm Trees Square" in the northern part of the city of Rhodes. The square was originally designed between the years 1936-1941 and is surrounded by hotels and a museum.
22 Jul 2017
Mykonos Villa Renewal, Cyclades group in the Aegean Sea
Design: Galal Mahmoud, GM Architects with Greek architect Andreas Vassilaros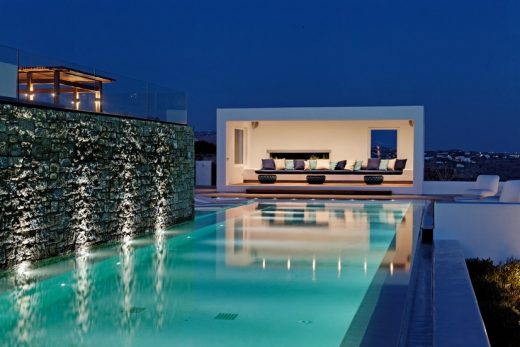 image Courtesy architecture office
Mykonos Villa
7 Mar 2017
Grecotel Eva Palace 5 star Luxury Hotel In Corfu Island, Ionian Sea
Design: Studio Liakos and Associates Architects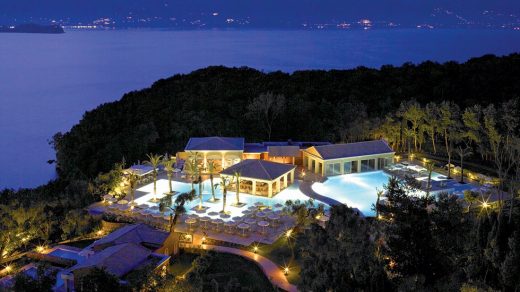 image from lighting designers
Grecotel Eva Palace Luxury Hotel In Corfu Island
The challenge of this project was to create a resort combining the local construction detailing and style with the requirements of a modern building, while taking into consideration its gorgeous natural setting. With this in mind, great care was taken in locating its entrance, its roads and its buildings so that this first class resort could offer its customers amazing views of the peninsula.
15 Dec 2016
Cups Nine, Trikala, northwestern Thessaly, central Greece
Design: Normless_architecture studio & workplace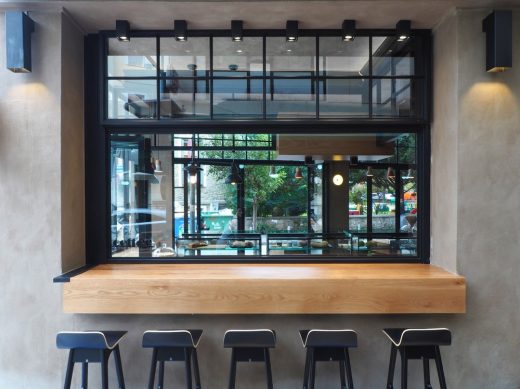 photograph : Spathis Kostas
Cups Nine in Trikala
A new Cups Nine shop opened its doors, this time as a Cafe & Patisserie store. Right in the heart of the school district and opposite of one of the most popular city's squares, the new Cups Nine comes to shake up the city for one more time and reintroduce the street coffee shops.
14 Dec 2016
Apartment with a Back Yard, Trikala
Design: Normless_architecture studio & workplace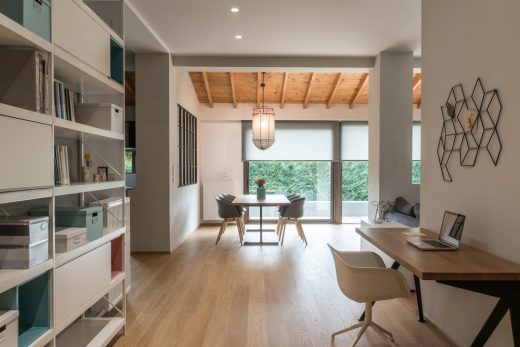 photograph : George Sfakianakis
Apartment in Trikala
24 Nov 2016
White Boxes Resort
Architects: Potiropoulos+Partners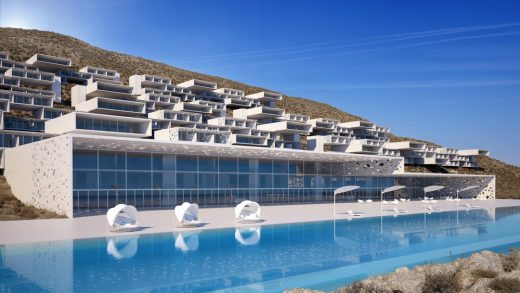 3D Visualization: Batis 3D Design Studio
White Boxes Resort on Mykonos Island
The suggested design constitutes a spatial narrative of the attributes of this particular place. The dialogue between the proposal and the natural landscape of the area, as well as with the living memory of the tradition, outline the main design principles.
11 Nov 2016
Mirage Villa on Tinos, Kalavrita, Cyclades archipelago, Aegean Sea
Design: Kois Associated Architects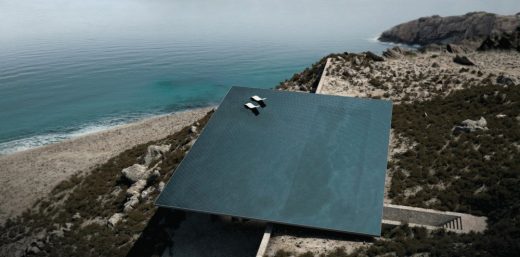 image Courtesy architecture office
New Villa on Tinos, Greece
30 Oct 2016
Hotel Relux on Ios Island, Cyclades, Aegean Sea
Design: A31 Architecture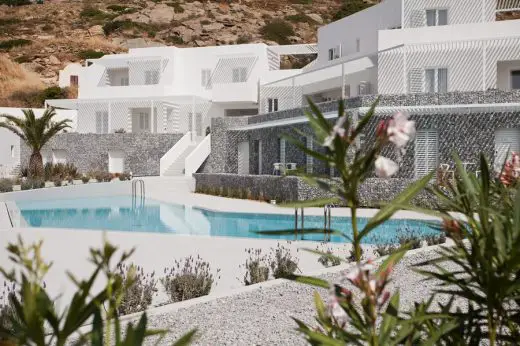 image from architect
Hotel Relux on Ios Island, Greece
Sometime during the mid 1980s, Blue Bay Hotel Ios** was built in a 3900sqm plot at the Port of Ios island -overlooking Sikinos – without being renovated or reconstructed for more than two decades.
12 Jul 2016
Myconian Ambassador Resort, Mykonos, Cyclades, Aegean Sea
Design: GM Architects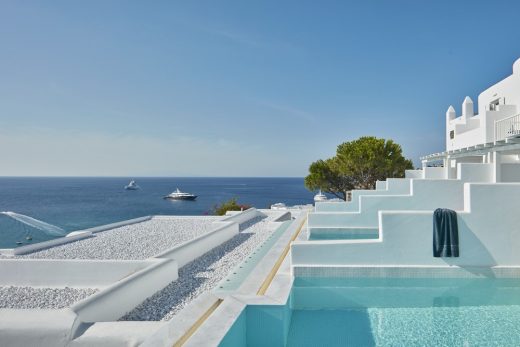 image courtesy of architects
Myconian Ambassador Resort by GM Architects
This luxury hotel is one of a number of such top-end establishments in the Cyclades group of Greek islands. Its construction in 1979 was overseen by George Daktylides, and was the first hotel in the Myconian hotel collection.
1 Jun 2016
Atrium Villas, Skiathos, Sporades archipelago
Design: hhh architects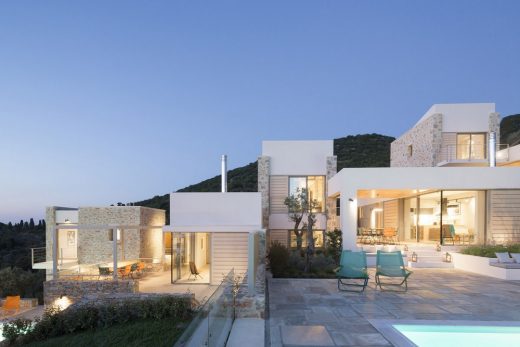 image Courtesy architecture office
Villas in Skiathos
2 Jun 2016
The Architect's Villas, Mani, Peloponnese
Design: hhh architects



image Courtesy architecture office
Peloponnese Villas in Mani
19 May 2016
Delos Museum, Delos,
Design: Jean Pierre HEIM and Carolyn HEIM architects



image Courtesy architects office
Delos Museum in Greece
From Mythological sibling Apollo and Artemis the new DELOS, will be designed as a symmetrical aspect value due to the equilateral mythic triangle of the DELTA: symbol of Delos.
9 May 2014
Museum For Argo Volos
Design: Tense Architecture Network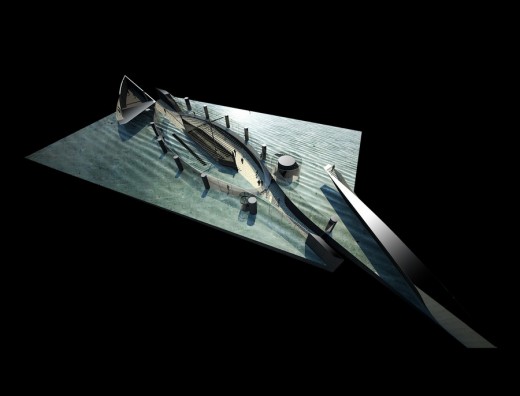 image Courtesy architecture office
Museum For Argo in Greece
Tense Architecture Network has won the 2nd prize (shared) in the European competition for the new Museum of the Mythical Ship Argo for the city of Volos in Greece. The mythical Argo in a Museum: a defined space, simple but concise, distinct but symbolic, intelligible but mystagogical, where the mythical ship constitutes the center of attention, the main exhibit, the point of reference.
15 Jan 2014
The Kapetas Villa, Sparta, Southern Greece
Design: Petros N. Zouzoulas, Architects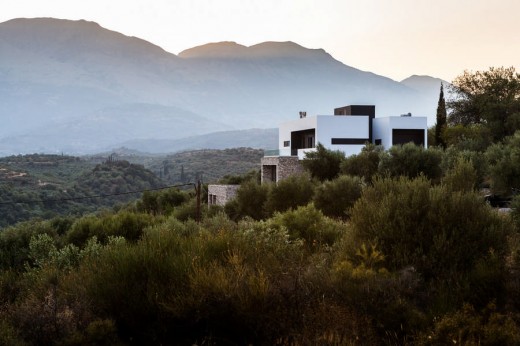 image Courtesy architecture office
Sparta Villa
7 Aug 2013
Art Warehouse, Boeotia
Design: A31 Architecture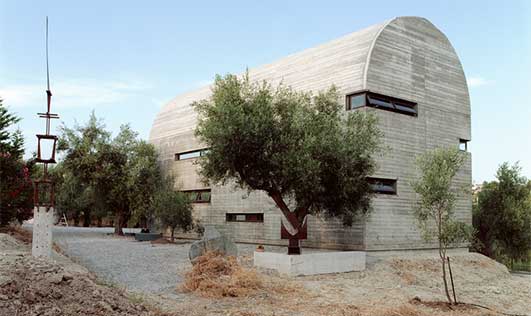 photo : Yiannis Hadjiaslanis
Art Warehouse in Greece
The Artist's warehouse is a monolithic Modern structure. Its orthogonal plan is divided into 3 zones: Firstly, the cantilever with the balcony in the South, where the entrance is situated, secondly, the artist's workspace and finally the attic in the North which serves as a storage space. A straight staircase connects the two levels, while the cantilevered concrete steps can serve as exhibition stands for the artist's work.
13 Feb 2013
Barbouni Beach Restaurant, Navarino Dunes Hotel, Costa Navarino, Messinia
Design: K-STUDIO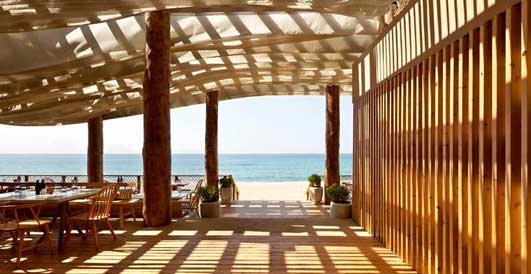 photograph © Yiorgos Kordakis
Barbouni Beach Restaurant
Barbouni is a beach restaurant of approximately 300sqm area. The architects were asked to create a contemporary refuge from the strong sun and wind, protected from the winter waves. The structure needed to be in harmony with the sea-front location and make the most of the views of the horizon and sunset.
1 Sep 2011
Cocoon Costa Navarino, Messinia, southwest Peloponnese
Design: polyanna paraskeva & associates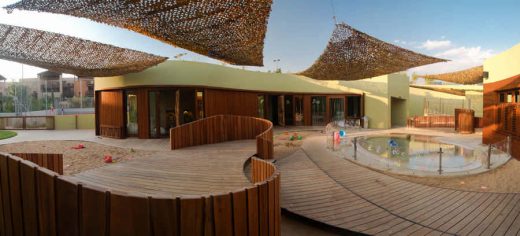 image Courtesy architecture office
Cocoon Building, Costa Navarino
The Cocoon is inspired by the memory of the cocoon, as the space that carries life, with soft shapes that surround, contain and protect life. Fluid forms and carved underground spaces with green roofs surround a basin, from which organic forms emerge.
We aim to show more Greek Architecture News online soon
Athens Architecture Designs – chronological list
Location: Visit Greece, southeast Europe
Greece Architecture
Contemporary Greece Buildings
Grace Santorini Hotel
Design: Divercity & Mplusm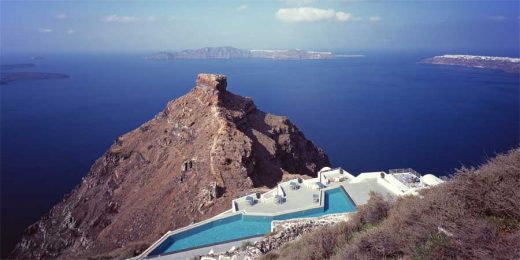 photo : Erieta Attali
Grace Santorini Hotel in Greece
Comments / photos for the Greek Architecture News page welcome