Greek property designs, Contemporary houses in Greece, New home photos, Modern residential buildings images
New Greek Homes : Properties
Contemporary Greek Homes: Property – New Residential Designs
post updated 11 October 2023
Greek Architecture Designs – chronological list
Greek Houses
Contemporary Greek Houses, chronological:
A selection of the most interesting Greek homes posted on e-architect.
5 October 2023
Viglostasi Residence, Syros
Design: Block722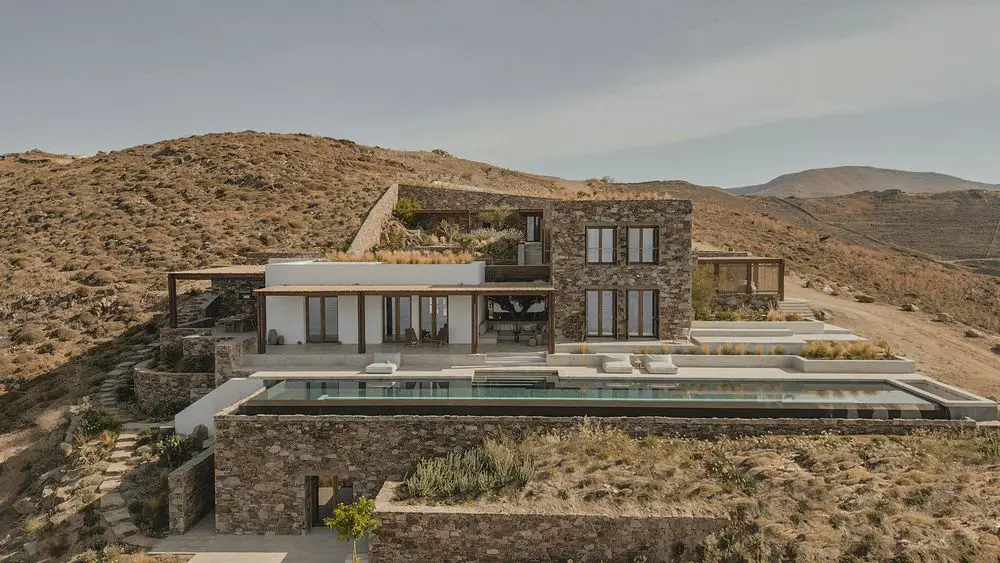 photo : Ana Santl
Viglostasi Residence, Syros, Greece property
From a distance, residence Viglostasi appears like a traditional island settlement, perched on rocky slopes above the Mediterranean Sea. Yet, this is a single, private holiday home, nestled in its secluded, natural site of the Cycladic Island of Syros.
18 Jan 2023
Villa Caeli, Prinos bay, Island of Thassos
Design: Ark4Lab of Architecture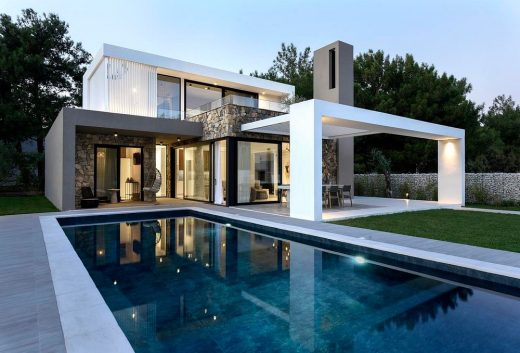 photo : Nikos Vavdinoudis
Villa Caeli, Island of Thassos
At Prinos bay, on the island of Thassos you can find The Villa Caeli 200 meters from the sea. The building is developed in two levels, astride a linear axis. That way the volume formation conveys the different functions of the space.
3 Jan 2023
Dream House, Kifisia, Athens
Design: Kipseli Architects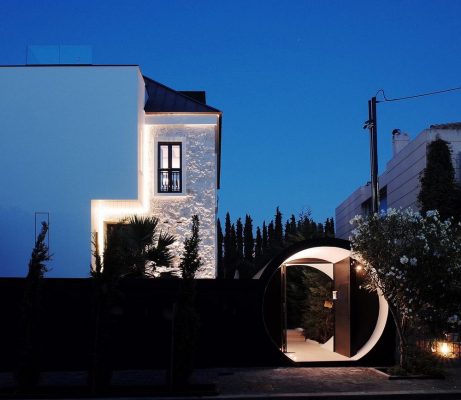 photo : Dimitris Kleanthis
Dream House, Kifisia
3 Jan 2023
"The Hill", northern foothills of Mount Thryptis, eastern Crete, Southern Greece
Design: Block722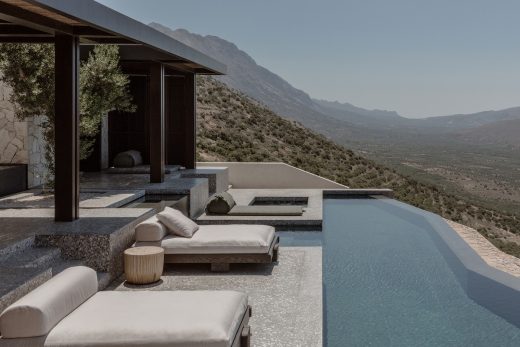 photo : Ana Santl
The Hill Residence on Crete
This Greek residential project "O Lofos" (The Hill) is a unique piece of art combining Scandinavian aesthetics, simplicity, balance, and purity with the Mediterranean spirit. The green, wild Cretan landscape, the richness and heritage of traditional arts define Block722's new project, "The Hill".
More Greek Houses on e-architect soon
Contemporary Greek Homes in 2022
4 Nov 2022
Glyfada Apartment Building, Athens
Design: SAOTA with interior architecture by ARRCC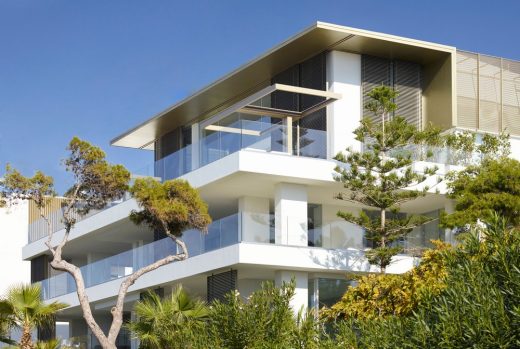 photos : Vangelis Paterakis & Panagiotis Voumvakis
Glyfada Apartment Building Athens
25 Apr 2022
Paros Villa, Paros, South Aegean, southeast Greece
Design: Studio Seilern Architects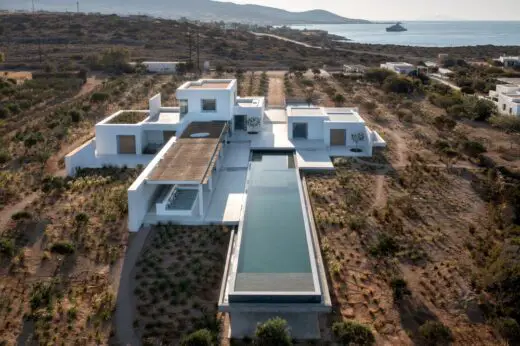 photo : Louisa Nikolaidou
Paros Villa, South Aegean, Greece
Studio Seilern Architects' design for a private villa on the Greek island of Paros blends a subtle modernism with both contemporary and traditional detailing and materials. The Paros Villa was assembled as a linked series of standalone rooms around a poolside courtyard, the villa touches the landscape lightly, providing a beautiful and simple luxury living environment in its natural Aegean setting.
More modern Greek Houses here on e-architect soon
Greek Homes in 2020 – 2021
14 Jun 2021
KHI House, Methoni, southern Peloponnese
Design: LASSA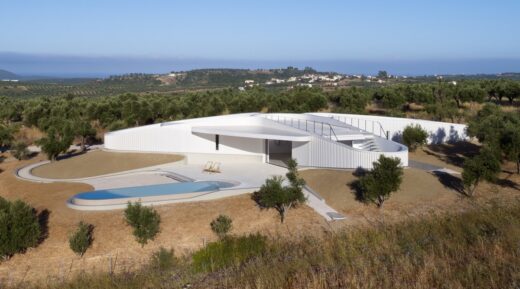 photography : NAARO (Naaro.com)
House in Methoni, southern Peloponnese
KHI is located in a gently sloping olive grove in the southern Peloponnese. The project is formed by a single continuous rippling wall that frames a series of protected courtyards at the extremity of each wing.
29 July 2020
Two Summer Houses in Andros, northern Greek Cyclades archipelago
Design: Praxitelis Kondylis Architects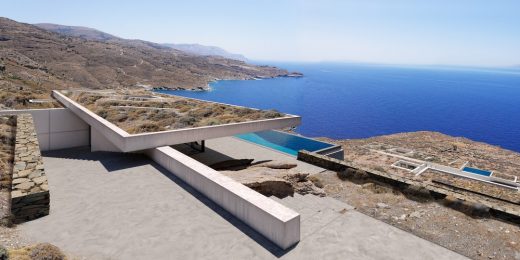 image from architecture office
Summer Houses in Andros
Modern and rigorous, the design bears clear lines and is organically linked to the natural landscape of Andros.
More contemporary Greek homes online soon
Greece Property in 2019
12 Jan 2019
Residence in Heraklion, Crete, Southern Greece
Design: Anna Garefalaki – 3+Architecture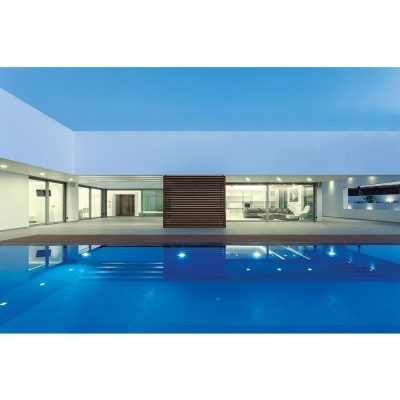 phtotograph : Panagiotis Voumvakis
Residence in Heraklion, Crete
The initial intention was to create a building volume facing towards the sole visual connection to the sea, with a constant dialogue between the external element and the residence.
12 Jan 2019
Sikamino House, central Greece
Design: Tense Architecture Network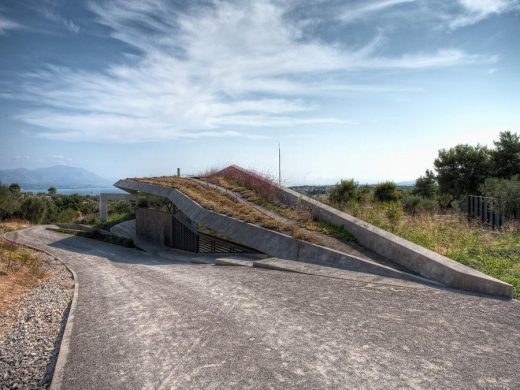 photo : Stelios Delis
Residence in Sikamino – Greek House
This bold new Greek property can be perceived as a slightly elevated strip of earthy crust in front of the distant mountains of Euboea. The roof is born from the ground and it is planted likewise: helichrysum, rosanthemum, lavender, gauras, thyme.
More current Greek homes online soon
New Greek Homes 2014 – 2017
31 Oct 2017
Residence in Crete
Design: tense architecture network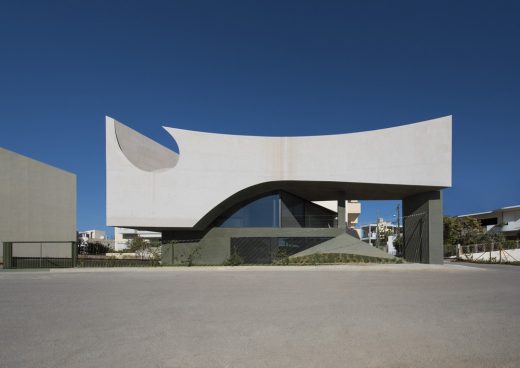 phtotograph : Petros Perakis
Residence in Crete, Greece
Work nominated for the European Union Prize for Contemporary Architecture, Mies van Der Rohe Award 2017. The location, on a small hill, is privileged. The longitudinal field is open to the south and the view of mountain Youhtas. How can a linear residence deal with the intense Cretan light?
22 Jul 2017
Mykonos Villa Renewal, Cyclades group in the Aegean Sea
Design: Galal Mahmoud, GM Architects with Greek architect Andreas Vassilaros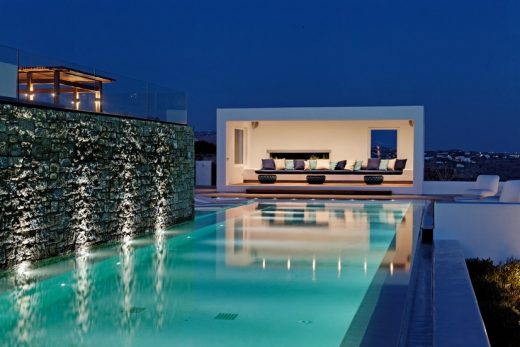 image Courtesy architecture office
Mykonos Villa
With his great affection for Greece in general and the island of Mykonos in particular, Galal Mahmoud was asked to participate in the construction of a private villa located in the very heart of the island. Galal Mahmoud and his design team focused on the exteriors of the residence, turning the terraces into places to live out life to the full – whilst offering protection from the Mykonos wind, which can be very strong during the summertime.
14 Dec 2016
Apartment with a Back Yard, Trikala
Design: Normless_architecture studio & workplace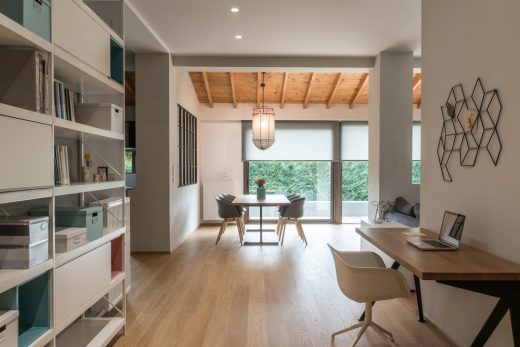 photograph : George Sfakianakis
Apartment with a Back Yard in Trikala
A Scandinavian influenced three-bedroom apartment is located just outside the city of Trikala. This 150sqm unit features an open plan kitchen, dining and living room area with a back garden, owned by a young couple.
11 Nov 2016
Mirage Villa on Tinos, Kalavrita, Cyclades archipelago, Aegean Sea
Design: Kois Associated Architects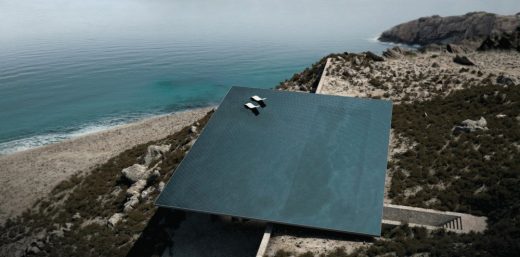 image Courtesy architecture office
Mirage Villa on Tinos, Greece
A residence designed under an infinity pool. Recent winner of the 2016 American Architecture Prizes, the Mirage project is a poetic effort to reconcile nature and architecture. It concerns an island house with a unique design intention.
1 Jun 2016
Atrium Villas, Skiathos, Sporades archipelago
Design: hhh architects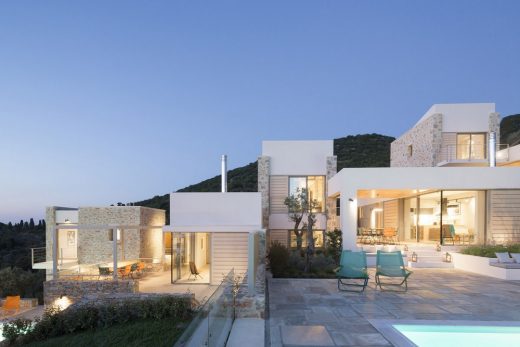 image Courtesy architecture office
Atrium Villas in Kehria Skiathos
The complex consists out of 3 houses built on a wooded hillside overlooking the west coast of Skiathos and the eastern Pelion. The natural environment defined the architectural layout of the complex that consists out of 6 volumes following the slope of the site in a linear formation, parallel to the sea view.
2 Jun 2016
The Architect's Villas, Mani, Peloponnese
Design: hhh architects



image Courtesy architecture office
The Architect's Villas in Mani
The houses are located on an olive grove in Mani with a view to the Messinian bay. This complex consists of of six stone blocks placed in between the existing olive trees.
15 Jan 2014
The Kapetas Villa, Sparta, Southern Greece
Design: Petros N. Zouzoulas, Architects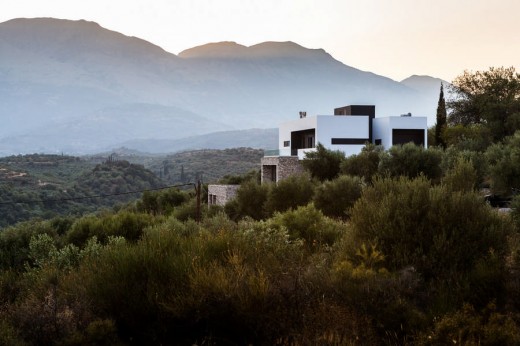 image Courtesy architecture office
Villa in Sparta
This villa property is set in the scenic valley of modern day Sparta, Greece. The primary focus of the project was to capture the stunning views of the valley and mountains while capitalizing on passive solar and passive cooling strategies and to create a warm and comfortable home for a young Greek family.
Location: Greece, southeast Europe
Contemporary Greek Architecture
Greece Buildings
Greek Architecture Designs – chronological list
Greek Architecture – Selection
New House in Paros, Cyclades
Design: React architects
New House in Paros
The residences located on the highest point of the lot. The courtyards constitute the conjunctive element of residences. Wide stairs lead to landings in the large viewing "plateaus", traversing indoors and outdoors spaces. Planting is enhanced on roofs and intermediate yards.
Residence, Larissa
Design: Potiropoulos D+L Architects
Larissa Residence
The structure is "L" shaped and positioned at the corner of the plot, so as to allow vital space for the swimming pool and the garden towards the favourable orientation. Wooden partitions plough the surrounding landscape into individual zones – extensions of the interior structure of the building.
Residence, Archaia Korinthos
Design: Spiros Papadopoulos
Ancient Korinthos House
Vacation house, Porto Rafti – Attica
Design: mobarchitects
Greek vacation house
Comments for the New Greek Properties page welcome