Bauhaus Museum Dessau Competition 2015, Building, 20th Century Architecture Germany, Design
Bauhaus Museum Dessau Competition
German Architecture Contest: Building – Architects Winners
10 Sep 2015
Bauhaus Museum Dessau Competition News
Bauhaus Museum Dessau Competition Winners News
Architecture prizewinner announced
Dessau-Roßlau – the jury in the design competition for the construction of the Bauhaus Museum Dessau awarded two first prizes. The prizewinners, selected by a majority decision with one dissenting voice, come from New York and Barcelona with the third and fourth prizes going to Zürich and Toronto.
Two first prizes awarded
It was a long day of intense discussion covering all aspects of the project to build the Bauhaus Museum Dessau. In the end, the jury, voting by a majority with one dissenting voice, elected to give first place to two designs. A further surprise came shortly before 10 p.m. when anonymity was lifted and it was revealed that the firms selected came from all over the world.
Bauhaus Building, Walter Gropius, 1925-26, Dessau, Germany:
image © Gordon Watkinson
The prizewinners are as follows:
Equal first places:
• Architects: Gonzalez Hinz Zabala (Roberto González Peñalver, José Zabala Rojí, Anne Katharina Hinz), Barcelona/Spain
Landscape architect: Roser Vives de Delás, Barcelona/Spain
• Architects: Young & Ayata (Michael Young, Kutan Ayata), New York/USA
Landscape architect: Misako Murata, New York/USA
Third place:
• Architects: Berrel Berrel Kräutler AG (Maurice Berrel), Zurich/Switzerland
Landscape architect: ASP Landschaftsarchitekten AG (Florian Seibold), Zürich, Switzerland
Fourth place:
• Architects: Ja Architecture Studio (Nima Javidi), Toronto/Canada
Landscape architects: JA Architecture Studio (Behnaz Assadi), Toronto/Canada
Bauhaus Building, Walter Gropius, 1925-26, Dessau, Germany: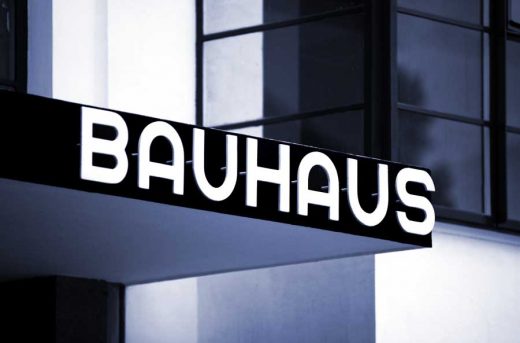 image © Gordon Watkinson
Awards were also given to the following firms:
• Architects: Raummanufaktur (Edin Saronjic, Alexander Scholtysek), Darmstadt/Germany
Landscape architects: Franz Reschke Landschaftsarchitektur, Berlin/Germany
• Architects: Nussmüller Architekten ZT GmbH (Inge and Stefan Nussmüller), Graz/Austria
Landscape architect: Robert Kutscha, Graz/Austria
• Architects: Steiner, Weißenberger Architekten (David Steiner, Karl Weißenberger), Berlin/Germany
Landscape architect: Jens Henningsen, Berlin/Germany
Website: Bauhaus Museum Dessau competition in Germany – no longer active when checked on 11 November 2023
The new museum is planned for a site in the centre of Dessau, located in the city park to the south of the school building. It will include a spatial programme of 3,500 square metres, with 2,100 square metres of exhibition space, reports dezeen.
The open competition for the museum was announced in February 2015, and the building is scheduled to complete in 2019 – marking the 100th anniversary of the school's opening.
5 + 2 Apr 2012
Bauhaus Building Dessau
Location of building: south east Germany
Bauhaus Exhibition
Apartment House Weissenhof Estate, Ludwig Mies van der Rohe, 1927, Stuttgart, Germany:



image © Gordon Watkinson
Skywood House, Graham Phillips, 2000, Denham, UK:



image © Gordon Watkinson


image from Bauhaus Building Competition organisers
The Bauhaus Building and the Masters' Houses in Dessau, by architect Walter Gropius, have been listed as UNESCO World Heritage since 1996. The Renovation of the Bauhaus Building and the Masters' Houses in line with monument conservation practice underpins this status.


image from Bauhaus Building Competition organisers
Bauhaus Building architect : Walter Gropius
Location: Bauhaus Museum, Dessau, Germany, western Europe
Architecture in Germany
German Architecture
German Architecture Designs – chronological list
German Architecture



photo : Werner Huthmacher
bauhouse 24H Competition, Dessau, Germany
1st prize: Sonya Falkovskaia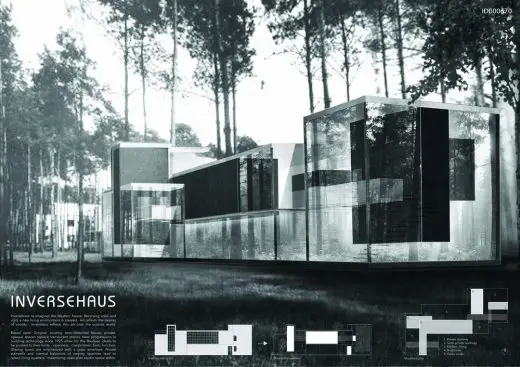 image courtesy of designer / 24h
bauhouse Competition – 28 Jun 2017
Kickstarter campaign – launched to support the exhibition and the production of a duplicate set for the US tour: Bauhaus Building Exhibiiton – external link
World's First Bauhaus Building
Comments / photos for the Bauhaus Museum Dessau Competition Winners News in eastern Germany page welcome