Passivhaus Housing Scheme, Herefordshire Residential Development, England, English Architecture
Passivhaus Housing Scheme, England
Sustainable English Residential Development design by various architects
24 Apr 2013
Design: Architype / Churchman Landscape Architects + ArchiHaus
Location: Herefordshire, England
Passivhaus Development
Architype's bold initiative to transform mainstream housing quality and sustainability in the UK!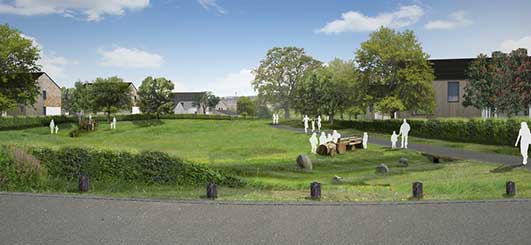 image : Architype
Passivhaus Residences
Architype has submitted a planning application for the UK's largest Passivhaus housing scheme for a rural site, near to their Herefordshire office
The project is the first stage in realising an ambitious vision to transform both the quality and the sustainability of developer housing in the UK.


image : Architype
Whilst there is a presumption in favour of sustainable development under the NPPF, much proposed new housing is not actually 'sustainable'. Whilst developers appear to be able to sell what they build, the RIBA Future Homes Commission found that 70% of people say they would not buy a new house due to the poor quality of design.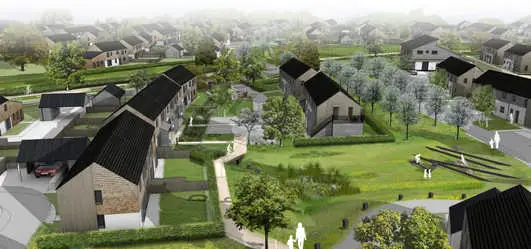 image : Architype
Frustrated by the lack of interest from mainstream developers in housing design quality, particularly in rural areas, and the lack of real progress in the housing industry towards more sustainable solutions, Architype decided to go it alone.
Whereas most developers seem to see sustainability in general, and Passivhaus in particular, as an unaffordable 'extra', Architype believe that by integrating it into design from first principles, Passivhaus can be achieved within standard budgets – something we have already proved in a number of projects.
Architype director, Jonathan Hines and Swedish businessman, Lars Carlsson, have established a new company called 'ArchiHaus'. Acting as the client and developer, ArchiHaus is working in close partnership with Architype and Churchman Landscape Architects to develop a radical new approach:
• to rethink the design of the house, as a high quality and efficient Passivhaus 'product'
• to rethink the design of the site, to create a sense of community and a distinctively rural character
• to rethink the process of construction, to achieve these higher standards at a competitive cost
ArchiHaus obtained an option on a 20-acre piece of land in southwest Herefordshire, and work commenced:-
To rethink the design of the house, as an high quality and efficient Passivhaus 'product'
Architype used the findings from a study of local rural building forms, and modelling using the Passivhaus Planning Package (PHPP) to test and optimise the design of plan and form of houses from first principles.
A natural synergy emerged between the local vernacular and Passivhaus, which resulted in house plans that are shallower in depth and wider in frontage than typical developer houses, creating a more spacious, open plan and flexible layout, which addresses many of the shortcomings in developer house design highlighted by the RIBA Future Homes Commission.
To rethink the design of the site, to create a sense of community and distinctively rural character
In the rural areas of Herefordshire, new housing developments tend to be 'same everywhere', and inappropriately 'suburban' rather than 'rural' in character.
In response, Architype has developed a new approach inspired by the distinctive qualities of traditional Herefordshire landscape, underpinned by the discipline of optimum Passivhaus orientation, and planned to integrate into the local community and create a new sense of community within the site.
Clusters of houses, are set within a landscape of winding lanes and native hedgerows, swales and wetlands, and generous green community open space with natural play, allotments and traditional orchards.
To rethink the process of construction, to achieve higher standards at a competitive cost
The design of the ArchiHaus houses has been optimised to enable full off-site prefabrication using standard modules and efficient panel sizes.
Whilst most houses are constructed 'on site' in the UK, in many European countries they are fully efficiently prefabricated in house factories. This approach will enable ArchiHaus to achieve these higher standards at a cost that is competitive with standard construction.
Development versus localism
Local councils like Herefordshire, are required by the Government to demonstrate that there is sufficient land supply to meet local housing demand. Herefordshire is facing the challenge of accommodating the 16,500 houses that are needed to meet the growing housing need of the County's existing population, as people live longer and in smaller households.


images : Churchman Landscape Architects
There is a contradiction between the pressures for development and the localism agenda, with a tendency for people to object to any new development.
Architype held a number of community consultation workshops with local people in Kingstone, and pupils at the local high and primary schools before and during the design development, which whilst it has not overcome all objectors, has generated a significant degree of support. Over half who attended the final consultation indicated support, and even those that remain against, acknowledged that they would prefer our approach to that of a standard developer.
Many ideas that were suggested by local people have been incorporated – including a new cycle/foot path to create a safe connection between the north and south parts of the village, a new pedestrian crossing over the adjacent main road, and new village allotments.
The scheme will create significant new demand for village facilities and businesses – such as the schools, which are noticeably short of pupils – and will generate major financial investment for existing and new community facilities. A number of small commercial and live/work units on the site will create opportunities for local economic development.
"It has been a liberating experience to rethink our role as architects and tackle the issue of housing development from first principles. I hope that this scheme will establish a new benchmark in housing development, by demonstrating that better design quality and Passivhaus can be achieved as standard", ArchiHaus director, Jonathan Hines.
Passivhaus Housing Scheme information from Architype + ArchiHaus
Passivhaus Housing Herefordshire design : Architype
Location: Herefordshire, western England, UK
Herefordshire Buildings
Arrow View
Architects: AR Design Studio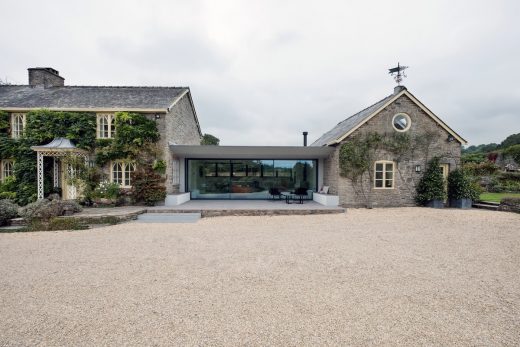 photo : Paul Carter
Arrow View – Herefordshire House
Hereford Buttermarket Competition
Design: Austin-Smith:Lord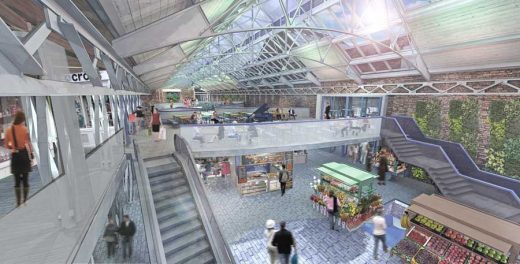 image from RIBA
Hereford Buttermarket Competition
St Katherine's Library, Ledbury
Design: Architype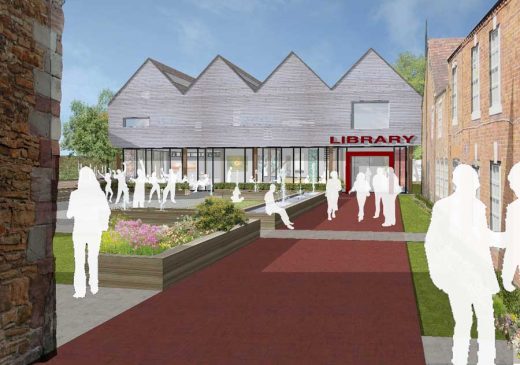 picture from architect
Herefordshire Library
Hereford Academy
Design: Aedas
Hereford Academy Building
English Architecture
English Architecture Design – chronological list
Passive Houses
Passive House Designs
Welsh Passive House



image from architect
London Passive House



photo from architects
Wimbish Passivhaus Scheme



photo from the architect
Comments / photos for the Passivhaus Residences – England Architecture page welcome