Dubai Building News in 2018, Property Images, Architects, New UAE Construction Projects, Towers Photos
Dubai Building News 2018
Contemporary Architecture in UAE: New United Arab Emirates Developments
post updated 1 Mar 2020
Dubai Building Design News 2018
UAE Architecture News – latest additions to this page, arranged chronologically:
Dubai Architecture Designs – chronological list
Dubai Architecture Tours by e-architect
27 Nov 2018
Dubai Metro Station Buildings
A total of seven new Dubai Metro stations will be entirely fitted out in time for Expo 2020.
In the city which already holds the record for the tallest skyscraper in the world – the Burj Khalifa – the forthcoming changes to the infrastructure will involve big numbers but also luxury and style.
The main artery connecting the city centre to the international expo zone (in just 16 minutes!) is for client RTA – Dubai Road and Transport Authority.
The countdown to the Expo has begun. The work on the new Metro will be completed in February 2019, a further 15km will be complete by the end of May (5 months before the official opening of the Expo), with the seventh and last station – the most impressive – measuring a whopping 12,000 sqm!
Nov 26, 2018
Tabanlioglu Architects (TA_) awarded as "Achitect of the Year" at Middle East Architect Award in Dubai
The architecture firm TA_ has been awarded with two prizes during this year's ceremony of Middle East Architect Awards in Dubai: Murat Tabanlioglu and Melkan Gürsel jointly as the "Architect of the Year" and Tabanlioglu Architects itself as "Large Firm of the Year".
19 Oct 2018
The Beach at JBR by MERAAS – Winner of Dubai favorite outdoor areas Poll
Dubai, a city known for its forced "indoor life", is now impressively expanding its outdoor areas in pursuit of a healthier lifestyle and diversified options for its residents and tourists.
The Beach at JBR by MERAAS – Dubai's favorite outdoor area
18 Oct 2018
Downtown Design 2018
13 – 16 Nov 2018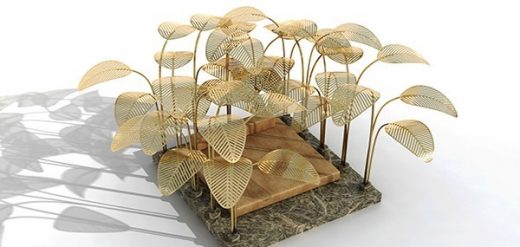 Discover creative and commercial opportunity in the Middle East: RIBA Gulf invites you to Downtown Design 2018 – the region's leading trade fair for original, high-quality design. Discover new trends, explore collections, be inspired by RIBA design leaders and connect with decision makers. Register at https://registration.n200.com/survey/0209rf8x57un0
27 Sep 2018
Populous Dubai Office News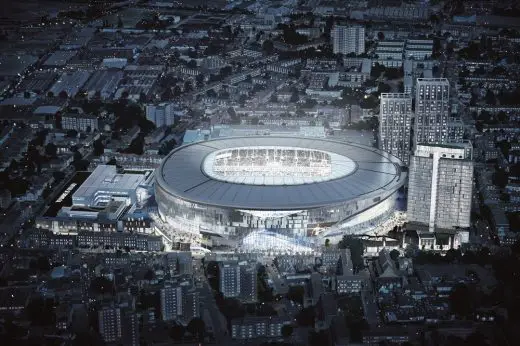 image Courtesy architecture office
Populous Dubai Office
Populous, the global architecture and design practice, renowned for iconic projects such as Wembley Stadium, Emirates Stadium, Royal Ascot racecourse, The International Convention Centre in Sydney and Silverstone's Formula 1 Circuit, announces the official opening of a new office in Dubai World Trade Centre, UAE.
24 Sep 2018
INDEX and FIM Furniture Component & Materials Event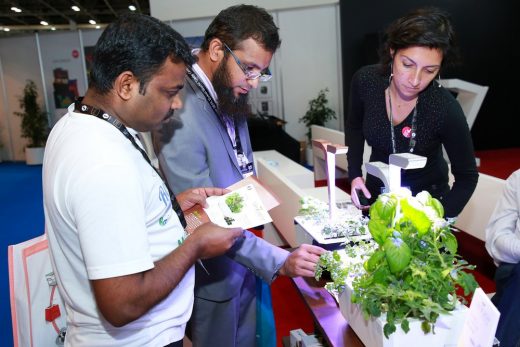 image courtesy of dmg
INDEX Dubai 2018 Event
Co-located with the Hotel Show Dubai, Leisure Show, and FIM, over 30,200 people attended the event that took place over three days at Dubai World Trade Center (DWTC).
Architecture Design Competition for Korean Pavilion at Expo 2020 Dubai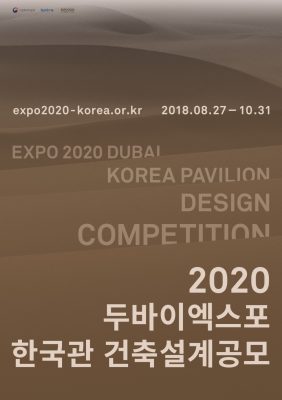 2020 Expo Dubai Korea Pavilion Architecture Design Competition
20 Aug 2018
2020 Expo Dubai German Pavilion
Design: LAVA Architects
2020 Expo Dubai German Pavilion
In a key milestone on the road to EXPO 2020 Dubai, Germany has decided who is to design and build the German Pavilion. The bid was won by a consortium comprising Cologne-based agency facts and fiction and Swiss construction company ADUNIC, with architecture to be designed by Berlin firm LAVA.
12 Aug 2018
Polycentric Cities
The CTBUH 2018 Middle East Conference, Polycentric Cities: The Future of Vertical Urbanism, will convene global leaders from across the tall building typology to debate the merits and challenges of this multi-nodal approach to urbanism, and to understand and envision how tall buildings, density, infrastructure, and people fit into this vital mix.
RIBA Gulf is proud to be supporting the CTBUH 2018 Conference and are pleased to announce that RIBA Gulf member Paolo Testolini has been confirmed as a speaker at the conference. Through this partnership, they are able to offer members a discounted rate to register for the event. Use the code RIBAPARTNER18 to receive your special $200 discounted registration rate.
Don't miss the opportunity to attend this year's premier gathering for influencing best-practice thinking in tall buildings and sustainable cities.
Website: CTBUH 2018 Middle East Conference in Dubai & Abu Dhabi
30 Jul 2018
The Big 5 Dubai 2018 Hospitality Projects Report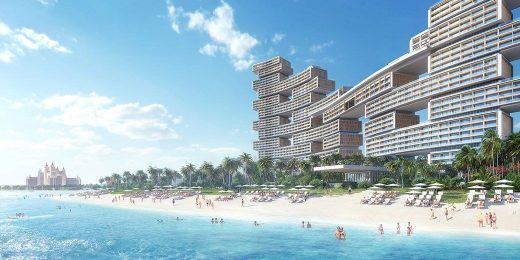 image courtesy of The Big 5 Dubai 2018 event organisers
The Big 5 Dubai Hospitality Projects Report
Organisers of the largest construction event in the Middle East reveal growth in both number and value of Dubai hospitality projects in 2018.
27 Jul 2018
New Botanical Garden in Sharjah
Design: Grimshaw, Architects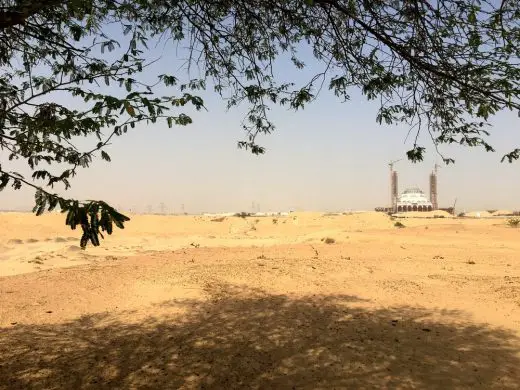 photo © Grimshaw
New Botanical Garden in Sharjah
Grimshaw has been appointed for a new botanical garden in Sharjah, UAE, which has a mission to encourage discovery and education while conserving the rich floral heritage of Sharjah, the UAE and the rest of the world.
22 Jun 2018
Dubai Cafe Shortlisted for Restaurant & Bar Design Awards
The awards are a globally recognised competition dedicated to the design of food and beverage spaces.
Le Petite Tree House Cafe in Dubai, United Arab Emirates, by Sneha Divias Atelier: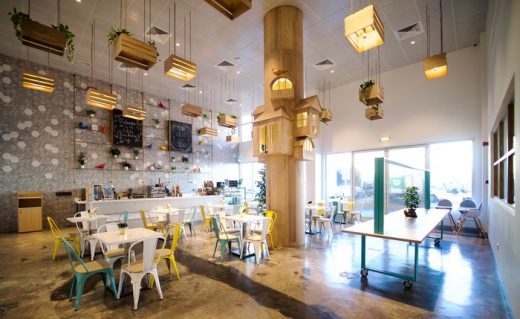 image courtesy of awards organisers
Restaurant & Bar Design Awards 2018
19 June 2018
BMA Studio – Dubai Architects News
BMA Studio is pleased to inform you of another important milestone in its corporate history – expansion into European luxury residential design as well as commercial markets.
They are currently working alongside leading European developers on several tourism and residential projects in the European Union.
Notwithstanding the above, they remain strongly committed to our core market in the UAE, offering clients first-class architectural, engineering, project management and interior design services from their home office in Dubai.
A force in the region's cityscape development, BMA STUDIO is a multi-disciplinary design firm based in the UAE, offering comprehensive and bespoke services in architecture, interior design and landscape design for residential, commercial and institutional clients.
The firm maintains a diversified practice and has developed expertise in mixed-use apartment buildings as well as innovative, single-use architectural design concepts. While devoted to small and medium scale projects, it has extensive experience in both residential and commercial tower developments with an emphasis on single residence, retail and mixed-use architecture. The firm has already completed projects in Dubai, Sharjah and Morocco, and looks to the future in expanding its international capabilities.
Cementing the firm's role in the Middle East's design industry, the boutique practice has been recognized by a number of high-profile industry awards including the 2016 Africa and Arabia Property Awards.
10 June 2018
Al Seef Dubai Creek Master Plan
Architects: GAJ (Godwin Austen Johnson)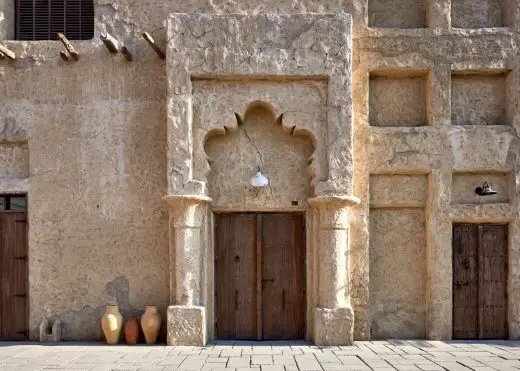 photograph : Chris Goldstraw
Al Seef Dubai Creek
Located along the shores of Dubai's iconic Creek the Al Seef development is an exciting new cultural tourism space that merges the city's past with its present.
8 June 2018
Al Seef Dubai Project
Architects: 10 DESIGN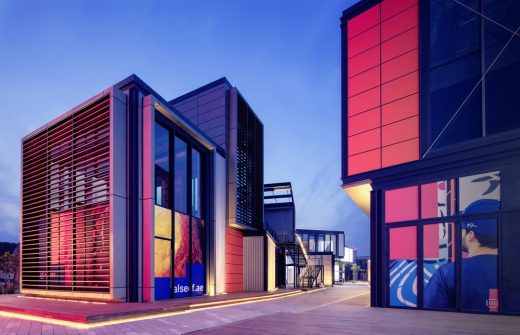 photograph : Gerry O'Leary
Al Seef Dubai Project by 10 Design
Al Seef, a new destination offering retail, dining, and hospitality experiences, has been open recently. The development has attracted two hotels under the Zabeel House by Jumeirah brand, opening Spring 2018.
29 May 2018
Sharjah Architecture Triennial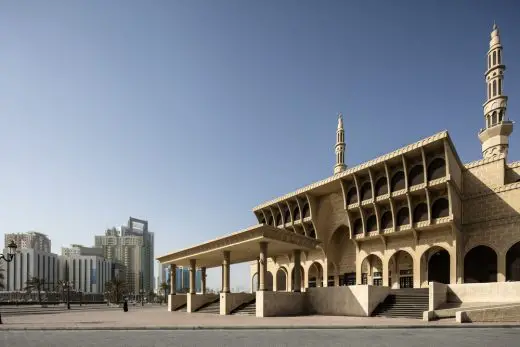 photo : Ieva Saudargaitė
Sharjah Architecture Triennial News
In an event held during the Vernissage of the Venice Biennale, curator of the Sharjah Architecture Triennial Adrian Lahoud has announced Rights of Future Generations as the theme of the first edition. Running for three months, the Triennial will open in November 2019 in the Emirate of Sharjah as the first major platform for dialogue on architecture and urbanism focusing on the Middle East, North Africa, East Africa and South Asia.
3 May 2018
Azizi Developments appoints a contractor for construction of Meydan Avenue Projects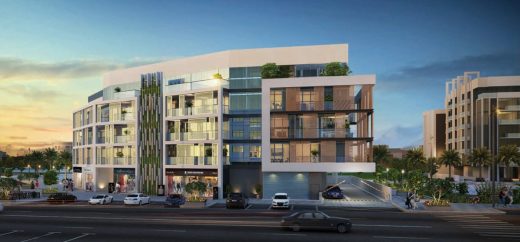 image Courtesy architecture office
Meydan Avenue Dubai Property News
Azizi Developments appoints contractor for construction of Meydan Avenue Projects
Dubai, 1 May 2018: Azizi Developments, one of the leading private developers in the UAE, has awarded contracts worth AED 102 Million to Tasmeem Building Contracting LLC (TBCI) to develop its latest Meydan Avenue projects.
1 May 2018
DP World Cargospeed
Architects: Foster + Partners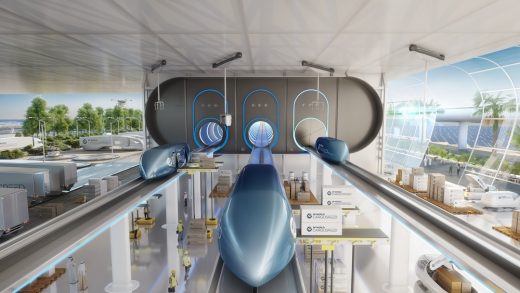 image Courtesy architecture office
DP World Cargospeed Dubai Building News
Foster + Partners has created a video that describes a vision for the future of high-speed transportation. DP World Cargospeed, a collaboration of cargo giant DP World and Virgin Hyperloop One aims to create an infrastructural network that forms a fundamental part of a new ecosystem, in which urban centers, rural landscapes, people & nature are all interconnected.
12 Apr 2018
Smart Dubai
Architects: dwp | design worldwide partnership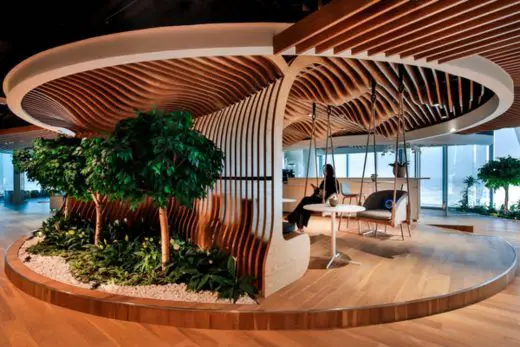 photograph : dwp
Smart Dubai Building News
The Smart Dubai workplace incorporates cutting edge technology with the latest in sustainability measures, creating a workplace that encourages multidisciplinary collaboration through intelligent space planning, flexible workspaces and beautiful aesthetics.
8 Apr + 29 Mar 2018
World's Fifth Tallest Tower
Developers Meydan Group (Azizi Developments) are set to begin building the world's fifth tallest tower later in 2018. Entisar Tower will rise to 570m / 1,870 ft high (though some reports state just 528m). Due for completion in 2022, the as yet unnamed tower will have 122 storeys (equivalent to At.mosphere at Burj Khalifa).
Entisar Tower design by architecture firm Atkins with AE7 Associates – earlier renderings:
The first 100 floors of this new Dubai skyscraper building will be residences, with the top 22 floors reserved for a new hotel.
The tower will be located on Sheikh Zayed Road. The building is due to cost Dhs3 billion.
It will be located on two prime parcels between the 51 story Radisson Royal Hotel and the 56 story Park Place Towers. Developed by Azizi Group / Meydan Properties the property aims to be a bespoke living and lifestyle residence.
Windows, Doors & Facades (WDF) in Dubai
8 Apr 2018 – German manufacturer Schüco announces partnership with region's largest event for windows, doors & facades (WDF).
Sunday, April 8th, 2018 — Building envelope suppliers from around the world are turning to the United Arab Emirates.
"Making up a disproportionately large percentage of the projects in the GCC region, the country is the place to be right now," says Ammar H. Alul, general manager for Schüco in the Middle East.
Demand for windows, doors and facades is hiking. This year, the UAE counts 9,987 active urban construction projects, valued USD 531.3 billion. 37% of all project values are in the design, concept and tender stages of development in the broader GCC region, indicating a steady flow through of fresh investments.
"A wealth of new urban developments is unfolding. I expect government entities, developers, consultants, contractors, and suppliers to gather en masse in Dubai in September for the Windows Doors & Facades Event (WDF)."
27 Mar 2018
Vincent Coste X Custot Gallery
Exhibition "Art & Jewerly"
19 March – 2 June 2018
Vincent Coste Architecte (Saint Tropez, France) are proud to have participated in the scenography of the first exhibition dedicated to the jewels of artists in Dubai, conducted by the Gallery Custot.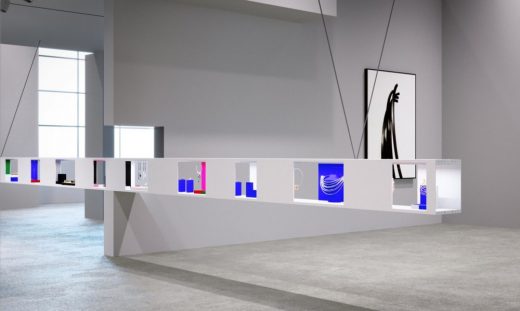 photo © Pia Torelli
This retrospective proposes to create a dialogue between the "miniature" and "monumental" works of some of the most important figures of 20th and 21st century art.
22 Mar 2018
UK Pavilion at World Expo in Dubai
UK's Department for International Trade has launched a design contest for the UK Pavilion at the World Expo in Dubai in 2020.
The USD2.38 million contest is open to any multidisciplinary team who will create a landmark structure showcasing UK innovation within the 15,000m2 expo site, located near the city's new airport, Dubai World Central.
The winning design will be based on the theme 'Connecting Minds, Creating the Future'; it should harness groundbreaking digital technologies, and take UK's track record of international pavilion successes further.
Former British Pavilions in Expos – the stunning Shanghai 2010 UK pavilion by Thomas Heatherwick and the Milan 2015 UK pavilion by Wolfgang Buttress / BDP – have won the 'best in show' prize. Well-known British architect Asif Khan's pavilion for the smaller Astana 2017 Expo also won a silver design award.
Shanghai Expo British Pavilion by English designer Thomas Heatherwick:



picture from Thomas Heatherwick
Shanghai Expo UK Pavilion
Milan 2015 UK pavilion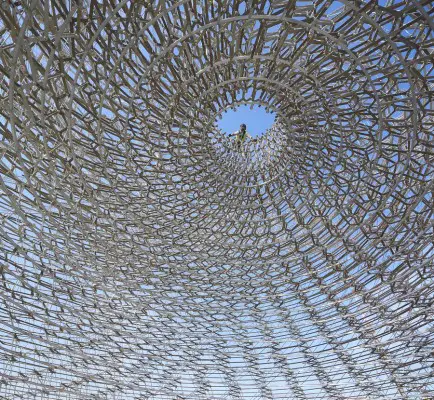 photo : Hufton+Crow
16 Mar 2018
World's Largest Theme Park to be built in Dubai
Dubai's next world record – news in the latest report published by the Urban Design & Landscaping Expo which will launch next November in Dubai (United Arab Emirates). The release also includes images of the top 10 landscaping projects under development in the country.
Mega landscaping projects bring life (and fun) to the Arabian Desert
The total value of the Top 10 Landscaping Projects in the United Arab Emirates exceeds USD 5.8 billion, according to Dubai-based Urban Design & Landscaping Expo.
With 3 new theme parks under development among the major landscaping projects, the UAE reinforces its position as an attractive destination for recreational tourism.
Dubai World Record
1) Sheikh Zayed National Museum – Cultural District.
2) The Tower – Dubai Creek. Developer: Emaar.
3) World Legends Theme Park. Developer: MG Theme Park.
4) Warner Brothers World – Yas Island Abu Dhabi. Developer: Aldar Properties.
5) Warsan Village. Developer: Nakheel LLC.
6) Wonderland Park Development. Developer: Ento Capital Management.
7) Dubai Eye – Bluewaters Island Development. Developer: Meraas Holding.
8) Mulberry – Park Heights. Developer: Emaar Properties.
9) Leadership and Media Pavilions – Dubai Exhibition City. Developer: Meraas Holding.
10) Reem Central Park – Al Reem Island. Developer: Aldar properties.
The Urban Design & Landscaping Expo in Dubai
13 Mar 2018
INDEX 2018
INDEX 2018 gets underway on March 26, a four-day festival of design promising:
– a hugely diverse and creative catalogue of furniture, furnishing and décor suppliers
– a conference schedule featuring the pinnacle of local and international design minds
– bespoke live demonstrations and experiences brought to Dubai exclusively for the show.
The exhibition runs alongside WORKSPACE, the MENA region's premium office fitout event, and SURFACE Design Middle East, where the focus is design solutions for floors, walls and ceilings.
12 Mar 2018
Dubai Creek Golf & Yacht Club
Design: Godwin Austen Johnson Architects
Info & photos added of iconic Dubai Creek Golf & Yacht Club Building by GAJ.
9 Mar 2018
Design International Architects Dubai News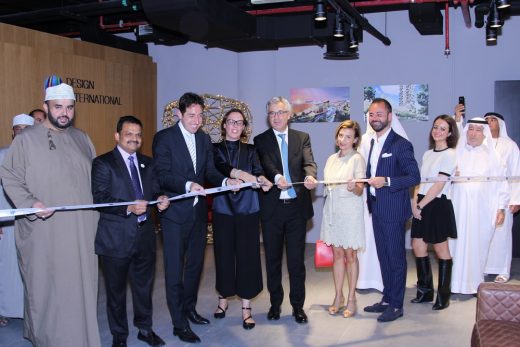 image courtesy of architecture office
Design International Dubai Architects News
Design International inaugurates its offices at d3, the Dubai Design District, the new beating heart of the city's creativity, which hosts the most important architectural firms, high fashion brands, hotels and luxury apartments.
7 Mar 2018
Aljada's Central Hub, Sharjah, UAE
Design: Zaha Hadid Architects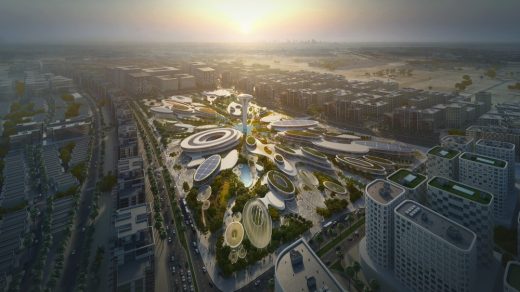 image courtesy of architects
Aljada's Central Hub, Sharjah
Developed with environmental considerations integrated throughout the masterplan to minimise the consumption of resources, the proposal conceptualises the moment a water droplet strikes the earth's surface, captured in an array of elliptical buildings designed to channel prevailing winds into civic spaces and courtyards to facilitate cooling during the summer months.
5 Mar 2018
Reception Building for Dubai College
Reception Building for Dubai College
15 Feb 2018
The World
An interesting article by The Guardian's architecture critic Oliver Wainwright.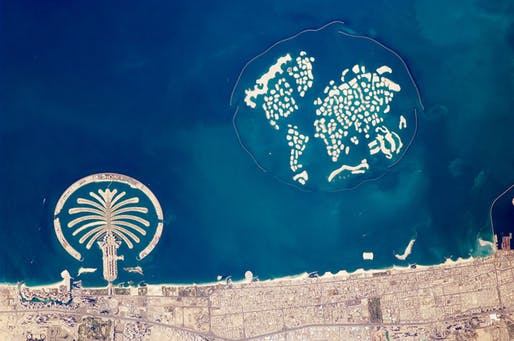 "A decade since it was dredged from the seabed, The World is a forlorn sight.
It was the most ambitious plan of Dubai's pre-crash bubble, topping the creation of peninsulas shaped like palm trees and the construction of the tallest building on the planet, dreamed up as the ultimate trophy project to trump them all. In pursuit of the world's attention, the oil-rich emirate would remake the world itself.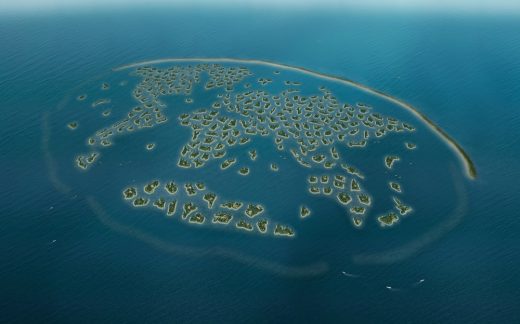 Conceived in 2003, the project was to be an exclusive offshore playground for film stars, royalty and celebrity tycoons: an artificial archipelago of 300 islands set two miles off the coast. Invitations to "Own the World" were sent to a targeted group of 50 potential buyers each year, offering tours of the site by yacht or helicopter, with prices for the islands ranging from $15-50m (£10-36m)."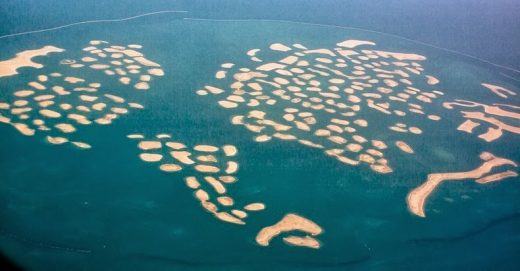 I flew over these islands a few weeks ago and they don't look so impressive at present, but let's see what materialises, Ed – architect Adrian Welch. Work halted after five years in 2008.
The developer of The World Islands is Nakheel Properties. The originally conception was by Sheikh Mohammed bin Rashid Al Maktoum, the ruler of Dubai.
Greenland is the only completed island, with a property and landscaped greenery. It was turned into a showpiece, owned by the ruler of Dubai, and given to F1 star Michael Schumacher: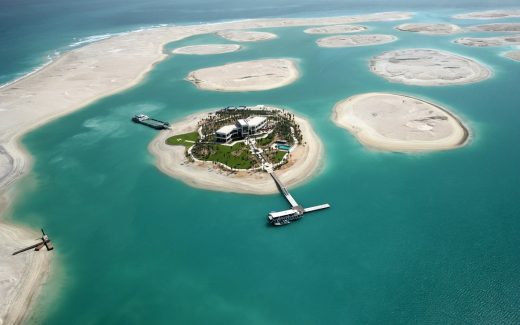 Around 70% of the 300 islands have been sold. There have been claims that some islands are slowly sinking, channels are silting up and infrastructure such as underwater power cabling has not been installed.
The World Dubai – article in The Guardian
12 Feb 2018
2020 Expo Dubai Luxembourgish Pavilion
Design: METAFORM Architects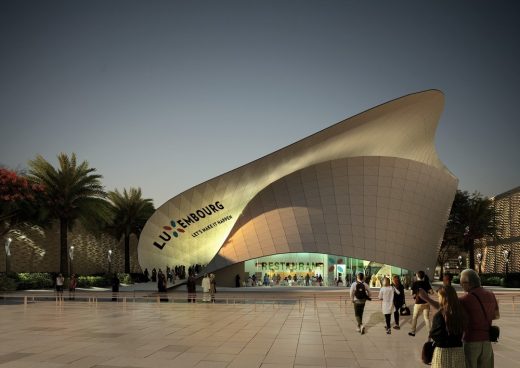 image courtesy of architects
2020 Expo Dubai Luxembourg Pavilion Building
Another pavilion design revealed for the forthcoming World Expo in 2020. The architects won the architectural competition beating 19 architecture offices.
12 Feb 2018
Double Tree Hilton, Business Bay
Architects: dwp | design worldwide partnership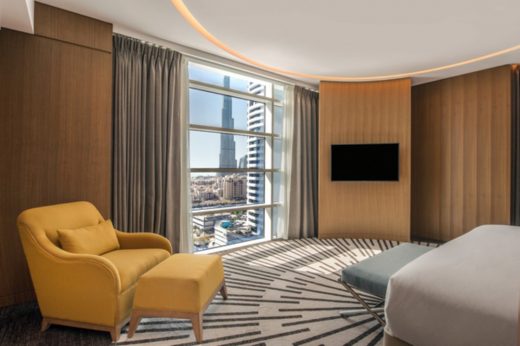 image courtesy of architects
Double Tree Hilton Hotel – Business Bay
The DoubleTree by Hilton Hotels concept focuses on comfortable luxury and making guests feel completely at home.
8 Feb 2018
1/JBR Tower
Design: EDGE Architects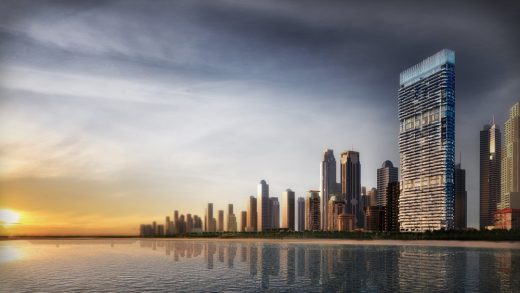 image courtesy of architects
1/JBR Tower in Dubai
Located close to the beach at the prestigious Jumeirah Beach Residence, the flagship project sets a new standard for luxury in the Persian Gulf region. The building design principles are rooted in spatial clarity and good waterfront views.
29 Jan 2018
INDEX 2018: an Exploration of self-expression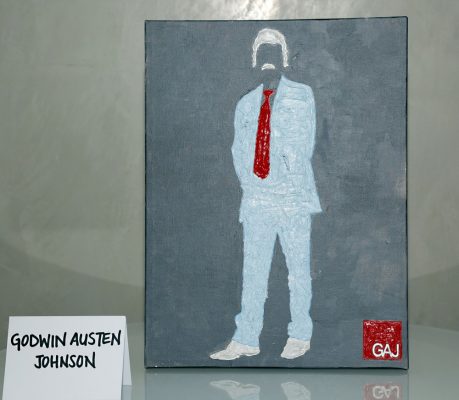 image courtesy of architects
INDEX 2018
Many of Dubai's leading interior designers gathered for a unique celebration of selfexpression last week, presenting one-off canvases styled to directly reflect the individual design ethos of their firms.
Location: Dubai, UAE
UAE Architectural Archive
Dubai Architecture News – current page
UAE Architecture News Archive
Location: Dubai, UAE
Dubai Architectural Designs – chronological list
Dubai Construction / Property photos welcome
Buildings / photos for the Dubai Building News 2018 – UAE Architectural Developments page welcome
Website: Dubai