Kitchen Countertops, Property Tile Samples, Backsplash Lighting
Kitchen Countertops Tiling & Backsplash
Good Lighting Design and Construction – Property Development Article
30 Oct 2018
Shine a Light on Your Kitchen Countertops
You've spent hours looking over materials for your kitchen countertops. And thumbed through dozens of tile samples for your backsplash. The cabinets and shelving units you've chosen will fit your storage requirements. The appliances you've selected will serve your family well for years to come. It seems that your dream kitchen is coming together. There's only one problem. You haven't really given any consideration to lighting.
There is nothing more aggravating that spending money on your kitchen countertops, only to discover that poor lighting has them sitting in the shadows. Regardless of whether you chose the natural granite countertops or went for the more colorful quartz countertops, you'll be disappointed if the lighting isn't right.
Lighting Your Kitchen Countertops
Your kitchen countertop space is an area where you are going to chop vegetables, prepare chocolate chip cookies, and stuff your Thanksgiving turkey, so it is essential to have good lighting to help you see.
Pure White light
Xenon and halogen fixtures will provide you with a clean, white light that can make your granite or quartz countertops really pop. However, both fixtures also emit significant amounts of heat, so you'll need to keep fruit, fresh flowers and meltable items away from the light source. These fixtures are dimmable and can be either hard wired into your kitchen or plugged into an outlet.
Fluorescent Fixtures
The classic under-cabinet fixture delivers a great white light that will keep your countertops looking great without creating the heat that comes from xenon or halogen bulbs. Fluorescent lights are brighter than LED options, and they can be strung together for increased kitchen lighting.
LED Fixtures and Strips
Energy efficient with low heat emissions, LED lights fit directly beneath the cabinets and shine on your kitchen countertops. They typically include different settings, so you can set the mood in the kitchen, or keep the lights on low while you're sleeping. These fixtures can be mounted end to end, preventing any dark spots, and because the LED lights are so small, if installed correctly you'll only see the light, and not the bulbs. LED lights aren't quite as bright as fluorescents and are best used in a room with strong overhead lighting.
Check out White Shaker Cabinets for some great home interior design product ideas.
Today's kitchen functions as more than a place to prepare food – for many it is the heart of the home. Advance planning while designing your kitchen is the best way to ensure your kitchen countertops will look great after they are installed.
Location: USA
Kitchen Countertops Design
Kitchen Articles
Natural Stone Countertops in Your Kitchen
Why You Should Choose Quartz Worktops for Your Kitchen
Kitchen Design
Kitchen Articles
Kitchen Renovation Cost Expert Estimates
Installing Modular Kitchen in Your Home
Selecting the Right Storage Cabinets for Your Kitchen
Kitchen Extensions – What to Consider
Ways to Open Up a Kitchen Extension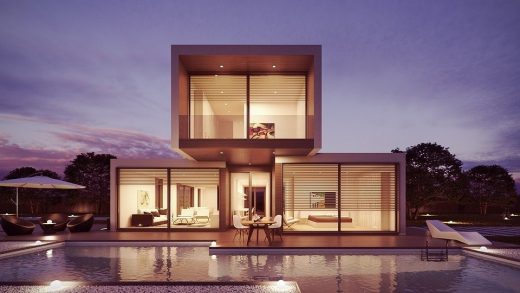 image courtesy of article provider
Home Design
Comments / photos for the Kitchen Countertop Materials & Lighting page welcome
Website: Kitchen Countertops Design