Trusted What Are Contemporary Countertops Advice, Kitchen Counter Tips, Property Guide
What Are Contemporary Countertops?
18 Mar 2020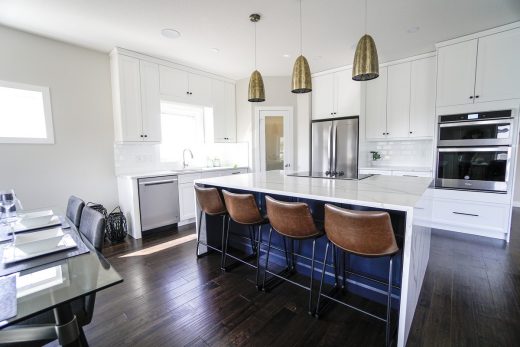 Driven by technological advancements, the global countertop market is expected to be worth $110 billion by 2026. This is after experiencing a projected Compound Annual Growth Rate (CAGR) of 3.2% from 2019.
Countertops are an essential part of home décor. They contribute to the aesthetics and functionality of design and are used in workrooms, bathrooms, and kitchens. Depending on one's budget and intended use for the countertop, there are many materials that can be used. Traditionally, wood and plastic laminates were the go-to countertop material for most people.
However, recent years have seen increased use of both natural and engineered stone as countertop materials. This is due to their superior visual properties, durability, and the fact that they are increasingly becoming more affordable. As such, most designs for contemporary countertops seek to capitalize on these sleek materials.
Are you planning to remodel your house? Read on to learn some contemporary kitchen countertop ideas as well as the best contemporary bathroom countertops.
Materials Used for Contemporary Countertops
Contemporary countertops combine the functionality that's needed from a countertop with alluring beauty. They are also generally easy to clean and maintain. Contemporary discount quartz countertops are arguably the most popular contemporary countertops. However, there are other materials such as steel, granite, ceramic tile, and natural stones like marble and soapstone that can be used.
Each material offers different features that make it suitable for different uses. For instance, stainless steel is impervious to heat damage and is very easy to clean and maintain. This is why it is the go-to material for restaurant kitchen countertops.
Contemporary Kitchen Countertop Ideas
Modern kitchens play a vital role in homes. Other than just being food preparation zones, they're where families socialize, and guests are entertained today. Therefore, the design must be functional, inviting, and accommodating. The countertop design and material used plays a significant role in this.
1.   Waterfall Countertops
As the name suggests, countertop materials are used to cover the top surface of counters. However, this is changing. A new design that's catching on fast is the waterfall countertop.
This design capitalizes on the captivating nature of modern countertop materials allowing the materials to extend to the sides of the counter. Waterfall countertops are unique, and not all materials can be used to make them. They require a free-flowing material with matched veining to ensure that the magnificent cascading waterfall effect is highlighted.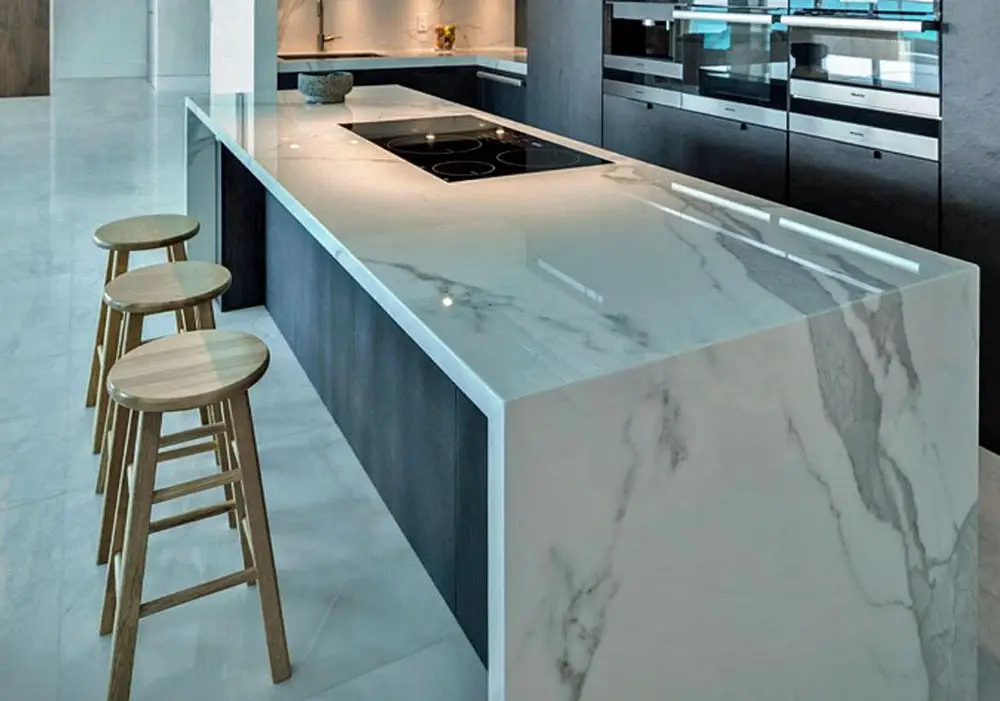 This is why quartz, an engineered stone, is perfect for waterfall countertops. Visit this website to learn more about waterfall and contemporary quartz countertops.
2.   Veining
One of the main benefits of contemporary kitchen countertop ideas is that they give your kitchen an exotic feel. To add to this uniqueness and elegance, new countertops come with veining and patterns that add character. A countertop with unique veining and patterns makes your kitchen more elegant.
3.   Concrete
Homeowners that want an urban yet rustic-feel kitchen are relying on concrete as a countertop material. Concrete is especially effective when used to pull off a refined industrial design. It comes in varying colors, textures, and patterns, thus making it suitable for use in a wide range of designs.
Contemporary Bathroom Countertops
In the past, plastic laminate and ceramic tiles were the standard bathroom countertop materials. However, recent years have seen the use of materials such as quartz, marble, crushed glass, and granite, among others, used for contemporary bathroom countertops.
Crushed glass is a material that has only been used for a short while but is gaining popularity fast. To make this material, recycled crushed glass is embedded in concrete or clear acrylic. This results in a striking material that's pleasant to look at. One of the main reasons crushed glass is becoming more and more popular is the fact that it is unique. Since each countertop is custom-fabricated, no two are alike.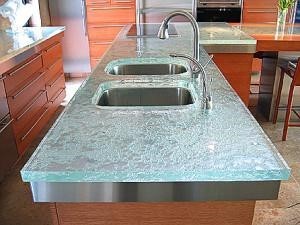 Other benefits of crushed glass include:
They are tough and strong
Are available in a wide range of designs
They are easy to clean
Quartz is another great option for bathroom countertops. Since it is an engineered stone, it can be made into many different shapes, which make it easy to customize it to suit your design. It is also available in many colors and styles, thus making it usable with many designs. Compared to natural stones, quartz is less brittle and more durable.
What are contemporary countertops – Bottomline
When it comes to contemporary countertops, there are numerous materials that offer you limitless design options. Each countertop material offers you something unique. Therefore, a suitable countertop material is one that offers you the aesthetic and functional aspects you need from your design.
It is advisable to hire an interior designer to help you with your remodeling project. Their deep knowledge and experience will ensure you get the best out of contemporary quartz countertops.
Comments on this guide to What Are Contemporary Countertops? article are welcome.
Property Articles
Property Articles – Selection
Comments / photos for the What Are Contemporary Countertops? Advice page welcome