Kitchen Quartz Worktops Advice, Home Interior Design, Office Architecture
Why You Should Choose Quartz Worktops for Your Kitchen
6 Sep 2019
Kitchen Quartz Worktops Tips
Why You Should Choose Quartz Worktops for Your Kitchen
Quartz is a new material to be used in kitchens and has been popular for over a decade now. However, the popularity and craze for this material do not seem to fade away even when there are so many other materials available in the market. If you are wondering why you should choose quartz worktops for your kitchen, here is everything that you need to know about this material along with why you should go for it.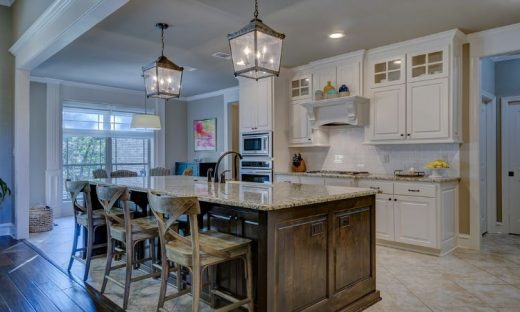 image courtesy of article provider
Why choose quartz worktops for a kitchen?
There are multiple reasons to choose quartz stone as the material for worktops in kitchens. Here are some of the most common ones: –
In comparison to granite and marble, there is a wide range of colours and designs available in quartz. So, if you are planning to pick an original colour for your kitchen worktops, there are higher chances that you will find the colour in quartz kitchen worktops.
The final product that comes up after your kitchen is ready with quartz is beautiful. The depth and luxurious look of the material makes your kitchen look stunning.
There is a unique thing about the toughness of quartz stone. When it comes to the durability of quartz, it is quite similar to that of concrete or granite. However, it is better in terms of being scratch-resistant and will not look full of ugly scratches and marks in a year or two. Also, it is not too hard when you feel it with your hand making you feel pleasant while you are working in your kitchen.
Quartz kitchen worktops are also useful when it comes to stain resistance. So, you will not see ugly water, steam or curry marks in your kitchen.
The binding polymers used while manufacturing the worktops give it a beautiful colour and increase the strength of the material in comparison with pure quartz. Therefore, make sure that you confirm the composition with the seller to ascertain that it has 10% of binding polymers in it.
It is nonporous and will not absorb water, moisture or any other liquids that you spill on your worktop accidentally. This adds on to its durability as the material is not going to spoil so easily because of external factors.
These worktops do not require any protective coating to be done on them yearly. This makes them easy to maintain, and you are also not required to spend too much money on them after getting them installed. Also, there are lesser chances of bacterial, fungal, or virus growth on the material because of its natural qualities.
Since it is a man-made material, you can even opt for customization in terms of colours for the material. This gives you the luxury of choosing the colour that can blend perfectly with the desired look of your kitchen.
One of the best things about this material is that its look is uniform throughout the surface. There are no variations in its colour or texture like they are usually seen in natural materials.
It is not too expensive, and even the installation charges are not too high. Thus, you can easily get a luxurious look for your kitchen without spending too much money out of your pockets.
It is a good investment to make, considering all its amazing features and advantages that are offered to you at a low cost. Also, it is better than most of its competitive materials that are available in the market.
Considering quartz worktops reviews, it is fine to use this material in the bathroom because it is non-porous in nature and will not absorb water. This feature is available even without adding any wax coating or polish on top. You can even use it for creating shelves at your home.
Kitchen Design Help Guide
You are now aware of the advantages of this material and why it would be good for you. If it fits your budget, do not overthink and go for quartz worktops. You will not have to worry about looking for new material or going for a renovation for many years. Just make sure that you are taking the help of good workers for getting it installed to ensure that it is fixed properly and there is no gap left for moisture to enter.
Building Articles
Comments / photos for the Why You Should Choose Quartz Worktops for Your Kitchen page welcome