How to use Jewelry and odds and ends for home decor guide, House style tips, Online property design advice
How to use Jewelry and odds and ends for home decor
3 Nov 2022
Fashion Can Turn Your Home Into A Personal Statement
One of the best things about home interior design is that the style you create can be an extension of you and your personality. Many people opt to spend money to find those pieces that fit in with who they are. However, if you're looking for a unique style that accentuates who you are and saves you money simultaneously, you can always look at pieces already in your home.
Most people overlook the many benefits of items inside their homes to beautify their home décor. Even the simplest of things can be used to create an original home décor that will capture your guests' attention.
For example, items in your closet you can no longer wear or feel are too "old" for the contemporary look and can be used to decorate the home. And, it's not just clothing that can be used; jewelry and shoes can also be designed in a way that becomes a décor nobody previously thought of.
How to use Jewelry and odds and ends for home decor guide
What Are Some Fashionable Items That Can Be Used To Create A Fashionable Home?
Jewelry
In many cases, you have a drawer or box containing your jewelry collection. Instead of tucking them away, why not bring them out for all to see and enhance the space simultaneously? With them on display, you can take the pieces you want easily while giving the home some additional sophistication.
Where should you put these pieces? Go creative by getting a tree stand and hanging up the jewelry. You can also purchase an organizer or trinket dish. Go all out with some DIY methods by using eye hooks, wooden picture frames, and tools. You can put all the jewelry on display or a few select pieces that bring attention to the area.
Be aware that you can also turn jewelry into magnets. For instance, if there are earrings you don't wear any longer or are broken, purchase magnets backs and superglue them to the back of the earrings (larger earrings work better for this decorative item). You can place these magnets on your refrigerator. Be sure to use pliers to remove the backs or wires on the jewelry.
Create different designs from your jewelry pieces, or use one piece to give it the unique style you're trying to create. Large earrings can also be used to accentuate a decorative box. Again, superglue the pieces to the box.
And it's not just boxes and magnets that jewelry can be turned into. Create a unique fabric table runner using your old earrings (with the wire still in place) to add some fringe to the runner.
Earrings are not the only jewelry accessory that can be used to enhance the space of your home. You can also use your necklaces. For instance, you can turn the chain of a necklace into a chain that turns on and off a lamp. You can either replace the lamp's chain or all it on). Industrial strength glue best ensures the necklace stays attached to the chain.
You can also use pearls and accentuate a plain vase to become a unique piece of home décor. Take the pearls off the current string and put them on a light-gauge wire. Once placed on this wire, you can wrap it around the vase to create a new piece that will capture your visitors' attention.
Jewelry can accentuate all kinds of things inside a home – doorknobs, plain Christmas ornaments, boring lampshades, and candle holders. There are endless ways jewelry can be used to become a stand-out home décor piece. However, it's not just jewelry that can be used to decorate a home.
If you need a little help finding the pieces that will help decorate your home, check out special deals in the category Home and Garden on the Coupon Blender website. You can find all kinds of good deals for boxes, wire pliers, magnets, and more. The key is to know what you need and pay less for it.
Scarves, Shawls, Hats, and Coats
When the weather turns colder, people bring out their coats, hats, and scarves to keep them warm. While tossing the jackets and other accessories on a chair, couch, floor, or closet, you can add more charm to the home by decorating your coat rack instead.
Choose a coat rack that goes with your style and space. From there, you can dress it up how you feel. Make sure it fits in with the rest of your home décor. If you have a vintage look, you don't want a coat rack that has a minimalist style to it. The idea is to fit in a while standing out by uniquely displaying your wardrobe.
If you have many scarves, you can turn them into works of art anywhere in your home. For instance, if you have a scarf you do not wear anymore, you can tack it to the wall or frame them. Ensure the frame is based on the scarf's shape and highlights the design. Secure the scarf in place by cutting out cardboard that's the same shape and wrapping or taping it around.
You can also take your hats and adorn your lamps with them. You can grab and go like a coat rack while creating a unique home décor style.
You can also layer your furniture with a shawl or scarf to add style. Remember, as the cold weather begins to take hold, you want to stay warm. You want to ensure that your home is warm and inviting as well. You can use a shawl to accentuate your furniture pieces.
Blankets
Accentuate your couch and loveseat with throw blankets that can be used when you or a guest get cold. However, if you're going to create a unique style, you need to be mindful of the fold. It's the fold that counts most of all. For instance, if the blanket has a particular design, you want it to be brought to the forefront. You want it to be the first thing people see.
Fashionistas know how to use a throw to bring out the room's ambiance. The key is to add to the furniture it's being used on, not distract. The throw can be draped on the back of the couch, loveseat, or recliner or added to its arm.
Shoes
Most people would never think to use shoes as a home décor option, instead putting them in a closet, on a behind-the-door shoe rack, or tucked into some basket. Decorating with shoes needs to be strategic. For instance, place rain boots in the mudroom, winter boots by a fireplace, and your sneakers on an entryway bench. Make sure that the shoes go along with the current room palette.
Alter The Style Each Season
Each season affects people differently – from what they wear to how they see themselves at that moment. This influence is also noted in the home. When the seasons change, also change your home's style. Changing the flower arrangement is another way to match the season inside your home. Every season has flowers; you just have to know what flowers go with what season. Flowers help give life to a room, allowing them to be front and center in a room.
The reality is that your personal taste should be at the heart of every style, no matter what the season. As you change your wardrobe, so should you change your home's style. Look at the trends, and go with pieces that enhance the décor within your home.
Anything Goes…
As you see, anything in your closet goes when it comes to home décor. It's just a matter of thinking outside the box and getting creative. Set up an arrangement in your home that will reflect your fashion sense and brings style to each room. Go with timeless pieces to accentuate the space, or use the trends of the time to create the style you want.
Make the home décor all about you!
Comments on this How to use Jewelry and odds and ends for home decor article are welcome.
Home Improvement Articles
Home Improvement Posts
Warm Up Your Living Room With These Decorating Tips
Home renovation and roof replacement estimate tips
Ultimate checklist for renovating your home
Studio Loft, Izmir, western Turkey
Design: Yerce Architecture & ZAAS, Istanbul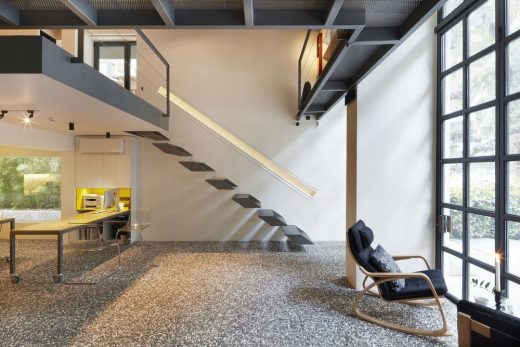 photo : Yerce Art Photography – Emin Emrah Yerce
Studio Loft Izmir
House Renewal
How to Spruce Up Your Home with Personalized Prints
What is the Process of Expanding Your Home
DIY Home Improvement Projects Tools
Selecting right contractor for home care and repairs
Comments / photos for the How to use Jewelry and odds and ends for home decor page welcome