Warm up your living room with these decorating tips, Home decor guide, Property interior style advice
Warm Up Your Living Room With These Decorating Tips
24 Jan 2022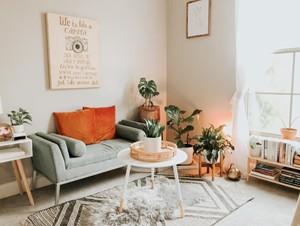 What surrounds us can have a very big impact on us in many varying aspects. From our mental well-being to even physical condition, even the smallest things can have an impact on us. That is why it is very important to know what you want to be surrounded by. It goes for the people around you, but also physical items that you see.
Living rooms are places that we spend a lot of time in, especially during this covid pandemic. It is important that this space is decorated to your liking so you can spend time in it without feeling exhausted by it. One of the best ways to decorate it is by making it feel warmer, or in other words make it feel like a real home and just a house. Make it more comfortable to be in that place and more relaxing, and you will feel better about it.
Rugs
One of the best ways to make your home feel warmer is by decorating the floor with a nice carpet. The floor takes up so much space and would it not be nice to make that space feel warm? Carpets come in many styles and it is not hard to find the right one for you, regular and simple ones with simple colors to abstract shape rugs with beautiful motifs with a wider range of colors. The latter ones are much better to make your living room feel warmer and more pleasing to the eye.
They are a really worthy investment not only because of their beauty but also their comfort. A nice rug under your feet will always be something you want to feel. Be it after a long day of being out or staying in your home, it is a really nice feeling that makes your house more of a home.
Warm lighting
Lights are not only important for making your house feel warm but they can also have a physical effect. Some people may be more sensory sensitive to light than they know. This subject is not talked about enough and definitely should be because it is quite common. If you have ever felt strongly distracted or shrouded by the light in your living room you should definitely switch to something new.
Red lights are the warmest you can go. They not only feel warm but are actually the easiest on the eyes. Every ray of light carries a different amount of energy, and red ones carry the smallest amount compared to blue light. That is why many screens have an option to switch off blue lights because of their impact on the eye. If red is too much for you, go for some orange or yellow ones or have a mixture of these shades.
Wooden furniture
Wood has a really warm and naturalistic feel to it which is a nice touch to add to your living room. Of course, there are many kinds of wood and some colors can have a more cold effect than warmth. The shades you will be looking for would be the same ones as were mentioned in the lighting section.
When choosing the shade you want, make sure to test it out with some example items. You can not predict how the shade will go with the rest of the room. You cannot also predict if the shade will still be good after looking at it for a longer period of time. Many companies offer samples of wood to test before making a final purchase.
Plants
Putting a few plants in your living room is the easiest way to warm up the place. Nothing speaks more naturally than nature itself being present around you. Plants are not only pretty to look at but are also just very relaxing to be around. You may also find a new hobby for yourself by taking care of them, which may be a downside for others. Whichever it may be, you will not know until you get some of these green buddies in your room and see for yourself.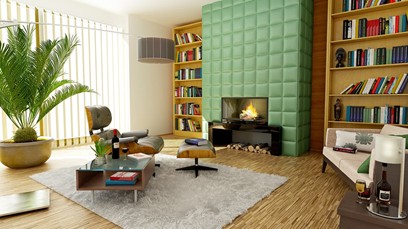 Warm Up Your Living Room With These Decorating Tips Summary
It is not that hard to find a perfect way to warm up your living room. It can also be quite entertaining to try out many different things and be a little home designer. You may be better at it than you would think and you cannot know until you try. Add to that the important benefit of spending time in a room that is much more pleasurable to your eyes.
You will also not know the feeling until you have made the change. Just by switching up some of these details, you will get an entirely new living room. By working on this you will develop your own taste and be able to bring some new elements to your living room. The possibilities are endless and yet so simple to achieve, and that is truly beautiful.
Comments on this guide to Warm up your living room with these decorating tips article are welcome.
Home Improvement Articles
Home Improvement Posts
Ultimate checklist for renovating your home
Choosing a cohesive design style for your home
Home renovation and roof replacement estimate tips
Building Articles
Residential Architecture
Comments / photos for the Warm up your living room with these decorating tips page welcome