How to spruce up a home with personalized prints advice, House style guide, Permanent property decor tips
How to Spruce Up Your Home with Personalized Prints
12 July 2021
Your house is a portrayal your lifestyle. It's the place where you begin and finish every day with your loved ones. And there is no better way of making a house a home than personalized interior design. With the help of custom prints, you'll be able to create a welcoming home with a distinctive character.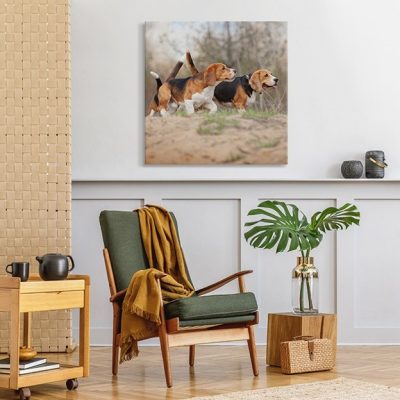 How to spruce up a house using Personalized Prints
There is a whole range of custom prints available these days, from well-known traditional framed photos to less conventional quirky canvas prints. But even if you have practically no experience in photo printing and DIY works, decorating with custom prints shouldn't become a challenge. We'll now share some failsafe decoration methods and tips and tricks that will help you choose and display custom prints. Read on to learn more!
Things to Consider when Decorating with Custom Prints
A key to creating a head-turning wall art display is knowing how and where to hang prints. Don't simply scatter photos around the walls – follow these design tricks to achieve a truly exquisite feel:
When hanging your prints, make sure that they don't end up too high or too low. In the ideal wall art composition, the center of the prints is located at the viewer's eye level. Of course, you can hang some prints higher or lower, especially if you're designing a whole gallery wall but the anchor points of the composition should be at eyelevel.
Regardless of the size and type of the chosen prints, you'll need to hang them in the most secure manner possible. Some items – lightweight photo tiles, poster prints and the smallest canvas prints – may be secured with double-sided tape, but all heavier items will demand at least a pair of nails and some drilling.
Custom prints can be displayed all around the house but it's important to match the prints' character with the room's atmosphere. Even the best-looking informal shots may look like an eyesore in formal classic interiors so think carefully about where to hang your prints.
While a single print may look imposing, especially if it's of a majestic size, a whole collection of different prints and other memorable objects has the unmatched aesthetic potential. And the best thing is – thanks to the eclectic character of this type of wall art, you'll be able to expand or reduce your gallery wall at any time.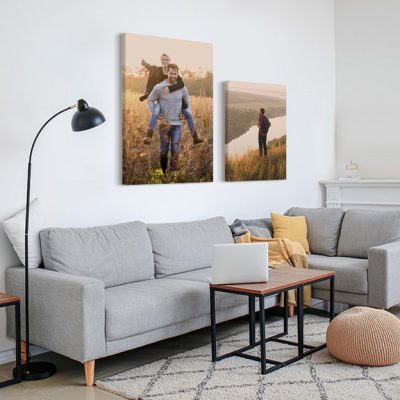 Types of Printing Mediums for Home Decoration
Poster Prints
In interior design, poster prints are the embodiment of simplicity. Nevertheless, they can add a much-needed pop of character in almost any room. And these days your choice isn't limited to mass-produced poster prints with the images of pop bands or bland stock pictures – in fact, with the help of online printing providers you can transform any picture from your own digital archives into a high-quality custom print.
Canvas prints
Canvas prints provide a whole different approach to photo reproduction – these prints are substantial design elements that can transform a picture into an artwork. Printed on a piece of fabric and stretched over an inner frame, canvas prints make a delightful visual impact – if you're looking for artistry decor elements, canvas prints should be the perfect choice.
Framed Photos
Put in classic frames and accentuated by gallery-style photo mats, traditional framed photos have never lost popularity. Use them to add character to any space, especially interiors in a restrained classic style.
Tips for Making a Statement with Personalized Prints
If you're willing to design a custom wall art composition, make sure to use not only beautiful but also meaningful photos that won't lose their significance over the years.
Other than this, it is also essential to pick a trustworthy provider. Our top choice is canvasdiscount.com – a well-known brand with years of experience in making affordable high-quality custom prints.
We hope that this guide helps you liven up your home with personalized prints.
Comments on this guide to How to spruce up a home with personalized prints article are welcome.
Home Improvement
Home Improvement Posts
Ultimate checklist for renovating your home
Choosing a cohesive design style for your home
Buildings
Building Articles
Comments / photos for the How to spruce up a home with personalized prints advice page welcome