Folly Architecture, Architectural Welbeing, Building Design, Architects Icons
Folly Architecture : Georgia Building Designs
Built Environment Discussion – article by Karolina Szynalska
8 May 2012
Follytecture
In summer 2009 Berlin-based J Mayer H received a call from the Georgian government. They had seen the images of the Metropol Parasol in Seville and they were impressed. They were looking for ideas for redesigning public areas in Tbilisi… In less than three years J Mayer H produced almost 40 architectural proposals to be located in Georgia; eleven of them are already completed or under way – amongst others police station, a border checkpoint, an airport and multiple houses of justice.
The speed with which the structures get erected and the number of Western architects employed in Georgia is impressive. Italian designer, Michele De Lucchi (better known for his Artemide lamp), completed three Georgian icons: the neo-classical Palace, the Interior Ministry building (symbolically made out of glass) and an awe-inspiring footbridge. Today for Georgia work: Amsterdam firm UNStudio, Italian Massimiliamo Fuksas, German Graft, and Spanish CMD Ingenieros. Donald Trump, a tycoon, also plans to invest.
J Mayer H
Rest Stops in Georgia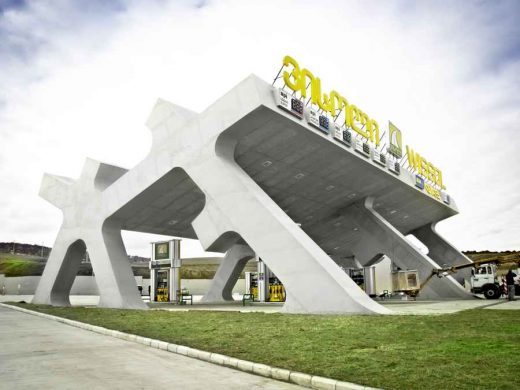 photograph : Jesko M. Johnsson-Zahn
Georgia is a small country squeezed between Russia, Azerbaijan, Armenia, Turkey and the Black Sea. The size of its tiny population equates to 40% of that of Moscow. And the current construction frenzy is inspired principally by one enthusiast, who likes buildings that are 'original, crazy and brave'. Mikheil Saakashvili rose to power in the thrilling days of the Rose Revolution of 2003 that swept out of the government the Soviet era veteran, Eduard Shevardnadze.
Saakashvili tends to cultivate a parallel to David Agmashenebeli, aka 'David the Builder', the mediaeval king famous for uniting and building Georgia in 12th century. He likes quoting Churchill 'We shape our buildings; thereafter they shape us'. The self-appointed planner-in-chief shapes his people (note: who have never experienced post-modernism) with overdoses of flamboyant blobitecture mistaken for an expression of democratic virtues.
Rest Stop at Wissol:



photograph : Jesko M. Johnsson-Zahn
Two recently completed rest stops/petrol stations are very exuberant. The eye-catching extruded concrete structures are set on a background of the Caucasian mountains. The brutalist aesthetic fits the landscape and celebrates new infrastructure in the country. The buildings are located in Gori (one of the dots on the map indicating sites of airstrikes in the 2008 South Ossetian War) and bear the names of the petroleum companies (Wissol and Socar). Petrol is pumped from Azerbaijan (not Russia).
Police Station + House of Justice in Mestia, Georgia



photograph : Jesko M. Johnsson-Zahn, Beka Pkhakadze
Mestia Buildings
Contemporary Georgian architecture reflects political ambitions and taste in the iconic (synonymous with excessive). Modernisation does not only indicate the intention to put Soviet legacy behind, but it also asserts new strong political attitude on international stage. Georgia aspires to join NATO and the EU.
It does not seem there is a single important building in Georgia designed by Georgians. In a local scale – the new buildings appear exotic, modern and…parachuted, alien, imposed. They are neither brave, nor original; high spec details of concrete, glass and steel are not innovative in any way. Architecture is a plagiaristic enterprise; architects even plagiarise themselves. Rest stations seem to be copies of the Danfoss Universe buildings in Nordburg, Denmark (2007). The architects have exercised cloud-like service stations on the earlier Curiosity Centre building.
There is nothing inherently wrong with that. What is concerning, is the discrepancy between the toy-like appearance of the buildings and the agendas they stand for. The politics as well as building fashions are ephemeral. The boldness of new J Mayer H's buildings remind me of a well-known Modernist Roads Ministry Building in Tbilisi built in 1975; now romantic or desperate looking ruin – the adjective depends on whether you look at the photograph of it, or live nearby.
Brighton i360, England – news
Marks Barfield Architects



image from Brighton & Hove Council
Toy-like buildings – or follies – are fun. By their nature they are excessive and (pragmatically speaking) unnecessary, but they can become catalysts for a social and economical change. London Eye architects, Marks Barfield, have proposed one for Brighton, UK. 175-metre viewing tower would (theoretically) create jobs, boost businesses in the area and enable completion of seafront regeneration works.
Sarpi Border Checkpoint, Georgia
2011



image from architects
Sarpi Border Checkpoint
Metropol Parasol, Seville, Spain
2011



images from architect
Metropol Parasol
Folly architecture is important. Follies arouse curiosity and please the eye. They can be successful if they are loved and maintained. Let's hope they are.
Karolina Szynalska Architect
Karolina Szynalska


picture from Karolina Szynalska
Karolina Szynalska is an architect and a lecturer in architecture at both the University of Lincoln and Hull School of Art & Design, England, UK.
Comment received re this Folly Architecture article:
The Seville project and the Georgia petrol stations are not examples of architecture but rather they are intriguing pieces of sculpture. But because they do cater for human activities they fall down hugely in terms of expressing their function which they do not. Mayer contain the activities by using probably insignificantly standard forms, and then 'add on' these superficial structures. Meaningless CAD architecture I'm afraid.
Anthony Sully
Comments for the Folly Architecture page welcome
Location: University of Lincoln, Brayford Pool, Lincoln LN6 7TS, UK
Recent articles for e-architect by Karolina Szynalska:
Architecture Economics – 31 Jan 2012
City Analysis – 6 Dec 2011
Public Architecture in London – 25 Oct 2011
Placebo Architecture – 27 Sep 2011
International Architectural Designs
Architectural Articles on e-architect : Selection
Contextual Architecture : article by Roland Wahlroos-Ritter. Sep 2011
Cultural and Contextual Identity : article by Nigel Henbury. Aug 2011
Globalisation Architecture : article by Trevor Tucker. Sep 2010
Sustainable Buildings – Building Issues : article by Adrian Welch
Comments / photos for the Folly Architecture – Georgia Building Design Article page welcome