Georgian Architecture, Tbilisi Projects, New Property News, Built Environment Designs
Georgia Buildings : Architecture
Key Contemporary Architectural Developments in Eastern Europe / Weastern Asia
post updated 31 October 2021
Buildings in Georgia
We've selected what we feel are the key examples of Georgia Buildings. e-architect cover completed architecture, new building designs, architectural exhibitions and architecture competitions across Georgia. The focus is on contemporary Georgian buildings.
We have 2 pages of Georgia Architecture selections.
Georgia Buildings : news + key projects A-J (this page)
Georgia Architecture : key projects K-Z
Georgia Buildings – Latest Designs
Georgia Architecture News – latest additions to this page, chronological:
18 Apr 2018
Didi Dighomi Mini-City
SGA to Build Infrastructure, Homes and Commerce in Tbilisi, Georgia
Simone de Gale Architects are elated to be working with Georgian Authorities to propose a game-changing development of 525,500 sq.m in Tbilisi, Georgia, dubbed 'Didi Dighomi Mini-City". The exciting new development will be a Public Business Zone 1 complex comprising a state-of-the-art shopping centre, cinema, leisure facilities, a luxury public park, office, commercial spaces and around 3000 new homes.
Didi Dighomi Mini-City Tbilisi, Georgia, by Simone de Gale Architects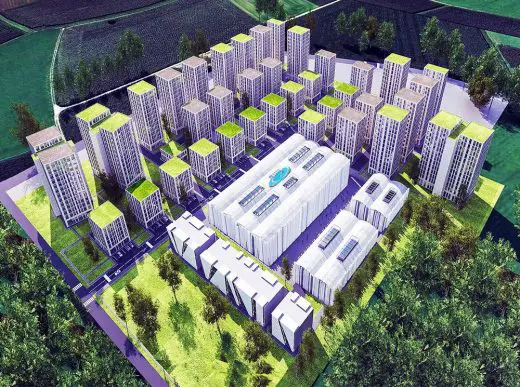 image courtesy of architecture office
Simone de Gale Architects is an award-winning UK practice which specializes in exploring contemporary practices of architecture whilst combining functionality in style. Led by 2017 Women in Construction's Architect of the Year winner, Simone de Gale, the company is excited to be involved in the creation of the new "Mini-City". SGA has developed its beautiful sculptural city scale art in keeping with their Client's business ethos of precision-manufacturing and high-quality functionality.
Georgia on my Mind
The first of its kind development in the north-west area of Georgia's capital, Didi Dighomi will be a vital part of Tbilisi's regeneration, and will create thousands of new jobs for people in and around Tbilisi and further afield. As well as providing new long-term employment, the complex will utilize local materials and labour, manufacturing resources and an array of auxiliary services in order to provide a much-needed boost to the area and attract local and international investment and visitors from all over the world.
A Design for Life
The ambitious project which is estimated will take 15 years to complete through a phased construction programme, has been designed to embody the harmonious architectural rules of repetition, rhythm and pattern to create an articulation of pure geometry, through modern buildings separated by contemporary courtyards and green spaces.
Previous successful projects commissioned by the company include super-prime residential in London, multiple residential developments, and luxury resorts in the Caribbean.
Of the proposed development in Georgia which has now been submitted for Government approval, Simone de Gale says, "With every project, we gauge an understanding of our Client's identity, their ambition and their aspirations. It was clear from the start that our Client wanted to significantly increase the opportunity for home ownership and forward-thinking architecture within the project. They wanted to mix some existing structures with new buildings and provide a range of amenities. Our Client wanted the development, a 160,000sq.m site to extend the capital of Georgia. We looked to their identity and translated a timeless architecture which becomes an abstract painting, sculpted on the city scale. We worked hard to come up with an intricate and robust scheme, and I am very excited for the next stages as we move through Government Approvals.
To view computer fly-through animation of the proposed development visit: SGA Didi Dighomi Mini-City Animation
5 May 2017
New House in Tbilisi
Design: Stipfold Architects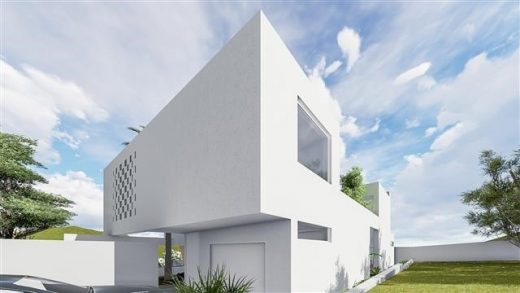 image courtesy of architects
House in Tbilisi
13 Nov 2013
Kutaisi 'King David the Builder' International Airport, Georgia
Design: UNStudio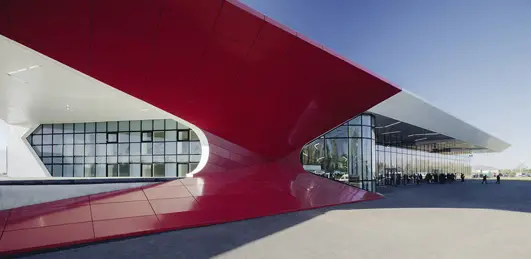 photograph © Nakanimamasakhlisi
Ben van Berkel / UNStudio's Kutaisi International Airport in Georgia completed. UNStudio's recently completed Kutaisi International Airport serves domestic and international flights for use by tourists, national politicians and international diplomats. The airport is destined to become a central hub, with up to one million travellers targeted in 2014-2015.
12 Apr 2013
Fuel Station + Restaurant in Batumi, south west Georgia
Design: Giorgi Khmaladze (Khmaladze Architects)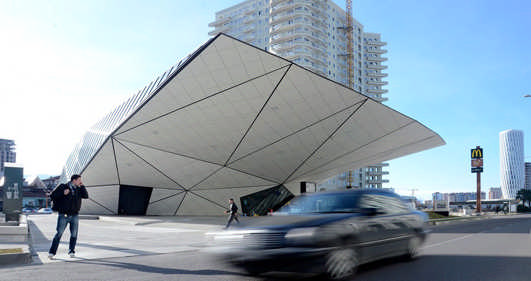 photo : Giorgi Khmaladze
Fuel Station Georgia
Spaces are composed in such way, that two major programs – vehicle services and dining are isolated from one another, both physically and visually so that all operations of fuel station are hidden from the view of the customers of the restaurant. Because of the predefined, small building footprint, most of the supporting and utility spaces are grouped and located on the ground level to be close to all technical access points.
8 Apr 2013
Tbilisi Business Centre Building
Design: Robin Monotti Architects



picture from architects office
Tbilisi Business Centre Building
This building is a new 16,000 sqm business centre for the government of Tbilisi. The design is a direct response to its neighbouring building, one of the most important examples of Soviet architecture.
21 Dec 2012
Lazika Municipality Building
Design: Architects of invention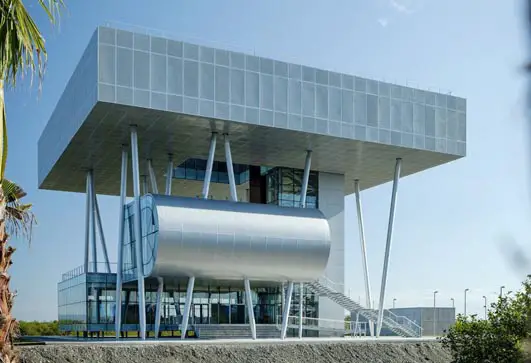 photograph : Nakanimamasakhlisi
Lazika Municipality Building
A new steel-structured building for a city which is yet to come into being – Lazika, on the Black Sea coast. Intended to be one of the largest cities in Georgia its future hangs in the balance. The building contains a 'Public Service Hall', a 'Wedding Hall' and Municipal Offices.
27 Sep 2012
TBC Bank Headquarters, Tbilisi
Design: Architects of invention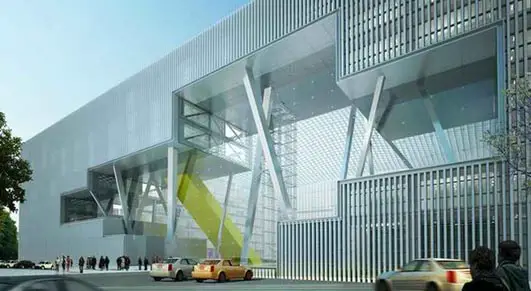 image from architects
TBC Bank Headquarters Georgia
The existing building complex was built in the 70th century – for the Soviet Military Headquarters of the Caucasus region. The complex consists of several buildings, and special attention is given to the upper blocks (Blocks No: 1, 2, 3, 4, 5, 6).
5 Sep 2012
Public Service Hall in Georgia
Design: de Architekten Cie. and Lada Hršak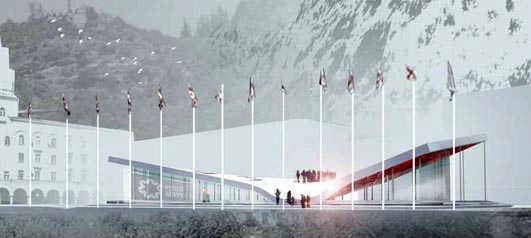 image from architects
Public Service Hall in Georgia
de Architekten Cie. and Lada Hršak from HL architecture won this architecture competition held by The Ministry of Justice of Georgia and supports the countrywide reform for renewal of public services. Eight PSH buildings are (almost) realised and eight new ones are about to come.
22 Oct 2012
Tbilisi Public Service Hall
Design: Massimiliano Fuksas



photo © Moreno Maggi
Tbilisi Public Service Hall
Recent Georgia Building Designs
25 Jun 2012
New Tbilisi Zoo – Concept Design
Architects: HASSELL



image from architects
New Tbilisi Zoo
The London Studio of HASSELL, working with Arup, has been appointed by Tbilisi City Hall to carry out the concept design of the new Tbilisi Zoo on the outskirts of the Georgian capital city.
The project will see the existing city centre zoo replaced by a zoological and recreation complex adjacent to the inland lake known as Tbilisi Sea.
4 May 2012
Rest Stops in Georgia
J. MAYER H. Architects



photograph : Jesko M. Johnsson-Zahn
Rest Stops in Georgia
In 2009 Head of Roads Department of Georgia commissioned J. MAYER H. to design a system of 20 Rest Stops for the new highway which will run through Georgia and connect the Republic of Azerbaijan with the Republic of Turkey.
11 Apr 2012
Police Station + House of Justice in Mestia
J. MAYER H. Architects



image from architects
Mestia Buildings
The project is situated in the heart of the old town of Mestia, next to the newly built city-hall. Its towerlike shape pays homage to the medieval stone towers which are traditional to Mestia's mountainside region. The House of Justice serves as a two storey civic centre for the people of Mestia, a village with a strong cultural heritage.
19 Mar 2012
Prosecutor's Office Tbilisi
Architects of invention



image from architect
Prosecutor's Office Tbilisi
Young Georgian practice Architects of Invention has completed its first building in Tbilisi, the stunning Prosecutor's Office. The firm submitted a proposal as part of an invited competition for a new build to the north west of the city, just on the outskirts of the city centre and close to the Tbilisi Court building. The building was completed in February 2012.
Architecture in Georgia
Key Georgia Building Developments, A-J, alphabetical:
Aquarium and Aviary, Batumi
2008-
Architects: Zvi Hecker



image from architect
Georgia Building – Developer: Cartu Group, Burj, ATU, Batumi
Bat'umi Resort and Master Plan
–
Leo A Daly



picture from architect
Bat'umi Resort
Gudiashvili Square, Tbilisi
Zechner & Zechner



picture from architects
Gudiashvili Square – 16 Dec 2011
The project task was to develop a multifunctional area with shops, offices and restaurants around the Gudiashvili Square in the heart of old Town in Tbilisi. This is partly in the redevelopment of listed buildings, but most of them are newly constructed.
More Georgia Architecture projects online soon
Location: Georgia, Weastern Asia
Batumi Aquarium & Aviary (linked above):



image from architect
Abu Dhabi Plaza Kazakhstan building
Stadslab Master Class, Georgia – 2010
Black Sea Coast Regeneration



photo from Stadslab
Buildings / photos for the Georgian Architecture page welcome