Easy and Creative Crafting of a V-Shaped Standing Desk Guide, Home Style Advice
Easy and Creative Crafting of a V-Shaped Standing Desk
17 June 2020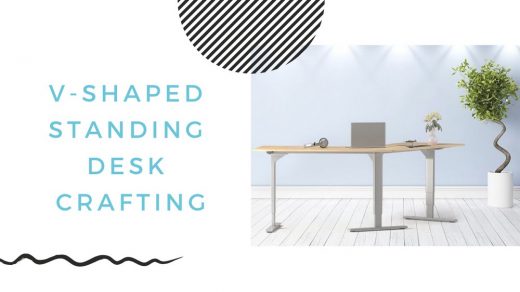 Thus, you have decided on a height-adjustable desk. This decision still leaves a lot of space for choosing, thinking, and checking. What desk shape do you want? What about specific features? Do you want something special or just any solution is fine?
For any space, a v-shaped corner standing desk is the perfect solution. It offers you such benefits as:
An opportunity to use a convenient advanced solution even if your space is very limited;
You get extra space for all the needed equipment and materials.
Thus, whatever office or workplace you have, a V-shaped desk is a perfect solution.
When Crafting a V-Shaped Desk, Pay Attention to the Following Details
Whether you decide to buy a ready solution or get a custom standing desk, you need it to comply with some requirements. They might vary greatly depending on your taste. But the main requirements are the following:
Your desk shall be sturdy. It needs to support all the equipment that you might use;
It shall be comfortable, and all the space shall be easy-to-reach;
The motion shall be smooth;
The motion system shall not generate noise.
Once these requirements are met, you can move on with more features. Movement precision of the lifting system matters. If you want to lift or lower your desk to a particular level, you don`t want to be adjusting it for quite a while until it is positioned correctly. More advanced frame options have an anti-collision feature. It makes it possible to adjust the movement limits. So, your desk doesn`t bump when moving up or down. This feature not only provides additional comfort but allows to keep the desktop in a better condition for a longer time.
Choose a Reliable Manufacturer to Buy Your New Height-Adjustable Desk from a Reliable Provider
It is extremely complicated to build an adjustable desk completely on your own, let alone a V-shaped desk. Thus, you might want to buy either a complete solution or parts of it from a company specializing in the manufacturing of height-adjustable desks. Normally, a manufacturer that cares provides you with a few solutions to help with the choice.
One of such solutions is called a desk builder. It is an online tool that helps you to make the right decision. With it, you can check available options of the frame, choose the suitable desktop shape, and even select the best color. To make sure you are not overwhelmed by the price, all the values are shown, too. Thus, you can be checking on the price value to make sure it stays within your budget.
Do You Want to Make a Desk Yourself?
Some people still do not find a proper solution. There are also people who believe that nobody can make something better than they do. If you belong to one of those categories, you shall have some technical knowledge to build your own desk. In the case with a V-shaped desk, you need to know well how to handle the materials from which you are going to construct your desktop.
You might want to choose several options. A wooden desktop is reliable and sturdy. However, it costs a lot. Even if you can handle all the processing on your own, wood costs not little.
One of the most advanced options is high-pressure laminate. Such desktops are durable scratch- and water-resistant. If you buy such a desktop, you can count on up to 8 years of warranty from the manufacturer. Such desktops are environmentally friendly, which is also not the least important factor. And they are lightweight, much lighter than wooden ones.
Probably, the cheapest option is a desktop made from DMF. It is also lightweight and beautiful; however, its resistance could be better. Also, some harmful elements are used in the MDF production, thus, if you are concerned about the environment, this might be not the best option.
While making a desktop is a challenging but still a realistic task, building a lifting system might be not so easy if you do not have specific knowledge. Choosing the right elements will be challenging, too. Thus, we still recommend paying attention to ready lifting frames.
Moreover, they are available in all the possible designs. For a V-shaped desk, a lifting frame with 3 legs is the most optimal option. It is reliable, sturdy, and looks stylish. Make sure the mechanism can lift not only your desk but all the equipment that you use. Now, it is time to check available options, compare them, and make an informed decision.
Comments on this Easy Crafting of a V-Shaped Standing Desk article are welcome.
Woodworking
Woodworking Posts
CNC designed architectural interiors with wood routing
Ultimate Guide to CNC Process for Architectural Work
DAKO leading producer of high-end joinery products
Give your Old Wood Furniture Pieces a New Look
Residential Property
Contemporary Property Articles – architectural selection below: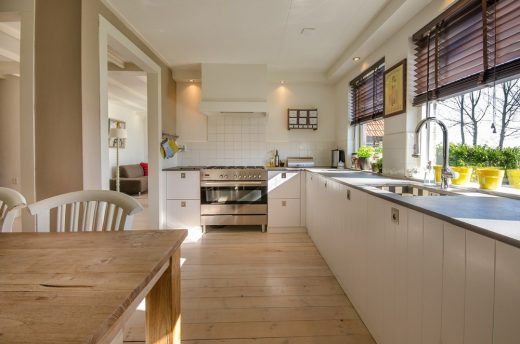 Comments / photos for the Easy Crafting of a V-Shaped Standing Desk page welcome