CNC designed architectural interiors with wood routing guide, Home decor design tips, Online property style advice
CNC Designed Architectural Interiors with Wood Routing
23 Dec 2021
CNC technology can accurately carve stock material into impressive, digitally designed shapes. This not only allows manual labor to be taken over by milling machines and robots, but it also enables entirely novel custom solutions and architectonic elements. And by using low-cost materials with luxury high-tech finishes, it can be within budget.
Architects have only scratched the surface of what's possible with a CNC router, with works of stunning beauty popping up all over the planet. Designers have seemingly limitless range to iterate and experiment with mixing modern and traditional elements as well as digital and manual fabrication methods to create enjoyable living and working spaces that make sense.
Let's look at how CNC designed interiors with wood routing are revolutionizing architecture.
The Digital Craftsman
Computer numerical control (CNC) is an exercise in machining raw blocks of material to match geometry as defined by a digital CAD model. The three-dimensional data is then converted into computer-aided manufacturing (CAM) code, which forms the cutting instructions as direct input for the CNC router machine.
Because it is a digital fabrication process, high accuracy and consistency can be achieved, allowing any fabrication lab in the world to produce the same files locally. Using parametric design software also means that iterations can rapidly be made to refine design details.
Multi-axis machining allows toolhead operations on more than three planes of the workpiece simultaneously. This way, intricate geometry can be achieved to add aesthetic value to the interior and strike a balance between engineered mass-production and local craftsmanship.
Let's look at some examples more closely.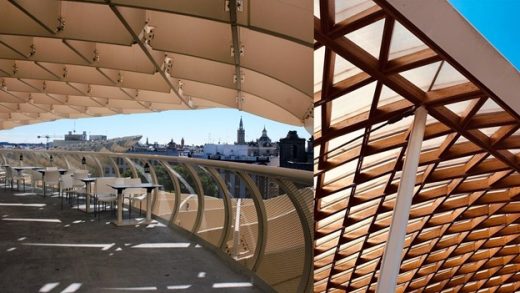 Waffle-type roofing at the Setas de Sevilla, formerly Metropol Parasol (left) and Macallan distillery (right). (Image credit: Wikimedia, CC BY-SA 3.0, Evan Chen on Unsplash)
Scripted Repetition
A generative design approach to architecture adds visual interest by varying repeating elements driven by a parameter set. This approach reminds of gothic cathedrals, where craftsmen would deviate from blueprint drawings based on local requirements and make design decisions on location. Except today the process is digitized.
The Setas de Sevilla, formerly the Metropol Parasol, was designed by Jurgen Mayer and exemplifies the complexity that data-driven, CNC-machined projects can attain. With a 150 by 70 meter footprint and height of 28.5 meters, the grid of veneered and polyurethane-coated birch contains 3,400 elements — and no two are the same.
To create one of the largest wooden structures in the world this way took the relentless work ethic of a CNC trimming robot and seamless data exchange between the various partners involved in the project.
The result is a curvaceous, mushroom-like ceiling for the city that perfectly complements the pastel tones of surrounding neighborhoods. Its grid-based philosophy is reminiscent of the Bauhaus, rendering it into a cathedral of eco-modernism.
Another example is the domed roof of the Macallan distillery. It extends from interior to exterior over a span of 207 meters. The structure was designed by Roger Stirk Harbour + Partners and consists of a tubular steel space frame with wooden beams and a green roof.
Of the 1,798 beams, 742 are geometrically unique. Each one counts 41 additional components as well as 484 fasteners such as screws and dowels. The total recorded part count is a whopping 387,315 and weight is 1,343 metric tons.
So even though it may appear simple in design, constructing the 3D model and production data is an expertise on its own.
With the right post-treatment, wood is a serious contender with steel, composites, or reinforced concrete. Automated forms of 3-axis CNC processing become viable 20th century production techniques, together with 3D printing in the construction industry.
Soft Aesthetics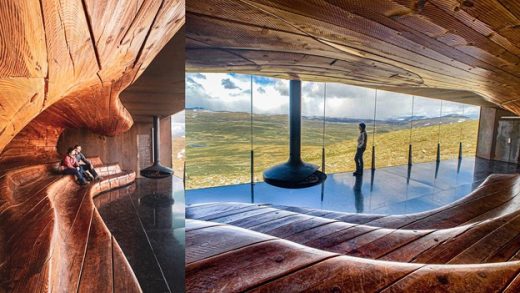 Wild Reindeer Center pavilion. (Image credit: Jason Leung and Laura Cleffmann on Unsplash)
The natural touch and feel of wood forms a superb contrast with industrial materials such as structural steel, reinforced concrete, or brickwork. And when low-grade wood is sourced locally and CNC-machined to a luxury finish, this also reduces the overall carbon footprint.
This is exactly what architecture office Snøhetta envisioned for the Wild Reindeer Center pavilion in Hjerkinn, Norway. Its starkly rigid façade in pine tar-treated raw steel houses an observation lounge made from 3D CAD-driven, CNC-machined pine timber beams that were manually pegged in place by traditional shipbuilders.
Robust, lustrous, and dark, the interior forms a perfect clair-obscure with the landscape of Dovrefjell-Sunndalsfjella National Park where visitors can admire Europe's last wild reindeer herds.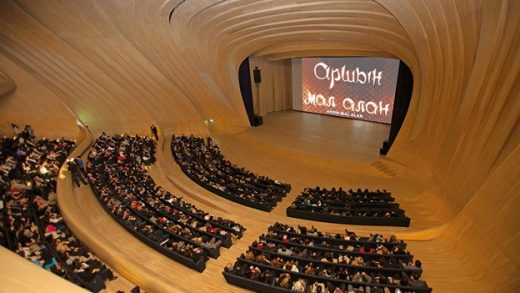 Heydar Aliyev Center Auditorium by Zaha Hadid Architects. (Image credit: Wikipedia, CC BY-SA 4.0)
Yet wood can also shine on its own — we witness the glory of its visual and acoustic properties in the auditorium of the Heydar Aliyev Center in Baku, Azerbaijan.
The viscerally organic structure was masterminded by architect Zaha Hadid and disguises the CNC-formed MDF scaffolding. White oaken strips for the cladding were applied by local artisans and chosen because of their dimensional stability in varying levels of temperature and humidity.
Sculptural Paneling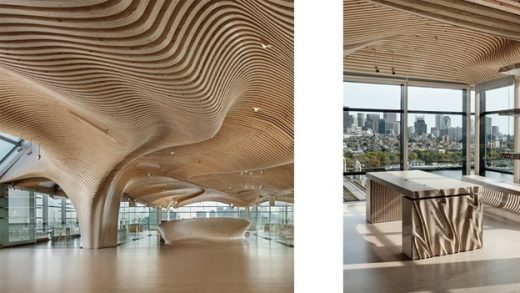 One Main Offices in Boston, Massachusetts (Image credit: dECOi architects & Anton Grassl)
A luminous example of CNC-routed interior architecture is the renovation of One Main's offices in Boston, led by dECOi Architects and delivered in 2016. The curvilinear spatiality of the ceiling flowing into the floor and furniture required over 1 million linear feet of CNC cutting paths and 1,200 sheets of sustainable Finnish spruce Ply-Lam.
Especially notable in this architectural Gesamtkunstwerk is the direct integration of functional features into the slates, such as air conditioning vents, door handles, shelves, desks, and benches. Even electrical outlets, LED shrouds, and computer grilles were worked into the architectural skin, foregoing the need to invest in separate components of industrial design.
The regularity of panel sequencing, together with the unfamiliarity of the dynamic form language, makes for an exciting tension. Being the only realistic process for such a feat, the CNC milling was done locally using a single 3-axis CNC router.
Thermoforming or injection molding are alternative manufacturing processes to achieve a corresponding visual identity, but this confines fabrication to identical plastic elements and would require sizable upfront investments for creating the various molds needed for a custom execution in which repetition would have been unavoidable anyway.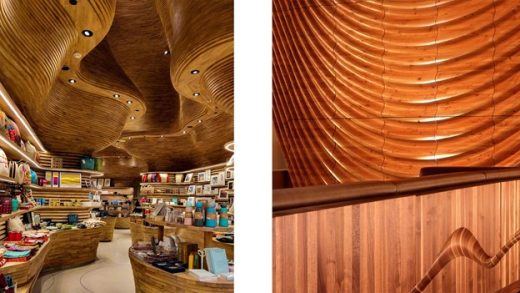 Giftshop National Museum Doha and Ahmanson Founders Room. (Image credit: Sarang Pande at Unsplash, Wikimedia CC BY 3.0)
Koichi Takada Architects approached their design of the National Museum store in Doha, Qatar with a similar sensitivity to aesthetic needs. The vertical desertscape of undulating timber walls seems to move on its own and reminds of a nomadic lifestyle.
The narrow corridors visitors flow through were informed by the spaces of traditional Middle Eastern souk markets and the phosphorescent gypsum crystals of the Dahl Al Misfir, Qatar's famous Cave of Light. The design language also complements Jean Nouvel's praised facade.
This full-scale, three-dimensional puzzle of 40,000 separate pieces was CNC cut in Italy and assembled by a master carpenter. The open-source attitude of the CNC fabrication community invites makers all around the world to create similar interior designs using commonly available materials such as birch plywood, oak, bamboo, poplar, maple, and birch, with the help of intelligent software tools like Rhinoceros and Grasshopper.
Belzberg Architects takes a similar approach to three-dimensional wall cladding in their Ahmanson Founders room and Kona residence in Hawaii. Form-wise, they take a step further in deploying fully 3D-sculpted slabs instead of 2D routed sheets. CNC technology here boosts low-grade Douglas fir lumber to a luxury aesthetic that feels light and alive like fabric drapery.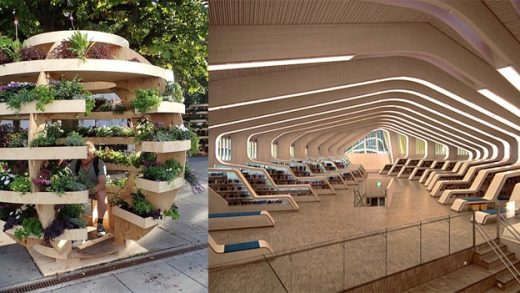 Growroom and Vennesla public library. (Image credit: Wikimedia, CC-BY-SA-4.0, Wikipedia CC-BY-SA-3.0)
Form, Space, Interaction, Function
In 2017, a team of designers decided to launch a pop-up library in Rapana, Bulgaria. Using 240 CNC-milled panels assembled in a semicircular arrangement, the venue proved quite popular. Helen & Hard Architects ventured into a similar architectural avenue for the public Vennesla library in Norway.
Composed of 27 prefabricated glulam timber sections, the resulting techno-Calatravan rib cage condenses structure, infrastructure, and functionality into a singular architectonic element.
Integrated bookshelves, CLT lighting panels, air conditioning ducts, and the alternation of open spaces for social interaction and intimate spaces for intellectual development elicit a memorable experience.
Plants are another fruitful way of filling up shelving units, and no construction method could be more low-tech and avant-garde at the same time than digital fabrication using CNC routing. Hence the Growroom project by SPACE10 was born.
The Danish design studio conceived the idea so that citizens could own a kitchen garden inside the home. This DIY approach to agriculture provides a sustainable way of growing vegetables as well as a retreat shrine for some indoor forest bathing. Building instructions are open-source so every hobbyist with a desktop CNC mill can replicate one.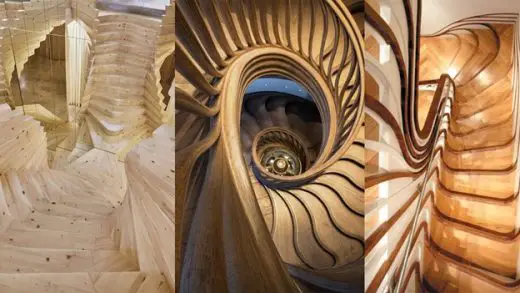 Staircases by ACME and Atmos Architects. (Image credit: Ed Reeve, Phil Watson, architects)
Another functional use of contoured CNC elements can be seen in the staircases of Sipal-Wafai Architects in a Swiss lake house, Oyler Wu for the 3DS Culinary Lab in Los Angeles, and Ora Ïto's polygonal snake design for the LVMH media division office in Paris.
For ACME Architects in London, CNC machining in cross-laminated timber proved the best approach. Using parametric design tools allowed the incorporation of wider and narrower sections for different uses.
The stairs realized by Atmos architects are even more unfamiliar in design. A modern reinterpretation of Art Nouveau, they resemble the unfurling of a fern leaf. The designers consciously chose for a combination of digital and traditional arts-and-crafts-style fabrication methods, using CNC for the oaken steps and manual shaping against molds for all other parts.
A New Form of Artistic Expression
CNC fabrication revives a world of geometrical possibilities for the architect. In fact, as with oral traditions such as storytelling and poetry, and father-to-son taught trades like shiatsu massage, it may be the only way to preserve the values of ancient craftsmanship.
Digitally automating wood sculpting techniques as such is not only exciting for the limitless amount of forms that can be created, but it is also necessary for traditions to live on in a society characterized by ever-shorter attention spans.
A good portion of digital design for CNC is based on waffle grids that morph in scale, shape, or angle. Following early 20th century pioneers like Van der Rohe, Le Corbusier, Louis Sullivan, and Piet Mondrian, architects can now use the grid as a flexible artistic canvas.
Departing from the square, triangle, or hexagon, there will be a need for new design elements and ways to arrange, evolve, and recombine these into societally meaningful compositions. Without an underlying philosophy, parametric work can tend to repeat itself or become the biomimetic atrocity people can relate to as much as they can to, say, an anthill or a nest of snails.
All the tools necessary for successful realization of tremendous CNC-routed structures are in place. Cutting-edge software algorithms can:
Automatically panelize complex surfaces.
Create organic transitions based on various data sources as input parameters.
Generate supplementary joinery, fasteners, and other extraneous components.
Optimize nesting hundreds of parts for efficient cutting paths and minimum scrap rates.
Evolve designs autonomously to meet certain requirements.
Run physics-based simulations.
Export geometry to CNC-ready G-code.
So with the new level of complexity presented, the task of young designers and architects experimenting with CNC is to find their own vision and then translate it to a means of expression using digital fabrication technologies with explicit design semantics.
The art of architecture then gets to be about treating the variability of forms flowing along a parametric structure like words in a language.
Comments on this guide to CNC designed architectural interiors with wood routing article are welcome.
CNC Woodworking
Woodworking Posts
Guide to CNC Machining and its purposes
How to plunge cut with a fixed base router
Ultimate Guide to CNC Process for Architectural Work
Property Articles
Residential Architecture
Comments / photos for the CNC designed architectural interiors with wood routing page welcome