Choose perfect bar stools for your restaurant tips, Bar furniture advice, Property style guide
Choose Perfect Bar Stools for your Restaurant Guide
23 July 2021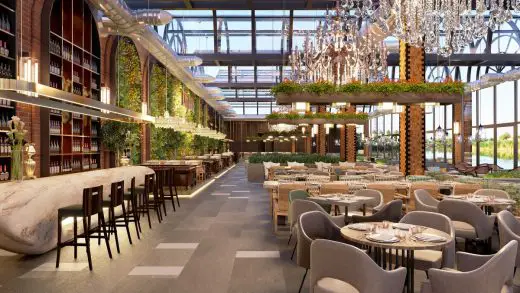 The addition of a few well-designed bar stools to your establishment space can completely transform the appearance and feel of the space. Barstools, which are intended for both style and comfort, can be purchased to complement the décor of any bar or restaurant and help you create an ambiance that your customers will enjoy. Purchasing the appropriate restaurant bar stools, on the other hand, can be more difficult when compared to purchasing standard barstools for home use. The following are some useful considerations to keep in mind as you select the restaurant bar stools for your establishment.
Bar Stools Come in a Variety of Designs
Considerations for the comfort of your customers should be kept in mind when selecting the right bar stool for your establishment. Choose a design that complements your personal style while also being comfortable for your customers. Bar stools with or without armrests, cushioned or not, bar stools with 360-degree swivel or those with half swivel or memory swivel, high- or low-backed bar stools, or bar stools with no back are some of the options for selecting the right commercial grade bar stool.
However, whether or not to include these different styles in your restaurant or bar stools is entirely up to the personal preference of the establishment's proprietor. For example, choosing swivel bar stools can provide your guests with greater comfort and convenience, but it may result in an increase in maintenance costs for you. After that, it is up to the restaurateur to decide whether the additional cost is justified by the additional comfort provided by the swivel bar stools. In addition, depending on the type of establishment, these various styles of bar stools may be used.
Consider the Bar Stools' Longevity
When selecting bar stools for restaurants, it is critical to consider the durability of the product in addition to its design and comfort. If you choose the right type of finish for your bar stool, it will retain its charm and appearance for a longer period of time. The quality of the fabric used in the bar seat can also influence how long your bar stool will last. Leather, microfiber, and polyester are among the most popular materials because they are stain- and water-resistant. This type of material is simple to clean and maintain, which increases its durability and makes it a popular choice among bar and restaurant owners.
If you ask many business owners, wood and metal barstools are among the most durable types of construction materials they can use. Bar stools made of wood are extremely durable, making them a versatile and popular choice for use as restaurant bar stools in many settings.
Wooden bar stools, which are available in a variety of wood stain options such as mahogany, walnut, natural, and oak, can be used to beautifully complement almost any color scheme and design aesthetic. For bars and restaurants, metal barstools, which are typically made of powder-coated steel or aluminum with chrome or aluminum accents, are a practical and stylish option. The elegantly finished metal bar stools are extremely durable and long-lasting, and they look great doing it.
Comparing Indoors and Outdoors
If you want to improve the appearance of your restaurant by adding an outdoor dining area, you must choose bar stools for your patio that are appropriate for the space. Outdoor bar stools are frequently made of lightweight metals, such as aluminum, to withstand the elements. The durability of metal barstools makes them a better choice for outdoor use due to their resistance to weather changes.
The seats of metal barstools are available in a variety of materials including resin, plastic, aluminum, wicker, and other materials. When deciding which bar stools are best for your restaurant, consider your own personal style as well as the comfort and functionality that the stools provide you with. What matters most is whether or not they are a good match for your existing décor and atmosphere.
Bar Stools with Glides
Choose bar stools with glides on the bottom of the stool legs if you want to make a statement in your establishment. Because of the glides, bar stools can be moved more smoothly and quietly than they would otherwise be able to. In addition, the glides help to protect your flooring by preventing it from being scratched or damaged. This range of protective glides is available in a variety of shapes and construction materials; simply select the one that best suits your needs.
Choosing Back or Backless Stools
When it comes to selecting the style of bar stool back, you have a plethora of contemporary design options to choose from. The choice between a high- or low-backed bar stool, or between a backless model, can, however, entirely depend on the personal preference and convenience of the restaurant owner.
If you have a limited amount of space, bar stools with no backs may be a good option, but they can also be awkward and uncomfortable to sit on for extended periods of time. Backless bar stools with backs are the most popular choice for many restaurants because they are long-lasting and comfortable. Also, they are available in a wide variety of long-lasting and aesthetically pleasing designs.
Comments on this guide to Choose perfect bar stools for your restaurant article are welcome.
Restaurants
Restaurants Posts
Tips to Make Your Café More Exciting
Make your restaurant profitable and stand out
Things every restaurant owner should know
Building Articles
America Architectural Designs – latest building updates
Comments / photos for the Choose perfect bar stools for your restaurant guide page welcome