Change your home decoration with wall decals tips, Property sticker guide, House vinyl murals
Change your home decoration with wall decals advice
5 July 2020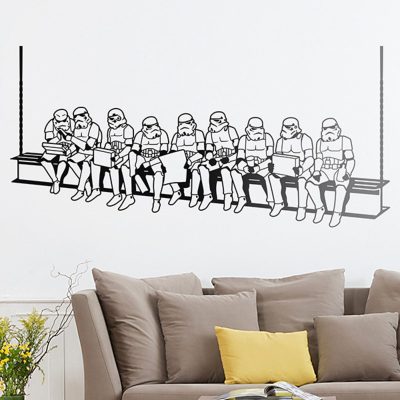 Wall decals are a great cost-effective way of changing the look of any room. There are so many designs to choose from. They are relatively inexpensive and easy to use, making them a great alternative to other decorating methods.
What are wall murals?
They are a sticker, usually made from PVC (polyvinyl chloride) that can be used on most surfaces, especially floors and kitchen worktops and cupboards and in particularly walls. Wall decals from muraldecal.com are a great way of creating a personalised space without overstretching your budget. Another great reason to choose vinyl decals is many companies offer the opportunity to create your own design, perfect if you have a particular vision or space in mind.
Examples of How You Could Use Vinyl Decals in your Home
Wall decals can be used in most, if not every room in your house, especially if you want a quick update without the cost associated with traditional decorating methods. Here are just a few examples.
Kitchen wall murals
How about full kitchen wall murals? With numerous stunning photographs and designs available in a range of styles to suit your taste, you really can decorate your kitchen easily.
Or why not add an affordable and eyecatching wall sticker? Perhaps a cooking quote or food image? They are easy to apply and can change the whole look of a room in just a few minutes.
Vinyl decals are also a great option when it comes to arranging and labelling items in the kitchen from pasta jars to oven cleaner and everything in between. Just don't get the stickers mixed up! Try using cut vinyl
Kid's Bedroom/ Playroom wall murals
Kid's wall murals are a great idea for kid's bedrooms and playrooms as they can be changed more frequently than traditional paint and wallpaper. Firstly because it is easier and quicker to do and secondly because it is less expensive.
You could opt for a personalised decal sticker with their name on or maybe a border decal to change the look of the room. Or how about a height chart vinyl decal to keep track of how quickly your little ones are growing?
Vinyl floors in high child traffic areas are also very popular. With various effects including wood, marble and tile available, they are an extremely cost-effective way to cover floors. Most are also soft underfoot and easy to maintain and clean which is vital when it comes to children's rooms.
Living Room wall murals
Perhaps your living room needs something to make it more personal or modern? If so, full wall mural wallpaper could be the perfect solution. Because of its popularity, it is likely you will find one to suit your taste and budget easily. If not, you could always get one made.
If a full wall is not your thing you could simply choose a sticker or perhaps customised some furniture? You could make a tired old TV unit look brand new quickly for a fraction of the price of a new one.
Many artists at the school of design UK are using vinyl decals in their work, proving what a popular a versatile medium it is. So if you are looking at cost-effective ways to change, personalise or modernise your home, vinyl decals could be perfect for you.
Comments on this guide to Change your home decoration with wall decals article are welcome.
Home Improvement
Home Improvement Posts
Ultimate checklist for renovating your home
Choosing a cohesive design style for your home
How to Spruce Up Your Home with Personalized Prints
What is the Process of Expanding Your Home
Residential Property
Residential Properties Articles
Comments / photos for the Change your home decoration with wall decals guide page welcome.