Home Blinds Guide, House Style Advice, Design Help
5 Ways the Right Blinds Can Create a Happy Home
post updated 2 Jan 2021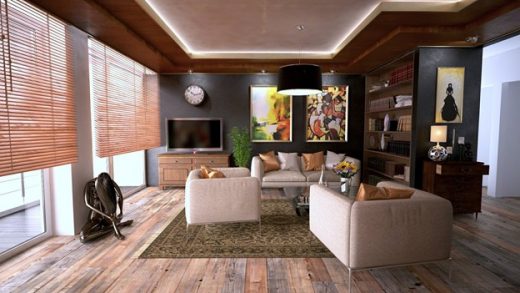 When thinking of home improvements, sometimes the smaller details can get lost in the overall gutting and remodeling of your home. Many people are concerned about where to get more space, what furniture and appliances will enhance their comfort, and the design details tend to come afterward. However, it is important to factor in the small things, such as window treatments, especially in sleeping and working areas.
In choosing the right window treatments, you can enhance your happiness and sense of fulfillment and enjoyment in your home.
1.  Enhancing Happiness
Windows are the eyes of the home, they let in sunlight, keep out the elements, and are often the focal point of family and entertainment rooms. It is important to plan when ordering blinds, and custom orders of designer blinds made to measure can take time and often be frustrating if the homeowner does not consider them essential when beginning to plan their remodel. Don't get stuck with uncovered windows, don't let yourself be throwing sheets on windows to protect privacy. Window treatments are incredibly important to the overall finished feel and can help create a happier home and space for relaxation.
2.  Enhancing Space Functionality and Enjoyment
With a myriad of styles and materials available for blinds, a lot of thought needs to be put into choosing blinds. Are they for the bedroom? Research blackout blinds to help keep the light out on those early mornings when you want to sleep in. For a living room or large feature window? A set of blinds and curtains may be called for to enhance style. Are they for the bathroom? Ensure they will protect the privacy of persons showering and attending to personal needs.
With so many options available, it is important to think ahead rather than finish remodeling and treating these necessary items as an afterthought. You will enjoy your home more with the appropriate blinds in the appropriate places.
3.  Customization to Match Your Personality
There are many ways you can view, customize, order, and install blinds, and your preference will help you decide how to choose your blinds. There are online shops where you provide measurements, and they ship the finished product and hardware to your home for self-installation. Some stores specialize in blinds, they will send a consultant to do the measuring, design, and installation for you (although these may have a higher price point).
CWI Design designates windows as "the point of attraction [in a home]. That is the reason why windows are found to be decorated with different kinds of curtains and blinds. Decorating the window has always been an integral part of home improvement. It is important to make sure that the windows of the home [are] addressed properly. The curtains blinds using (sic) them should be matching with the color of the walls and has to be of the right design. There are different types of options available in the market, so, when it comes to choosing one, there are multiple different alternatives available".
4.  Budgeting for Happiness
Cost also plays a part in choosing the appropriate style of blinds. Should you choose a medium other than fabric, such as wood or cork slats, you may pay a bit more for production, but also more in the long run for maintenance, as these have moving parts. A simple curtain and rod will not require repair in years and are easier to customize for size and style.
You can also walk into your local hardware store with the measurements of your windows and walk out with blinds, drapes, and curtains that have been mass-produced in standard sizes, although these will not be customized, and dependent on the store, you will have to install them yourself or pay additional fees for delivery and installation.
5.  Sense of Completion and Security
There are many considerations when choosing your blind vendor. If you have tools readily available at home and the know-how, you can complete the installation yourself, saving you a bit of money but taking more of your time and feeling a personal connection to your home. This, in itself, can help you feel more content in your space. If you feel completely out of your depth, with no tools of installation know-how, your better bet would be choosing a company to complete the process for you from start to finish.
Full service in home design and installation services will initially be more expensive than walking into your local Walmart and purchasing and installing the blinds yourself; however, you get what you pay for. Does the full-service supplier offer warranty? If so, how long? Is the quality of the material worth the increased price point? Generally speaking, the cheaper the item, the sooner it will require replacement, and the same can be said for blinds. Your price point will be the deciding factor in the service and blinds you choose.
Researching vendors, materials, and style, requesting quotes, and deciding upon a method of installation will set you up for success when attempting to create a beautifully designed and happy home.
Comments on this guide to 5 ways the right blinds can create a happy home article are welcome.
Home Blinds
Blinds Posts
Venetian and pleated integral blinds comparison
Benefits of wooden natural blinds
6 of the Hottest Window Blind Trends
Building Articles
Contemporary Architecture
Comments / photos for the 5 ways the right blinds can create a happy home advice page welcome