Budgeting for masonry fireplaces guide for homeowners, Home heating advice, House interior tips
Budgeting for Masonry Fireplaces Guide
25 Mar 2023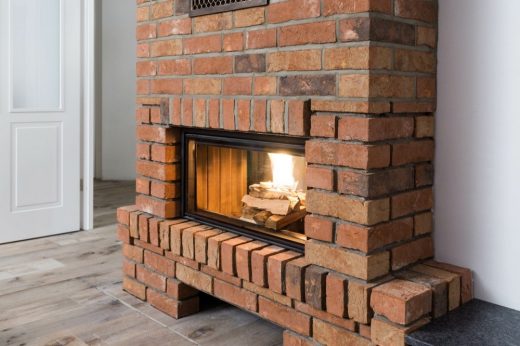 Putting up a masonry fireplace into your home sweet home always looks fascinating. It is believed to be such a beautiful addition which makes your home more breathtaking. Stone masonry fireplaces can easily get set up in an outdoor living space, living or master bedroom, the choice is yours.
If you are still wondering how much masonry fireplace cost on average, you can see the below-written details. You can also outsource masonry estimating services to get an estimate of how much it would cost to build a fireplace out of masonry blocks or bricks.
Budgeting for Masonry Fireplaces: A Guide for Homeowners
Cost to build a masonry fireplace
Its average cost ranges $3000 to $5000! Same is the rate if you wish to get a wood-burning or gas fireplace. On the other hand, the prefabricated brick fireplace price is $2500 to $3500. Electric fireplaces are priced at $100 to $2000.
Remember that installation as well as finishing add up the total price about 25% to 45%. The installation cost varies depending on the fireplace type you have picked. For example, the gas fireplace installation cost is $2000. Installing a traditional wood-burning fireplace is $2000 to $3000.
More about fireplace budgeting- Which factors impact its total cost?
We have identified the factors that impact the total fireplace set up price:
Stone type: real stone or manufactured stone
The total cost of fireplace varies depending whether you have chosen the real stone or manufactured stone. Real stones give a rustic, stylish and classic appearance. Its drawback is that it is heavier, challenging and harder to work with. On the other hand, manufactured stones are a budget-friendly option. But fail to give desired finish.
Type of fuel
The type of fuel decides how much the total fireplace setting up cost will be. Wood-burning fireplaces provide open flame and demand frequent cleaning. Gas fireplaces installation process is more complicated.
The location of fireplace
In addition, the location of fireplace impacts the total budget figures. Outdoor and indoor fireplaces have different prices. It is seen that indoor fireplaces looks an ideal option for winters and outdoor fireplaces seems suitable for outdoor gatherings.
The design of a fireplace
The fireplace design influence its total cost too. You can have vented or ventless fireplaces. Ventless gas fireplace is recommended by experts because they release the highest amount of heat, run on 100% efficiency mode and claim to be eco-friendly.
Other factors that determine the masonry fireplace cost
Do you want a small or large mantel?
Do you want to a have a simple mantel shelf, or ornate frieze, or some kind of inlay brickwork?
Does the space look irregular and extremely challenging to add fittings and moldings?
How much material you need?
How much plaster and frieze are needed to assemble the mantel? Plaster and frieze cost $12 per linear foot.
If you have decided to opt for a mental shelf that is packed with custom fitting, its installation cost will become $90 to $100 per mantel.
The rate of installing a pine mantel is from $1000 to $3100.
How much is the size of your masonry fireplace?
What features you want to inject in it?
Difference in building an indoor and outdoor masonry fireplace
There is no any difference the way indoor and outdoor masonry fireplaces are constructed. However, outdoor models are relatively hassle-free and flexible to install. Additional charges will definitely come on masonry work regarding building a surrounding structure of the firebox which is commonly known as hearth.
Cost of trim kit to install a masonry fireplace
The average price of trim kit lies somewhere $300 to $900! It is mandatory to buy the kit because it lets you easily install the fireplace on the exterior wall. It includes a barrier screen and also a double glass window.
Furthermore, wiring, connection, and installing a heater in a closed wall approximate cost of $150 to $210. It is recommended to install the fireplace on an exterior wall, this way it remains visible both from outside and inside.
Labor Cost
The labor rate ranges from $400 to $4000 including installation and finishing. You might have to pay extra price if an existing fireplace has to get removed and final rate is dependent on the extent of the demolition.
Masonry Fireplace Customizations Cost
Home-owners love customizing and personalizing their masonry fireplace!
The common customization options available are including a highly decorative mantel around the opening.
Adding glass fireplace doors
Getting firebrick in shape
Tiling a hearth
Choosing the right tiles
If you have any confusion on masonry fireplace budgeting, you can let us know your queries and we will try explaining further and in a simpler/comprehensive manner to you. Stay tuned!
Comments on this Budgeting for Masonry Fireplaces: A Guide for Homeowners article are welcome.
Fire
Fire Posts
Fire Damage Restoration and Remediation
Safety Precautions Against Home Fire
Building Articles
House in Rostov-on-Don, Russia
Design: Architectural studio Chado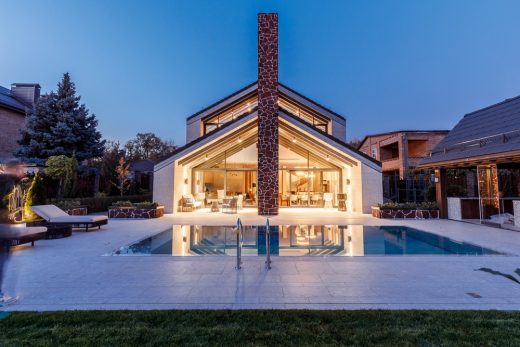 image courtesy of architects
House in Rostov-on-Don
The building symmetry is dynamically emphasized by a two-sided fireplace pipe.
Comments / photos for the Budgeting for Masonry Fireplaces: A Guide for Homeowners page welcome