Freestanding and insert fireplaces guide, Home heating advice, House interior tips
How to Choose Between Freestanding and Insert Fireplaces
13 July 2021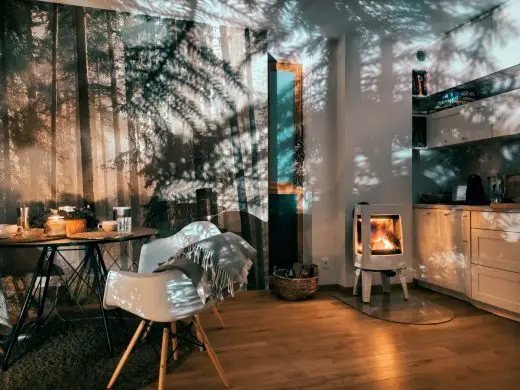 Fireplaces have been a part of home design for centuries. The need to contain the fire used for warmth within the home necessitated the creation of a dedicated firepit. It was surrounded by bricks and a corresponding chimney leading up and out of the room for ventilation. Thus the fireplace was born.
Over time, fireplaces have only continued to gain popularity. Furthermore, they have become the symbol of comfort, wealth and well-being. Fireplaces remain relevant only because their construction and design have evolved in tandem with emerging technologies and shifting home specifications. Modern fireplaces take advantage of the improvements made to home heating technologies to create functional and aesthetically pleasing devices.
In addition to design changes, fireplaces are no longer entirely confined to the wall. Some models are freestanding. This addition presents broader opportunities for you to find the type of heater that works best for you, be it insert or freestanding.
Here is some more information about freestanding and Insert fireplaces to help inform your decision.
Inbuilt Fireplaces
Whenever a fireplace is mentioned, this is what comes to mind. Inbuilt fireplaces are based on the conventional brick chimney design, although there have been significant changes over the years.
Inbuilt fireplaces also fall into two categories: fireplaces and inserts.
Inserts are designed to fit into an already existing brick chimney. In essence, they are fireboxes shaped to fit snugly into space under a chimney. Once installed, fireboxes create a seal that immediately and significantly increases the efficiency of your existing fireplace. Additionally, the fire remains contained behind a screen, creating a slow combustion functionality. This feature causes the fire to burn longer with higher heat outputs. Try to locate a fireplace repair near me.
Fireboxes allow for the use of gas or wood according to your preference.
Alternatively, fireplaces are installed into a timber frame during the construction of a new home or extensive renovation. Since they are put in place at the same time as the walls, you get to choose where to direct the flue termination- vertically in the traditional fashion or out through an external wall for easier installation.
Some inbuilt fireplaces have additional features like blower motors- a device that forces heated air into the room for added efficiency. Others have thermostats with adjustable temperature gauges and remote controls for maximum convenience.
For many homeowners, the appeal of inbuilt fireplaces lies in their aesthetics. Their appearance closely resembles fireplaces as they were initially designed. Therefore, it is often easier to style and design the room around the fireplace. You can check: Buck Stove Model 91.
Freestanding Fireplaces
As mentioned above, freestanding fireplaces are designed to operate away from the walls. Therefore, they are positioned where you decide it is best. The only caveat is that the space you select must allow warmth from the heater to reach every corner of the room. Furthermore, it must have ample separation from other objects to prevent fire hazards. Finally, since freestanding fireplaces do not 'interfere' with walls, they are cheaper to install than inserts.
Freestanding fireplaces can either be wood-burning or gas. Gas models are preferable if you want further freedom to choose the direction of the vent. However, the wood-burning types require vertical vents, without exception.
The most significant benefit of freestanding fireplaces is their ability to heat the entirety of a room evenly. The exposed firebox facilitates this capability; it allows heat to radiate away from the source in all directions. Moreover, freestanding heaters are very efficient heat producers. They are also easy to use and environmentally friendly. Finally, they come in a range of sizes to suit different spaces, allowing you to ensure maximum efficacy upon installation.
When you select a freestanding fireplace, you don't have to be limited to just one- unless you can find a place central enough to allow the heat to move through more than one area. Instead, you may have to consider purchasing and installing multiple units to fill the heating demands of more than one room within your home. This requirement will have a significant impact on the budget you have allotted to the project.
Regarding aesthetics, freestanding fireplaces tend to be better suited for homes with more traditional designs. However, a bit of creativity can go a long way toward making them compatible with contemporary alternatives.
Hopefully, all this information sheds enough light on the differences between freestanding and inbuilt fireplaces to help make selection easier. If you need more information, contact your local heating experts to get a professional's advice. Soon, you will be basking in the warm, cosy glow of a roaring yet soothing fire.
Comments on this freestanding and insert fireplaces guide article are welcome.
Fire
Fire Posts
Fire Damage Restoration and Remediation
Safety Precautions Against Home Fire
Building Articles
House in Rostov-on-Don, Russia
Design: Architectural studio Chado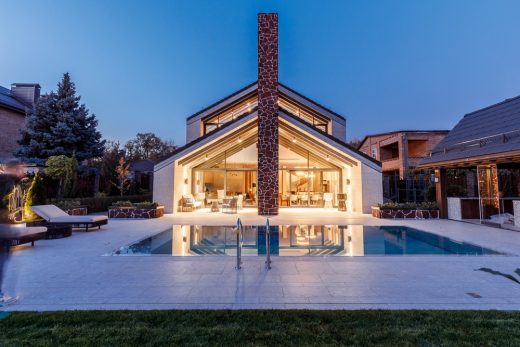 image courtesy of architects
House in Rostov-on-Don
The building symmetry is dynamically emphasized by a two-sided fireplace pipe.
Comments / photos for the Freestanding and insert fireplaces advice page welcome