Can wood doors be fire-rated guide, British Woodworking Federation rating, UK building compliance
Can Wood Doors Be Fire-rated?
27 Apr 2021
Fire-rated doors are an essential part of protecting residential homes and businesses.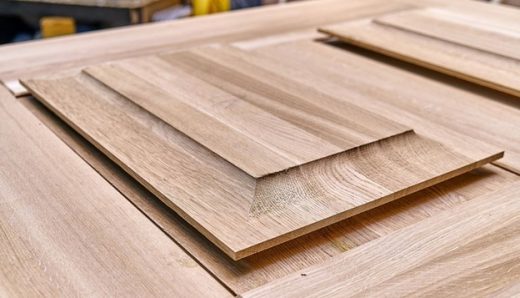 According to statistics, around three million new fire doors are brought and installed each year in the UK, helping to delay the spread of fire and smoke throughout buildings.
And people find it easy to complain about fire doors regularly; they're heavy and can quickly swing shut behind you when you leave a space.
But its heavy-duty composition and tight-seal closing features make it an effective tool to save lives and buildings from a fast-spreading blaze.
And with a fire door's main requirement being to prevent the spread of fire, many people question what type of option will be suitable for their property.
Can a timber or wooden door protect you from a blazing fire, if wood burns quickly?
Well, the experts at Eco Doors are here to help you discover what type of doors are fire-rated, and how you can ensure you're home or building is compliant.
Can Wood Doors Be Fire-rated advice guide
So, what is a fire-rated door?
A 'fire-rated', or 'fire-resistant' door, has been specifically designed to withstand and prevent the spread of flames and smoke.
When installed correctly, a fire-rated door is designed to ensure it does not combust earlier than the time frame of an average fire; from 20 to 90 minutes.
Across homes, the most common fire door is the 'FD30', a door designed to protect for around 30 minutes during a blaze, with all the sufficient ironmongery fittings.
Residential properties are advised to install fire doors where a higher risk is posed.
These areas include the kitchen, where ovens, cookers and other electrical appliances are located, and in bedrooms where there is more chance of overloading power sockets.
In new builds, developers will be expected to follow more up-to-date regulations surrounding fire doors, but of course, this may not have been the same for older properties.
In most cases, fire-rated doors are more commonly located throughout commercial buildings to protect the general public; whether they're at work, school or in a public place.
It has been agreed by law that all commercial buildings must follow the 'Regulatory Reform (Fire Safety) Order: 2005 (RRO) to ensure fire-rated door safety compliance.
How can a fire-rated door help during a fire?
If a fire was to occur in a property or building, the purpose of a fire-rated door is to perform two essential functions:
To act as a barrier to stop the spread of smoke and fire when closed.
And to provide an easy means of escape for occupants when opened.
With such an essential role in protecting lives and property, a fire-rated door must have specific features to work correctly.
If a fire door is found to be blocked, open or unable to close properly, this will essentially mean the door is not fit for purpose and non-compliant.
Fire-rated doors are fitted with an intumescent seal, expanding when temperatures of 200°C or above are reached.
This feature ensures there are no gaps between the door and frame, meaning no fumes or smoke can enter a space.
It is also essential that all fire-rated doors are tested to ensure compliance to BS 476 Part 22 or BS EN 1634 Part 1 standards.
We would always recommend professional installation of a fire-rated door to ensure they are fitted correctly and have all the necessary components to fulfil its purpose.
What are the different types of fire-rated doors?
There are several different types of fire-rated doors that are best suited to different locations and purposes.
For example, exterior fire doors are typically made from a plywood or composite core. In contrast, interior doors can feature clear or obscure fire glass to allow occupants to see through them.
Glass fire doors
As with fire-resistant wooden doors, you wouldn't immediately expect glass to provide adequate protection against fire.
But as technology has developed, fire-resistant glass has provided an effective solution for internal fire doors.
Standard glass would, of course, shatter under the intense heat during a fire. But fire-resistant glass is designed to withstand heat whilst allowing daylight in and increasing visibility through internal doors.
Any glass used for this purpose has to go through rigorous testing and must be certified as 'fire-safe', potentially withstanding temperatures of around 1600°F.
Fire-resistant glass doors are also classified through an 'E' grade rating; either 'E30', 'E60' or 'E120,' depending on the time frame it can successfully prevent the spread of fire and smoke.
The 'E120' rating is the highest fire-resistant glass rating and can provide up to 120 minutes of adequate protection against fire and smoke.
In full, the types of Class E ratings are:
Class E, which has 'integrity-only' performance, not preventing heat transmission, but can contain flames and smoke
Class EW, which provides integrity performance and a minor ability to be heat resistance
Class EI, offering the highest level of protection from fire, heat and smoke.
Timber fire doors
As mentioned earlier, timber fire doors are given an 'FD' rating, a grade used by the British Woodworking Federation to ensure that timber fire doors are compliant.
Most homes are recommended to feature, where necessary, an FD30 fire-rated door to provide at least 30 minutes of protection against fire.
FD60 fire-rated doors are also available for a higher level of protection and are typically used in areas that need to ensure equipment and important documents are protected.
All the necessary testing needs to be completed to ensure timber fire doors are compliant, as they will need to be monitored for:
Integrity failure, when cracks develop on the door due to the pressure of the fire, which can allow hot gases and smoke to pass through
Stability failure, when a door starts to collapse due to the pressure of the surrounding conditions
With various fire-rated door types, you must speak with an expert in the area to ensure your building or property is compliant to fire safety laws.
If you'd like advice or support on finding the right fire-rated door for you, the friendly team at Eco Doors is here to help.
We have been supporting the industry for over ten years, providing you with the expertise you need to ensure you find the right fire door solution for you.
Comments on this guide to Can wood doors be fire-rated tips article are welcome.
Doors
Doors Posts
How to add special features to your internal door
Door hardware to complement your architecture guide
Most Popular Door Styles for your Home
Building Articles
Residential Architecture
Comments / photos for the Can wood doors be fire-rated advice page welcome