Both-And Architecture, Architectural Article, Global Building Design News, Images
Both-And – Architecture Design
Architecture Design Discussion article by Brian Carter, Buffalo, NY, USA
3 Jul 2018
Both-And – Architecture
BOTH AND – The Monthly Report
Advocates for REPLACE and RESTORE lined up quickly after the recent fire at Mackintosh's School of Art in Glasgow. Yet the suggestions only provoke questions and highlight the need to consider different approaches.
'BOTH AND', an approach reiterated by Robert Venturi in the sixties, has a distinguished history in architecture and continues to prompt inspiring work. Carlo Scarpa's restoration of the Castelvecchio in Verona, Sverre Fehn's embrace of buildings as landscape, the Mound in Edinburgh and Toshiko Mori's additions alongside Wright and Rudolph are projects that readily come to mind.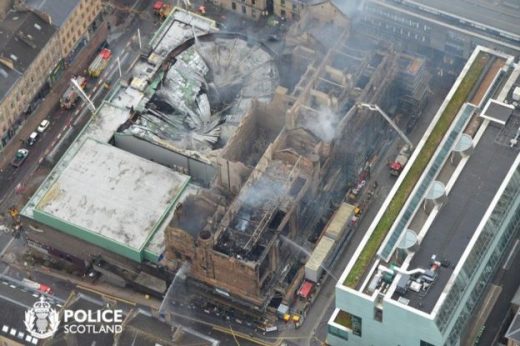 aerial photo courtesy of Police Scotland
And others follow – the heavy stones so thoughtfully re-assembled at Braga under the direction of Eduardo Souta Moura, Jeremy Dixon's discovery of lost space that subsequently provided an alternative view of the National Portrait Gallery, interventions at Berlin's Neues Museum and connections at the Royal Academy in London all demonstrate different yet inspiring approaches to design.
Each of these projects underlines the value of close scrutiny in contemporary architecture and considerations of historic buildings that can, in turn, inform a search for viable alternatives to simplistic recommendations to REPLACE or RESTORE.
Early in June I was a guest at the Glasgow School of Art celebrations to mark the opening of DEGREE SHOW 2018. It was a festive event and, with Mackintosh's building fenced, the Reid Building was a focus. Filled with students, friends and family, impressive student work and collections of china tea cups, the building provided a fitting backdrop for guests who spoke enthusiastically about the school and experiences there as designers, collaborators, researchers and sponsors.
The festivities also spilled out beyond the Reid Building. Music, conversations, parading and food filled Renfrew Street to create a truly civic school. Framed by the facades of Mackintosh and Holl, the union and a mundane Bourdon Building this vivid portrayal of the Glasgow School of Art in 2018 characterised that very particular school and the campus it is making at the heart of the city – a campus that clearly thrives on design and benefits from extraordinarily gifted students and faculty, a city that is rich with architecture, inspired administrators and committed patrons.
The Glasgow School of Art was founded in 1845 as one of four government institutions to improve the standard of design for British industries. In 1896 a competition organized to select an architect noted the Governors suggestion "that the architects permit themselves as much freedom of judgement as is compatible with the conditions". They subsequently appointed a young graduate to develop proposals.
The devastating fire that destroyed Charles Rennie Mackintosh's Glasgow School of Art building just a few days after the opening of the 2018 Degree Show was an event of local, national and global significance that now presents BOTH complex questions AND promise.
Brian Carter, a registered architect in the UK, is Professor of Architecture at the University at Buffalo, The State University of New York.



Brian Carter
Articles by Brian Carter – Selection
20 Nov 2013
Monumental shifts/New World Orders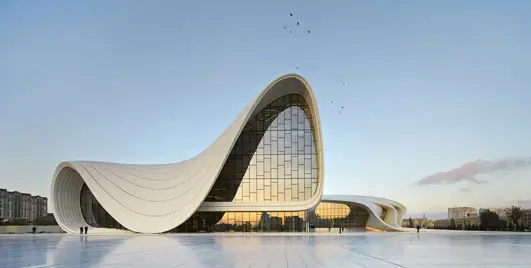 photograph : Hufton + Crow
Real Synthetic Architecture – 11 Dec 2012
Old World / New World Architecture – 9 Oct 2012
Performance Architecture – 9 Mar 2010
New York State Architecture Designs
Architectural Narrative : article by Trevor Tucker. 2 Mar 2010
Sustainable Building Design : article by Trevor Tucker. 18 Aug 2009
Comments / photos for the Both-And – Architecture Article by Brian Carter Article page welcome