Monumental Architecture, US Architectural Article, Global Building Design News, Images
Architecture Monuments : New Buildings
Design Discussion article by Brian Carter, Buffalo, NY, USA
20 Nov 2013
Monumental Buildings
Monumental shifts/New World Orders
This newsletter highlights monuments that define distinct shifts and clearly assign architecture as a marker of new world orders. Extraordinary images of completed buildings in Baku and Turkey, Taiwan, Panama, Padua, Leeds, New York and Moscow, are placed alongside promises of others that are yet to come in Stockholm and Glasgow. Many suggest that the monument is a vital part of the definition of modern architecture in the new international style of the 21st.century.
Heydar Aliyev Centre Building, Azerbaijan
Design: Zaha Hadid Architects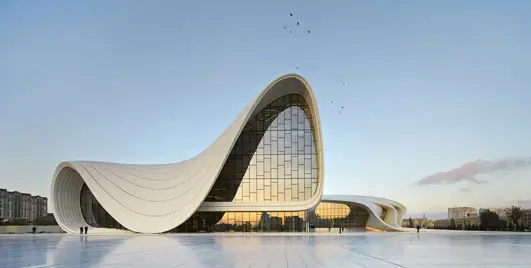 photograph : Hufton + Crow
The apparently seamless skin and vast sculpted whiteness of the new Heydar Allyev Centre Building in Azerbaijan apparently signifies modernization and a development that heralds an alternative to the planning of an earlier Soviet era as well as a response to the sensibilities of Azeri culture. At the same time, the award of a major architecture prize in Taiwan projects a gigantic colonnade, doubled in size thanks to the mirror flat surface of an expansive lake seemingly high-jacked from the corporate headquarters era of sixties America, to define the new Water Moon Monastery. This is a project that appears to have little in common with traditions of humility or historical building types.
Taiwan Architecture Awards 2013 : Water Moon Monastery Building wins overall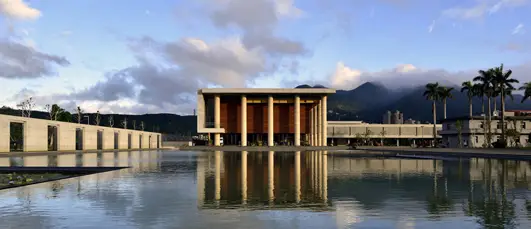 photograph courtesy of Artech Architects
These supersized projects and their assertive bigness are viewed alongside a heavy stone tower devised to define a summer house in Turkey's villa country and an eclectic collection of global towers that signal the importance of more than height. The world's most colourful towers promise an "end to grey monotony".
They present a wild collection of baked-on hues, rusted outcrops and startling skyline graffiti that, at the same time, emphatically mark out conspicuous piles of real estate investment. Perhaps this interest in the ambitious use of colour could be directed in future to map out the city, trace subway lines or define new 'green zones'?
Wulai Parking Structure: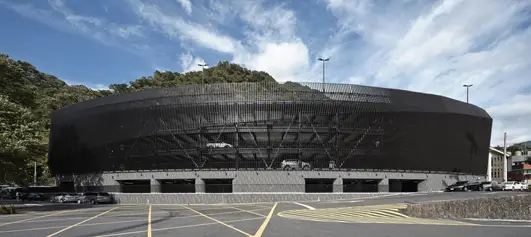 photograph courtesy of Q-Lab Design
And what of the Wulai Parking Structure? With its shrouded stadium-like form and location in the traffic this project appears to create another monument. This particular celebration of the internal combustion engine perhaps offers a new world alternative to the vast glassy sheds designed for Henry Ford by Albert Kahn that and now stand eerily quiet in Detroit?
The College of Social Sciences of National Taiwan University by Toyo Ito (building in front):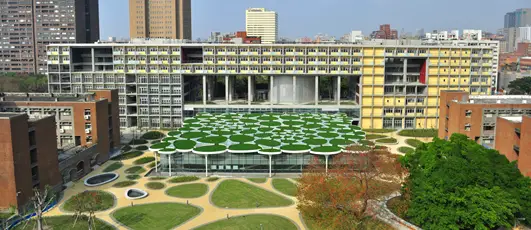 photograph courtesy of Toyo Ito & Associates
And it is America's industrial mid-west heartland that also seems to have provided inspiration for Toyo Ito. Frank Lloyd Wright's grand work hall designed for the staff of Johnson's Wax in Racine comes to mind after that first glimpse of the forest of circular landscaped roof terraces that define another green zone – the College of Social Sciences at the National Taiwan University!
For many of these projects big clearly seeks to reference the best while the authority of monumental architecture and the emphatic statement appears to be a basis of new world orders.
Brian Carter, a registered architect in the UK, is Professor of Architecture at the University at Buffalo, The State University of New York.



Brian Carter
Articles by Brian Carter – Selection
Both-And – Architecture – 3 Jul 2018
Real Synthetic Architecture – 11 Dec 2012
Old World / New World Architecture – 9 Oct 2012
Performance Architecture – 9 Mar 2010
International Architectural Designs
New York State Architecture Designs
Maggie's Nottingham, Central England, /uk
Design: CZWG Architects
Maggie's Nottingham Cancer Caring Centre
Architectural Narrative : article by Trevor Tucker. Mar 2010
Sustainable Building Design : article by Trevor Tucker. Aug 2009
Comments / photos for the Monumental Architecture Article page welcome