Real Architecture, Architectural Article, Building News Review, Design, Images
Real or Synthetic Architecture : Buildings
Architecture Discussion by Brian Carter
11 Dec 2012
Performance Buildings
Real or Synthetic?
It is predictable that the Tile of Spain Awards would flush out buildings, most likely in Spain and covered with tiles. However it is encouraging to discover this real material, made from the earth and showing traces of the hand, used to reclaim buildings for education in Cadiz and Granada and lining civic space in Almazan.
Tile of Spain Awards for Architecture and Interior Design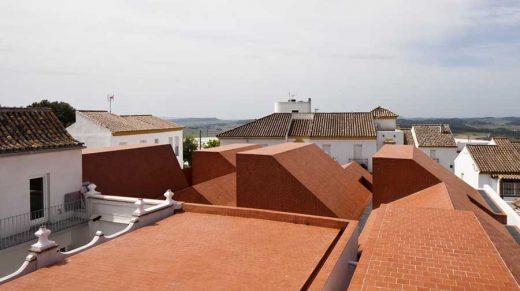 photo : Fernando Alda
El Nogal campus in Colombia presents a stark contrast. Defined by a seemingly endless skin of bright green fins and stark white projecting boxes it seems to celebrate the synthetic and prompt questions including "what is this?" as well as "can it be real?"
Universidad EAN, Bogotá, Colombia



photograph : Rodrigo Dávila
Other images, like those of a proposed Kunsthalle in Frankfurt, are more obviously synthetic. They also helped win the day by successfully transforming an idea into a commission that will hopefully become a completed building in a newsletter coming soon.
And then there is concrete. However the particular mix in Argentina has been folded up, layered and perforated almost beyond recognition. These shifts that combine to form the Civic Centre at Cordoba are made all the more confusing by notes that confirm "it will be the first" placed alongside strikingly vivid images which suggest that the centre is already open and ready for business! Is this real material making real spaces in real time or merely another space in an increasingly synthetic world?
Bicentennial Civic Center in Córdoba, Argentina



photo from architect
The combination of synthetic materials and eerily realistic images of buildings and cities for tomorrow brings to mind a memorable Buffalo lecture when Peter Eisenman first suggested that all hand held devices in the room be switched off to enable the audience to focus on "being present in the present". Meanwhile in the city and across the globe the trace of the hand can be more readily detected in some places but not others.
And, while the Great American Building Award is a tower that seeks to define a Queen City Square in Cincinnati, its bulbous glassy top, hoisted high above the city, appears to have been designed to attract attention from afar. It is a building that projects a radically different view of the city than the beautifully paved spaces of Plaza Mayor or that street arcade that promises intense civic life in Amsterdam and the new Vodafone Headquarters.
Great American Tower Cincinnati, Ohio, USA



photograph © Sam Fentress, Courtesy of HOK
Vodafone HQ Amsterdam, Holland



photo from architect
Brian Carter, Professor of Architecture at the University of Buffalo, The State University of New York, NY, USA



image of Brian Carter
Brian Carter
Comments on this Real or Synthetic Architecture article are welcome.
Articles by Brian Carter – Selection
Architecture as Spectacle – 18 Oct 2011
Performance Architecture – 9 Mar 2010
International Architectural Designs
New York State Architecture Designs
Architectural Narrative : article by Trevor Tucker. Mar 2010
Sustainable Building Design : article by Trevor Tucker. Aug 2009
Comments / photos for the Real or Synthetic Architecture Article page welcome