Professor Brian Carter USA, Buffalo Architecture Writer, New York Building Design, USA Projects
Professor Brian Carter, Buffalo
post updated 30 Jan 2021
Regular Guest Editor at e-architect – architectural articles
Professor Brian Carter
Professor Brian Carter


image of Brian Carter
Brian Carter, Professor and Dean of Architecture at the University of Buffalo, The State University of New York and a registered architect in the UK, recently visited RMIT and was an invited participant at the Inveresk Design Forum in Australia.
Architecture Articles by Professor Brian Carter
Architecture Articles by Professor Brian Carter, chronological:
Both-And – Architecture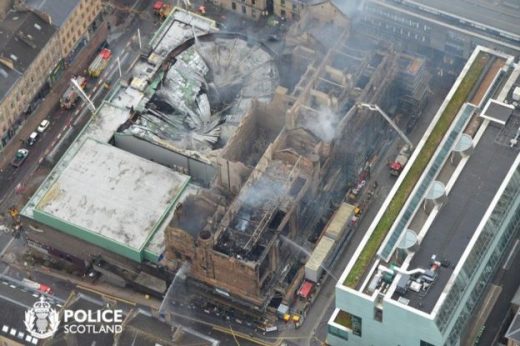 aerial photo courtesy of Police Scotland
Both-And – Architecture – Jul 3, 2018
Advocates for REPLACE and RESTORE lined up quickly after the recent fire at Mackintosh's School of Art in Glasgow. Yet the suggestions only provoke questions and highlight the need to consider different approaches.
Monumental shifts/New World Orders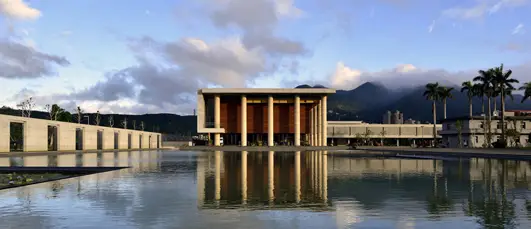 photograph courtesy of Artech Architects
20 Nov 2013
Monumental Buildings
The apparently seamless skin and vast sculpted whiteness of the new Heydar Allyev Centre Building in Azerbaijan apparently signifies modernization and a development that heralds an alternative to the planning of an earlier Soviet era as well as a response to the sensibilities of Azeri culture. At the same time, the award of a major architecture prize in Taiwan projects a gigantic colonnade, doubled in size thanks to the mirror flat surface of an expansive lake seemingly high-jacked from the corporate headquarters era of sixties America, to define the new Water Moon Monastery
Facts stranger than fiction?



image © AllesWirdGut Architektur
22 Jan 2013
Facts stranger than fiction?
Architecture originates in fiction – a mix of responses to people, places, things and ideas combined with the beliefs of designers and aspirations of clients – which precedes a building. So the glassy new corporate headquarters for WAZ which promises to hover over Essen, a strangely opaque language centre in Iceland, the showroom designed by Foster to fit into an existing building in New York and a proposed cancer centre planned by Behnisch in space fronting spectacular Swiss nature shown below are, as yet, accessible only through words and images.
Real or Synthetic?



photograph : Rodrigo Dávila
11 Dec 2012
Real or Synthetic Architecture
It is predictable that the Tile of Spain Awards would flush out buildings, most likely in Spain and covered with tiles. However it is encouraging to discover this real material, made from the earth and showing traces of the hand, used to reclaim buildings for education in Cadiz and Granada and lining civic space in Almazan.
OLD WORLD/NEW WORLD



photograph from architects
9 Oct 2012
Old World / New World Architecture
The awards from the 2012 World Architecture Festival define a new world with startling clarity. Here the old worlds of Europe and North America which were so fundamental to the creation of modern architecture are hazy. They are represented by just a handful of projects while Asia and the Far East predominate as the focus of alternative design thinking.
2012 – another year of architectural exhibitions?



photo : Thies Wachter
16 Jan 2012
Architectural Exhibitions
In a year characterized by extraordinary chaos and sweeping devastation across landscapes, economies and families alike perhaps it seems surprising to suggest that 2011 was the year of architectural exhibitions.
Unlike painting, sculpture, music or theatre where the sound, colour, shape and feel of the creative act are placed directly in front of an audience – exhibitions of architecture, even at the best of times, seem to rarely present architecture. Instead they more often than not offer just a whiff of the action through different assemblies of models, sketches, drawings and photographs that frequently remove all evidence of use, time, struggle, gravity, money, wind or weather.
Architecture as Spectacle



photo from Victoria Government
18 Oct 2011
Architecture as Spectacle
That struggle is perhaps most obvious if you were to compare the announcement of the latest award to AAMI Park in Melbourne with that same place seen a couple of weeks ago amidst a flood of blue, black and white as the Geelong Cats chased away the Collingwood Magpies in the 2011 Australian Rules Football League Toyota Grand Final. For while this recent monument by the Yarra recalls the enthusiasm for structure embodied in much of the work of Cox Architecture the introduction of a surprising bubbly canopy also makes it a strikingly different project.
Performance Architecture



photograph : Francisco Urrutia
9 Mar 2010
Performance Architecture
Performance is increasingly a focus of architecture. Prompted by genuine curiosity and an increasing urgency to know how the design of buildings can help to improve environmental conditions it is an interest that is also being fuelled by new technologies that enable spaces and systems to be monitored more effectively.
More Architectural Articles by Professor Brian Carter online soon
Reflections on Glass Boxes



photo : Biff Henrich / courtesy MHRC
A Talk by Brian Carter about The Martin House Complex, Buffalo, New York, USA
UB School of Architecture & Planning
Location: University at Buffalo, The State University of New York, United States of America
Architecture in USA
Contemporary Architecture in USA
New York State Architecture Designs
Architectural Articles on e-architect



photo : Ángel Navarrete
Website: Architectural Walking Tours
Comments / photos for the Professor Brian Carter – Global Architectural Issues article page welcome