Attractive alternatives for built-ins and cabinets, Home trends 2023, Interior design advice, Real estate finance tips
Attractive Alternatives for Built-Ins and Cabinets – Home Trends 2023
24 Aug 2023
Cabinets and built-ins may be ideal for storing or displaying items in your home, but there are many other attractive alternatives that you could consider to freshen your space and ensure your home's décor is up to date with the latest trends.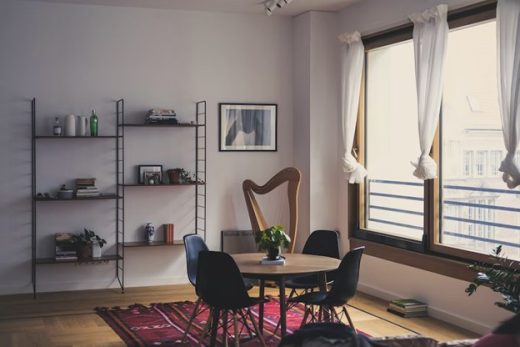 So, here are some alternatives that are on trend in 2023 that you will want to consider.
Industrial Metal Shelving
When looking to refresh your home, why not consider industrial metal shelving?
It offers a modern twist to traditional wooden cabinets. And in recent years, it has gained popularity due to its versatility, durability and stylish but rugged appearance.
Vintage Sideboards
Vintage sideboards have started becoming fashionable in recent years, so they could be an excellent choice for your space. They add charm and personality, making each room feel unique and warm.
Wicker Baskets for Storage
One trend that has caught our eye is the use of wicker baskets for storage. They provide a rustic yet fashionable touch to any room. Plus, they are practical – ideal for storing anything from blankets to toys. And if storage is a top priority, check out these other storage ideas to fit more into your home.
Floating Shelves
Floating shelves have been a hot trend lately because they offer an airy look in your living space while still providing necessary storage spots.
Crate Shelving Units
Crate shelving units are also a recent trend. Offering a minimalist style, these units can be stacked or arranged in ways that best fit your space.
Ladder-style Racks
For those keen on maximising vertical space, ladder-style racks are another attractive alternative to conventional cabinetry. They play off height very well, adding visual interest to your interiors.
Custom-made Furniture
Should you have specific design requirements, going for custom-made furniture might be your best bet. This allows you to maximise your space in style and ensures you tailor your home to your personal preferences.
Leaning Shelf Units
Another chic and space-smart solution for modern homes is the use of leaning shelf units. These are a fantastic option if you are looking to mix style with sensible storage.
Leaning shelves do not require permanent installation, which makes them ideal if you are into regularly changing your decor or if you live in a rented property. With an array of widths and heights to choose from, they can fit virtually anywhere from a compact spot between windows to larger wall spaces that need some attention.
The best part is their flexibility. You can use these shelves to display books, plants, family photos or even store shoes and bags!
Pallet Wood Cabinets
If you are a DIY enthusiast, building cabinets out of pallet wood is a sustainable and stylish option that you might like to consider. Offering that raw and rustic appeal, these additions fit really well in country-themed or bohemian-style homes.
Modular Storage Systems
Modern modular storage systems are popular for their versatility and chic look. You can alter them according to your needs and they suit almost any room in the house.
Ottoman Furniture with Hidden Storage
Ottoman furniture with concealed storage is one latest trend that stylish homeowners are embracing. Perfect for smaller spaces where every square inch counts, Ottomans offer an ingenious solution to stow away items without adding any unwieldy cabinet structures around your living spaces.
Wall-Mounted Media Consoles
Perfect for today's sleek flat screens, wall-mounted media consoles are an excellent alternative to old-style TV cabinets and traditional built-ins. You have probably seen wall-mounted media consoles at a friend's place or in modern office layouts, but they are equally attractive and functional in a home setting.
The charm of these consoles lies in their neat, streamlined appearance. They appear to float against your wall, completely eliminating the bulk of standard TV cabinets. Though, you should consider getting a professional to mount your TV because mounting requires precision and expertise to ensure it is safe and secure.
Look for professional metres in your local area. For instance, this expert TV mounting in Houston could be ideal for your needs. Smartly designed with adequate compartments for peripheral devices and cord management systems, these consoles keep cable clutter out of sight.
Plus, they are aesthetically versatile. They are primed for decoration with photo frames, indoor plants or accent lights, for instance. So, you can turn a typically tech-heavy area into an elegant display spot.
The Takeaway
Crafting an attractive alternative to built-ins and cabinets starts with understanding your space and personal aesthetic. Remember, the best option is not necessarily the trendiest one but rather one that meets your needs and appeals to your individual taste.
Comments on this Attractive Alternatives for Built-Ins and Cabinets – Home Trends 2023 article are welcome.
Cabinets
Cabinet Doors Posts
Do custom cabinets make your home more convenient?
White Shaker Cabinets for your Remodel
Extend Kitchen Cabinets to the Ceiling
Education Buildings
Education Building Designs – architectural selection below:
Syvälahti Education Centre, Turku, Finland
Design: Verstas Architects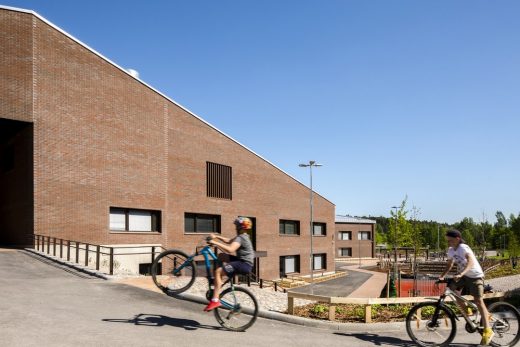 photograph : kuvio.com
Syvälahti Education Centre Turku
The University of Hong Kong Medical School Building, Li Ka Shing Faculty of Medicine, 21 Sassoon Road, Sandy Bay, HK
Design: Atelier Nuno Architects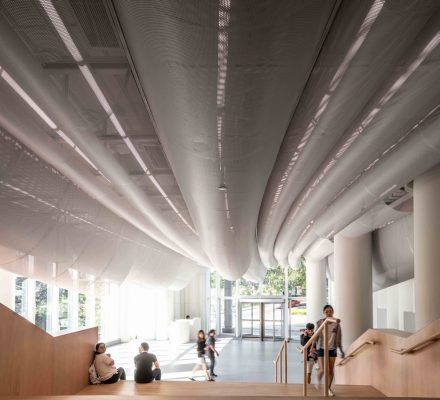 photo : Edmon Leong
The University of Hong Kong Medical School
Comments / photos for the Attractive Alternatives for Built-Ins and Cabinets – Home Trends 2023 page welcome