White Shaker Cabinets Remodel Advice, Home Decor Tips, Property Online Style Guide
White Shaker Cabinets: The Clear Choice for your Remodel
9 Apr 2021
The Shakers were a group of people dedicated to quality craftmanship: woodworking skills, expertise, and simple yet attractive design in their carpentry. Shaker-style cabinets, influenced by these early works, are still a hit today. The style is ageless and meshes with almost any kitchen layout and design. Shaker cabinets are one of the most adaptable options on the market, and white versions of this cabinetry even more so.
What is so Great about Shaker Cabinets?
The Shakers trusted in simplicity, dedication, and a belief in hard work, and displayed this in their designs. Modern high-quality Shaker cabinets adhere to this original concept. These cabinets persevere through fads and trends, and please both fans of contemporary and traditional kitchens and styles. Clean lines and simple trims balance today's avant-garde kitchens. High-tech appliances and futuristic, unconventional accents work well with Shaker cabinets. With a blank canvas to work with, designers can add stylish flairs to their kitchens while still holding on to that trusted Shaker look.
Another advantage to these cabinets is they are often more cost-effective than many other types of cabinetry. You can put those savings into other parts of kitchen remodels or updates. You can piece together your dream kitchen at a reasonable cost without giving up on quality. If you are stuck where to look for Shaker cabinets, try the folks at Walcraft Cabinetry or another seller that you trust.
Shaker cabinets have simple lines and geometric edges. This design adds to the visual illusion of height and depth in your space, as long lines create a sense of airiness and room. The humble appearance and style of Shaker cabinets work with any variety of counters, appliances, and accents. You can also play around with different grains, materials, and handles, while highlighting the proven form of the Shaker style.
So, Why White Shaker Cabinets?
White has been the leading color of choice for kitchen cabinets for many years. A lot of modern kitchens are open and bright, and your furniture color scheme can affect this look. White cabinetry lends itself to an expansive feel. It gives a clean, crisp look, and supplies a neutral foundation for any creative goals you have in mind. Simple kitchens are in favor, and white cabinets can help you achieve that goal.
White cabinets can also make a kitchen brighter and lighter. High-quality cabinets last years, and they will supplement any appliances that you purchase in the future.
The Clear Winner
The superior quality of materials and style of Shaker cabinets, combined with the color white, will prove to be a success in your kitchen. Enduring and flexible, these cabinets will easily bring your kitchen a sense of life. If you are searching for cabinetry that will stand the test of time, white Shaker cabinets are a reliable choice. Many homeowners want a cabinet style that is sleek, appealing, dependable, and well-made. White Shaker kitchen cabinets cover all of these checkpoints, and you can trust in them for any remodel you have in mind.
Comments on this guide to White Shaker Cabinets Remodel tips article are welcome.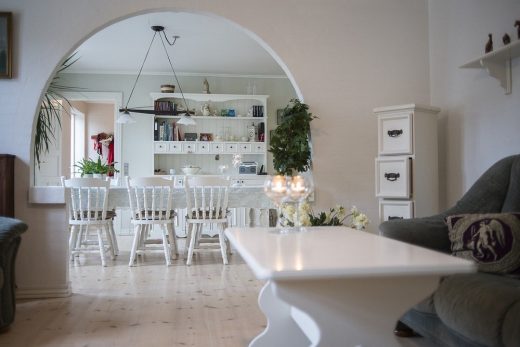 Cabinet Doors
Cabinet Doors Posts
Do custom cabinets make your home more convenient?
Building Articles
Residential Architecture
Comments / photos for the White Shaker Cabinets Remodel Guide page welcome