Architecture Visualization, 3D Architectural Rendering, Building Design CGIs
Architectural Visualization
CGI Architecture Rendering : Lumion 2.5 software article
post updated 27 June 2021 ; 17 Aug 2012
Architect Visualization
With the new Lumion visualization software, architects can finally render walk-through videos in minutes.
Architectural Visualization article
We have heard it all before:
"Visualization takes too much time with slow work-flow and complicated software." "It takes weeks to render a walk-through video." "Visualization is for CG artists and 3D designers, not for real architects." "Clients will not pay for the time it takes to make a walk-through video."
See how easy you can render scenes like this in minutes!
With the release of Lumion 2.5, over 70.000 architects around the globe have started using Lumion for visualization. Even children can do it you will see in the interview below.
Lumion CGI architectural visualization rendering: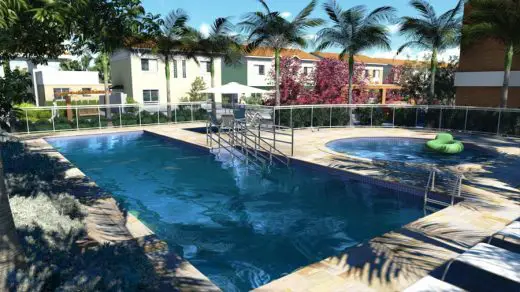 picture © Lumion
How is it possible?
Because you do not need to read any instruction manual and you do not need pre-training to render videos. Architects will get good results even the first time they use Lumion because of the real-time editing and intuitive functionality.
Short facts about Lumion
● Render times for HD videos are down to 3-5 seconds – GPU NVidia 460GTX or ATI 5850
● More than 2300+ entourage models, high quality foliage and materials included
● Easy to use interface
● Import any model from any modeling software, Revit, ArchiCAD, AutoCAD, 3D Studio Max etc
● Functions: Night renderings, water, lights, moving clouds and animations +++
Architectural visualization render using Lumion: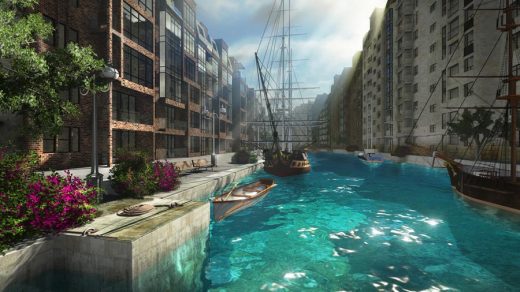 picture © Lumion
Easy to learn interface. Click-and-drag to edit everything
Even children can render walk-through videos with Lumion:
This is an interview with two 15 year old boys that surprised the professional Lumion user forum with their contribution: a self modeled school project in SketchUp with a fly-through rendered in Lumion.
(Source: http://lumion3d.com/forum/gallery/hotel-project-with-lumion-free/)
Bjarne van der Drift and Sander Broekman goes to the high school Het Vlier in the Netherlands. And the first question that came to mind was, why did two 15 year old boys make a hotel visualization?
"We had a project at school, to make a hotel concept, to calculate finances, design, marketing plans and all. So we decided to model a complete hotel on our own." Bjarne says.
80 hours modeling in Sketchup, 4 hours visualization with Lumion
Bjarne and Sander spent 80 hours of modeling in SketchUp and had only two days to make ready a presentation of their hotel project. They spent a day to search for any way to make pictures or video, and came over a hotel video on YouTube rendered in Lumion. Luckily Lumion has a free version and the boys spent 4 hours of setting up the scene in Lumion and finding the best camera settings.
"It was quite easy to just start the work with Lumion. Adding materials, water, glass and the people took no time to do. Finding the best camera angles was what we spent more time on." says Bjarne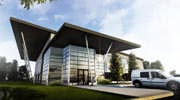 picture © Lumion
Best in class – wants to become an architect
And the result was a 3 minute fly-through of Hotel Poseidon. The camera usage is exciting and the hotel an interesting piece of work with lots of entourage models to make it alive.
So what did the teacher say?
"He had to make the school principal come to class and see what we had done. We got the best presentation grades of our class and are really happy with that, and the other pupils could not believe that we made it ourselves. With that and this interview we really are motivated to follow our dreams."
And those dreams are?
"Bjarne wants to become an architect and I want to create interior concepts." Sander proudly states.
Is this what architects need to start doing it themselves
In just four hours, two 15 year old boys setup, visualized and rendered a 3 minute walk-through video with Lumion. Surely this is revolutionary good news for architects world-wide?
Here you find the video example how to use Lumion as an architect: www.Lumion3d.com/revit
A new beginning for architects, show your work to the world the way it deserves to be presented.


picture © Lumion
Comments for the Architect visualization revolution – Lumion visualization software page welcome
Location: Schipholweg 11-F, 2316XB, Leiden, the Netherlands, Europe
Recent articles for e-architect
Architectural Articles on e-architect : Selection
Contextual Architecture : article by Roland Wahlroos-Ritter
Cultural and Contextual Identity : article by Nigel Henbury
Property Articles
Comments / photos for the Architectural Visualization – Architecture Rendering page welcome