World Building News 2017, Architecture across the Globe, Architectural Designs, Property Projects
Architecture News 2017: Buildings
post updated 12 July 2021
For the latest news see our homepage.
Architecture News – current archive
This page shows a selection of picks by Editors Isabelle and Adrian from our daily postings:
Architectural News in 2017
Key Building News 2017 from around the world – Headlines
7 Dec 2017
20 Ropemaker Street Offices, London, UK
Architects: Make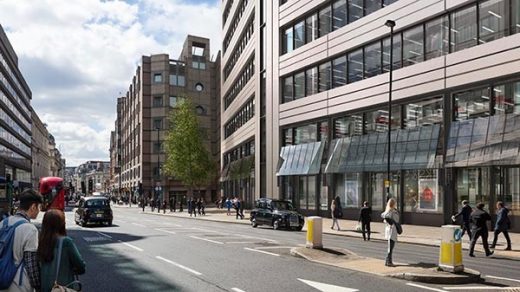 image courtesy of architects office
20 Ropemaker Street Offices
Planning consent granted unanimously by the Borough of Islington for this commercial tower building proposal. It marks the corner of Ropemaker St and Finsbury Pavement.
21 Nov 2017
Norton Folgate City Continuity Community in Spitalfields, London, England
Design: Burrell Foley Fischer Architects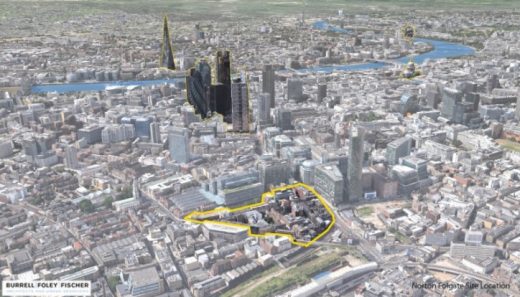 image courtesy of architects
Norton Folgate Spitalfields Buildings
2017 IMCL Honor Award, Proposed Project – City Continuity Community
10 Nov 2017
Bora Residential Tower, Santa Fe, west of Mexico City
Design: Zaha Hadid Architects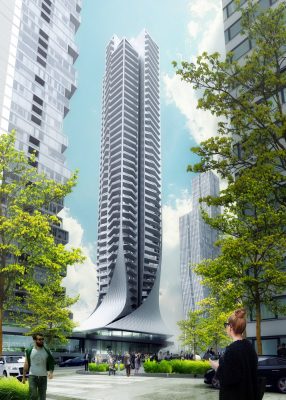 image : LabTop, courtesy of ZHA
Bora Tower Building
Construction works start on this building in Santa Fe, a key business district in the Mexican capital city, for over 220 apartments. With over 50 floors, the new building will be the highest residential tower in Mexico City.
15 Sep 2017
Tom Patterson Theatre, Stratford, Ontario, Canada
Design: Hariri Pontarini Architects



image Courtesy of Hariri Pontarini Architects
Tom Patterson Theatre Building
The Stratford Festival invited 50 international architects firms to submit their credentials. The committee then selected 8 architects to be interveiwed. Four architectural teams were then shortlisted and invited to take part in this architecture competition.
14 Sep 2017
Snowdon Aviary Renewal, London Zoo, England
Design: Foster + Partners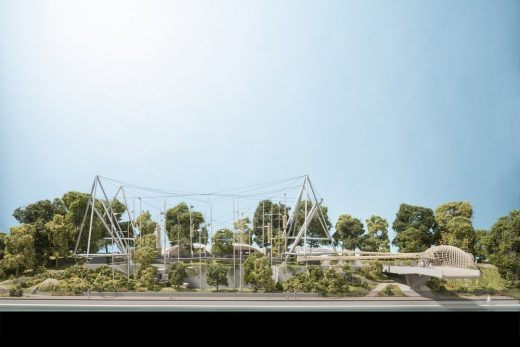 photo © Tom Miller
Snowdon Aviary Building Redevelopment
Renewal proposal for this Grade II* listed structure, originally designed by architect Cedric Price with Frank Newby and Lord Snowdon in 1962. It was the first British aviary in Britain with a 'walk-through' format. The structure is located on the north side of a canal in the north west of the British capital city.
Up-Cycled Warehouse in Melbourne design by Zen Architects article posted on 4 Aug 2017 by Editor Isabelle Lomholt
11 Aug 2017
De Verkenner Tower, Utrecht, The Netherlands
Design: Mei architects and planners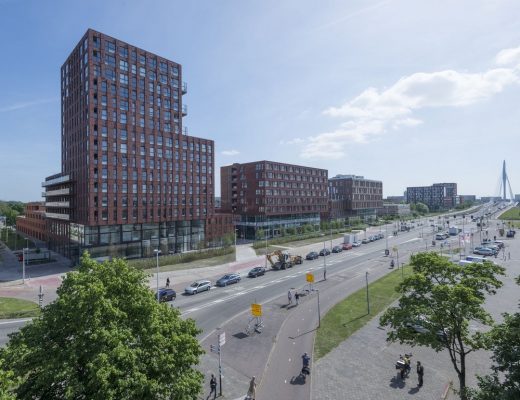 photo : Jeroen Musch
New Residential Building in Utrecht
Raising the game in mass housing with 'Roses and concrete' artwork and poem and an elegant, colourful façade of balconies. The 'gatekeeper' project is located in the post-war district of Kanaleneiland.
3 Aug 2017
Graham Foundation Grants 2017
Graham Foundation Announces 2017 Grants to Organizations Over $400,000 awarded to organizations supporting innovative and challenging ideas in architecture.
Fnded projects include exhibitions, events, research projects, publications, and site-specific installations and performances.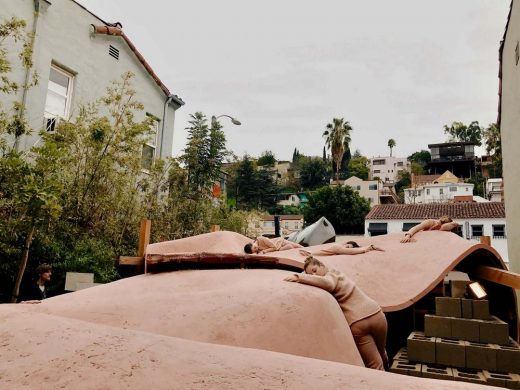 photo – Gwyneth Shanks, From Above Looking Down, 2017, Los Angeles. Courtesy the artist. From the 2017 organizational grant to Materials & Applications for "Privacies Infrastructure"
Graham Foundation Grants 2017 News article posted by Editor Adrian Welch
3 Aug 2017
Reale Group office building, Turin, Italy
Design: Iotti + Pavarani Architetti Artecna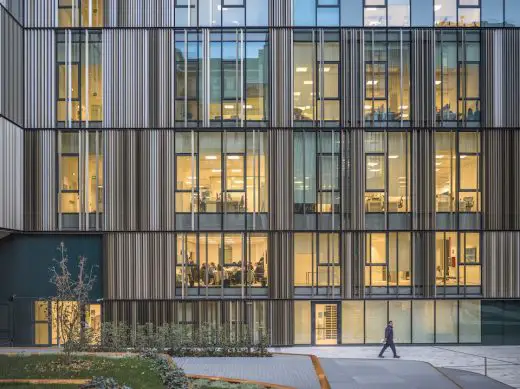 photograph : Fernando Guerra | FG+SG fotografia de arquitectura
Reale Group Office Building in Turin designed by Iotti + Pavarani Architetti Artecna article posted on 3 Aug 2017 by Editorial Assistant Cole Dean. The project was created by the engineer Roberto Tosetti from Artecna with the winners of this architectural competition. Reale Immobili ran the design contest back in 2013.
Architecture News from July 2017
30 Jul 2017
Salmiya Wind Tower, Kuwait City
Design: AGi architects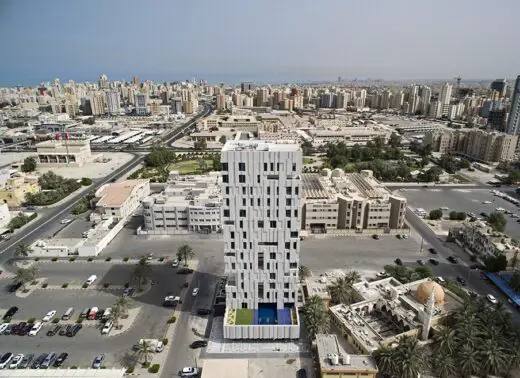 photo courtesy of this architects studio
Salmiya Wind Tower Building
Wafra Vertical Housing introduces a new concept to urban living, transforming the single family dwelling typology to adapt to 21st century living in this small Gulf country.
29 Jul 2017
The Boilerhouse, Royal Holloway, University of London, Surrey, England, UK
Design: Cartwright Pickard Architects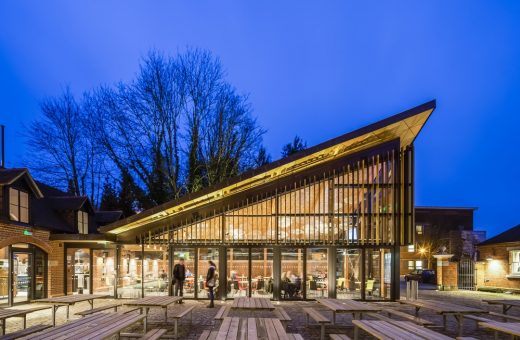 photo © Hundven-Clements
New Building at Royal Holloway, University of London
A new café pavilion and event space inserted into the original Boilerhouse complex courtyard serving the Grade I Listed Founders Building as well as the refurbishment of the original stable block into a seating and servery area.
22 Jul 2017
Contracts awarded for Palace of Westminster Building Renewal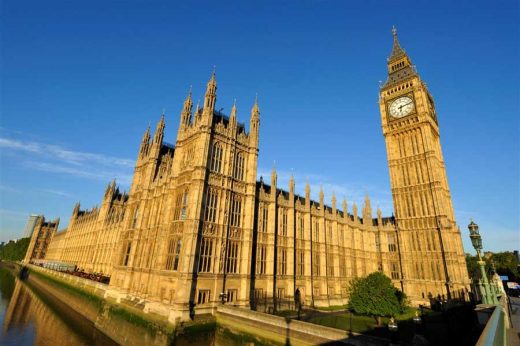 picture © Nick Weall
Palace of Westminster Building Renewal
In Lot 1 BDP beat HOK, Foster + Partners and Allies and Morrison.
CH2M Hill win for Lot 2, beating Aecom & Mace (Joint Venture), Capita Property Infrastructure & Gleeds Cost Management (Joint Venture), EC Harris (ARCADIS) and Turner & Townsend
Namdaemun Office Tower, Seoul, South Korea
Design: Mecanoo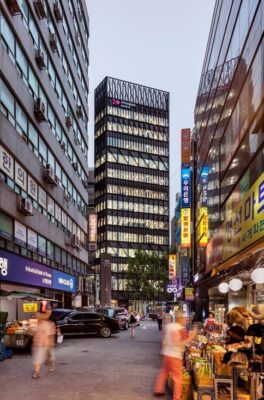 photo courtesy of architects firm
Namdaemun Office Building
25 Jul 2017 – The Namdaemun Office Building in Seoul is Dutch architectural studio Mecanoo's first completed project in the South Korean capital. Stark linear facade patterns make for a powerful architectural form.
Robarts Library Building, University of Toronto, Toronto, Ontario, Canada
Design: Diamond Schmitt Architects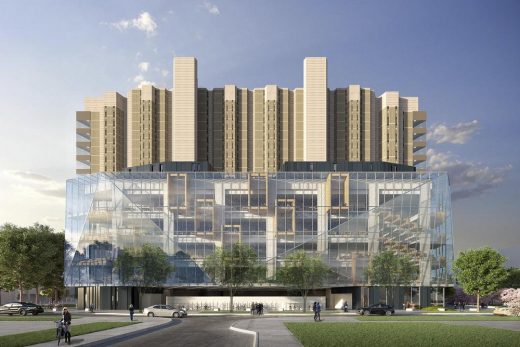 image courtesy of architects office
Robarts Library Expansion at the University of Toronto
24 Jul 2017 – A major expansion of the largest academic library in Canada. The University of Toronto will add 1,200 work and study spaces to the concrete Brutalist building.
Building News from June 2017
1 Jul + 30 + 29 Jun 2017
Tower Cladding Samples Fail Fire Safety Tests
137 cladding samples from high rise buildings have now failed fire safety tests carried out for the UK government by the The Building Research Establishment Ltd (BRE).
EVERY panel tested has failed the government's combustibility tests.
UK Tower Cladding Samples Fire Safety Tests News
Scotland is not included in the current testing regime but the Scottish Government is carrying out a similar review.
The British Government looks to be facing a cladding safety bill of around £600m after the Grenfell Tower fire.
Clearly those involved in the prcourement of UK buildings have focused too much on cost savings and not enough on building safety.
1 Jul + 30 Jun 2017
National Arts Centre Building, Confederation Square, Ottawa, Canada
Design: Diamond Schmitt Architects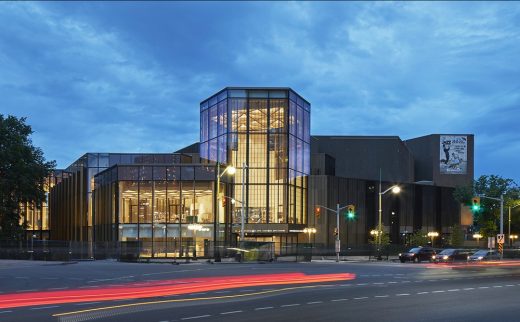 photo : Lisa Logan Photography
National Arts Centre Building News
Architectural News from March 2017
26 Mar 2017
St Michael's Manchester Development On Hold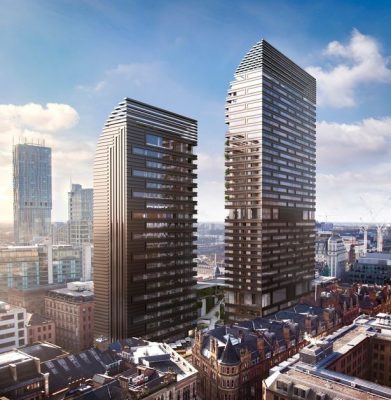 image courtesy of architectural office
St Michael's Manchester Development News
Manchester City Council confirms that former Man Utd footballers Gary Neville and Ryan Giggs have requested this major city centre scheme be put on hold.
Speaking at the MIPIM property fair in France, footballer-turned-developer Neville said he wanted the proposal to be more refined before ebing considered by MCC. The current design is by Make Architects, based in London.
Building News from February 2017
Feb 16, 2017
Workforce Housing Buildings, Newark, NJ, USA
Design: Richard Meier & Partners Architects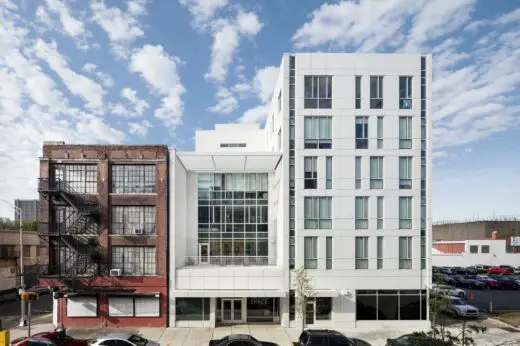 photo : Scott Frances
Teachers Village in Newark, New Jersey
Completion of three new Workforce Housing Buildings in Newark. These new buildings provide 123 residential units and a variety of retail spaces. Within the Teachers Village project, all buildings by this celebrated architecture office have been designed with open interior spaces full of natural light.
16 Feb 2017
Leeza SOHO, Beijing, China
Design: Zaha Hadid Architects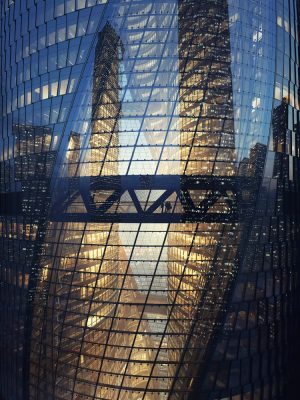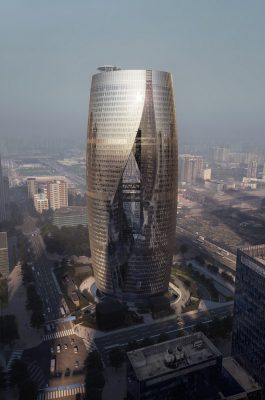 image courtesy of architects
Leeza SOHO
Within the Lize Financial Business District – a new business, residential and transport hub adjacent to Financial Road in southwest Beijing. The new building will be located at the intersection of Lines 14 and 16 currently under-construction for the Beijing Subway rail network.
16 Feb 2017
Eclipse, Amor de Perdição Square, Porto, Portugal
Architect: FAHR 021.3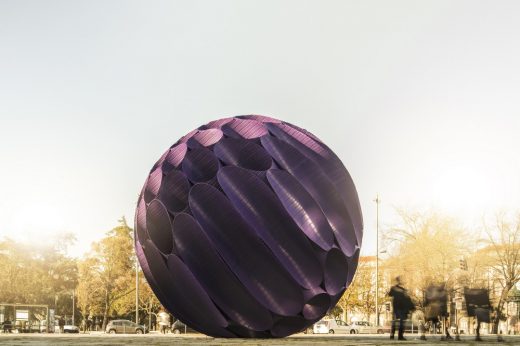 image courtesy of architects
Eclipse in Porto
This temporary installation celebrates the 20th anniversary of Porto's historic centre being classified as a UNESCO World Heritage site. The architecture studio FAHR 021.3 created a sphere that shifts the centre of the square towards its gravitational pull temporarily.
Recent Architecture News
Architectural News : selected buildings from around the world shown recently on the architectural news page
World Architecture Festival news : World Building of the Year Award
Zaha Hadid building news : Heydar Aliyev Centre, Baku, Azerbaijan – photos
Recent Architecture Articles
Original content on e-architect – Recent Archive:
Low-cost Housing for the Elderly
13 Oct 2013 by Joel Solkoff
Joel Solkoff looks at housing access issues, from the low proportion of housing that is wheel chair accessible to the requirement of elderly individuals to spiritually uplifting laces such as museums.
Morgan Library Disability Architecture, NYC, USA
24 Aug 2013 by Joel Solkoff
When I began this column I wrote: "The future of architecture is rapidly requiring you to redesign the world to meet the requirements of the largest generation in world history. Ours is an aging population in the process of developing disabilities–but a generation with the determination, education, political clout, and for many the wealth to live independently none-the-less."
Architecture Articles for e-architect
Buildings for the World Architecture News 2017 page welcome: info(at)e-architect.com