World Building News 2016, Architecture across the Globe, Architectural Designs, Projects
Architecture News 2016
Cross-referenced Architectural Resource : Major Building Updates from around the World
Architecture News from 2016
Architectural News from around the world in 2016
One Central Boulevard at Blythe Valley Park, West Midlands, central England, UK
Design: Webb Gray Ltd, Architects
Leading tile supplier Solus Ceramics has added a touch of sophistication to a brand new £5 million refurbishment project with the use of its stylish Hardline collection.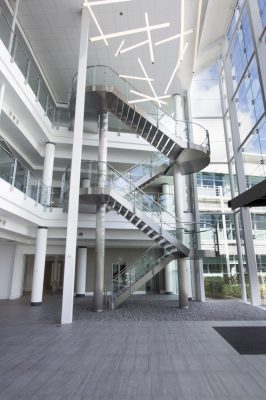 Previously known as The Phoenix Building on IM Properties' Blythe Valley Park, One Central Boulevard offers the largest available floorplates on the M42 corridor. Located in the heart of the UK, this new modern business campus boasts over 113,500sqft of space, which is surrounded by a stunning 122 acre country park.
One Central Boulevard at Blythe Valley Park – 11 Nov 2016
M Victoria Street, London, England, UK
Design: René Dekker Design Ltd
Leading tile supplier, Solus Ceramics has added a touch of flavour to the new M Victoria Street restaurant in London with the installation of its innovative Concreta, Porcelain Solid Basics, Porcelain Flare and Metaltone floor tile ranges.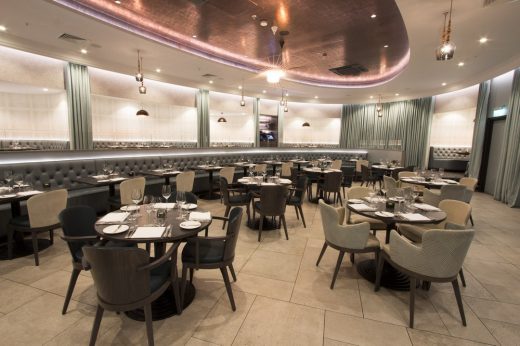 M Victoria Street is the second London restaurant venture from Martin Williams, following the success and wide acclaim of M Threadneedle Street in 2014. M Victoria Street is a 9,000 square foot part leisure, part retail venue that has several distinct offerings set over three floors. These include the Grill Dining Room, Raw Bar, both public and private members bars, private dining, event spaces and a wine tasting room, all under one roof.
M Victoria Street Restaurant in London – 10 Nov 2016
Trumpf Poland Technology Center, Warsaw, Poland
Design: Barkow Leibinger architects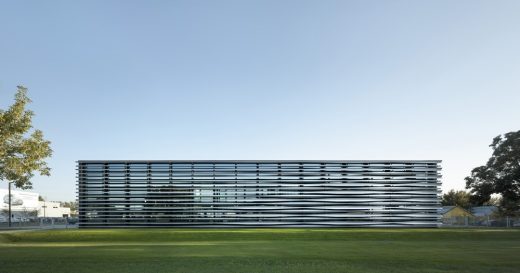 photo : David Franck
Trumpf Poland Technology Center Warsaw Building – 22 Sep 2016
High-grade stainless steel fins cover the façades: they are laser-cut and folded to widen and narrow over their 10-m length. This approach reflects the machine tool and laser technology typical of the client's business.
New School Building in Aabybro, Jutland, north western Denmark
Design: CEBRA architecture / KPF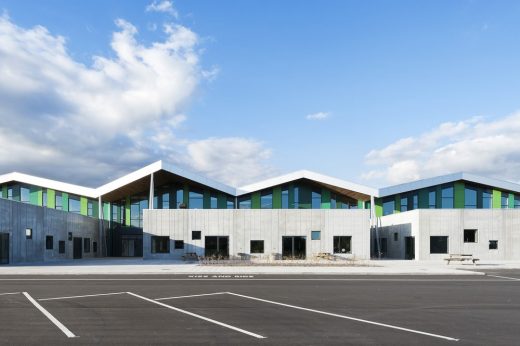 image from architects
New Building in Aabybro – 20 Sep 2016
The pitched roof is the focus of the architectural expression: its distinctive shape and slanted eaves give a unique appearance without being intrusive. It ensures attractive outdoor spaces for education and play.
Border City Mexico / USA: London Design Biennale
Design: FR-EE Fernando Romero Enterprise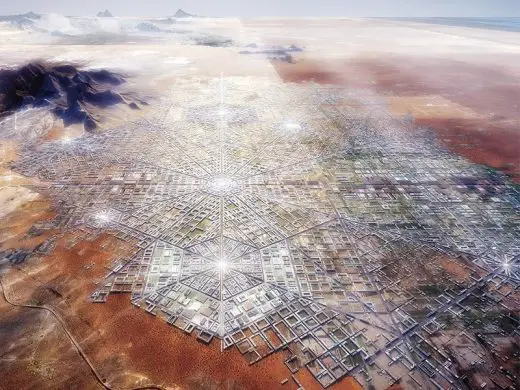 image from architect
Border City Mexico / USA Vision – 11 Sep 2016
This vision is for a binational city on one the border between the United States and Mexico.
The proposal is topical, given current debate following Donald Trump's Mexican wall announcement(!). The concept is rooted in the history of frontiers cities, where cultures both clash, for example Baarle Hertog / Baarle Nassau.
Tree Top Residence, Los Angeles, Southern California, USA
Design: Belzberg Architects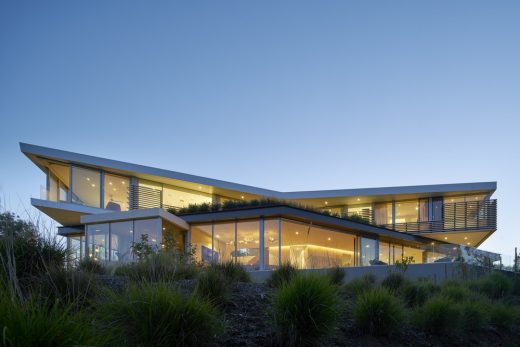 photo : Bruce Damonte
Tree Top Residence – 7 Sep 2016
This three-story contempoorary home emerges above the canopy of trees that surround it. The focus is an eccentrically-helical stair, a highly sculptural gesture visible on entry into the house.
Cal Tech Keck Institute for Space Studies, Pasadena, California, USA
Design: Lehrer Architects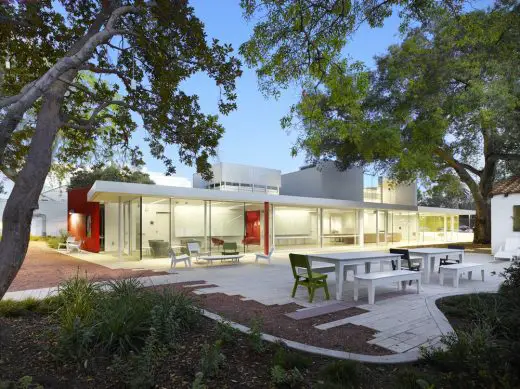 photo : Benny Chan Fotoworks
Cal Tech Keck Institute for Space Studies Building – 7 Sep 2016
This building's design aims to facilitate a culture of creativity where scientists and academics of disparate disciplines from around the world meet periodically, with "orchestrated collisions" generating conversation and creative thinking. The architectural design mitigates scale and style differences between Mission-style bungalow and Modernist, multi-story academic buildings on either side of the road.
AccorHotels Arena Building, Paris, France
Design: DVVD Architecture, Design and Engineering Agency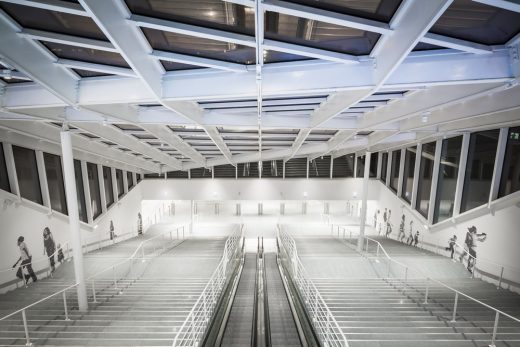 images : Sergio Grazia
The AccorHotels Arena in Paris – 14 Jun 2016
An emblematic structure in this city, the Palais Omnisports de Paris-Bercy has been revitalised. It will assist the capital in its attempt to host the Olympics in 2024.
Elytra Filament Pavilion by Achim Menges at the V&A, London, England, United Kingdom
Design: Achim Menges with Moritz Dörstelmann, Jan Knippers and Thomas Auer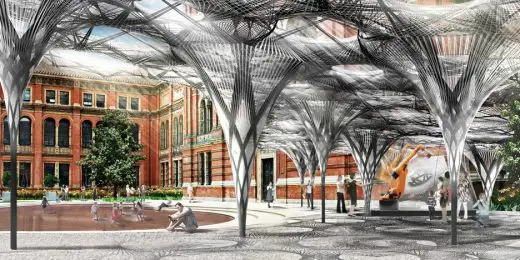 image from architect
Elytra Filament Pavilion in London – 14 Jun + 7 May 2016
V&A to present a site-specific installation inspired by nature and fabricated by robot, part of the museum's first ever Engineering Season.
Venice Biennale Golden Lion Award in 2016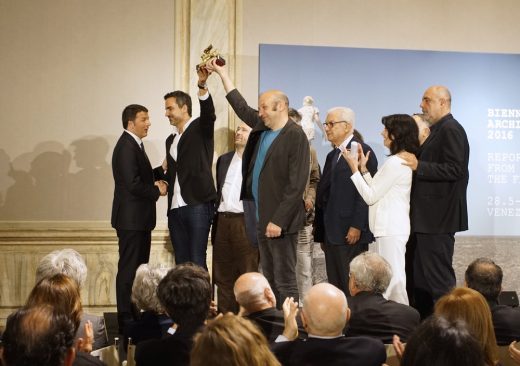 photo © Fernando Maquieira
Venice Biennale Golden Lion Architecture News – 31 + 28 May 2016
Spain has been awarded the Golden Lion for best pavilion at the Venice Architecture Biennale 2016, for the exhibition 'Unfinished' ; Gabinete de Arquitectura has been awarded the prize for best exhibition. This is the second Golden Lion of Spain at La Biennale di Venezia. The first one was obtained in 2000, in an exhibition curated by architect Alberto Campo Baeza.
The Winery at VIK, Vitacura, Santiago, Chile
Design: Smiljan Radic architect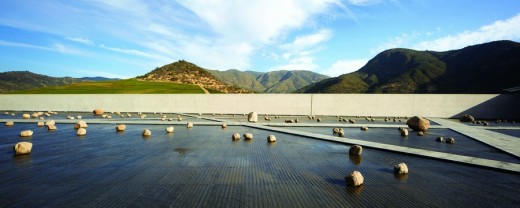 photo courtesy of Vik Retreats
The Winery at VIK Building – 19 Jan 2016
As all Vik Retreat destinations have come to be known, the VIK winery features a unique and unprecedented design, which is at once state-of-the-art, highly sustainable, technologically creative and a stunning visual display which redefines the wine experience. The winery has been designed by the talented Chilean architect Smiljan Radic.
Recent Architecture News
Recent Architecture Posts
World Architecture Festival news : World Building of the Year Award
Zaha Hadid building news : Heydar Aliyev Centre, Baku, Azerbaijan – photos
Architecture Articles for e-architect
Sustainable Architecture : Carbon Emissions Rise – radical plan required
Buildings for the World Architecture News 2016 page welcome: info(at)e-architect.com