BDP Architects, Building Design Partnership, Pictures, Studio News, Designs, Projects, Offices
BDP Architects Practice
International Architects Practice – Buildings + Designs: Office News
post updated 7 July 2023
Architecture News for BDP
7 July 2023
Broad Marsh Nottingham Masterplan, South Nottingham, central England, UK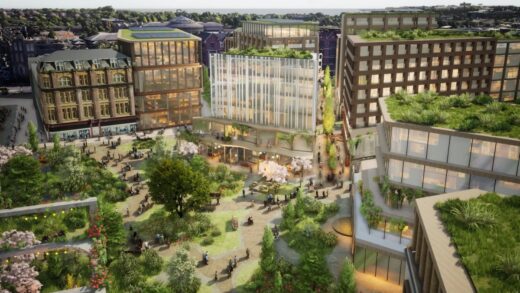 images courtesy of architects practice
Broad Marsh Nottingham Southside masterplan
Previously on e-architect:
BDP Architects News
12 Nov 2022
BDP Creative, Multidisciplinary Structure Delivers More Success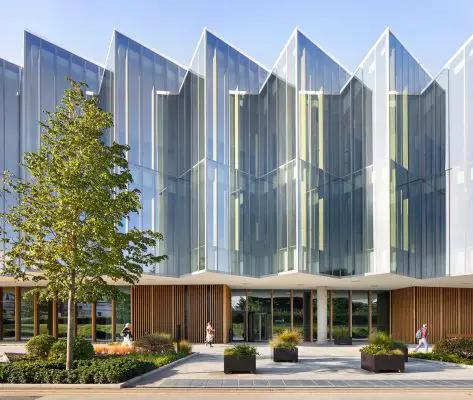 photograph © Hufton + Crow
BDP Architecture
BDP has published its results for the financial year ended 30 June 2022. The architectural and engineering practice achieved revenues of £136.6m and an operating profit of £13.2m.
1 Oct 2022
BDP a double winner at The Herald Property Awards for Scotland 2022
International architectural practice, BDP has been awarded two major titles at The Herald Property Awards for Scotland 2022, which were held in Glasgow last night. The annual awards ceremony showcases the best of residential and commercial development across the country.
Glasgow Queen Street Station building: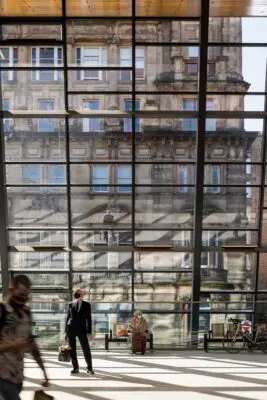 photo : Nick Caville
BDP's Learning and Teaching Building, created for the University of Strathclyde from two existing buildings, was named the winner of the 'Best Regeneration Project – Commercial' category. The transformation of Glasgow Queen Street Station into a 21st century transport hub was highly commended in the same category.
Accepting the award on behalf of BDP, Christoph Ackermann, Principal, BDP, said: "The Learning and Teaching Building at the University of Strathclyde shows what can be achieved when you use what's already there, rather than levelling it and starting again and I'm very happy that the judges have recognised its merits."
University of Strathclyde Learning and Teaching Building: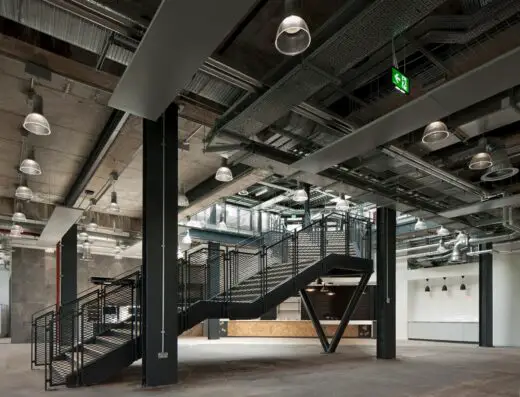 photo : David Barbour
Commenting on their highly commended title for the transformation of Glasgow Queen Street Station, Edward Dymock, Associate Architect, said: "Working on Queen Street Station allowed us to both strip away old structures in order to reveal James Carswell's glorious train shed and to expand the station into a contemporary and highly visible part of Glasgow's civic architecture. It is highly gratifying to have our vision for this new symbol of a decarbonised Scotland recognised by The Herald Property Awards for Scotland."
The Herald Property Awards for Scotland winners were announced at a dinner held at the Doubletree by Hilton, Glasgow, on 29 September.
The judging panel for this year was: Andrew McFarlane, Consultant, DM Hall (Chair); Tom Barclay, Professional Group Director, Wheatley Group; Richard Blair, Business Development Manager, Sir Robert McAlpine Ltd; Beverley Brown, Editor, Scotland's Homes; Alexander Cassidy, Director, Ross & Liddell; Alison Glen, Director, Barham Glen Architects Ltd; Richard Hepburn, Managing Director, Arneil Johnston; Sara Seravalli, Creative Director, Double S Events Ltd; Doreen Smith, Partner, Doreen Smith Interiors.
10 May 2022
BDP Shortlisted in Two Categories of Scottish Design Awards
Glasgow Queen Street Station and the University of Strathclyde Learning and Teaching Building, both designed by BDP's Glasgow studio, have been shortlisted in separate categories of this year's Scottish Design Awards.
The transformation of Scotland's third-busiest rail hub from a run-down collection of outdated extensions into a soaring contemporary concourse that celebrates the station's Victorian heritage, has been nominated in the 'Public Building' category, while the refurbishment of two existing buildings to form new teaching spaces, lecture theatre, Student union and support services, has been shortlisted in the 'Retrofit' category.
And Ed Dymock, Architect Associate, BDP, said: "Since 1878, James Carswell's original train shed has been hidden away at the heart of Queen Street, but the southern extension of the platforms gave us the opportunity to open up the views, work with volume and scale and allow the station to play a civic role within the city.
Martin Jarvie, Architect Associate, BDP, said: "We are delighted to be nominated for these awards. At Strathclyde University the decision to transform the existing buildings rather than a new-build project has substantial sustainable benefits. Our Sustainability Team compared the embodied carbon of the adaptive re-use of the existing building structure to a notional new build equivalent and demonstrated that the project saved around 67% of CO2e."
The winners of the Scottish Design Awards will be announced on 29 June.
14 Apr 2022
Former Baowu Steelworks in Chongqing, southwestern China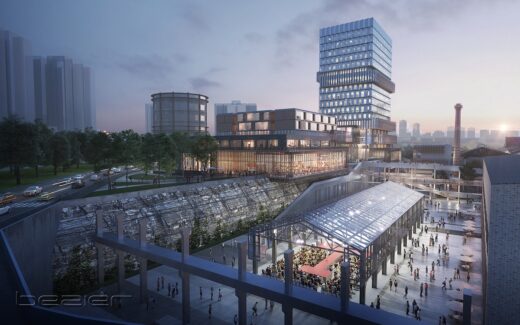 image courtesy of architecture practice
Former Baowu Steelworks Chongqing masterplan
A north entrance plaza will connect to Gong Bo Zhong Lu, framed by two new buildings – a hotel and a large office building, which will become the new Southwest headquarters for Baowu Group. A lattice of external and internal courtyards and alleyways link the whole site together, enhancing the pedestrian permeability and connecting new commercial uses into the existing museums and old industrial units.
23 Feb 2022
BDP's Gregory Fonseca Named Vice President Of American Institute Of Architects UK
BDP architect director, Gregory Fonseca, has been selected as the 2023 president elect for the American Institute of Architects (AIA) UK. For the 2022 financial year, Gregory will serve as vice president for the institute and will work to facilitate interaction and communication between members, other professionals and industry leaders; and lead the adoption of progressive initiatives that address the urgent challenge of climate change.
As part of his role, he will also host virtual and live building tours for the AIA, including a virtual building tour of Mole Architect's Freeholders in Wells-next-the-Sea, Norfolk on 11th March 2022. He will also manage and host the AIA UK's Excellence in Design Awards, which will be held at the Barbican on 12 May 2022.
Gregory said of his appointment: "I am very excited to take on the role of president of the AIA UK in 2023, I will be dedicated not only to promoting the objectives of the AIA UK's mission statement my main goal will be to encourage and facilitate exemplary design solutions through a 'sustainability in architecture' agenda. In my view, the foundations of sustainable architecture include three diverse approaches: "economy", "society" and "environment" and architects must play a key role in the reshaping of the built environment with innovative, effective and inclusive solutions in an effort to achieve net zero carbon. My ambition is to advocate for the profession; a sustainably minded one."
The AIA UK's mission statement is to serve members and the architectural community of the UK by providing relevant and innovative educational opportunities, promoting ethical and inclusive practices in the architectural industry and promoting good design in all aspects of the built environment.
Previously on e-architect:
18 Feb 2022
WaterSHED sports hall, Wardle Academy, Rochdale, Lancashire, north west England, UK
Design: BDP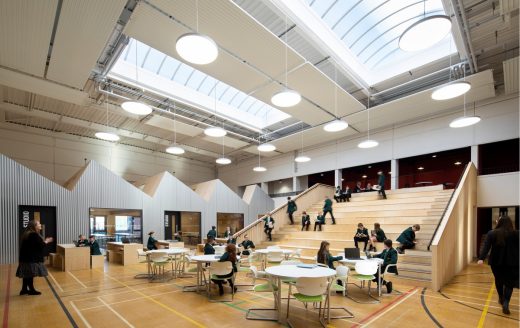 photos courtesy of architects office
WaterSHED sports hall Rochdale
Interdisciplinary design consultancy, BDP has completed the innovative transformation of a school sports hall in Rochdale to create an exciting suite of classrooms, dining and social spaces. The new facility will enable the Watergrove Trust to meet an urgent demand for school places and accommodate more teaching and associate staff jobs for the area.
7 Feb 2022
Patimban New City masterplan , Patimban New City, Subang, West Java, Indonesia, Southeast Asia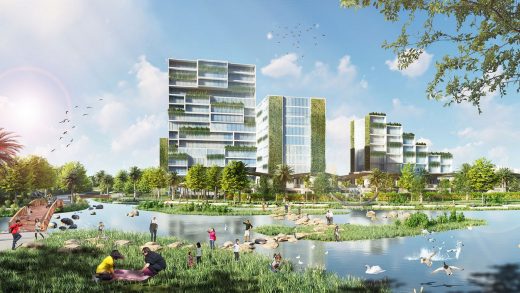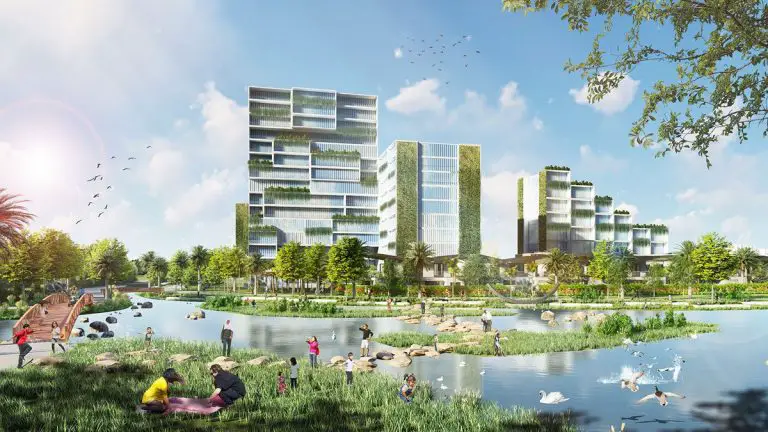 image courtesy of architects practice
Patimban New City masterplan, West Java
Commissioned by JICA for the West Java Government, a multidisciplinary team from BDP, Nippon Koei and AMO (Aarunya Mitra Optima) has created a new city-scale development plan on a flood-prone site, between mangrove forests and Patimban port in Subang, West Java. The sustainable masterplan aims to unlock the commercial potential of the area and create a resilient, ecological and prosperous waterfront city which promotes a symbiotic relationship between its communities, local ecology and the built environment.
17 Jan 2022
Seven New Principals For BDP
BDP promotes seven of its architect directors to support the growth of the interdisciplinary practice across its network of global studios.
BDP has announced that seven of its studio directors have been promoted to principals from January 2022. The move reflects BDP's strategy for international growth and its commitment to enhancing its position as a market leader in the UK.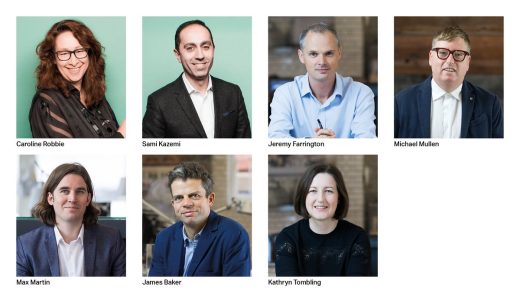 Caroline Robbie and Sami Kazemi have become BDP principals, joining Les Klein, Richard Witt and Anna Madeira to build BDP's presence in new sectors across North America – from its Toronto studio.
Jeremy Farrington, who heads up BDP's Singapore studio, also takes on the new role to increase BDP's market share in Southeast Asia with a focus on urban design, transportation and mixed-use places.
In Dublin, Michael Mullen, who leads large-scale, urban regeneration and leisure projects such as The Net Zero Carbon Wren Hotel, Bonham Quay and Augustine Hill, takes on his new role and Max Martin, who has been instrumental in developing and leading major healthcare projects in both the UK and international locations, is promoted in Sheffield.
From its London Studio, James Baker and Kathryn Tombling have commenced their positions as BDP principals. James will lead workplace projects for both private and public sectors and Kathryn's expertise in the design of major housing and regeneration developments will see BDP strengthen its work for developers, agents and local authorities, under her guidance.
BDP Chief Executive, Nick Fairham, said: "As we enter 2022, we are looking to the future with optimism and clear direction. We are proud to announce our seven new principals who reflect the ambition and strength of our practice and will help us secure new opportunities to design the most innovative, sustainable, people-centred places across the globe."
Our plans for the success of our practice will be measured against higher levels of recognition for excellence of design, employee contentment and client satisfaction. These promotions are indicative of a new approach across our network of studios and we look forward to a prosperous future with them on our leadership team."
BDP has a leading track record as a global interdisciplinary consultancy working in all major sectors including health, education, workplace, retail, urbanism, heritage, housing, transport, media environments and leisure and has won more than 1000 awards for design quality.
15 Dec 2021
Westergouwe Community Centre, Gouda, South Holland, The Netherlands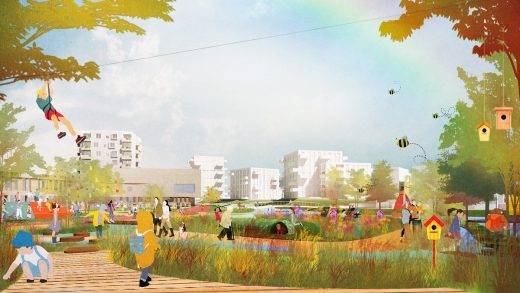 image courtesy of architects practice
Westergouwe Community Centre Gouda Building
BDP and its partner, Marseille Buiten have been appointed to design the Westergouwe Community Centre – a mixed use development consisting of a primary school, amenities, sports and affordable housing in Gouda, Netherlands.
3 Dec 2021
Whitechapel Elizabeth Line Station, Whitechapel Market Conservation area, east London, England, UK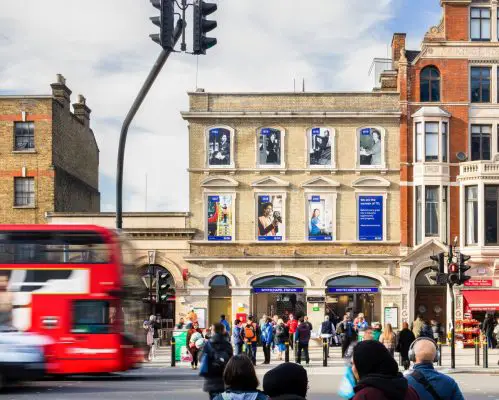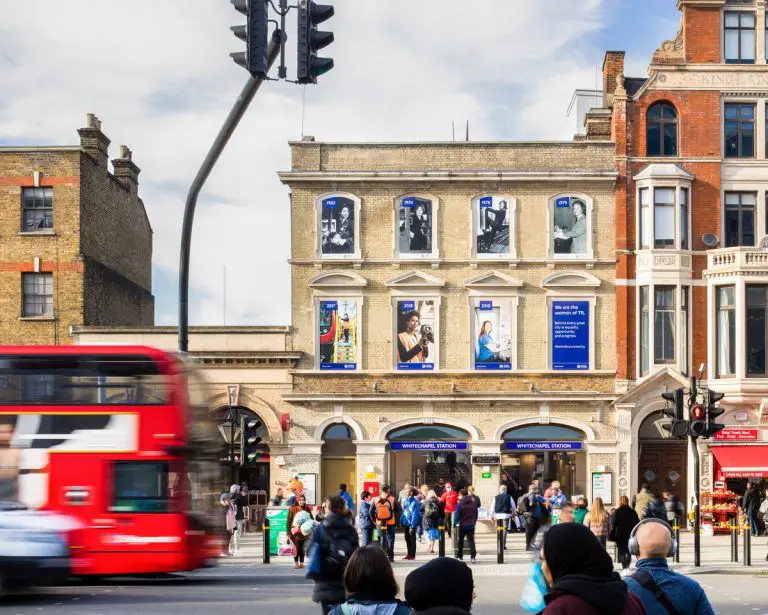 image © BDP
Whitechapel Elizabeth Line Station Building
The Whitechapel Elizabeth line station has opened after being handed over to Transport for London. Sitting within the Whitechapel Market Conservation area, the design of the new station retains the distinctive and historic buildings constructed more than 100 years ago.
18 Nov 2021
The Wren Urban Nest, Dublin 2, Ireland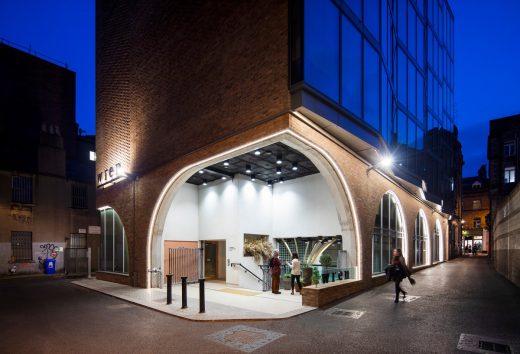 photo : Nick Caville
The Wren Urban Nest Dublin Hotel
The newly opened Wren Urban Nest, based in the heart of Dublin, is a 137-room, nine floor hotel designed and built using the most advanced carbon reduction technologies, making it one of Europe's most sustainable hotels in a major city centre. Eliminating the need for fossil fuels, the building uses 100% renewable energy and is the first hotel in Ireland to comply with the World Green Building Council's definition of 'Net Zero Operational Carbon', without having to purchase carbon offsets.
18 Aug 2021
St James Quarter , central Edinburgh, Scotland
Architects: BDP Glasgow studio + Allan Murray Architects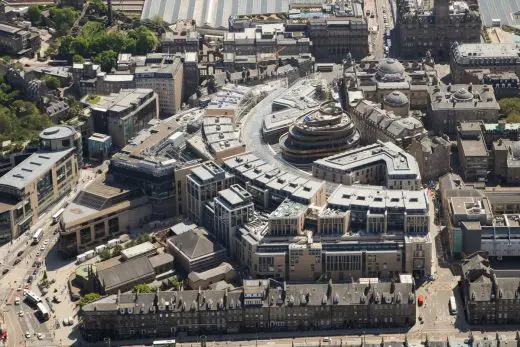 St James Quarter Edinburgh
BDP has helped complete the delivery of phase one of the new St James Quarter, Edinburgh, working with client Nuveen Real Estate to create a new destination in the heart of the capital. A new and modern 1.7 million sq ft masterplan in urban placemaking, it is one of the UK's largest inner-city regeneration projects.
23 Jul 2021
Learning & Teaching Building at the University of Strathclyde, central Glasgow, Scotland, UK
Design: BDP Glasgow Studio, Architects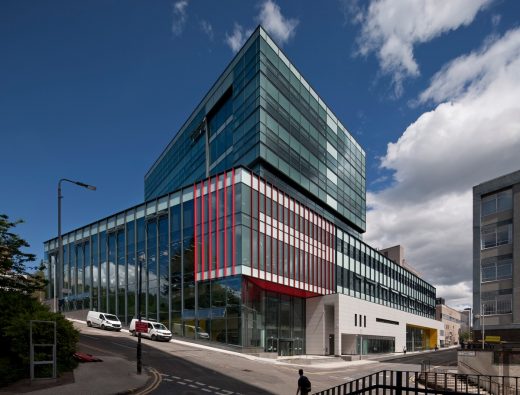 photograph : David Barbour
Learning and Teaching Building University of Strathclyde
The Learning and Teaching Project is a unique and collective hub for students and staff, comprising a variety of learning and teaching spaces, from small breakout spaces to a 400 seat lecture theatre. The range of spaces is reflective of the varying needs of activities throughout the building.
13 July 2021
Glasgow Queen Street Station Building, central Glasgow, Scotland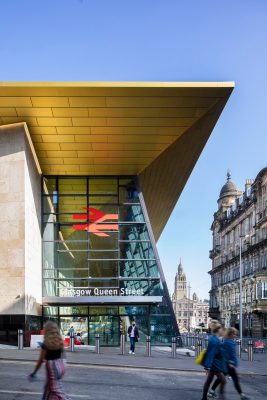 photo : Nick Caville
Glasgow Queen Street Station Building
There is no greater proof that People Make Glasgow than to see the city without its crowds. The city centre has been dormant, feeling like a stage without a play. Now, the commuters and shoppers are returning from their Covid-enforced isolation and the redeveloped Glasgow Queen Street Station is there to welcome them.
12 June 2020
The new Clatterbridge Cancer Centre, Liverpool, England, UK
Design: BDP Architects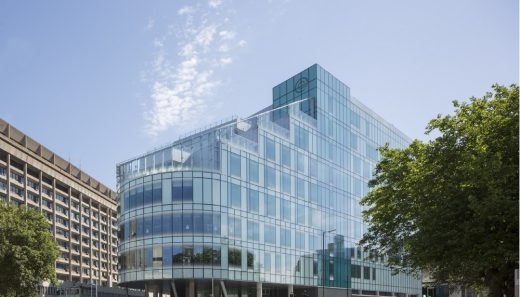 image courtesy of architects office
The Clatterbridge Cancer Centre, Aintree
The maritime city of Liverpool has a striking new form on the city skyline, that of the curving prow of CCC-L, which has prompted its nickname of The Liner.
19 Apr 2020
Opening of NHS Nightingale Northwest Manchester, England, UK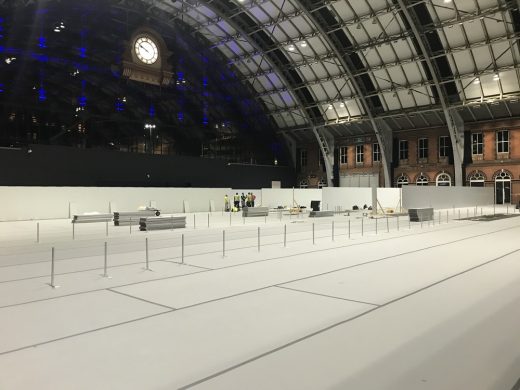 image courtesy of architects
NHS Nightingale Northwest Manchester
BDP and Integrated Health Projects (IHP) have been instrumental in the creation of the Manchester Nightingale Hospital at the Manchester Central Convention Complex.
18 Dec 2019
International Architecture Practice BDP Opens New Studio
Major international interdisciplinary architecture and engineering practice, BDP, has announced the opening of a new studio in Leeds following the delivery of a series of successful high-profile projects in the city. The studio will be led by Architect Associate, Vicky Casey, who has relocated from the business' Sheffield studio.
The practice, which has opened its Leeds base in Bruntwood's Platform building, now employs over 300 staff across its Northern studios, which includes an additional new studio in Liverpool. BDP's expansion follows a strong year for the business in which it achieved a 21% increase in global turnover to £107m, with a £9.5m pre-tax profit. In Leeds, the business is aiming to combine the company's global expertise with the extensive local knowledge developed in delivering a series of award-winning projects in the city.
Merrion House – office building for Leeds City Council: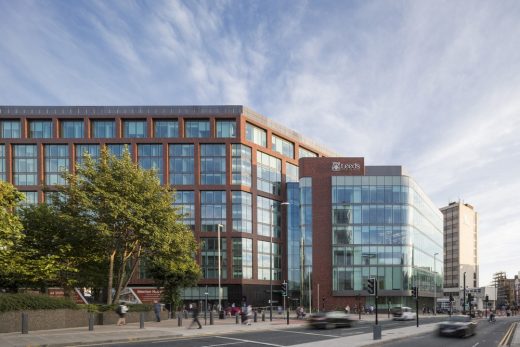 BDP was the architect and engineer for the refurbishment and redevelopment of Merrion House, the 1970s office building which now provides modern office accommodation for 1,900 Leeds City Council staff in the heart of the city, and has already been awarded two RIBA awards. The practice was also lead-architect for the restoration of The Round Foundry, part of the ongoing regeneration of Holbeck and the wider Leeds South Bank district – one of the largest regeneration projects in Europe. The project saw the world's only surviving first-generation engineering works turned into a mixed-use development, including apartments and affordable housing.
The practice has also been very involved in the early development of Leeds Teaching Hospital NHS Trust's masterplan for the extensive re-ordering of the Leeds General Infirmary estate, which includes the significant expansion of services for adults and children, and formation of a new R&D sci-tech zone integrating with the Leeds Innovation District, being developed to the North of the city centre.
With over 18 years of experience in the industry, and having lived in Leeds for over 14 years, Vicky Casey brings local knowledge and a passion for the city to the role as office lead.
Commenting on the opening of the new studio, Vicky said:
"Over the last 50 years, BDP has worked on some fantastic projects in Leeds. With a number of new schemes underway and in the pipeline for us, we felt it was the right time to set up a permanent presence here. The city is thriving, and opening a new studio will allow us to further expand our work in the region and marks the start of an exciting new chapter for the business. As a Leeds resident, I'm hugely excited about building a successful team in my home city."
Sue Emms, Chair of the North at BDP added:
"We are delighted to announce the opening of our Leeds studio, which has been a long-held ambition of the practice and an integral part of our national expansion plans in recent years. The Leeds studio has been set up to build on our already established reputation across a number of sectors and further develop our relationship with the city.
"We now have five studios in the North of England and look forward to bringing our global expertise and track record of delivering high quality complex projects to the market in Leeds."
The UK remains a buoyant market for the international practice, with it forecasting that the UK will deliver around 70% of its income over the next three years.
27 Mar 2018
RIBA Northwest Awards Shortlisted Buildings
Bright Building, Manchester is one of 9 buildings have been shortlisted for the 2018 RIBA Northwest (Royal Institute of British Architects) Awards; the winners will be announced at an Awards evening at One Fine Day, Liverpool on 16th May 2018.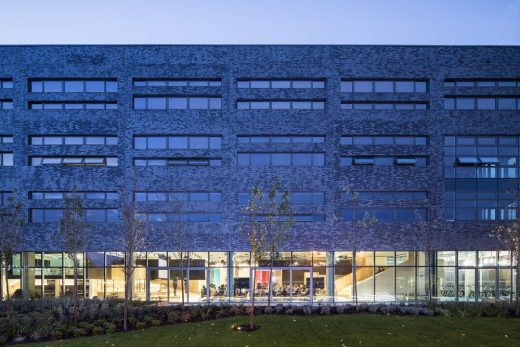 photo © Nick Caville
RIBA Northwest Awards Shortlisted Buildings
22 Jul 2017
Houses of Parliament Renewal Contracts, London, England, UK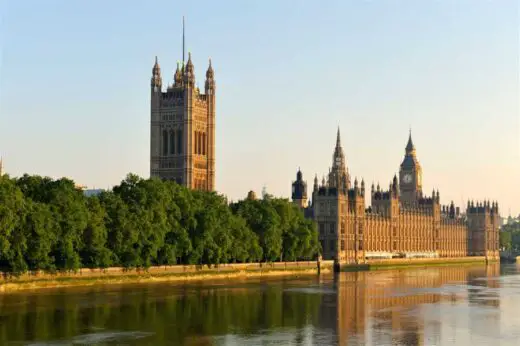 photograph © Nick Weall
BDP have been selected to take forward vital work that needs to be done to protect the heritage of the Grade 1 Listed Palace of Westminster from the substantial and growing risk of failure of its essential services.
Palace of Westminster Building Restoration
21 Mar 2017
Smythe Library Building Renewal Shortlisted for RIBA Southeast Awards 2017
One of fourteen buildings shortlisted for RIBA Southeast 2017 Awards:
Smythe Library refurbishment, Tonbridge School, Tonbridge, Kent: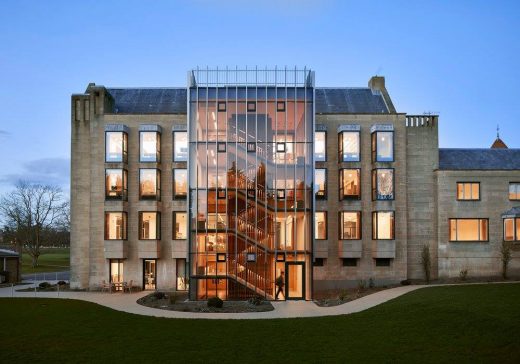 photo : Hufton + Crow
RIBA Southeast Award for Library refurbishment by BDP
27 Dec 2016
Chris Harding Elected New Chair of BDP
December 2016 – Chris Harding has been elected the new Chair of BDP and takes up the role from 1 January.
He began his career at BDP in Sheffield in 1989 and has been a company director for 14 years. He is currently head of the architecture profession across the practice and was previously head of the education sector.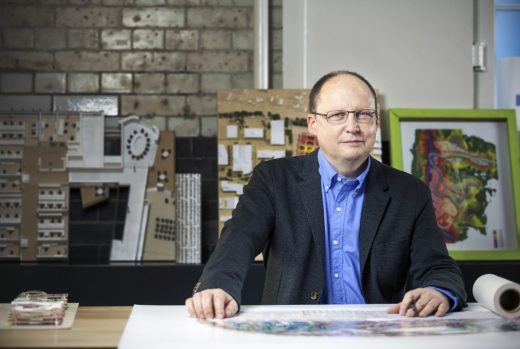 An active design thinker who has worked on some of the practice's best projects, he has been elected to stimulate the continuous development of the practice as a socially progressive integrated design firm. He is particularly passionate about creating people centred environments and his work has received the highest acclaim. In 2012 he was awarded an Honorary Fellowship by the University of South Wales for his pivotal role in the design and construction of its multi award-winning City Campus.
Chris said: "This is a fantastic moment in our history. With a predicted two billion more city dwellers by 2050, urbanisation and the liveable city agenda is a key opportunity for BDP. Our pairing with Nippon Koei creates a global architecture, engineering and design firm to meet the challenges of a dynamic and changing world."
The role of Chair is re-elected by BDP's Board every two years. Chris takes over from David Cash who has chaired BDP since 2012, having played a key role steering the practice to become a leading international design collective.
14 Nov 2016
Cardiff University Innovation Campus, South Wales, UK
Design: Hawkins\Brown ; HOK ; BDP ; DPP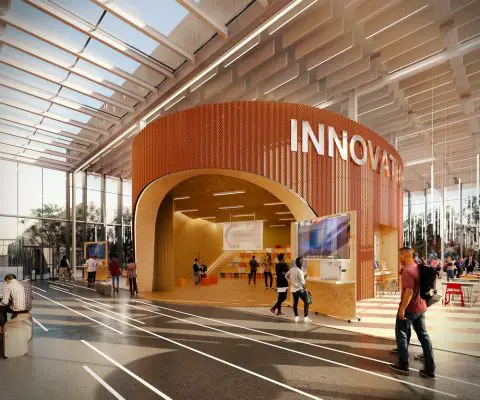 image from architects
Cardiff University Innovation Campus Building
23 Jun 2016
Alder Hey Children's Hospital, Liverpool, England – Hospital, healthcare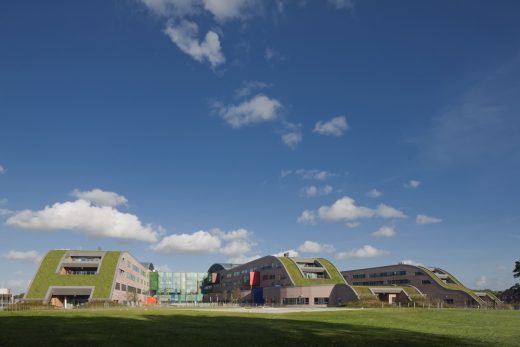 photo courtesy RIBA
A RIBA National Award Winner 2016 – 23 Jun 2016
12 Dec 2013
BDP appoints new chief executive
12 December 2013 – International design practice BDP has appointed a new chief executive. The role is re-elected by BDP's board of directors every two years and Peter Drummond, who has been in the post since October 2004, made the decision to pass the baton on, and not seek re-election.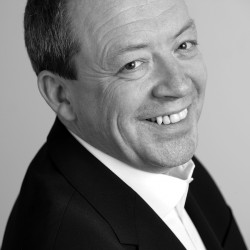 John McManus will be the next chief executive. He will be the first architect to become chief executive of the BDP firm when he takes up the role on 1 January 2014. John is based in Glasgow and will take responsibility for all the day to day operations of BDP. John studied at the Mackintosh School of Architecture and joined BDP in 1985. He currently leads the Glasgow studio and has led design teams on major commissions within all of BDP's key sectors both in the UK and internationally.
Under Peter's leadership BDP has gone from being a UK based practice to a major international design organisation with six international studios and current projects in 37 countries. Peter Drummond will become chair of the south region, taking overall responsibility for all operational aspects of the London and Bristol studios.
Chairman David Cash said: "As we see the first encouraging signs of returning confidence in the marketplace, these moves are designed to place BDP in a strong position for the future. I wish both John and Peter every success in their new roles."
10 Oct 2012
BDP Wins Design Competition In Düsseldorf, Germany
BDP has won the Düsseldorf Ulmer Höh design competition to redevelop a former prison site in Germany. BDP's Dutch studio was up against five German practices for the 15 hectare mixed use urban redevelopment project.
The site is contained within a city block and incorporates mature trees and historical buildings. BDP will use these qualities to transform the enclave into a lively city neighbourhood.
The existing city block structures are repeated along the site's perimeter, seamlessly connecting the new quarter with the city. Inside the perimeter blocks, where the prison complex stood, a green oasis will be created from which all the new homes will benefit. It will be a very special open green space within an otherwise densely built-up area.
Of the huge prison complex, only the chapel building will be retained. It will be converted into a community centre and become a meeting place for the new residential quarter.
The jury was impressed with the way the imprint of the prison was incorporated into the design of the public realm. According to its report, BDP's design puts quality and atmosphere above commercial efficiency.
9 Aug 2012
BDP Announce Three Project Wins in China
9 August 2012 – BDP has announced three project wins in China at the UK Trade & Investment Infrastructure Summit in London, the flagship opening event of the British Business Embassy. The conference brings together top global decision-makers, with around 200 business leaders, policy makers and investors from around the world, to provide a unique opportunity to address how British businesses pursue global growth and partnerships.
Nanjing Road ; XJTL University Suzhou ; Artall Tiancheng Business Centre:





images : BDP
The British Business Embassy helps showcase global business partnerships along with the best of what the UK has to offer in some of our most successful, high growth industries such as fashion, architecture, technology, life sciences, advanced engineering, automotive and aerospace.
Nanjing Road, Shanghai
After winning an international competition, BDP has been appointed to design a world class new destination in the Huangpu District of the East Nanjing Road in Shanghai. This sits within the Bund Historical and Cultural Conservation Zone, and features clusters of historic buildings which will be renovated to include high-end retail, food and beverage, leisure, a luxury club and a boutique hotel.
Xi'an Jiaotong Liverpool University, Suzhou
This new international university is run in partnership between the University of Liverpool and Xi'an Jiaotong University. BDP is appointed to masterplan a large-scale campus to provide world-class teaching, laboratory and research facilities, and design the humanity building, science building and training centre, and international exchange centre.
Artall Tiancheng Business Centre, Nanjing
The 32,000 sq m project will maximise the public spaces in the centre, link existing buildings with covered walkways and create a 26 floor tower. The tower will provide office space that will sit above an art gallery. A key driver in the design for business centre is the natural and climatic assets of the site and location and how these are optimised for passive and active sustainable design solutions.
Trade and Investment Minister Lord Green said: "I warmly congratulate BDP on winning a series of new architectural and urban design and masterplan contracts. BDP's successes are an excellent reflection of the strength of British companies in providing the expertise needed to deliver major infrastructure projects around the world."
"With the world's spotlight on the UK this summer, we are working hard through the British Business Embassy programme to help companies capitalise on the unique opportunity we have in 2012 to secure new contracts and investments, such as those won by BDP."
29 Jun 2012
New Chairman
BDP Elects David Cash As New Chairman
David Cash has been elected as the new Chairman of international architectural, engineering and design firm, BDP and takes up the role from 1 July.


photo © Sanna Fisher-Payne
David began his BDP career in Preston in 1980 and has been a company director for 22 years. He was Chair of BDP's northern studios for 14 years, and in 2008 when international expansion became a central element to the firm's development plan, he became the Director for International Development. David has been instrumental in increasing BDP's presence worldwide, developing studios in India, China and the UAE. David will continue to develop BDP internationally and remain Chair of the MENA region.
He said of his appointment: "My role as Chairman will be to give direction to the firm for the next few years. As a company we always to need to be improving and evolving in these changing times, rather than be afraid of change we need to embrace it. If I can take BDP from being a UK-based company that does projects overseas to a world-based organisation, I would feel like I had made my mark."
David takes over the role from Tony McGuirk who chaired BDP for six years. Tony developed the ethos of 'Creating Places for People' which created the platform for BDP's re-emergence as a major design force.
Other appointments at BDP
Heather Wells has been appointed group finance director taking over from John Parker who previously held the position. She will now form part of the firm's Executive together with BDP's chairman and chief executive.
Chris Harding is BDP's new Chair of the architectural profession. Chris has been with the firm for over 20 years and worked on some of the BDP's best known projects including the Channel Tunnel, St Peters Campus for the University of Sunderland, the Millennium Building for the All England Lawn Tennis Club, Bournemouth Public Library and several leading research centres for the University of Cambridge.
Architect Scott Mackenzie, based in the Glasgow studio, has been appointed head of the education sector. He is currently working on new build facilities for both Inverness and Kilmarnock Colleges and the University of Strathclyde's Technology Innovation Centre. He is also project director for the Robert Gordon University Garthdee Campus. Scott joined BDP in 1999, has been a director since 2006 and a company director since 2011.
Steve Merridew has been appointed BDP's new head of sustainability. Steve, recently named one of Building Magazine's Top 50 Rising Sustainability Stars, joined BDP in 2008 and has a strong background in low energy design, masterplanning and infrastructure.
Essex Business School, England – 15 May 2012
BDP Architects



picture from BDP Architects
The Essex Business School at the University of Essex's Colchester Campus has received unanimous planning consent for a new three-storey 5,550 sq m higher education research and training building.
The Planners' Report states "In terms of the overall design and architectural standard it is considered that the proposed scheme represents an innovative and, importantly, sustainable approach that is considered to be wholly appropriate within this context…..It is considered that the proposed building would add considerably to the overall innovative architectural standard achieved within the University campus and could become another key building on the site, in its own right."
The Business School is the largest faculty in the University and the current accommodation which has reached full capacity is scattered across six separate buildings. The new school will bring the faculty under one roof with sufficient floorspace to allow it to develop into one of the premier business schools in Europe. These facilities will not only allow the Business School to expand, but will also be available to other faculties within the University, and will attract businesses and other organisations to engage with the students and staff members.
The architectural character of the new Business School aims to create an exemplar of zero carbon approach as part of the School's ethos to lead the development of sustainable business strategies.. BDP Project Architect Keith Watson said "It has been designed to be visibly sustainable at every level, from its orientation on site, choice of structure and materials, landscaping and passive engineering strategies."
A winter garden acts as a buffer zone, supporting the passive ventilation and heating strategy of the teaching building, whilst also being the arrival and meeting space showcasing the green and social character of the new School. The Business School gables wrap into the winter garden and at each end house social functions – café at the east end, and staff and post graduate social spaces at the west end.
The building, which BDP is designing on an interdisciplinary basis, is due for completion in December 2013.
BDP Projects Information



photo © Sanna Fisher-Payne
BDP Architects : current information on Building Design Partnership
BDP Past Projects Information



photo © Martine Hamilton Knight
Older Projects by BDP – Building Design Partnership
More projects by Building Design Partnership online soon
BDP Architecture : recent information on this architecture & engineering company
About BDP – BDP is an international interdisciplinary practice of architects, engineers, designers and urbanists. We work closely with users, clients and the community to create special places for living, working, shopping, culture and learning across the world. Founded in 1961, we now have studios across the UK, Ireland, Netherlands, UAE, India, China, Singapore and Canada. BDP has a leading track record in all major sectors including health, education, workplace, retail, urbanism, heritage, housing, transport and leisure and has won over 1000 awards for design quality.
In March 2016, BDP combined forces with Japan's leading engineering practice Nippon Koei to form an integrated design group of genuine international reach. Sharing a philosophy which places an emphasis on design integration and community impact, the new group offers a unique combination of deep technical skills in engineering, architecture and the full range of design disciplines.
www.bdp.com
Website: www.bdp.com
British Architecture
Buildings / photos for the BDP – Building Design Partnership page welcome