English Tower Cladding Tests, High Rise Building Safety, Housing Estate ACM Panels News
UK Tower Cladding Tests
Block of Flats Safety in England, UK: DCLG Building Materials Combustibility Project
21 Feb 2018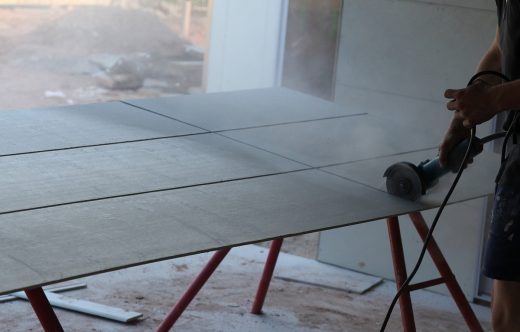 NBS Approved Documents Survey
NBS Approved Documents Survey
Approved Documents – tell us what you think?
UK Tower Cladding Tests
The Ministry of Housing, Communities and Local Government (MHLCG) has asked NBS to carry out important research on the Approved Documents. The NBS really want to understand how you use the guidance we prepare and provide to understand the functional requirements of the building regulations.
NBS are undertaking this work rapidly in response to a recommendation Dame Judith Hackitt has made in her Interim Report of her Review of the Building Regulations and Fire Safety.
She has recommended that the government consider how the suite of Approved Documents could be structured and ordered to provide a more streamlined, holistic view while retaining the right level of relevant technical detail.
NBS would really appreciate you taking the time to fill in the survey to help them understand your needs and usages and take forward her recommendation and improve the system in the future. (Ed – The survey has now closed – 20 Feb 2020).
If you would like more information on Dame Judith Hackitt's Independent Review of Buildings Regulations and her Interim Report it can be found here:
Dame Judith Hackitt's Independent Review of Building Regulations and Fire Safety Interim Report
UK Government Ban on Combustible Cladding
2 Jan 2018
UK Independent Review of Building Regulations and Fire Safety Interim Report
dhf welcomes tougher Building Regulation and Fire Safety recommendations
dhf (Door & Hardware Federation) has welcomed recommendations made in the Independent Review of Building Regulations and Fire Safety's Interim Report, published on 18 December, in particular, that those working on the design, construction, inspection and maintenance of complex and high-risk buildings are suitably qualified.
"We fully support the proposals presented by this report, particularly pertaining to appropriate qualification of those responsible for manufacture, installation, repair and maintenance," says dhf's CEO, Bob Perry. "We have been actively lobbying for this and are pleased to work with other bodies in the industry to achieve this objective.
"The issue of competence is crucial to fire doors as to many other systems within the building. In the case of fire doors, however, the system is uniquely vulnerable to damage caused by use and abuse. This necessitates a high level of maintenance activity, which must be continually undertaken by competent persons throughout the life of the building, not solely during the construction phase or major refurbishment. We would like to see these four elements become mandatory requirements to deliver simplification and underpin building regulation."
In November, the Tamworth-based trade association stressed the importance of compartmentation and called for urgent change in building regulations, urging the UK government to adopt and enforce a mandatory requirement for all fire doors to be factory prepared doorsets. Michael Skelding, dhf General Manager added, "We propose that any fire – or smoke – resistant door should be a factory-prepared doorset, manufactured under a third-party certification scheme, which is itself accredited by UKAS. Installation and maintenance of the doorsets should be undertaken only by companies certified to do so under a UKAS-accredited third-party certification scheme."
And the organisation has asserted that the UK should follow Europe's lead in providing more thorough fire door maintenance procedures, which can ultimately, save lives.
"Currently, we are lagging behind our European neighbours, but the appropriate changes would bring the UK in line with many other developed nations and help to ensure that inadequate standards do not lead to tragedy, such as Grenfell," says Bob. "France is a good example of a country that has more stringent fire door maintenance procedures in place."
France's Article R. 122-16 of the Construction and Housing Code states it is the building owner's responsibility to perform the necessary maintenance checks to ensure that fire doors fitted throughout a site are operating correctly. These inspections are carried out by trained professionals, as part of an accredited and recognised maintenance contract. Furthermore, all relevant staff are aware of what these maintenance checks include and how often they need to be carried out, with any maintenance inspections undertaken properly documented. Should a building owner be unable to provide these reports, the potential consequences include insurers being able to withdraw their cover, due to a lack of evidence that the necessary maintenance checks have taken place.
UK Tower Cladding Tests Archive
21 + 20 Sep 2017
'Combustible cladding' found on 57 blocks in Glasgow
Combustible cladding has been found in 57 private high-rise properties in Glasgow, reports the BBC.
Checks have been under way at buildings across Scotland in the wake of the fatal Grenfell Tower fire in London.
Council planning official Raymond Barlow told MSPs that cladding had been found on some buildings in Glasgow, but said "it's not public information yet". They all date from before 2005 when new regs came in.
Scottish ministers were informed about the concerns on 8 September, but neither the Scottish Fire and Rescue Service nor flat owners have been informed.
The council later stressed that there was "no suggestion that these buildings are a particular fire risk".
Holyrood's local government and communities committee heard that Glasgow City Council had discovered combustible cladding while looking back over the plans for some private residential properties in the city.
The assistant head of planning and building standards at Glasgow City Council, said information had come to light "in the last couple of weeks" about "private flatted developments".
He said all the developments had won planning consent prior to 2005, when new housing regulations came into force.
Combustible cladding on Glasgow Tower blocks
Comments for this UK Tower Cladding Tests post are welcome
16 Aug 2017
Aluminium Composite Material Cladding With PIR Insulation
ACM Cladding With PIR Insultation Passes UK Safety Tests
PIR INSULATION IN CONJUNCTION WITH ALUMINIUM COMPOSITE MATERIAL WITH LIMITED COMBUSTIBILITY FILLER PASSES FULL-SCALE BS 8414 FIRE TEST
16th of August 2017 – In the latest test results issued by DCLG, PIR (polyisocyanurate) insulation in conjunction with a wall cladding system, consisting of Aluminium Composite Material (ACM) with a limited combustibility filler (category 1 in screening tests) has comfortably passed the full-scale BS 8414 fire test and is cleared to be used in buildings above 18 metres.
This test was one of the seven BS 8414 tests requested by the government in the aftermath of the Grenfell fire tragedy and commissioned through BRE, using a combination of materials including the make-up of the outer cladding system.
This test confirmed what experts across the industry expected and now provides a PIR solution to the many buildings that have been identified with a mixture of cladding and insulation that do not meet current regulations. These buildings will need remedial work to bring their cladding systems up to an acceptable and safe standard, to reassure tenants and owners. This latest successful test gives the opportunity to ensure building improvements can meet a range of criteria, including fire safety as well as excellent thermal performance.
Speaking after this latest test result was announced, Simon Storer, Chief Executive of BRUFMA said: "With the tests now drawing to a conclusion, we have confirmation of a mix of materials that provides a fire safe cladding and insulation system using high quality PIR insulation.
"The next stage is to assess what each building, which the government has identified as in need of recladding, requires, in terms of refurbishment. Therefore, it is important that we work with government to ensure a holistic approach to any fire risk assessment is undertaken in order that building owners and managers can prioritise any work that needs to be carried out.
"Individual components and build-up of rainscreen systems will affect the individual performance on any system, but with this result, we now know that it will not be necessary for any PIR insulation to be removed from buildings, therefore making the government's task of ensuring buildings meet safety and fire standards, easier.
"In the meantime it is important to know that PIR, for use in other all other applications, continues to meet both the fire and thermal performance requirements of the Building Regulations in England, Scotland, Wales and Northern Ireland, offering the optimum insulation solution for building projects."
Background
BRUFMA (the British Rigid Urethane Foam Manufacturers Association) is the Trade Association that represents both the Polyisocyanurate (PIR) and Polyurethane (PUR) insulation industry in the UK. Its members manufacture rigid insulation that provides 50 per cent of the total insulation market in the UK. BRUFMA's membership comprises all of the major companies in the industry, including manufacturers of finished PIR and PUR insulation products, as well as suppliers of raw materials and associated services.
BRUFMA represents the industry's views across all government and industry stakeholders and decision makers and promotes a positive and dynamic business environment for the PIR and PUR insulation industry in the UK.
Information sent to e-architect by CFA
Grenfell Tower building: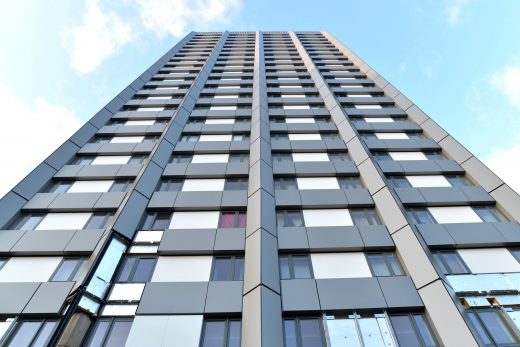 31 Jul 2017
UK Cladding Safety Tests
Combustible Cladding on over 80 towers fails safety tests
Cladding used on over 80 towers fails safety test as government announces building regs review, reports Building Design. UK Tower Cladding Tests are due to begin imminently.
28 Jul 2017
Grenfell Tower Inquiry: RIBA calls for investigation into design and construction
The RIBA has made a written submission to the Grenfell Tower Inquiry, which has launched a consultation into its terms of reference.
1 Jul 2017
Combustible Cladding Reports
This article by the BBC focuses on reports – known as "desktop studies" – that are a legal alternative to laboratory testing.
There are several regulatory routes to demonstrating to an inspector that cladding is safe on a tall building.
First, all the parts of the cladding can be tested separately and found to be of "limited combustibility", broadly meaning that the parts will not catch alight or spread fire.
If, however, some parts do not meet that standard, developers can arrange for a laboratory to construct a model of the entire proposed wall system and assess what would happen in a fire.
But if a developer wishes to follow plans similar to a setup which has already been fire-tested, they can ask an engineer to perform a desktop study, certifying that the proposed construction would pass the test without the need for one to be carried out.
source: Grenfell Tower Refurbishment Contractor Warns Council – article on the BBC website
Grenfell Tower fire damage – flat interior: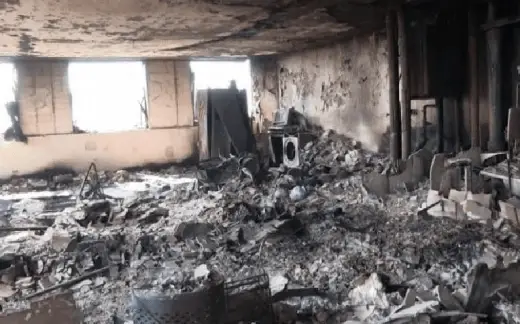 photograph : Metropolitan Police
1 Jul 2017
UK Towers Contractor Threatens Council
Rydon Warns Camden Council
Firm that refurbished Grenfell Tower threatens legal action against council
Rydon warned in a letter sent on 23rd of June that it could take action over comments by the Camden Council leader that cladding on other buildings was not up to the standard commissioned, reports The Guardian.
So just nine days after the Grenfell Tower fire, with a final death toll yet to be confirmed, the contractor who refurbished the tower are trying to defend their reputation elsewhere in London.
The London Borough of Camden evacuated hundreds of families from four towers on the Chalcots estate last weekend after it emerged that they were clad in flammable aluminium polyethylene-filled sheeting under a £150m PFI contract with Rydon. Fire brigade inspectors also raised concerns about a lack of fire doors and insulation around gas pipes.
The council leader, Georgia Gould, complained publicly that the cladding fitted under the contract with Rydon was not to the standard commissioned by the council and said: "We thought we were dealing with reputable companies and we feel let down." She warned Rydon the council was taking urgent legal advice and said the cladding "did not satisfy our independent laboratory testing or the high standards we set for contractors".
Rydon, however, strongly denies that the cladding was not up to the agreed standard and said it had been certified as compliant with building regulations by Camden's building control department.
Its chief executive, Robert Bond, is understood to have told Georgia Gould in a letter that her "inflammatory statements are highly damaging to our reputation and our business and will be defended by us in the strongest terms possible".
It was sent on Friday 23 June, hours before Camden ordered the night time evacuation of hundreds of families from the towers.
The Chalcots cladding system apparently used fire-resistant mineral wool insulation whereas Grenfell used more flammable Celotex material to improve the thermal performance.
source: Grenfell Tower Refurbishment Contractor Warns Council – article in The Guardian
30 + 29 Jun 2017
UK Towers Cladding Test Failures
All 137 Tower Cladding Samples Fail Fire Safety Tests
On Thursday, Downing Street said 137 cladding samples from high rises in 41 local authority areas have now failed fire safety tests by the BRE.
EVERY panel tested had failed combustibility tests.
120 tower blocks had failed fire safety tests. Scotland is not included in this testing regime so the total for the UK is likely to be significantly higher given the amount of tower blocks in the Glasgow area.
Lord Porter of Spalding, CBE, chairman of the Local Government Association, said fire safety tests on cladding from high-rise buildings were flawed. He criticised the tests for focusing on the core of the panel – rather than the panel as a whole.
The UK Government faces £600m cladding safety bill after Grenfell Tower.
News of too much emphasis on cost savings – for example from zinc cladding to aluminium cassett cladding on Grenfell Tower – instead of a focus on safety, illustrate the sad state not only of UK construction but the whole economic climate in Great Britain. This obsession with cost-cutting ultimately has sadly costed some people their lives.
30 Jun 2017
Strip Aluminium Cladding off Buildings across UK
Aluminium cladding should immediately be stripped off all UK tower blocks, hospitals, schools and hundreds of other buildings, UK body the National Housing Federation (NHF) has said.
Representing housing associations, the NHF said testing had now proven that the cladding was unsafe and it should be stopped now in favour of a national cladding removal scheme.
NHF Call to Strip Aluminium Cladding off Buildings across UK – article in Global Construction Review
Byron House student accommodation Reynobond ACM PE panels
27 + 26 Jun 2017
75 UK Towers with Unsafe Cladding
Seventy Five towers across England found to have unsafe cladding
The number of high-rise tower blocks with external cladding in Britain that have failed fire safety tests following the deadly Grenfell Tower blaze has risen to 75, communities minister Sajid Javid said on Monday.
The 75 affected buildings are spread across 26 local authority areas.
Again ALL samples failed the test.
Thus it appears Grenfell Tower's incorrect cladding is not an anomaly but the tip of an iceberg. The disaster has uncovered endemic failings in the process of building and signing off UK towers, and possibly all buildings.
Would this have happened in previous decades when architects were 'in charge' working hand-in-hand with Clerks of Works who knew exactly what was happening on site? Probably not.
The government has relaxed building regulations and alllowed a situation where contractors effectively police themselves. Clearly self-regulaiton has failed.
Sajid Javid, called on landlords of more than 500 other suspect blocks to urgently provide samples for testing.
Investigations are being extended into the cladding on schools and hospitals nationwide and 15 government buildings have also been identified as being in need of inspection, report The Guardian.
Echoing e-architect's concerns noted online (see post from 26 Jun below) the shadow housing minister, John Healey, Labour, said: "Cladding is not the whole story. We know this from the coroners' reports into the Lakanal House and Shirley Towers fires."
26 Jun 2017
60 UK Towers with Unsafe Cladding
Sixty towers across England found to have unsafe cladding
Test results on building materials in the wake of the Grenfell Tower disaster reveal that 60 high-rise blocks in 25 areas of England are unsafe, reports The Guardian.
Earlier over the weekend, cladding that had been used on 34 tower blocks in 17 council areas in England was reported to have failed government fire safety tests.
The announcement came after Sajid Javid, UK Communities Secretary, revealed that ALL of the buildings that had so far submitted cladding samples have failed combustibility tests.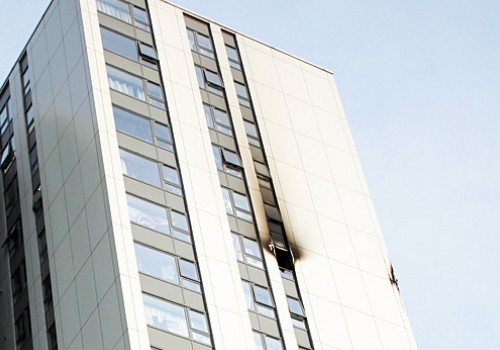 The fact that all the samples submitted to the BRE via the DCLG failed is a very sad indictment on all parties involved in designing, constructing, supplying and signing off buildings in the UK.
The Department for Communities and Local Government has put in place a "combustibility testing programme" for aluminium composite material (ACM panels).
e-architect have viewed the letter from DCLG and note the focus on ACM panel testing is logical but does not test for the actual construction eg is there flammable insulation, or a cavity behind the ACM panels that could form a chimney?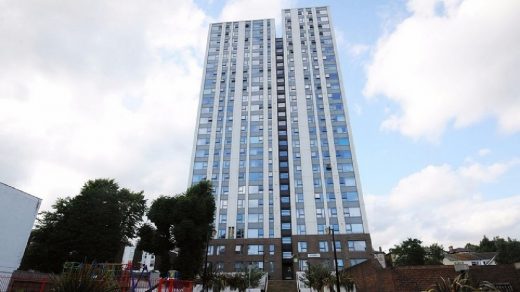 UK Towers with Unsafe Cladding – article in The Guardian
Editor – Adrian Welch
Comments on this UK tower cladding tests article are welcome.
RIBA Statement on Design for Fire Safety
Concerns have been raised by RIBA members and other experts about aspects of the regulatory and procurement regime for buildings in the UK. These include:
– Delays to the review of Approved Document B, particularly with regard to the relationship of the Building Regulations to changing approaches in the design and construction of the external envelopes of buildings.
An Approved Document which together with related British Standards provides a very comprehensive but highly complicated regulatory framework.
– The impact of the Regulatory Reform (Fire Safety) Order 2005, in particular the introduction of a regime of fire risk self-assessment and the repeal of fire certificate legislation with oversight by the local fire authority.
– Developments in building procurement approaches which mean that the Lead Designer (architect or engineer) is no longer responsible for oversight of the design and the specification of materials and products from inception to completion of the project, with design responsibility often transferred to the contractor and sub-contractors, and no single point of responsibility.
– The virtual disappearance of the role of the clerk of works or site architect and the loss of independent oversight of construction and workmanship on behalf of the client.
RIBA Statement on Design for Fire Safety
UK High Rise Cladding Removal
Cladding being removed from these UK tower blocks, updated 26 Jun 2017:
– Braithwaite House, Northeast London
– Chalcots Estate towers, Swiss Cottage, North London
– Horatia House and Leamington House, Portsmouth
– tower block at Wythenshawe, South Manchester
– 5 towers in Sunderland
– Norwich
– Doncaster
– Stockton-on-Tees
– Plymouth
– Cygnet House and Wren House, Bootle, Liverpool
– Salford
– Barnet, Northwest London
– Brent, Northwest London
– Hounslow, West London
– Islington, Northeast London
– Lambeth, South London
– Wandsworth, South London
If you know of any others please mail us at info(at)e-architect.com
Below we have links to an article on cladding at the Chalcots Estate and two articles about Grenfell Tower.
We also list numerous related external links related to UK Tower Cladding Tests.
25 + 24 Jun 2017
Chalcots Estate Building Cladding
Is the Chalcots Estate Evacuation Needed?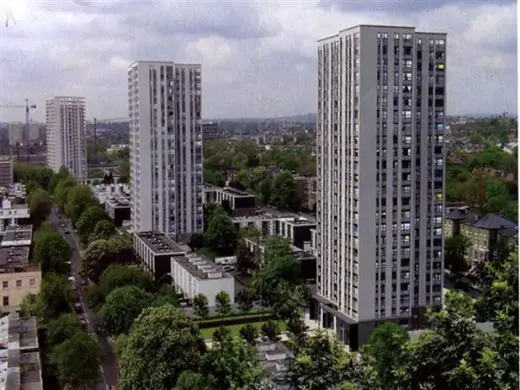 Chalcots Estate Tower Cladding
A view of part of the Burnham residential tower on the Chalcots Estate: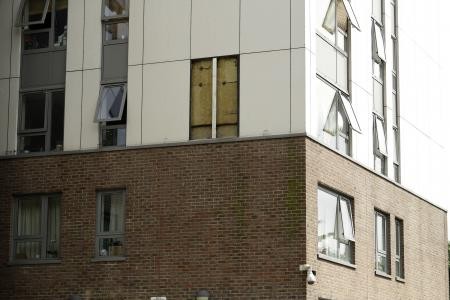 Relevant UK Tower Cladding Tests links:
Chalcots Estate Evacuation – article in The Guardian
Evacuation of Chalcots Estate in Swiss Cottage – article on BBC
Grenfell Tower Cladding Exposed
Grenfell Tower fire, 4:43 a.m. on 14 June 2017: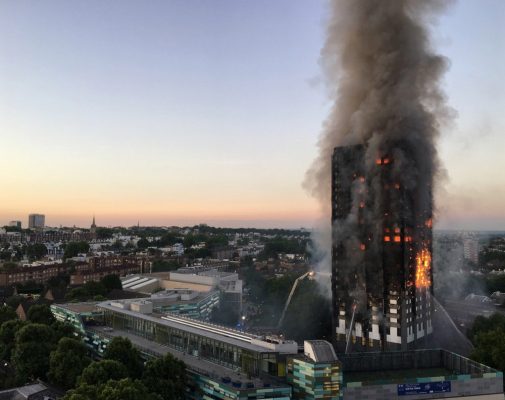 photograph by Natalie Oxford, courtesy of wikimedia commons
Grenfell Tower cladding exposed: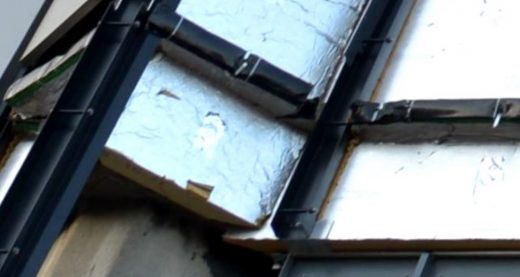 Comments for the UK Tower Cladding Tests page are welcome
1 March 2022
Building Safety Bill – UK Construction Materials
CIAT supports the premise of taking appropriate action against those who have deliberately and knowingly specified, provided, or fitted substandard materials. However, the proposal to extend liability periods is unrealistic, unworkable, and unachievable and has the danger of potentially persecuting innocent parties without the means to defend themselves or without any realistic positive outcome for the owner/occupant.
Building Safety Bill – UK Construction Materials
Location: UK
London Architecture
London Architecture Links – chronological list
257 City Road, Islington, north east London
Design: UNStudio
257 City Road Tower
London Skyscraper Buildings – alphabetical list
Comments / photos for the UK Tower Cladding Tests: High Rise Building Safety – page welcome