Workforce Housing, Newark Buildings, New Jersey Homes and Retail Architecture, Images
Workforce Housing Buildings in Newark
Teachers Village in NJ, USA – design by Richard Meier & Partners Architects
Feb 16, 2017
Teachers Village Building
Design: Richard Meier & Partners Architects
Location: Newark, NJ, USA
Workforce Housing Buildings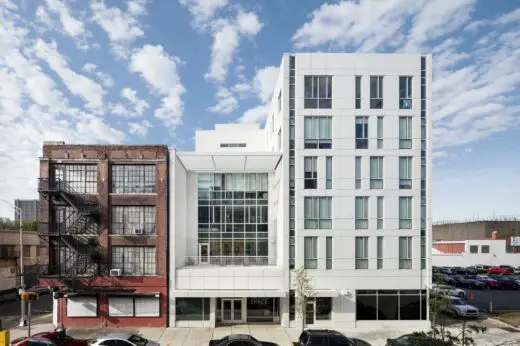 photo : Scott Frances
Richard Meier & Partners Architects has completed three new Workforce Housing Buildings in Newark, New Jersey. These new buildings now provide 123 residential units and a variety of retail spaces. Within the Teachers Village project, all of the Richard Meier & Partners buildings have been designed with open interior spaces full of natural light.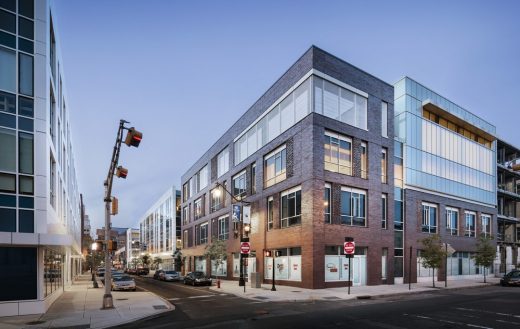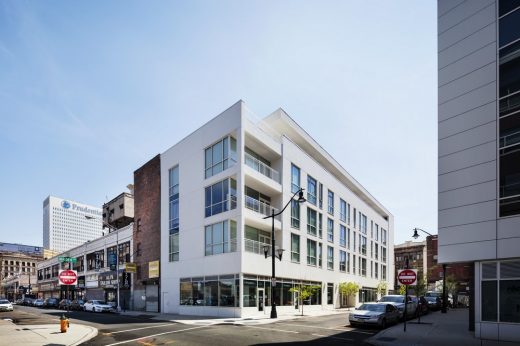 images : Scott Frances
Teachers Village is a mixed-use development by RBH Group in downtown Newark located south of Market Street and west of Broad Street. It encompass six new buildings, including Workforce Housing, three Charter Schools, an early childhood leaning center, and small to mid-scale retail located along Halsey Street between Branford and Pearl Streets. Sustainable design, new landscaping and streetscape improvements are integral to the goal of creating an exemplary development for a flourishing community in Newark. Five of the building have been completed and occupied, and the sixth and final residential building will open this spring.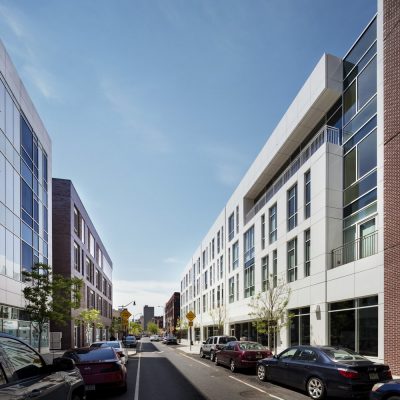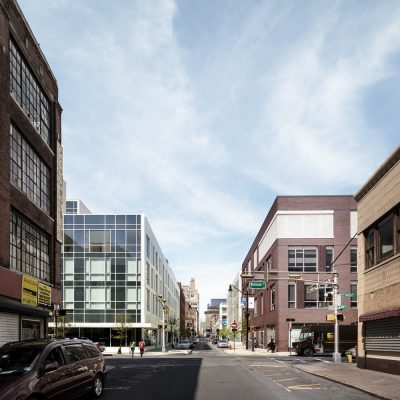 images : Scott Frances
Ron Beit, President and CEO of RBH Group LLC said, "We have worked closely with Richard Meier & Partners Architects over the past decade to design not only these three outstanding mixed-use buildings in Teachers Village, but also the two school buildings of Teachers Village as well as the catalytic SoMa master plan that will transform Newark's critical retail corridors in and around Market Street. The hard work of Richard, Vivian Lee and Dukho Yeon on this project, and their careful attention to detail and the long-term sustainability of this project are a testimony to their professionalism and commitment to setting a high standard for design and livability in the heart of downtown Newark. " "It was the brilliance of our partner Nicolas Berggruen who made the introduction to Richard and insisted that we adhere to international quality design to reflect our global aspirations for the City of Newark."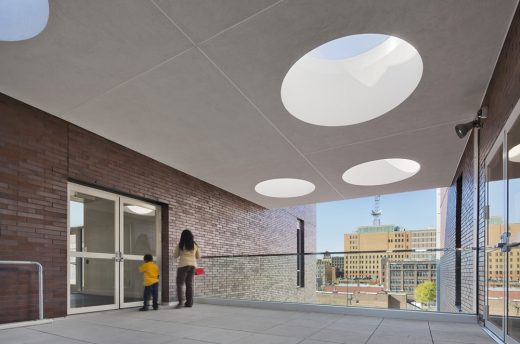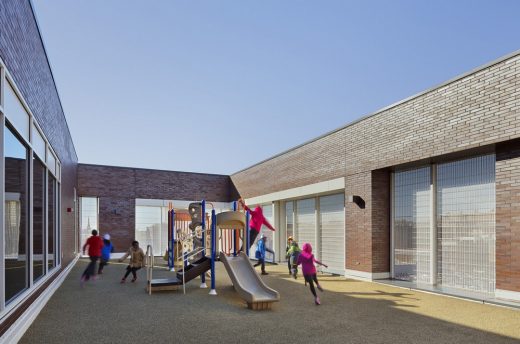 images : Paul Rivera
Each new building is site specific and designed relative to its context. Street façade heights are regulated in accordance with the Newark Living Downtown Plan. The new Halsey Street retail corridor is at the heart of the development and offers a mix of venues for a vibrant street life. The residential spaces and schools are designed with generous windows that are open to the light and activity of the streets below. As required by the Newark Living Downtown Plan, all of the new building fronts facing Halsey Street are four-stories tall, not exceeding 60-feet in height. As permitted by zoning regulations, the buildings are setback from Halsey Street.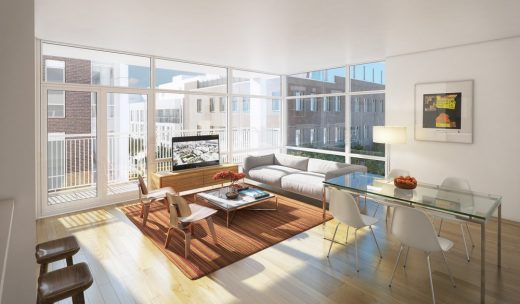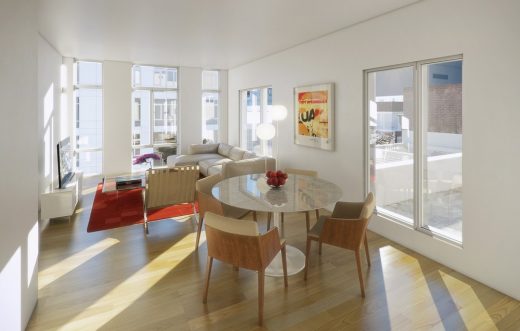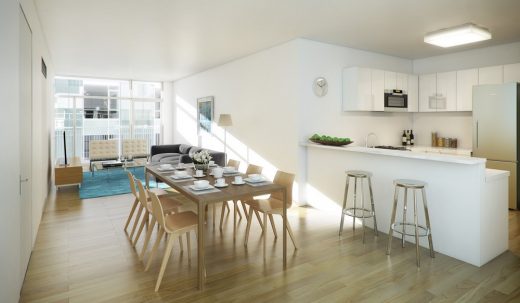 images : Tekten
Richard Meier, comments: "Teachers Village is one important component of several new development initiatives in New Jersey, and the construction of all these new buildings reflects our commitment to the revitalization of downtown Newark. Natural light has been a very important consideration and all the different apartments, classrooms and retail spaces will be full of natural light with various views to the neighborhood. Light touches every component and all the interiors of the various buildings bringing everything into a harmonious whole."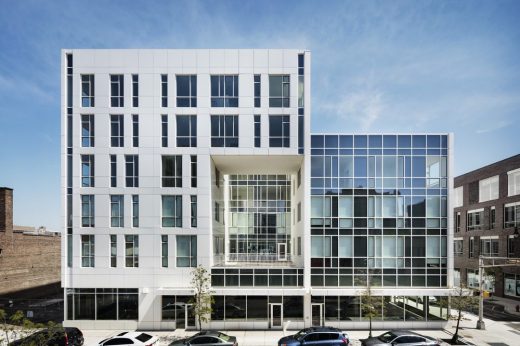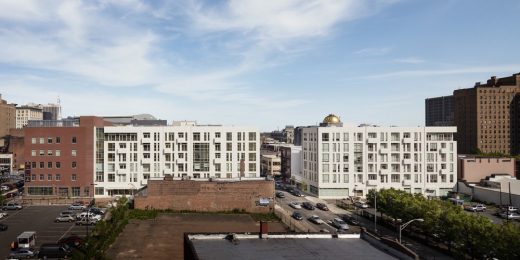 images : Scott Frances
Teachers Village is one of the first developments in America to pursue the LEED Neighborhood Development designation by the US Green Building Council, indicating that the project meets the highest levels of sustainable design and that the neighborhood integrates the principles of smart growth, urbanism and green building strategies. Former parking lots are transformed into a sustainable new neighborhood that offers its teacher residents opportunities to live near where they work and to experience high-quality healthy living in an affordable, safe environment downtown. The development is conveniently located to benefit from Newark's efficient public transportation system, from extensive local and regional bus lines to a short walk to the Washington Street light rail and Newark Penn Station, hub for NJTRANSIT, AMTRAK trains and PATH train service to Manhattan.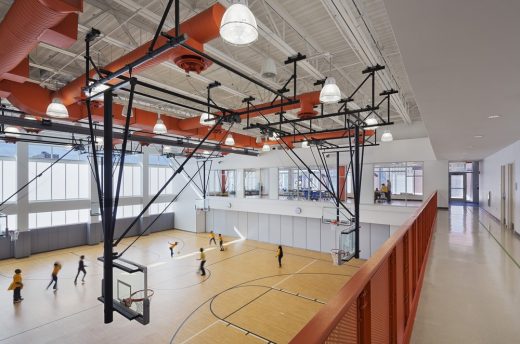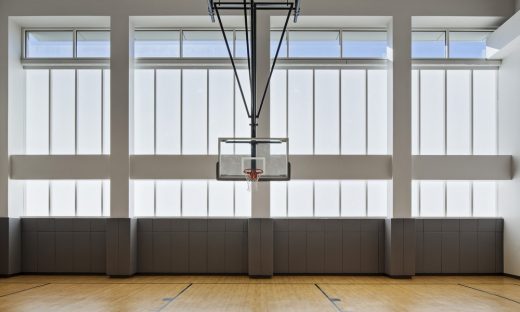 images : Paul Rivera
Vivian Lee, Associate Partner-in-Charge, comments: "Teachers Village is a unique addition to our office's design portfolio as these buildings have all together created a new community and neighborhood. We are proud to be part of the RBH team, in achieving an incredible development vision that will deliver both a social and economic impact to Newark's downtown district. With already a changing environment in this area with the schools, housing and businesses for Teachers Village, we look forward to continuing our effort in further contributing to future phases of this development, transforming and enhancing a part of the urban fabric."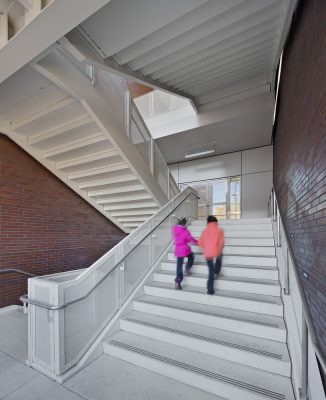 image : Paul Rivera
Teachers Village will restore a sense of place by activating the streetscape, along Halsey Street and William Street, attracting residents, students, and visitors to this dynamic new community and to the existing cultural, entertainment and educational infrastructure with institutions such as the New Jersey Performing Arts Center, the NJ Historical Society, Newark Museum, the main branch of the Newark Public Library and the Prudential Center Arena. Access to open space for Teachers Village residents includes proximity to three city parks and community gardens.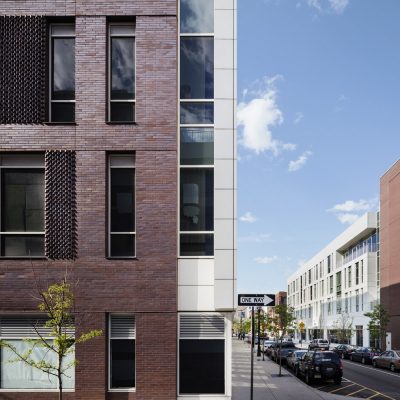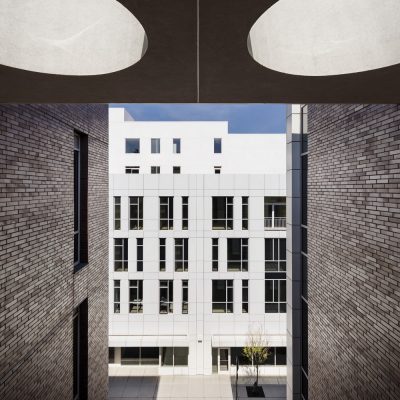 images : Scott Frances
Dukho Yeon, Associate Partner-in-Charge, comments: "We are especially proud to realize this project that we envisioned together with RBH group many years ago with modest means but ambitious goals; with architecture that is sensitive to context but purposeful in creating generous living spaces for teachers, and a vibrant new neighborhood in downtown Newark."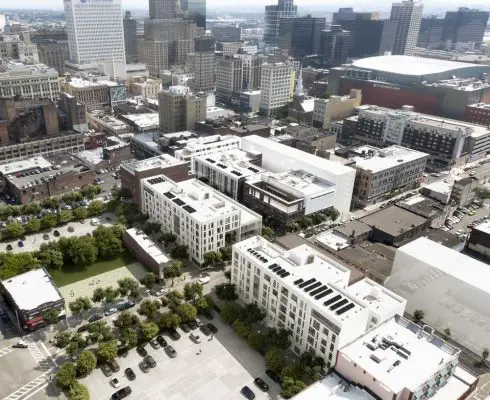 image : Tekten
Workforce Housing Newark, NJ – Building Information
Major Building Materials: Brick, Glass, Composite Aluminum Panels, Stucco Plaster and EIFS
Program: Schools, Residential and Retail
Floors: 5 to 6 levels above grade and basement level
Floor Area: Teachers Village Charter Schools | 230 Halsey Street: 104,000 sq ft
Teachers Village Building 1 | 35 Maiden Lane: 30,770 sq ft
Teachers Village 6 | 243 Halsey Street: 95,030 sq ft
Teachers Village Building 7 | 42 William Street: 65,670 sq ft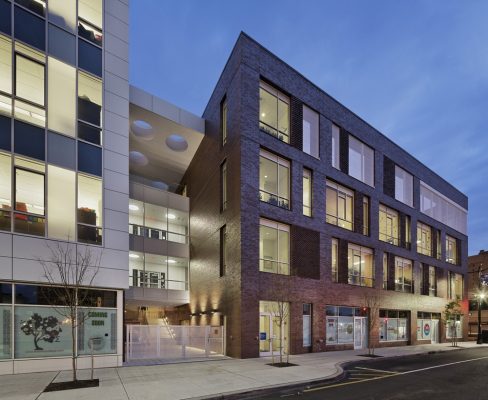 image : Paul Rivera
Managing Partner: Richard Meier
Associate Partners: Vivian Lee and Dukho Yeon
Project Architects: Ananth Sampathkumar and Chris Townsend
Project Team: Techan Abe, Jonathan Bell, Remy Bertin, Joseph T. DeSense III, Gil Even-Tsur, Simone Ferracina, Adam Greene, Zheng Huang, Scott Johnson, Katie Kasabalis, Brandt Knapp, Aki Koike, Aung Kyaw, Chris Layda, Dongkyu Lee, Ian Lotto, Diana Lui, Alexander Maymind, Marianna Mello, Hyung Sok Moon,
Guillermo Murcia, Stefan Scheiber-Loeis, Hee-Joo Shi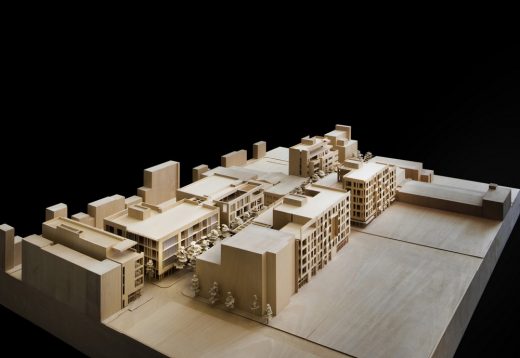 image : Scott Frances
Project Developer: Ron Beit, President & CEO the RBH Group
Workforce Housing Buildings in Newark Building by Richard Meier & Partners images / information received 160217
Richard Meier & Partners on e-architect – main page on the practice with project information + images
Previous post on this Newark development on e-architect:
230 Halsey Street, Newark, NJ, USA – 25 Sep 2013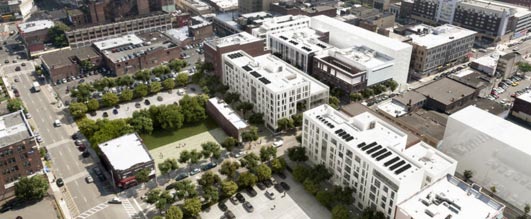 picture Courtesy Richard Meier & Partners
Location: Newark, NJ, USA
US Architecture
US Architecture Designs – chronological list
Another American building by Richard Meier & Partners on e-architect:
685 First Avenue, New York City, NY, USA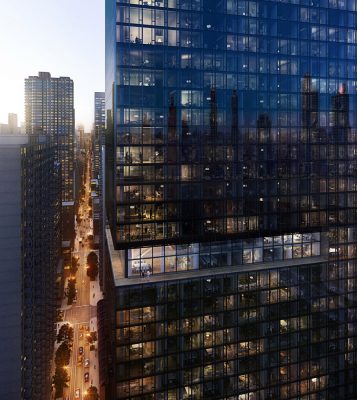 image courtesy Vize / Richard Meier & Partners Architects; image via WSJ
685 First Avenue Tower Manhattan – 24 May 2016
Recent New Jersey Buildings
Frick Chemistry Laboratory, Princeton University
Hopkins Architects with Payette Associates
Frick Chemistry Laboratory
The Yogi Berra Museum and Learning Center, Montclair, New Jersey
Design: ikon.5 architects
The Yogi Berra Museum
MD Anderson Cancer Center at Cooper in Camden
Design: Francis Cauffman, Architects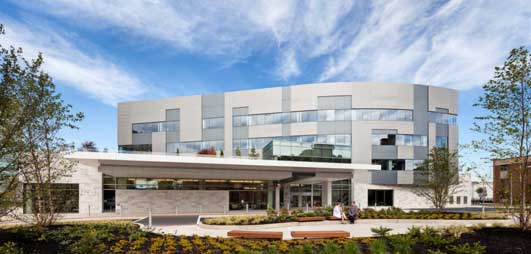 photo : Chris Cooper
230 Halsey Street, Newark
Design: Richard Meier & Partners Architects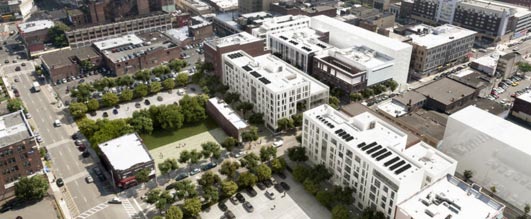 picture Courtesy Richard Meier & Partners
Newark Visitor's Center
Design: YBGSNA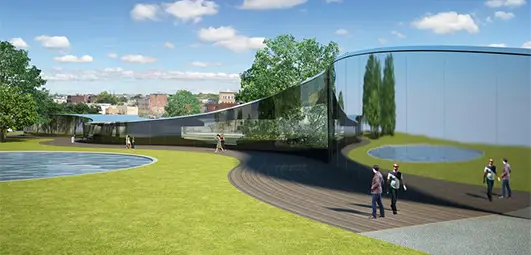 image from architect
Newark Visitor's Center
Newark Visitor Center Project, New Jersey
Newark Visitor Center Competition
New Jersey Architecture
Princeton University – Arts Buildings
Design: Steven Holl Architects
New Jersey University Building
University Medical Center Princeton Hospital
RMJM Hillier / HOK
New Jersey Hospital Building
Richard Meier & Partners Architects on e-architect
New York State Architecture Designs
Comments for the Workforce Housing Buildings in Newark page welcome
Website: Richard Meier & Partners Architects