UB School of Architecture & Planning Buffalo, New York Building Design Event, NY Lecture News, Date
UB School of Architecture & Planning Event : Buffalo, NY
Architectural Exhibitions, Talks + News, New York State, USA
2013
UB Department of Architecture News
School of Architecture and Planning Fall 2013 Public Programs
The Louise Bethune Lecture:
Billie Tsien – Partner, Tod Williams Billie Tsien Architects "Being Nice"
Wednesday, November 13, 6 pm
301 Crosby Hall (UB's South Campus)
AIA Continuing Education Credits Available
The Ecological Practices Research Group Lecture: Chris Reed – Partner, STOSS
"Cultivating Cities"
Wednesday, November 20, 6 pm
301 Crosby Hall (UB's South Campus)
AIA Continuing Education Credits Available
When HCI Meets Architecture
Dr. Lesley McIntyre, School of Computing, University of Dundee
Monday, Oct. 21, 1-2 pm
104 Diefendorf Hall (UB's South Campus)
– Architectural researcher Dr. Lesley McIntyre discusses her work in the field of Human Computer Interaction (HCI).
Building Talent: Women, Patronage, and Mentoring
Tuesday, Oct. 22, 3 – 7 pm
Greatbatch Pavilion, Darwin Martin House Complex
125 Jewett Parkway, Buffalo, NY 14214
– Explore the importance of the client-user relationship and mentoring to the architectural process, particularly as an opportunity for women in leadership positions to influence women architects.
2nd Buffalo Food Policy Summit
Keynote Event
"Just Sustainabilities" in Food Systems Research
Wednesday, Oct. 23, 1:30 – 3:30 pm
Harriman Hall 105, UB's South Campus
– How can the food system support sustainable economic development through a healthier, more resilient Western NY? See the summit's full lineup of events, including the keynote event with Dr. Julian Agyemen, Tufts University, and a food systems planning and policy workshop on Oct. 24.
Previously:
"Pleasures of inhabiting" (the condition to re-invent the city)
Lecture by Anne Lacaton – on March 27,2013 at 5.30 in Crosby Hall 301.
Latapie House, Floirac, France – 1993 – by Anne Lacaton: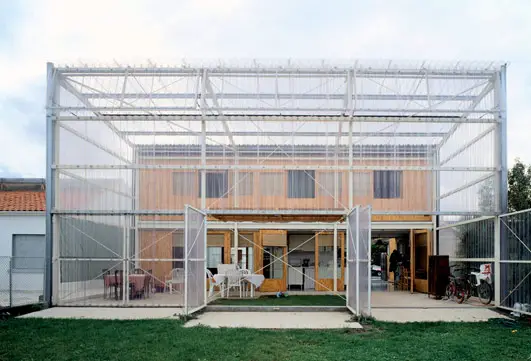 image from UB School of Architecture & Planning
The Clarkson Visiting Chair recognizes excellence in scholarship and professional practice and is made possible by the generous support of Will and Nan Clarkson. The Department of Architecture at the University at Buffalo is pleased to announce Anne Lacaton as the 2012-2013 Clarkson Chair in Architecture.
Anne Lacaton and Jean Philippe Vassal created the Paris based office Lacaton & Vassal in 1989. Their approach to architecture and urban planning is tied to the concept of inhabiting in a broad sense; with attention paid to the site, the surrounding landscape, and the idea that we always build upon the existing.
Their work searches for efficiency, achieved through the project's organization and optimized through its constructive systems with the aim of producing the most generous spaces possible. The practice has received several awards, among them the Grand Prix National d'Architecture in 2008 and the International Fellowship of the Royal Institute of British Architects in 2009.
Presenter: Anne Lacaton
Presenter Affiliation: Principal, Lacaton & Vassal Architectes, Paris
Location: 301 Crosby
Campus: South Campus
Date: 3/27/13
Time: 5:30 p.m.
Cost: Free
Sponsor: Will and Nan Clarkson and UB's Department of Architecture
Web site: University at Buffalo Department of Architecture Lecture – external link
Mar 21, 2013
UB School of Architecture & Planning News – Banham Fellow
Peter Reyner Banham
Fellowship 2013-2014

image from UB School of Architecture & Planning
Peter Reyner Banham spent his time in Buffalo engaged in a scholarly project on the imaginary of American industrial architecture that took the form of historical research, hands-on engagement and seminar instruction, resulting in his landmark work, A Concrete Atlantis. In celebration of Banham's legacy of experimental criticism, the fellowship is intended to support the research and creative activity of emerging practitioners.
Candidates are encouraged to propose a research trajectory that will be developed in tandem with a pedagogical agenda. The Banham Fellow will teach a design studio and an elective course each semester for the duration of the one-year fellowship. In addition, the fellow will deliver a public lecture as part of the school wide series and prepare an exhibition that culminates from the research, teaching, and/or creative work conducted while in residence at the school.
Applications should be composed of a well-considered proposal for research/creative work (1500 words maximum), as well as a curriculum vita, portfolio of work, and names of three references.
The University at Buffalo is an affirmative action/equal opportunity employer. Current Banham Fellow: Thomas Kelley
Applications must be received by April 1, 2013
Send inquiries and applications to:
[email protected]
Subject: Banham Fellowship 2013
or
Fellowship Search Committee
Department of Architecture
University at Buffalo
114 Diefendorf Hall
Buffalo, NY 14214-3087
Buffalo School of Architecture & Planning – Job Vacancies
Digital Design and Fabrication – USA
architecture job posted 24 Dec 2012
FACULTY POSITIONS in INTEGRATED DESIGN, DIGITAL DESIGN AND FABRICATION and LANDSCAPE, URBAN DESIGN & PLANNING
The School of Architecture and Planning at the University at Buffalo is significantly expanding its faculty, programs and facilities and we invite candidates interested in experimental research and pedagogy to apply. Reviews of applications will begin January 7, 2013 and continue until the following Assistant or Associate Professor positions are filled: Integrated Design in Architecture.
Successful candidate will be expected to teach design studios, core technical courses in structural design or environmental systems and seminars at graduate and undergraduate levels. Candidate must have exceptional design skills with expertise in the integration of structures and/or environmental systems in the design of buildings. To apply, visit UBJobs for posting number 1200781 at:
http://www.ubjobs.buffalo.edu/applicants/Central?quickFind=55714 and follow all listed requirements.
Digital Design and Fabrication. Successful candidate will be expected to teach design studios, seminars and core technical courses at both graduate and undergraduate levels. Professional registration or an established research program is desirable. We seek an exceptional designer with expertise in advanced digital design and fabrication techniques in areas including (but not limited to) material informatics, responsive systems, parametric design, and digital fabrication.
To apply, visit UBJobs for posting number 1200746 at:
http://www.ubjobs.buffalo.edu/applicants/Central?quickFind=55676 and follow all listed requirements.
Landscape, Urban Design, & Planning. Successful candidate will hold a faculty position in the Department of Architecture and a visiting faculty position in the Department of Urban and Regional Planning. They will contribute to both departments in teaching and research with a focus area such as landscape urbanism, ecological urbanism, landscape architecture at an urban scale, landscape history and heritage, and landscape preservation and enhancement.
They will teach both graduate and undergraduate design studios, as well as seminars at both levels for the Department of Architecture and will be involved in graduate specializations in Urban Design and in Environmental and Land Use Planning, and/or the undergraduate program in Environmental Design.
To apply, visit UBJobs for posting number 1200745 at:
http://www.ubjobs.buffalo.edu/applicants/Central?quickFind=55675 and follow all listed requirements.
Buffalo School of Architecture & Planning Events 2012
Fall 2012 Public Programs
The University at Buffalo School of Architecture and Planning is pleased to present:
Walter Hood
Principal, Hood Design
Professor, Landscape Architecture, UC Berkeley
"Power Strands"
Oct 25
301 Crosby Hall, South Campus
Walter Hood, world-renowned landscape architect and artist, is the founding principal of Hood Design in Oakland, and a professor of landscape architecture, environmental planning, and urban design at the University of California Berkeley. Hood designed the UB Solar Strand, a 3,200-panel ground-mounted solar installation at the main entrance to UB's North Campus. Inspired by the way pairs of molecules entwine to form DNA strands, his design now stands as an iconic campus gateway, a land art installation and one of the most publicly accessible energy sites in the world.
Hood was selected through an international design competition for the solar array, which was led by Dean Robert G. Shibley as UB's campus architect. A pioneering urbanist, Hood heads a firm committed to issues that address the reconstruction of urban landscapes within towns and cities.
His body of work includes refurbishing local parks, restoring well known memorials and creating new works of public art, with projects such as the Center for Civil & Human Rights in Atlanta, the De Young Museum in San Francisco, the California African American Museum in Los Angeles and the Jackson Museum of Wildlife Art in Jackson, Wyoming. Hood received the Cooper-Hewitt National Design Award for Landscape Design in 2009, and in 2010 was bestowed the title "master of design" by Fast Company magazine.
Oct 31 / Sponsored by the Confucius Institute
'Iconic or ?: Regional Practice within Global Context'
Li Xiaodong
Principal, Li Xiaodong Atelier, Beijing
Nov 7 / The Clarkson Chair in Planning, Nov 4–9
'Katrina's Lessons: Of Failed Levees and Failed Institutions'
Ed Blakely
Honorary Professor in Urban Policy, United States
Studies Centre, University of Sydney
Nov 14 / The AIAS Lecture
'Growing Water: A Conversation with Students and Faculty'
Martin Felsen
Partner, UrbanLab, Chicago
Moderated by Laura Garófalo
Partner, Liminal Projects, Buffalo
3 Sep 2012
UB School of Architecture & Planning Discussion 2012
The McHale Fellow Discussion
The first event of this year's public programs:
The McHale Fellow Discussion
"Spatial Acts: A Provocation in 2 Parts"
Dorita Hannah with Sarah Bay-Cheng
Sep 5, 2012
5:30pm, 301 Crosby Hall
Free and Open to the Public
Architecture – both real and virtual – tends to incorporate power systems that define, regulate, and limit our daily practices, and designers – as handmaidens to power – must accept responsibility for enabling such spatial control, particularly since the turn of the new century where space has become more institutionalized and institutions more spatialized. Although freedom of movement and expression is being purposefully curtailed – locally and globally – in the very name of "freedom", recent events on the world stage have openly challenged the creation and maintenance of increasingly contained and delimited territories.
Dr. Dorita Hannah is this year's McHale Fellow in the Department of Architecture.
She is an interdisciplinary designer who works between spatial and performance practices with a focus on 'event-space'. Her designs and scholarly publications investigate how the built environment housing an event is itself an event and an integral driver of experience.
She publishes on practices that negotiate between art, architecture and theatre, with her creative work incorporating scenographic, interior, exhibition and installation design as well as a specialized architectural consultancy in buildings for the visual & performing arts. Dr Hannah is an active contributor to the Prague Quadrennial and World Stage Design, sits on several editorial and executive boards, and has gained international awards for her design and research.
Dr. Sarah Bay-Cheng is Founding Director of the Technē Institute for Arts and Emerging Technologies, and Associate Professor & Director of Graduate Studies in Theatre, both at the University at Buffalo. At Buffalo, Bay-Cheng teaches courses in drama, contemporary theatre, and intermediality.
Her research interests include avant-garde theatre and film, poetic drama, and intersections of technology and performance. Her book publications include Mapping Intermediality in Performance (Amsterdam UP, 2010), Poets at Play: An Anthology of Modernist Drama (Susquehanna UP, 2010), and Mama Dada: Gertrude Stein's Avant-Garde Theater (Routledge, 2005), as well as essays and reviews in leading journals.
Jul 6, 2012
UB School of Architecture & Planning Project
Bee Tower – 'Elevator B', Silo City, Buffalo, NY, USA



image : Kyle Mastalinski
Bee Tower
A group of 3 faculty members (from the University at Buffalo School of Architecture and Planning Ecological Practices Research Group) coordinated a student competition to design and build an installation for a bee colony.
Elevator B is a collaborative project between graduate students from the University at Buffalo's School of Architecture and Planning and Rigidized Metals, a Buffalo based building material manufacturer. The overall goal of the project was to successfully design for the relocation and habitation of a colony of honeybees occupying a building at Silo City, a dense cluster of grain elevators in Buffalo, NY. Elevator B was selected from a group of ten entries by a mixed panel of jurors, who represented Rigidized Metals, the fields of architecture and planning, and the bees.
Elevator B is an iconic gesture of the regeneration of Silo City, both naturally and economically. The material properties of the tower represent the cluster of material manufactures now located around the site while housing the colony of bees. Visitors enter the tower from below and look up, similar to the way one experiences the silos and bins of the nearby Marine A elevator.
UB School of Architecture & Planning Talk
Reflections on Glass Boxes : A Talk by Brian Carter
Martin House Complex, Buffalo, by Frank Lloyd Wright – under construction:


picture from UB
Brian Carter gave a lecture at the Greatbatch Pavilion on Apr 26, 2012
Brian Carter is a regular contributor to the e-architect weekly newsletters.
Martin House



photos : Biff Henrich / courtesy MHRC
Frank Lloyd Wright House in Buffalo
Frank Lloyd Wright designed a unique residential complex for wealthy Buffalo businessman Darwin D. Martin and his family between 1903-1905. The most substantial and highly developed of Frank Lloyd Wright's Prairie houses in the Eastern United States, The Darwin D. Martin House received National Historic Landmark status in 1986. The house is considered by leading Frank Lloyd Wright scholars as one of Wright's finest achievements of the Prairie period and, indeed, of his entire career.
UB School of Architecture & Planning Events : archive
Canadian Wood images / information from UB School of Architecture & Planning
Location: Buffalo, New York, USA
Cornell University School of Architecture, Art & Planning, Ithaca, New York State
Rem Koolhaas Architect / OMA
Cornell University School of Architecture
Comments / photos for the UB School of Architecture & Planning Event page welcome