Cal Poly Pomona Architecture Events 2020, Lectures, CA Exhibitions, Los Angeles Architects News, Talks
Cal Poly Pomona Events, Los Angeles
CPP California State Polytechnic University Architecture, USA: Exhibition + Events News
Jan 7, 2020
Cal Poly Pomona's Department of Architecture News in 2020
Cal Poly Pomona 2020 Firm Day
The Department of Architecture and Landscape Architecture will be holding the yearly Firm Day 2020 on Thursday January 23rd at the Interim Design Center (bldg 89), at Cal Poly Pomona, CA, USA.
Please go to the link below to purchase your ticket
Cal Poly Pomona 2020 Firm Day Tickets
SLAM Collaborative are the first firm to sign-up as an event sponsor
Students have just begun to sign-up for the event and so you won't yet see many samples up yet, finals are this week.
Students should start expressing interest in firms soon and the work samples should also show up in the next couple of weeks.
We recommend you bookmark the links so you can quickly find your way back.
Student express their interest in your company here- you may contact them anytime.
You may edit your page as you like- this is an open source document.
It is organized tabs on the bottom of the page; each firm has a tab assigned to them with basic information as provided via the Eventbrite order.
Tabs are alphabetical so please avoid altering the order; the only exception is that we push SPONSOR firms to the front.
Students have been instructed to upload a 5-10 page work sample with a current CV as cover page.
Students will provided the file name for their work sample on the Student Interest pages on google sheets
Students will bring full portfolios to the actual event
Oct 25, 2019
Cal Poly Pomona's Department of Architecture News Archive
Cal Poly Pomona Department of Architecture – 2018-2019 TT Hire
Cal Poly Pomona's Department of Architecture (CPP ARC) invites applications for a tenure-track position at the rank of Assistant Professor to begin in the 2020-2021 academic year. The new faculty is expected to teach architecture studios, lectures, and seminars at the undergraduate and graduate level, and engage in scholarly activities.
The new faculty member will also be involved in administrative tasks and service at the department, college, and university levels. Applicants whose work demonstrates a commitment to inclusive excellence and diversity in higher education, are particularly encouraged to apply.
Qualified candidates must have a terminal degree (M.ARCH. or Ph.D.) in Architecture or Architecture History or Theory from a NAAB accredited (or recognized equivalent) university; experience teaching design studio and lecture courses at the university level; professional and/or teaching experience using digital representation tools and techniques and, digital documentation tools for representing construction assemblies and methods; ability to undertake design research through scholarly/creative activities or practice; and demonstrated ability to contribute to the excellence of our diverse academic community through teaching, research, and service, with a commitment to working in an inclusive environment.
A completed application will consist of: A cover letter that describes the candidate's teaching and research experience, a curriculum vitae, the names and contact information for three references, an 8 ½ x 11 portfolio (maximum 20 pages) of professional work/research and teaching, an unofficial transcript showing the highest degree earned, a CPP application form, and a Student Success Statement about candidates teaching, or other experiences, successes, and challenges in working or otherwise engaging with a diverse student population.
Consideration of complete applications will begin on 12/15/19 and will continue until the position is filled. For an expanded position description and application please see the posting at http://www.cpp.edu/~faculty-affairs/open-positions/.
Underrepresented minorities and women candidates are especially welcomed to apply. AA/EOE.
Oct 24, 2019
CPP/ARC 2019 Richard Neutra Award Winner News
Alejandro Aravera, ELEMENTAL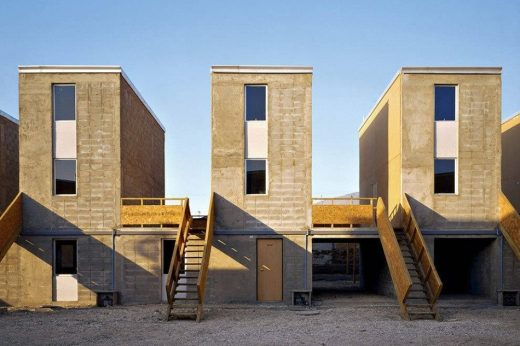 photography : Tadeuz Jalocha
CPP/ARC 2019 Richard Neutra Award Winner
Apr 15, 2019
Cal Poly Pomona 2019-2020 Events News
The Department of Architecture at Cal Poly Pomona (CPP/ARC) is pleased to announce the 2019-20 Bernard Zimmerman Lecture Series and the 2019 Richard Neutra Award.
This year's lineup of distinguished speakers is announced.
Admission to public lectures is always free and open to the public.
Kevin Daly, Kevin Daly Architects
Friday, 9.20.2019, 1.30 pm
Jennifer Bonner, MALL
Friday, 10.4.2019, 1.30 pm
Richard Neutra Award 2019
Alejandro Aravena, ELEMENTAL
Monday, 10.28.2019, 7.00 pm
Bronco Student Center, Ursa Major
Heather Roberge, murmur
Friday, 11.15.2019, 1.30 pm
Teddy Cruz + Fonna Forman, Estudio Teddy Cruz + Fonna Forman
Monday, 2.10.2020, 6.30 pm
Kristy Balliet + Kelly Bair, BairBalliet
Friday, 2.21.2020, 1.30 pm
lecture sponsored by AWA+D
Michael Maltzan, Michael Maltzan Architecture
Friday, 2.28.2020, 6.30 pm
Anne Lacaton + Jean-Philippe Vassal, Lacaton & Vassal
Friday, 4.17.2020, 6.30 pm
All lectures are held at the CPP/ARC Interim Design Center, 89 Eucalyptus Lane, Pomona, CA 91768, unless stated otherwise.
Apr 15, 2019
Cal Poly Pomona Event News
Location: Pomona, Los Angeles County, CA, USA
Point Line Plane Volume
The exhibition gathers models of 100 case studies, built by Cal Poly Pomona Architecture Students over the last semesters, and organizes them through the filter of their formal typologies: point, line, plane, and volume.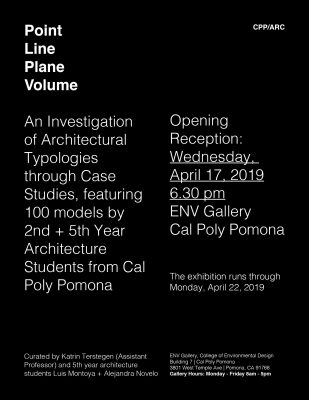 The projects are deliberately presented without reference to their program, site, scale, or materiality – features that are critical in real-world settings but omitted in this study to allow for a focus on formal and compositional aspects, encouraging a direct comparison between otherwise dissimilar projects. Aspects of comparison include the unique challenges and opportunities each of the four typologies offers in respect to circulation, access to natural light, program arrangements, envelope, and construction.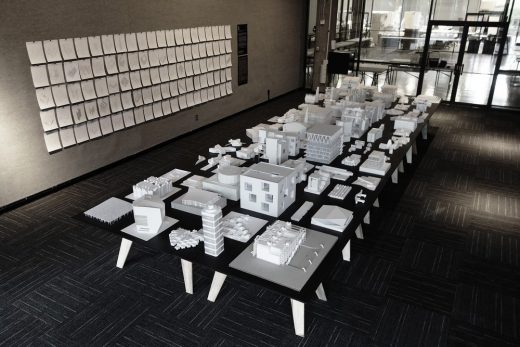 photograph : Katrin Terstegen
The projects, read in this reductive way, can function as generic prototypes and provide a vocabulary that may be used in exploring possible architectural propositions without the constraints of program and site. Using these ideal and generic types as point of departure, the models can then be adapted to the specific requirements and constraints of a project.
The studies were conducted in the Architecture Department at Cal Poly Pomona in the Fall 2018 and Spring 2019 semesters in seminars held by Assistant Professor Katrin Terstegen by the following students:
Jared Pablo, Krisandra Perez, Daniela Pomalaza, Emane Henderson, Alex Gonzalez, Marc Mendez, Natalie Chung, Jamie Guevara, Jessica Lam, Nayeon Kim, Natali Balle, Rita Jirjees, Joshua Ryan, Olivia Nilges, Heather Gallacher, Efrain Vargas, George Jang, Mahshid Safarian, Diarra B. Seck, Nauryzbek Naurbekov, Ivonne Murillo, Sophia Covert-Cuevas, Ashley Morales, Sarra Starbird, Addy Holenstein, Kim Tran, Janis Liu, WenBin Jiang, Noah Lum, Ivanah Palaganas, Osvaldo Limon, Sandee Deogaygay, Josue Navarro, Hannah Doan, Huda Alhassan, Brian Caballero, Emanuel Cardenas, Khoi Van, Toan Nguyen, Khanh Dinh, Robert Ambriz, Jorge Torres, Enrique Mora, Carl Arnesto, Michael Kim, Daniel Vasquez, Anne Marie Jao, Alex Menjivar, Sidra Issa, Daniela Vargas, Gabriella Torres, Ulysess Ojeda, Alexis Alicea, Justina Atalla, Alondra Delgado, Anita Dehmoobad, Rana Matinsefat, Haniyeh Poshtareh, Alenoosh Mardroosian, Sarineh Nahapedsiraki, Eduardo De La Rosa, Apinya Sangrugee, Ying Gao, Reem Alsoltani, Nergis G. Kalkan, Sharifeh Abdallah, Adrian Martinez, Trevor Kubo, Roman Huante, Zoe Zimmerling, Ghazi Ghazi, Francisco Reyes, Jose Nunez, Ashly Saucedo, Brandice Reza, Valeria Redekosky, Yaozhen Liu, Daniel Aguilera, Lorenzo Tayag, Michael Joya, Noah Mora, Vincent Nguyen, Noah Lemus, Kimberly Carlisle, Frank Ruedas, Juan Garcia, Michael Hernandez, Ulysses Hernandez, Jaylene Sanchez, Christian Serrano, Gabriela Martinez, Upavee Amarasinghe, Kristal Audish, Natalie Simba, Alejandro Tapia, Cho Zin Theint, Cynthia Martinez, Isaiah Rojas, Deyra Rodriguez, Victor Rodriguez, Cristian Cedillo, Jose Arce, Noel Cordero, Junhong Wen,Vivian Liao Zeng, Vi Vo, Kristin Lorentzen, Maribel Ruiz, and Yeganeh Malouhi (Second Year).
Alejandra Novelo, Armando Bermudez, Audrey Kane, Brandon Guzman, Daniel Sanchez, Edgar Sanchez, Francisco Benitez, Franco Mellone, Gia Luong, Giancarlo Manglicmot, Hao Xu, Jocelyn Hernandez, Jose E. Gonzalez, Juan Garcia, June Daren, Krystyna Howell, Larry Phong, Laszlo Andrasi, Liliana Perez, Luis Montoya, Marc Rudy, Maria Elhawary, Maria Mercado, Matthew Rivera, Nick Ramirez, Peter Goodwin, Phillip Chau, Roger Yu, Ryan Han, Samuel Cruz Prado, Sarahi Baeza, Sin Gwon Baek, Sonny Contreras, Sylvester Ramirez, Tina Jedari, and Tyler Liang (Fifth Year).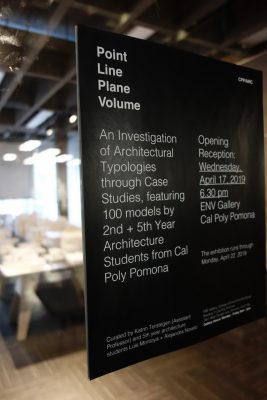 photo : Katrin Terstegen
The exhibition features projects by Adolf Loos, Aires Mateus, Aldo Rossi, Aldo van Eyck, Alvar Aalto, Álvaro Siza, Anacleto Angelini + Alejandro Aravena, Arne Jacobsen, Barozzi Veiga, Candilis, Josic, Woods and Schiedhelm, Carme Pinós, CAZA, Charles Correa, Christian Kerez, Diller Scofidio + Renfro, Erwin Heerich, Foster + Partners, Frank Lloyd Wright, Frank O. Gehry, Giuseppe Terragni, Herman Hertzberger, Herzog & de Meuron, Isaac Broid + PRODUCTORA, John Hejduk, Jørn Utzon, Junya Ishigami, Kengo Kuma, Kisho Kurokawa, Le Corbusier, Lina Bo Bardi, Louis Kahn, Ludwig Mies van der Rohe, Mansilla Tuñón, Mario Botta, MVRDV, O.M. Ungers, OMA, OMA + Barcode Architects, Pezo von Ellrichshausen, Renzo Piano Building Workshop, REX + OMA, SANAA, SOM, Sou Fujimoto, Steven Holl, Tadao Ando, Takamitsu Azuma, Tom Wright, Toyo Ito, Valerio Olgiati, Walter Netsch, and Zaha Hadid.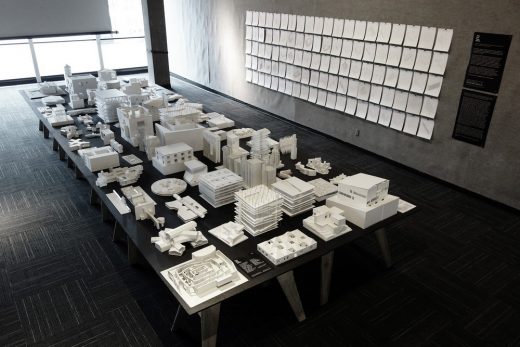 photo : Katrin Terstegen
2018-19 | Cal Poly Pomona Department of Architecture
Mailing address
College of Environmental Design
California State Polytechnic University, Pomona
3801 West Temple Avenue, Bldg 7
Pomona, CA 91768
Stay up to date on our accomplishments and events:
Previously on e-architect:
2016 Neutra Award – Carme Pinós
Monday November 14, 2016, 6:30 pm
Cal Poly Pomona University Theater (bldg 25), CA 91768, USA
California State Polytechnic University, Pomona is a public polytechnic university in Pomona, California in the Los Angeles metropolitan area. It is one of two polytechnics in the California State University system.
Address: 3801 West Temple Avenue, Bldg 7, College of Environmental Design, Pomona, CA 91768, USA
Phone: +1 909-869-7659
Los Angeles Architecture
Los Angeles Architecture
L.A. Architecture Designs – chronological list
Architecture Tours Los Angeles by e-architect
Los Angeles Architecture Designs
Beverly Center Renewal – The Mall of the Stars, 8500 Beverly Boulevard, edge of Beverly Hills and West Hollywood, L.A.
Design: Massimiliano and Doriana Fuksas, Architects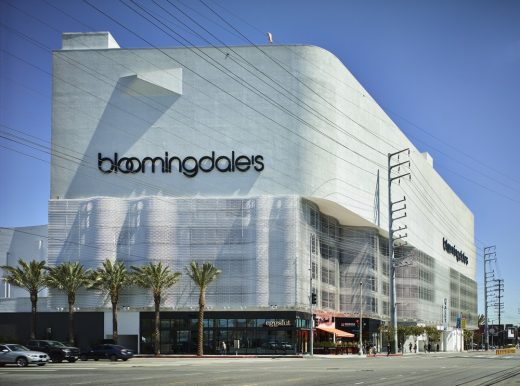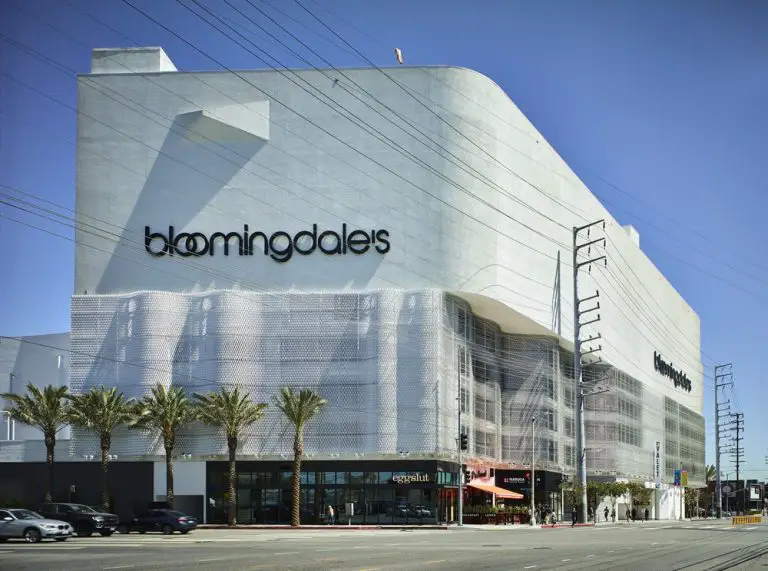 photo © John Linden
Beverly Center Building Renovation
Audrey Irmas Pavilion, Wilshire Boulevard, Koreatown
Design: OMA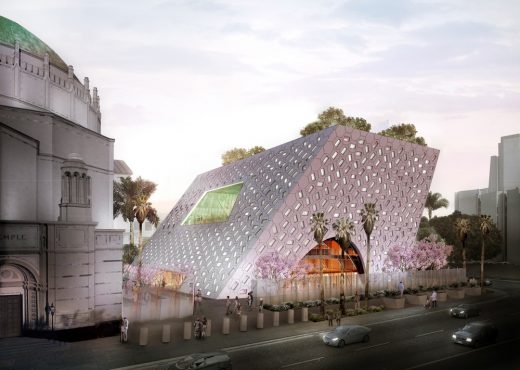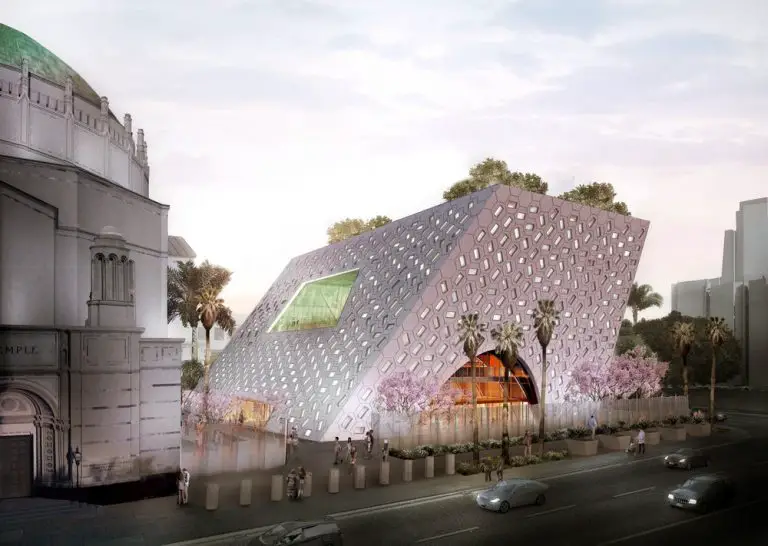 image Courtesy OMA New York
Audrey Irmas Pavilion
Los Angeles Architectural News
SCI-Arc Architecture Events
SCI-Arc Events 2018, Los Angeles
SCI-Arc Los Angeles Events 2016
Frank Gehry, Architect, Gehry Partners, LLP, Los Angeles
Comments / photos for the Cal Poly Pomona Lectures + Exhibitions – Los Angeles Architecture Events page welcome
Website: California State Polytechnic University, Pomona, CA, USA